THE 2014 EDGE QUESTION
Publication midnight, Tuesday, January 14
"A forum for the world's most brilliant minds."


—The Guardian, January 12, 2014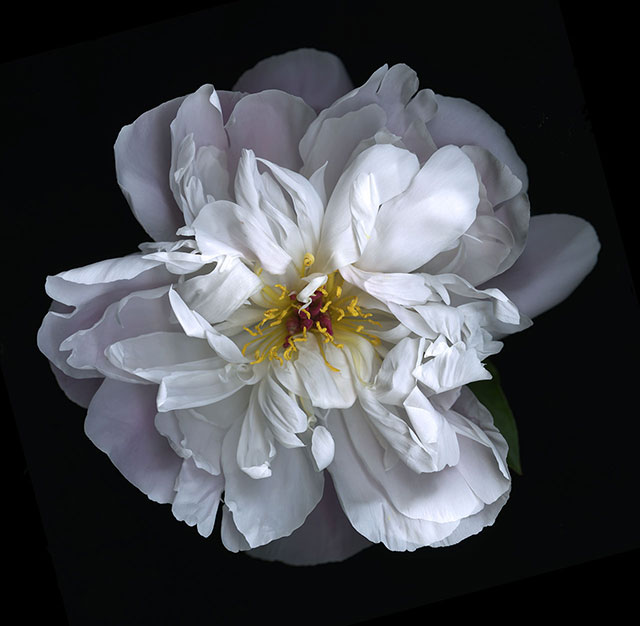 White Peony 2014 by Katinka Matson
Click to Expand | www.katinkamatson.com
____________________________________________________________________
Science advances by discovering new things and developing new ideas. Few truly new ideas are developed without abandoning old ones first. As theoretical physicist Max Planck (1858-1947) noted, "A new scientific truth does not triumph by convincing its opponents and making them see the light, but rather because its opponents eventually die, and a new generation grows up that is familiar with it." In other words, science advances by a series of funerals. Why wait that long?
WHAT SCIENTIFIC IDEA IS READY FOR RETIREMENT?
Ideas change, and the times we live in change. Perhaps the biggest change today is the rate of change. What established scientific idea is ready to be moved aside so that science can advance?  
____________________________________________________________________
Andre Linde, Nina Jablonski, Martin Rees, Julia Clarke, Fiery Cushman, Seirian Sumner, Jay Rosen, Laurie Santos & Tamar Gendler, Alan Guth, Benjamin Bergen, Dean Ornish, Robert Sapolsky, Andrian Kreye, Benjamin Bergen, Kai Krause, Gary Marcus, Amanda Gefter, Paul Saffo, Ian Gold & Joel Gold, Dimitar Sasselov, Jamil Zaki, Scott Sampson, Susan Fiske, Alexander Wissner-Gross, Kate Jeffery, Tor Nørretranders, Kiley Hamlin, Oliver Scott Curry, Bruce Parker, Brian Christian, Kate Mills, Athena Vouloumanos, June Gruber, Eduardo Salcedo-Albaran, N.J. Enfield, Kathryn Clancy, Eldar Shafir, Ross Anderson, Ian Bogost, Simon Baron-Cohen, Bart Kosko, Tom Griffiths, Sarah Demers, Stephen Stich, Sarah-Jayne Blakemore, Roger Highfield, Todd Sacktor, Victoria Wyatt, Ernst Pöppel, Gavin Schmidt, Bruce Hood, David Buss, Nigel Goldenfeld, Steve Giddings, Michael Norton, Catherine Bateson, Laurence Smith, Frank Tipler, Stephen Kosslyn, Brian Knutson, Robert Provine, Gerd Gigerenzer, Paul Bloom, Laura Betzig, Buddhini Samarasinghe, Kurt Gray, Daniel Goleman, Susan Blackmore, Alun Anderson, Martin Nowak, Marcelo Gleiser, David Deutsch, Donald Hoffman, Samuel Arbesman, Gregory Benford, Seth Lloyd, Nicholas Carr, Thomas Metzinger, Alex Holcombe, Leo Chalupa, Hans Ulrich Obrist, Stuart Pimm, Ed Regis, Giulio Boccaletti, Nicholas Christakis, W. Daniel Hillis, Michael McCullough, Gary Klein, Alex "Sandy" Pentland, Luca De Biase, Mihaly Csikszentmihalyi, Jonathan Gottschall, Azra Raza, M.D., Cesar Hidalgo, Aubrey de Grey, Rebecca Newberger Goldstein, Sherry Turkle, Scott Atran, Patricia Churchland, Gerald Smallberg, Peter Woit, Charles Seife, Robert Kurzban, David Myers, Nassim Nicholas Taleb, Roger Schank, Paul Steinhardt, Peter Richerson, Helen Fisher, Abigail Marsh, Lisa Barrett, Irene Pepperberg, Adam Waytz, Andrew Lih, Steve Fuller, Stewart Brand, Gordon Kane, Andy Clark, Melanie Swan, Satyajit Das, Pascal Boyer, Richard Nisbett, Samuel Barondes, Jerry Coyne, Alan Alda, Paul Davies, Neil Gershenfeld, Dan Sperber, Richard Dawkins, Lawrence Krauss, Matt Ridley, Lee Smolin, Sam Harris, A.C. Grayling, Eric Topol, M.D., Timo Hannay, Ian McEwan, Alison Gopnik, Adam Alter, John McWhorter, Freeman Dyson, Emanuel Derman, Haim Harari, Jared Diamond, Carlo Rovelli, Jonathan Haidt, John Tooby, Max Tegmark, Richard Saul Wurman, Edward Slingerland, Christine Finn, Frank Wilczek, Victoria Stodden, Steven Pinker, Howard Gardner, David Gelernter, Rodney Brooks, Douglas Rushkoff, Hugo Mercier, Michael Shermer, Beatrice Golomb, Terrence Sejnowski, Sean Carroll, Daniel Everett, Margaret Levi, Richard Thaler, Tania Lombrozo, Daniel C. Dennett, Maria Spiropulu, Nicholas Humphrey, George Dyson, Kevin Kelly
____________________________________________________________________
171 essays; 125,000 words. Pre-publication serialization: Frankfurter Allgemeine Zeitung (Germany), The Sunday Observer "The New Review" Magazine (UK). Post-publication press coverage: The New York Times, O Globo (Brazil), El Mundo (Spain), La Nacion (Argentina), Vedomosti (Russia), Gazeta Wybrocza (Poland), and Reuters.
_______________________________________________________________
Thanks to Laurie Santos for suggesting this year's Edge Question and  to Paul Bloom and Jonathan Haidt for their refinements. As always, thanks to Stewart Brand, Kevin Kelly, George Dyson, and Steven Pinker, for their continued support.
Happy New Year!
John Brockman
Editor &  Publisher, Edge.org
---
Pre-Publication Serialization: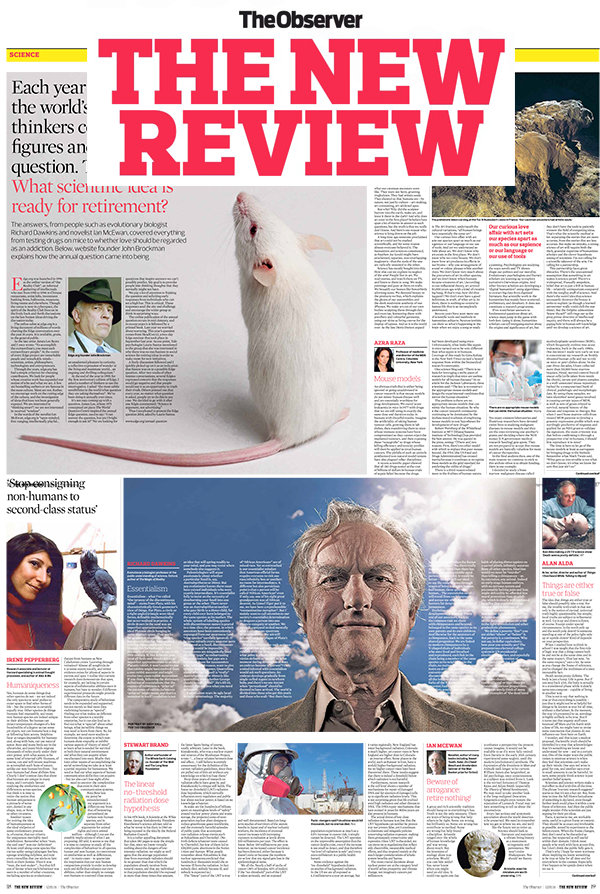 "A forum for the world's most brilliant minds."
"The online salon at edge.org is a living document of millions of words charting the Edge conversation over the past 15 years. It is available, gratis, to the general public.
"As the late artist James Lee Byars and I once wrote: "To accomplish the extraordinary, you must seek extraordinary people." At the centre of every Edge project are remarkable people and remarkable minds—scientists, artists, philosophers, technologists and entrepreneurs. ...
---
Pre-Publication Serialization: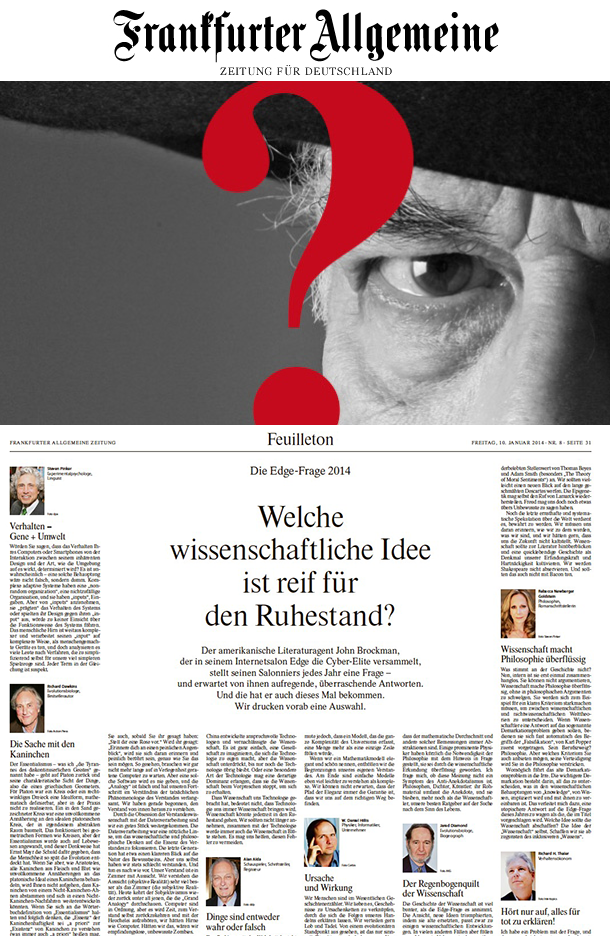 Every year, the American literary agent John Brockman asks the Cyber-Elite year the Edge question. Read a selection of the most exciting and surprising answers.