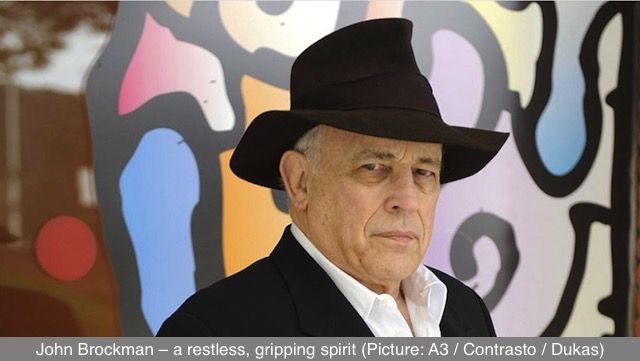 Edge.org
Master of Ceremonies in the Cyber Salon 
By Andrea Köhler 11.3.2017
---
For more than half a century John Brockman has been inspiring artists and scientists to ask innovative questions. His website Edge.org has established itself as a forum for forward-looking ideas. 
---
What is a "cultural impresario"? The expression is frequently used to describe John Brockman, as is the curious term "intellectual enzyme." The latter was created by a friend of Brockman—probably to signify that he is not quite what he seems to be: a shrewd book agent, feared by publishers for his capacity to negotiate amazingly profitable contracts for his clients. After all, he got acquainted with the trade in the banking sector.
What makes Brockman a "major player" in cultural matters is not, of course, his involvement in the book business—although his bright, minimalist-style offices with a view of the Empire State Building prove without a doubt that his agency gives him financial leeway. He uses it to pursue his passion, the "third culture"; but more on that later.
In Warhol's "Factory"
To understand the term "intellectual enzyme" correctly, one has to go back a couple of decades, to the time when 23-year-old John Brockman pursued his financial business during the day and at night dived into the fermenting New York art scene of the Sixties. Together with Sam Shepard and Charlie Mingus Jr. the banker stacked chairs at the legendary Theatre Genesis at St. Marks in the Bowery. Then he met with Robert Rauschenberg, Claes Oldenburg or Dalí at the "Cedar Tavern," and ended up in 
Andy Warhol's
 Factory. "It was a period of incredible creativity," says Brockman. "I practically flew through the streets."
---
"The world of money, says Brockman,
never really interested him.
'My interests were always strictly cultural.'"
---
One day when Brockman was in Central Park playing his banjo, the 
avant-garde director Jonas Mekas
 followed him around filming him—then he offered the banjo player an attractive job. Brockman was to organize a festival. The "New Cinema I" Festival (aka "Expanded Cinema") in which artists, composers, dancers and avant-garde filmmakers transcended the borders of traditional genres became a mega-hit. "A kind of event of a lifetime,"—the first of several more Brockman was to call into being.
"The art scene," he says, "was on the cybernetics trip at the time; they were all studying the mathematical theory of communication." He even underwent a special initiation into the subject when the composer 
John Cage
 handed a book to him during one of his legendary "Mushroom Dinners." Brockman eagerly devoured Norbert Wiener's 
Cybernetics, Control and Communication in Living Beings and Machines
. Cage never talked to him again. A mutual friend explained: "Cage is a Zen master. You no longer need him." The book, Brockman says, still has a special place in his living room library.
It was the age of psychedelic counterculture, of 
Albert Hofmann
 and Timothy Leary. Brockman himself avoided drugs. Even Cage's mushroom dishes were of a purely culinary and highly intellectual nature; among the ideas explored at length was 
Marshall McLuhan's
 notion of "the collective conscious." The world of money, says Brockman, never really interested him. "My interests were always strictly cultural."