While walking through MOMA en route to the Exhibit of Stewart Brand's Whole Earth publications, I recalled another USCO collaboration in which USCO artist Judi Stern and I collaborated on the silk-screen on metalized mylar version of the poster I created for the Monkee's movie, HEAD. The poster is part of MOMA's permanent collection and is usually on display.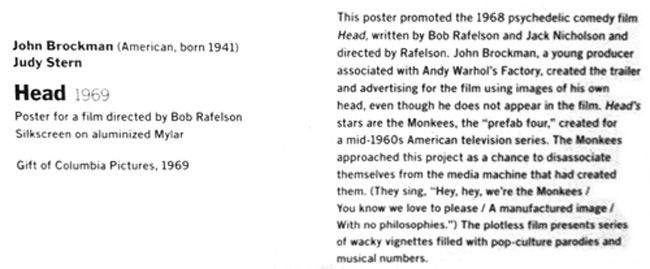 John Brockman (American, born 1941)
Judy Stern

Head 1969

Poster for a film directed by Bob Rafelson
Silkscreen on aluminized Mylar

Gift of Columbia Pictures, 1969

This poster promoted the 1968 psychedelic comedy film Head, written by Bob Rafelson and Jack Nicholson and directed by Rafelson. John Brockman, a young producer associated with Andy Warhol's Factory, created the trailer and adversting for the film using images of his own head, even though he does not appear in the film. Head's stars are the Monkees, the "prefab four," created for a mid-1960s American television series. The Monkees approached this project as a chance to disassociate themselves from the media machine that had created them. (They sing, "Hey, hey, we're the Monkees / You know we love to please / A manufactured image / With no philosophies.") The plotless film presents series of wacky vignettes filled with pop-culture parodies and musical numbers.
The original b&w poster, the basis of a national ad campagn by Columbia Pictures, had nothing to do with my own head. (But then, neither did the movie). It was based on the cropped photograph of the screen of a television set in the Columbia studios in Burbank on which the one-minute version of the silent movie trailer of my head was playing. In the mylar version, the viewer sees his or her own head reflected while looking at the silk-screened image. Same also on the record album cover I designed using mylar. The press missed the point; but the art world certainly got it.
While I searched the MOMA site for a link to the poster (to no avail),  I came across a rather strange Website called "Some of the Corpses Are Amusing", in which somebody put in an extraordinary amount of time presenting a very detailed report on a somewhat obscure movie made 43 years ago. It's more than anyone can possibly ever want to know about the movie HEAD or my role in it.
HEAD, by the way, was the first of six movies produced by Bob Rafelson, Bert Schneider, and Steve Blauner (BBS Productions), a company that was also a community that also included Jack Nicholson, Dennis Hopper, and Peter Fonda. Even me. Their second movie, Easy Rider changed Hollywood forever. Other films included Five Easy Pieces and The Last Picture Show. (The entire collection along with a documentary was just issued in a boxed set.)
"There was a lot of work put into the HEAD piece on their website," wrote one of the Hollywood people involved in making the movie, "not flattering or accurate sometimes, but detailed. Stuff I either didn't know or forgot (hard to distinguish these days).
As regards their reporting on my role, detailed as it is, it's not what happened. And don't even try to guess. Only a handful of people know the real story and no one is about to tell it ... yet. Toward the late 60s, the Monkees, through their TV show, records, merchandise, were the biggest act in show business. At the time I was told they were bigger than The Beatles and Elvis combined. The story behind my involvement in HEAD is not about celebrity culture, music or art. It is an interesting story about business. As Gregory Bateson used to point out, the map is not the territory, the thing is not the thing, and in this case, my head is not ...
GERD STERN (Excerpt): "When I had been working with John Brockman in New York, we got a lot of publicity — The New York Times magazine — and there was national and international interest in our work. People would call up and ask us things. One time we got a call from Hollywood, from Bert Schneider and Bob Rafelson, asking us if we would be interested in consulting with them about a project that they were doing at the time. Bert is the son of the former head of Columbia pictures, Abe Schneider. A very substantial force in the industry. They met us in New York, and they explained to us that they were doing this film with the Monkees, and it was a very far-out film. They were both big heads. Mucho smoke, in quantities that were impossible for me to even conceive of. The Monkees were not exactly what we thought of as our kind of culture, but they brought us out and paid us royally. John got the lion's share: he wound up with a yellow Jaguar sports car out of this gig. This is still during the days of USCO at the church, what we're talking about, more or less. It was winding down; I think it was after Barbara and Steve had left for the coast."
"We weren't quite sure of how to handle this scene, but it was interesting; it was a very odd movie, the way it was shaping up. It had a lot of surrealistic aspects to it. The problem that they had was how to promote and how to name it and just kind of--we were communications experts, right? We were friends with and worked with McLuhan, and all these things and they were hip. I decided a great name for the picture would be "Head." Don't ask me why. It seemed like a name that people would really grab on to — and they loved it. Then I said, "The poster has to be somebody's head. It's gotta be a really wild poster."
Enjoy. ...