August. All is quiet. The conversation is on hold. The Edge community has hit the road... or they're staying home. Recharging. Preparing for the academic year to begin, wrapping up projects and starting new ones, celebrating with family and friends or contemplating in solitude. After a hiatus, Edge is pleased to revive Summer Postcards: Edgies reporting in from wherever they are and on whatever they're doing, as the dog days wind out and the season comes to a close. As the world slowly returns to a "new normal" with enduring COVID restrictions in the midst of renewed vaccine freedoms, this year's collection is a testament to change (temporary and lasting), a consideration of loss (will travel ever be like it was?), and a celebration of questions (that still need answering). The hammock may be away until next year, but the memories remain. Enjoy.
—Russell Weinberger, Publisher
Contributions from: Ian McEwan, Carlo Rovelli, Laurence C. Smith, Susan Blackmore, Steven Pinker, Itai Yanai, Beatrice Golomb, Brian G. Keating, Terrence J. Sejnowski, George Dyson, Howard Gardner, John C. Mather, Daniel E. Lieberman, Sabine Hossenfelder, Armand Marie Leroi, David Christian, Irene Pepperberg, Julian Barbour, Kevin Kelly, David Chalmers, Geoffrey West, Diana Deutsch, Amanda Gefter, Richard Nisbett, Randolph Nesse, Philip Goff, George Smoot, Susan Schneider, Venki Ramakrishnan, Daniel C. Dennett, Andrian Kreye
Lake District, England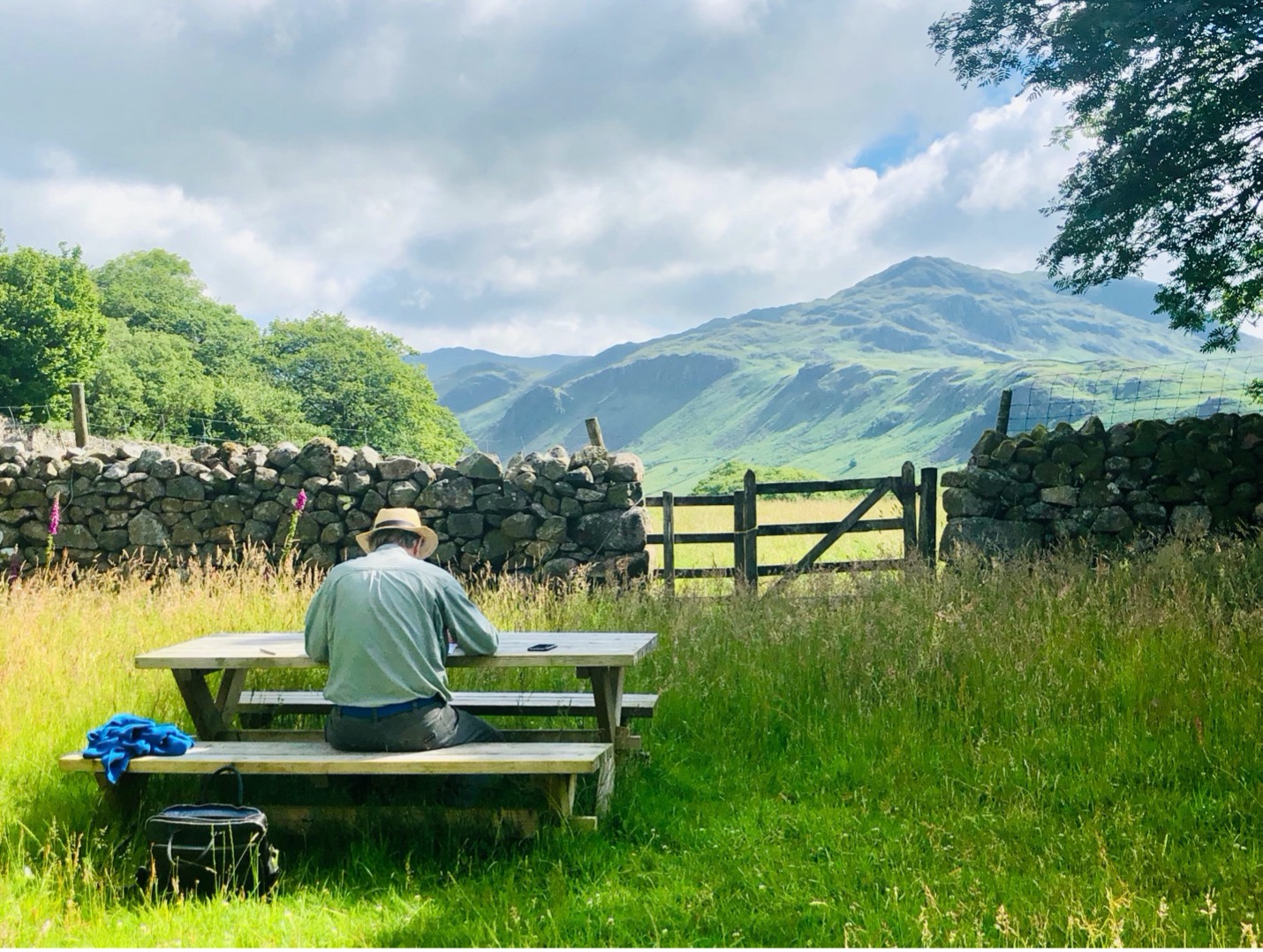 I spent the summer writing and revising the final section of a longish novel I started in 2019. It seems now as though I've been from 1946 to 2021 on my hands and knees. Various lockdowns have been a liberation from obligations and the luggage carousel, and I've never known such sweet and total focus for months on end. We have the luxury of living in the country—no shortage of big skies and moody walks. All our few breaks were in the UK—Scotland, the Lake District, the West country. Even in our remote part of the Lakes, I had to keep on writing—as in photo. 
But plenty of reading. The best novel I read this summer was Sandro Veronesi's The Hummingbird. Best non-fiction was Peter Godfrey Smith's Metazoa: Animal Life and the Birth of the Mind. I gave time also to some wonderful novellas—perfect fictional form for you too-busy scientists. An Untouched House by Willem Frederik Hermans, The Death of Napoleon by Simon Leys, The Barracks Thief by Tobias Wolff, The Order of the Day by Eric Vuillard and, perhaps best of all, Veilchenfeld by Gert Hofmann.
IAN MCEWAN is a novelist whose works have earned him worldwide critical acclaim. He is the recipient of the Man Booker Prize for Amsterdam (1998), the National Book Critics' Circle Fiction Award, and the Los Angeles Times Prize for Fiction for Atonement (2003). His most recent novel is Machines Like Me. 
Lesbos, Greece
In 2019, Časlav Brukner and myself were walking on a beach on Lamma Island, near Hong Kong, marvelling together at the astonishing strangeness of quantum phenomena. This summer, the conversation with Časlav has continued on another island, and quite an island: Lesbos, the northern Greek island near the Turkish coast. Lesbos is the place where lyrical poetry was born. Here lived Sappho and Alcaeus. Immense poets…
(The blazing heat, which withereth all things,/
O'er all the earth is spread; the blooming thistle/
Holds up its head; now womankind doth bristle
With passion most, and man is haggard worn...).
And it is also the place where observational science was born.
Here came Aristotle together with his pupil Theophrastus, and the two researched the botany and zoology of the sheltered lagoon of the island, so jump starting scientific biology based on systematic and detailed observations. This for Aristotle was just before being called to tutor the young royal who would steer the direction of the world toward civilization: Alexander the Great.
Science and lyrical poetry were both born on this island, at a short distance from one another. What does it remain of this past, while walking with Časlav and debating relationalism and operationalism as a basis for understanding the quantum world?
What do we project on the spirit of places? On the way back I stopped in Athens: I wanted to see firsthand the Antikythera mechanism, the twenty-century-old grandfather of all computers (it is much thinner than I thought! See the picture!), and I wanted to walk once again in the shade of the Acropolis, where Aristotle and Plato conversed.
But this time something surprised me: I learned that the Acropolis was densely built in the middle ages, the Parthenon was a church and then a mosque. What we see today is kind of artificial: extracted out of the city's density as a skeleton of the past, to give shape to a political and cultural identity of a nascent Greek state.
The past we imagine is a dress with which we embellish our current values. We live in narrations built over narrations. Reality is far more complex than our reconstructed lines. And yet, we keep trying to make sense of it, to search for patterns.
Using the marvellous lyrics of Sappho and Alcaeus, using the detailed observational technique that Aristotle and Theophrastus invented, and that we today call science, or debating on the astonishing strangeness of quantum theory, walking with Časlav along the beach of this or that island…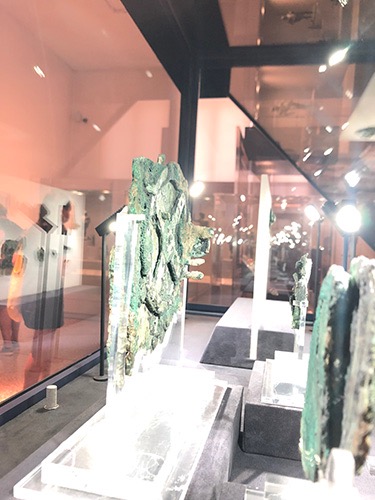 —Carlo
CARLO ROVELLI is professor of physics at Aix-Marseille University, in the Centre de Physique Théorique, in Marseille, France, and member of the Intitut Universitaire de France. His books include Seven Brief Lessons on Physics; The Order of Time; and Helgoland: Making Sense of the Quantum Revolution. 
Inglefield Land, Northwest Greenland (as visited remotely from Providence, R.I.)
Greetings from Providence, Rhode Island, where the undying COVID pandemic has prevented my Arctic fieldwork for another summer.
Instead, I am monitoring the state of the Arctic's melting virtually, through robotic installations we luckily installed in Northwest Greenland just months before the first outbreak in Wuhan.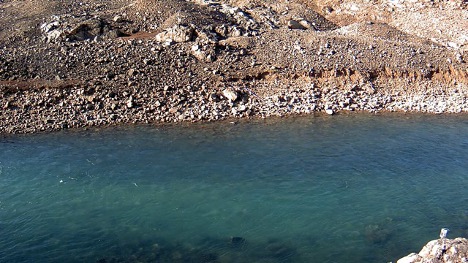 My postcard is a telemetered photo of the Minturn Elv, a high Arctic river flowing some 250 kilometers northeast of Thule Air Force Base. It is busy transferring mass melted off the northwestern surface of the Greenland Ice sheet to the global ocean. This ice sheet is now the single largest meltwater contributor to global sea level rise and, to my knowledge, our field installation makes the Minturn Elv the most northerly gauged river on Earth. Our weather station and two laser instruments, which are pinging the river's water level every three hours from each bank, are visible in the photo.
Rushing clear, cold and blue, the Minturn Elv looks like it could be a blue-ribbon trout stream in Wyoming. But it's not. Its clarity and blue color are rare for Greenland. This area of the ice sheet is so cold that it is frozen to the underlying bedrock, thus preventing the flushing of subglacial sediment that makes most Greenlandic rivers gritty and turbid, the color of chocolate milk. There are very few remaining places on Earth where glacier-sourced rivers still look this way.
I wonder for how much longer. The day after this photo was taken, it rained at Summit Station. Summit! The highest point on the Greenland Ice Sheet, where it never thaws and ice core drilling camps exhume pristine, two-mile deep records of ancient climate history dating back more than a hundred thousand years. It rained there, for the first time, on August 14, 2021.
—Laurence C. Smith
LAURENCE C. SMITH is the John Atwater and Diana Nelson University Professor of Environmental Studies and professor of earth, environmental and planetary sciences at Brown University. He is author of The World in 2050 and Rivers of Power: How a Natural Force Raised Kingdoms, Destroyed Civilizations, and Shapes Our World. 
Afghanistan
Exactly fifty years ago I was in Afghanistan, travelling across the desert in an old army truck, along the "hippy trail" through Europe, Turkey, and Iran, looking forward to the Khyber Pass to Pakistan and India, and on to join a Hindu pilgrimage in the high mountains of Kashmir. I spent my twentieth birthday in Kandahar, a town now torn by religiously inspired violence, death, and destruction, the women and girls threatened with a future under sharia law and seclusion in their homes. As I sit, safe and happy in beautiful rural Devon, I know that no such trip is now remotely possible. My postcard is a photograph I took on 29 August 1971 with my Instamatic camera, with its rolls of twelve precious photos that had to be carried safely back months later for processing. It shows the great Buddhas of Bamiyan, now long destroyed.
How can ancient religions hold such terrifying power today? I am reading, thinking, and writing about the power of religious memes, trying to understand how they selfishly spread, inflicting oppression and violence on those who, willingly or unwillingly, are infected with them, driving belief in a God who suppresses creativity, curiosity, and critical thinking.
The question that drives me now is whether memetics gives better explanations than other theories. I suspect that it does and we badly need it—but I am trying to find out. Cultural evolution theory, including dual-inheritance and gene-culture coevolution, is now a thriving field, close to memetics in claiming a second evolutionary process but not treating memes as a second replicator. This means that everything ultimately comes back to genetic advantage: when theorists say that traits such as celibacy, self-immolation, or dangerous and time-wasting rituals are "maladaptive," they mean from the genes' point of view.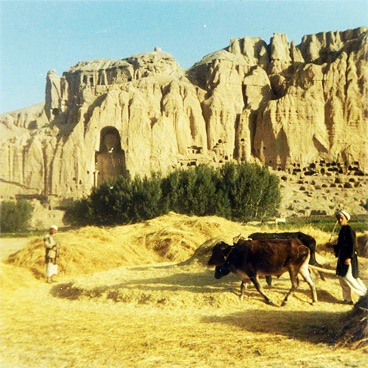 For memetics, such traits are selfish memes, competing to use us humans for their own propagation, and shaping our world and its competing religions as they go.
God hates human rights. It seems to me that the great faiths that evolved long ago for biological advantage keep dragging us back to biology while the memes of personal choice, freedom, and science benefit living men and women rather than their genes. Christians may fight against birth control and abortion—favoring genes rather than women and their children. Islam explicitly condemns women and girls to be owned and controlled by men. Both claim a God who gave us this fragile Earth for our benefit to do what we like with.
I'm having a lovely summer at home with grandchildren visiting for weeks on end, gardening, having a big seventieth birthday garden party (the rain just held off), and swimming in the cold (15 °C, or 59 °F) river that runs past our house, and I'm enjoying the COVID-induced lack of frenetic travelling. But, calm and peaceful as it is in cool, green England, I write from a world in peril. And much of that peril comes from selfish religious memes.
SUSAN BLACKMORE is a psychologist and writer researching consciousness, memes, and anomalous experiences. She is a visiting professor at the University of Plymouth and author of Consciousness: An Introduction; The Meme Machine; and Conversations on Consciousness. 
Berkeley
Greetings from Berkeley, where I'm spending a sabbatical with my extended family, including newborn Kai Blau and four-year-old Solly Lopez.
Book tours remain virtually all-virtual, so in preparation for the release of Rationality, I've set up a green-screen studio in my temporary study with a new backdrop.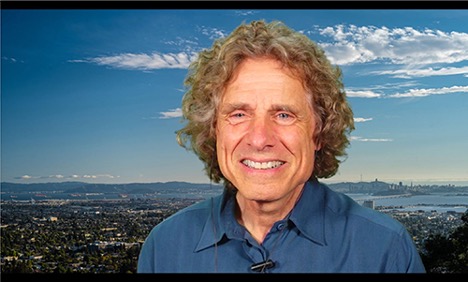 Though podcasts are proliferating like rabbits, I'll contribute to the overpopulation with a series of my own, details under wraps for now.
STEVEN PINKER is the Johnstone Family Professor in the Department of Psychology at Harvard University. He is the author of several books, including The Language Instinct, How the Mind Works, The Better Angels of Our Nature, The Sense of Style, Enlightenment Now, and Rationality. 
Israel
I've been on holiday this August in Israel, my country of origin, catching up with family and friends. It's a challenge to balance everyone's wishes, manage the activities of the kids, and somehow also keep up with emails from the lab back in NYC. Worse, my dad told me a math riddle that has been driving me mad, particularly since he's already solved it. Last week, Michal and I took the kids to Jerusalem. It felt important to show them the old city with its schizophrenic division into quarters and the sprawling market of Mahane Yehuda. We also took them in a single day to both Yad Vashem (Holocaust memorial) and the Israel museum—particularly to see the Dead Sea Scrolls. In between the action though, there has still been time this summer for daydreaming: a time for finding enough distance to think about how things are going and to ask what new directions one could take.
Despite being on vacation, my fun activity is putting together a new workshop, called "Night science—the art of scientific discovery," with Martin Lercher—another Edgie, of course, and my good friend and long-time collaborator. "Night science" is the term François Jacob used to describe the part of science where one tries to generate the hypothesis—which will later be tested by the traditional scientific method. In his autobiography, he wrote: "Night science is a sort of workshop of the possible, where what will become the building material of science is worked out." The University of Copenhagen commissioned this workshop to be given next month, and Martin and I jumped at the chance to put our ideas about the scientific creative process into a coherent, actionable whole.
We are working on exercises that teach how anthropomorphizing helps give us an intuition about a problem, how new questions can be identified by searching for contradictions, how a hypothesis can be a liability for making new discoveries, and how ideas can be imported and exported across research fields. Can scientific creativity be taught? Of course it can—and whatever creative skills you have, you can always get better at it.
Tomorrow, we'll fly back to the US—just my seventeen-year-old son and me. What a great opportunity to spend time with him.
ITAI YANAI is the director of the Institute for Computational Medicine and professor of biochemistry and molecular pharmacology at New York University's School of Medicine. He is co-author (with Martin Lercher) of The Society of Genes. 
HELLO DEAR,
Felicitations. Just briefed the JASONs (a secretive group of scientist advisors to the government) on the so-called "Havana Syndrome." (Previously briefed the National Academies of Sciences, Engineering, and Medicine whose report agreed with my conclusion that the cause is pulsed radiofrequency/microwave radiation. I'd also briefed the Cuban Academy of Sciences.)
How goes your pandemic sequestration? My COVID captivity continues but has its consolations—in email epistles (e-pistles?) of a stamp highly gratifying.
Exemplars (verbatim) from a trove of such (non-dis)missives:
"Dear Beatrice Golomb. Have a great future ahead of you. We are in search of eminent authors."
—International Journal of Vascular Surgery and Medicine
"Respected Golomb Beatrice Alexandra... We are very passionate to associate with eminent people like you."
—Biogeneric Science and Research
Expressing this passion, their later email states
"I hope you will find a virtuous bond with us." (Marriage proposal?)
—Biogeneric Science and Research
Others recognize my worth in pecuniary terms.
"Subject: MERCIFUL GOD" "As I lay on my sickbed I want you to help me in carrying out my last wish on earth which will also be very profitable to you. I want to WILL a total sum of Five Million Five Hundred Thousand..."

"Subject: HELLO DEAR" "... We fear the pirate's [sic] attack... I get a confirmation from you to assist in receiving the money" ["USD$23.4 Million United State Dollars"] "because... I don't want to lose the money to sea pirates."
Such tributes are a balm in this difficult time.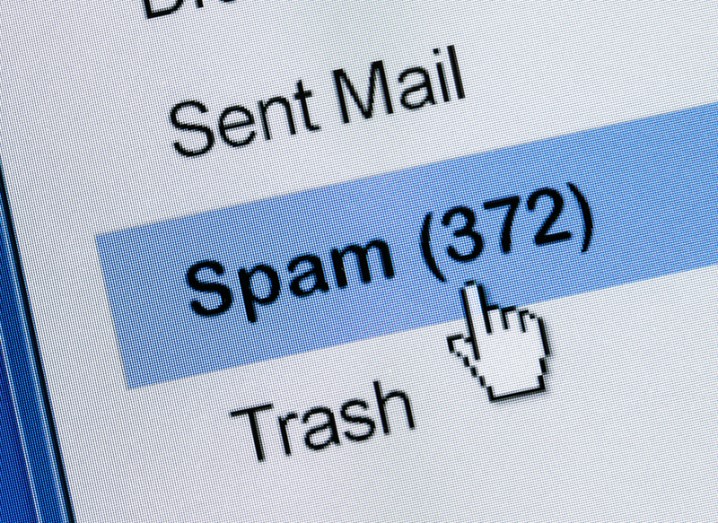 Have a great future ahead of you.
—Respected Golomb Beatrice Alexandra
BEATRICE GOLOMB is a professor of medicine at UCSD and director of the Golomb Research Group. She has served as a primary care doctor for a panel of veteran patients for over fifteen years, but she is best known for her work on Gulf War Illness, statins, placebos—and chocolate. 
Jackson Hole, Wyoming
Crypto Cowboys
Sun blistered mountains and wholesome family fun: hiking, river rafting, rodeos and beauty pageants. Occasionally, a torrential rain and charing Mama Moose must be dodged this time of year. All part of the rustic experience. Yet there is a new high-tech mining operation, totally invisible, with minimal environmental impact throughout the Cowboy State: bitcoin mining. 
California city slickers try their hand at crypto wizardry, exploiting the lax tax laws, cheap energy, willing regulators and free spirits that speak of a new gold rush. Some having brought billionaires seeking to place large telescopes atop mountains far more dormant in the summer than the winter. Who will provide the picks and shovels for this nouveau gold rush? What will come next: regulation, taxation, decentralization? Who knows; the trout are jumping just outside Grand Teton National Park. The crypto is calling and I must go…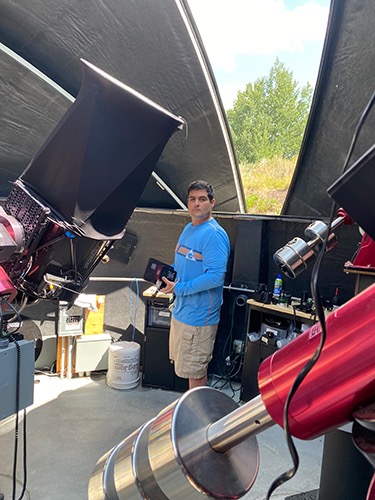 BRIAN G. KEATING is the Chancellor's Distinguished Professor of Physics at the University of California, San Diego. He is author of Losing the Nobel Prize: A Story of Cosmology, Ambition, and the Perils of Science's Highest Honor. 
La Jolla, California
My summers are a time to travel. I have traveled the world, hiking in the mountains of Patagonia, the Alps in Switzerland, the rugged terrain in New Zealand, and the cascading waterfalls in Iceland. But not this summer, which was focused on zooming across the world on the Internet.
Scientific meetings, large and small, have all gone virtual. They are a different experience from in-person meetings, with both downsides and upsides. Virtual meetings lack the personal exchanges that occur at in-person meetings, but I have come to appreciate their value in keeping up with research, somewhere between reading a paper and having a personal discussion.
Here are my impressions of three different virtual experiences.
At the beginning of June, I attended a virtual meeting of the Learning in Machines and Brains (LMB) program sponsored by the Canadian Institute for Advanced Research (CIFAR). This program was initiated seventeen years ago by Geoffrey Hinton, a good friend and collaborator, and was continued by Joshua Bengio and Yann LeCun, all recipients of a recent Turing Award for pioneering research on deep learning. LMB is a small group of a few dozen researchers at the top of their game, creating future capabilities for AI based on neural networks. Since 2012 when deep learning went public, computing power used by the largest AI applications has been doubling every 3.4 months, much faster than Moore's law for VLSI chips, which doubles every eighteen months.
The Telluride Neuromorphic Cognition Workshop is the longest workshop series sponsored by the NSF. It has been meeting annually in the mountain village of Telluride since 1994 when we founded it, bringing together fifty students and fifty faculty for three weeks to create a new technology based on bioinspired low-power analog VLSI chips. Neuromorphic chips that use spikes like brains are thousands of times more energy efficient than digital chips. The attendees work together intensively, building robots and testing new chips. In July, the workshop was held virtually, including virtual joint projects.
Another virtual meeting I attended this summer was sponsored by the NIH on the BRAIN Initiative. I was on the advisory committee to NIH director Francis Collins to plan this $5B, ten-year grand scientific and engineering challenge in 2014. We were asked to create a set of goals and milestones for innovative neurotechnologies to accelerate brain research. One goal was to record simultaneously from one million neurons. This was achieved earlier this year, ahead of schedule. Another goal was to use machine learning to analyze the deluge of data. New discoveries have overturned old ideas about how brains work. Advances in our understanding of brain circuits in turn is advancing AI based on neural networks.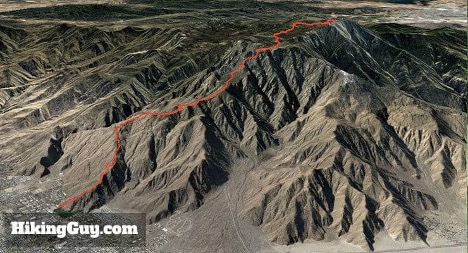 La Jolla is an hour away from hiking trails in the local mountains. One trail, called Cactus to the Clouds, ascends from Palm Springs, going straight up a ridge line that continues up the mountain for sixteen miles to the top of San Jacinto Peak, a net elevation gain of 10,800 feet, the highest elevation increase for a day hike in the United States. It was a long day starting well before dawn to avoid the heat and ending at dusk. Mercifully, there is a tram going down. A nice way to round out a virtual summer.
TERRENCE J. SEJNOWSKI, a pioneer in computational neurobiology, is Francis Crick Professor and Laboratory Head at the Salk Institute; an investigator at the Howard Hughes Medical Institute; and professor of biology and neurosciences at the University of California, San Diego. He is co-author (with Patricia Churchland) of The Computational Brain, and (with Steven Quartz) of Liars, Lovers, and Heroes: What the New Brain Science Reveals About How We Become Who We Are. 
Bellingham, Washington
It is 100°F in Johnstone Strait, and Canadian waters remain closed to non-essential foreign-flagged vessels. These two facts are unrelated, but similarly remarkable. Here in Bellingham, WA, it's another summer of Staying Put.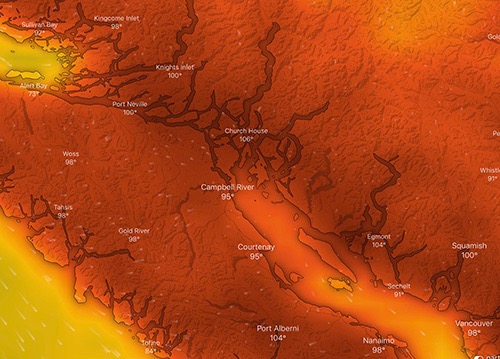 What do whales do when the whale-watchers aren't watching? Reports from vessels transiting through to Alaska (and back) are anecdotal, but it sounds as if the two seasons of breathing room have been good for the whales.
To a historian who lives mostly in the past, a pause in the present is welcome, allowing the past some time to catch up. 
Besides deferred maintenance, my current project is a summary of Freeman Dyson's life and work for the Biographical Memoirs of Fellows of the Royal Society. Dyson remained a Fellow for 67 years and 11 months, a record exceeded among the Society's Scientific Fellows only by Sir John Davis (elected 1822) who remained a Fellow for 68 years and 7 months, and possibly by Jean Chardellou (elected 1702) who is "believed to have died aged 107" in 1771, but the precise date is unknown. Dyson could prove something mathematically interesting or physically important, often both, in less time than it takes me to understand what he did.
—George
GEORGE DYSON is a historian of technology whose interests and books have included the development (and redevelopment) of the Aleut kayak (Baidarka), the evolution of digital computing and telecommunications (Darwin Among the Machines), and a path not taken into space (Project Orion). His most recent book is Analogia. 
Cambridge, Massachusetts
Usually, when one's ninth decade is in sight, it's time to wrap up. But through an unexpected series of events, I have embarked on a project which should keep me busy for the foreseeable future.
I've been studying and writing about "other" minds for decades. In the course of completing the memoir, I realized that I had not well understood my ­own mind—basically an instrument for synthesizing a large amount of information from different sources in order to explain a phenomenon (like intelligence, or creativity, or leadership) in which I am interested, and then writing about it in a way that (hopefully) makes sense to others.
Any Edge author will recognize this description. And whether you are a journalist or a bench scientist, you undoubtedly engage in such synthesizing.
But in the last year, like the cobbler who only peers at feet and shoes, I have come to see synthesis everywhere; and I feel that its nature is not well understood (at least by psychology—after all, you can't simulate the mind of a Charles Darwin or an Emily Dickinson in the laboratory). And so I have begun to blog about synthesis—as it occurs across a range from fields, from politics to poetry, from history to philosophy. I've addressed what synthesis is, what it is not, what's a good or a poor synthesis, and how one might become a better synthesizer.
As an example: Though I'm by no means an expert on investment, I decided to study and compare two outstanding investors—Warren Buffett and George Soros. Along the way, I discovered that they were both born in August 1930 (happy birthday, guys). Obviously, they both absorb and retain vast amounts of information. But their styles of buy/sell could not be too different: Buffett reflects for long periods of time, makes his investment cautiously, and sticks with it. Soros swoops in and, just as quickly, switches courses. If I can twist phrases from another synthesizer, well known to the Edge readers, Soros exemplifies "thinking fast," while Buffett demonstrates "thinking slow."
While there are AI claims to carry out synthesizes of all sorts, I believe that the kind of syntheses in which I am chiefly interested—powerful new conceptual or artistic ones—are likely to elude AI indefinitely.
HOWARD GARDNER is the John H. and Elisabeth A. Hobbs Professor of Cognition and Education at the Harvard Graduate School of Education, and senior director of Harvard Project Zero. Gardner also directs The Good Project, a group of initiatives that promotes excellence, engagement, and ethics in education. He is the author of thirty books, including Multiple Intelligences, Frames of Mind, Five Minds for the Future, Truth Beauty, and Goodness Reframed, and A Synthesizing Mind. 
NASA Goddard Space Flight Center, Maryland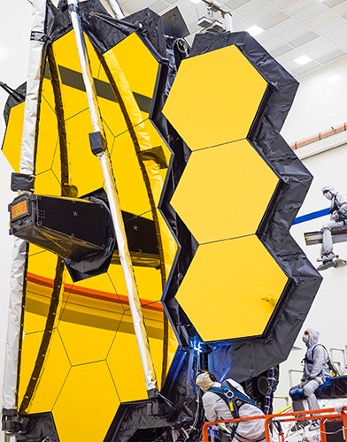 My James Webb Space Telescope team members are just finishing up the new observatory in California and are getting it ready to ship to the launch site in French Guiana. It's gorgeous in gold, folded up like an "enormous, night-blooming flower" as Rivka Galchen described it in The New Yorker. But I'm staying home, teleworking from my suburban brick box, and talking every day about the marvels of the universe and how the new telescope can see them.
The Webb will be far more powerful than the brilliant Hubble Space Telescope, seeing farther out in space to see farther back in time with its infrared eyes, seeing inside those dusty clouds of gas where stars are being born today, and looking for hints about maybe-Earthlike planets way out there. But many of the astronomers who will be using the telescope were just being born when we started the mission in October of 1995. Longevity is a gift.
I've also been working on hybrid observatories, combining giant ground-based telescopes with guide stars or starshades in space. With adaptive optics we can compensate for the turbulence of the Earth's atmosphere, so we get almost the sensitivity and image quality we could have with a space telescope. With a starshade in space, held in position between a target star and a telescope, we can cast a shadow of a bright star, so we can see Earthlike planets directly. What color are they, do they have continents and oceans and weather, what molecules do they have, what minerals are on the surface? It's not impossible to find out, but it will take a little while.
JOHN C. MATHER is an astrophysicist, cosmologist, and Nobel laureate in physics for his work on the Cosmic Background Explorer Satellite (COBE) with George Smoot. This work helped cement the Big Bang theory of the universe. As senior project scientist (1995-present) for the James Webb Space Telescope, he leads the science team, and represents scientific interests within the project management. He is co-author (with John Boslough) of The Very First Light: The True Inside Story of the Scientific Journey Back to the Dawn of the Universe. 
Zealand, Denmark
This is the second summer in a row my students and I have been unable to return to Kenya. I don't miss driving there, but I do miss all my friends, collaborators, and others in Eldoret and the rural community in the Nandi Hills where we have been doing research for the last dozen or so years.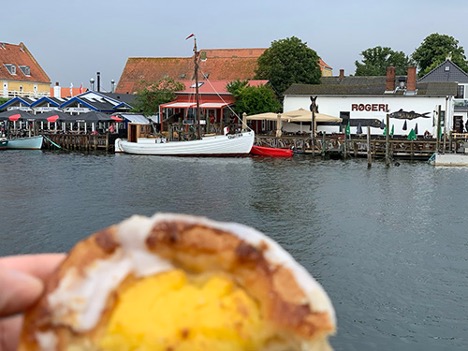 The farthest I got from home this summer—and indeed since the pandemic began—was the south coast of Zealand, Denmark. It was a delightful place to work. Every morning, I cycled to the town's one and only bakery for a danish (aka Wienerbrød). I was told that these pastries became a hit in Denmark during a baker's strike in the mid-19th century when Austrian bakers were hired as scabs.  
Apart from eating pastries, I spent the summer writing and training for my twenty-fifth marathon.  
—Dan
DANIEL E. LIEBERMAN is Edwin M. Lerner II Professor of Biological Sciences at Harvard. He is especially well known for his research on the evolution of the human head and the evolution of running, including barefoot running (earning him the nickname the "Barefoot Professor"). He is author of The Story of the Human Body and Exercised: Why Something We Never Evolved to Do Is Healthy and Rewarding. 
Kensington Gardens, London
Hello from Kensington Gardens in London and my first trip since pre-COVID times. It turns out to be one of the few summer days in Europe when it's neither too hot nor too cold. I have just finished writing my second book and I am here for a visit to the Royal Institution where we will film some videos—they'll be on YouTube soon! Then I am off to chase down a collaborator in Oxford, with whom I have had plenty of lockdown debates over the sense and nonsense of quantum mechanics that we hope to finally turn into a paper or two. I think I have an idea for my next book...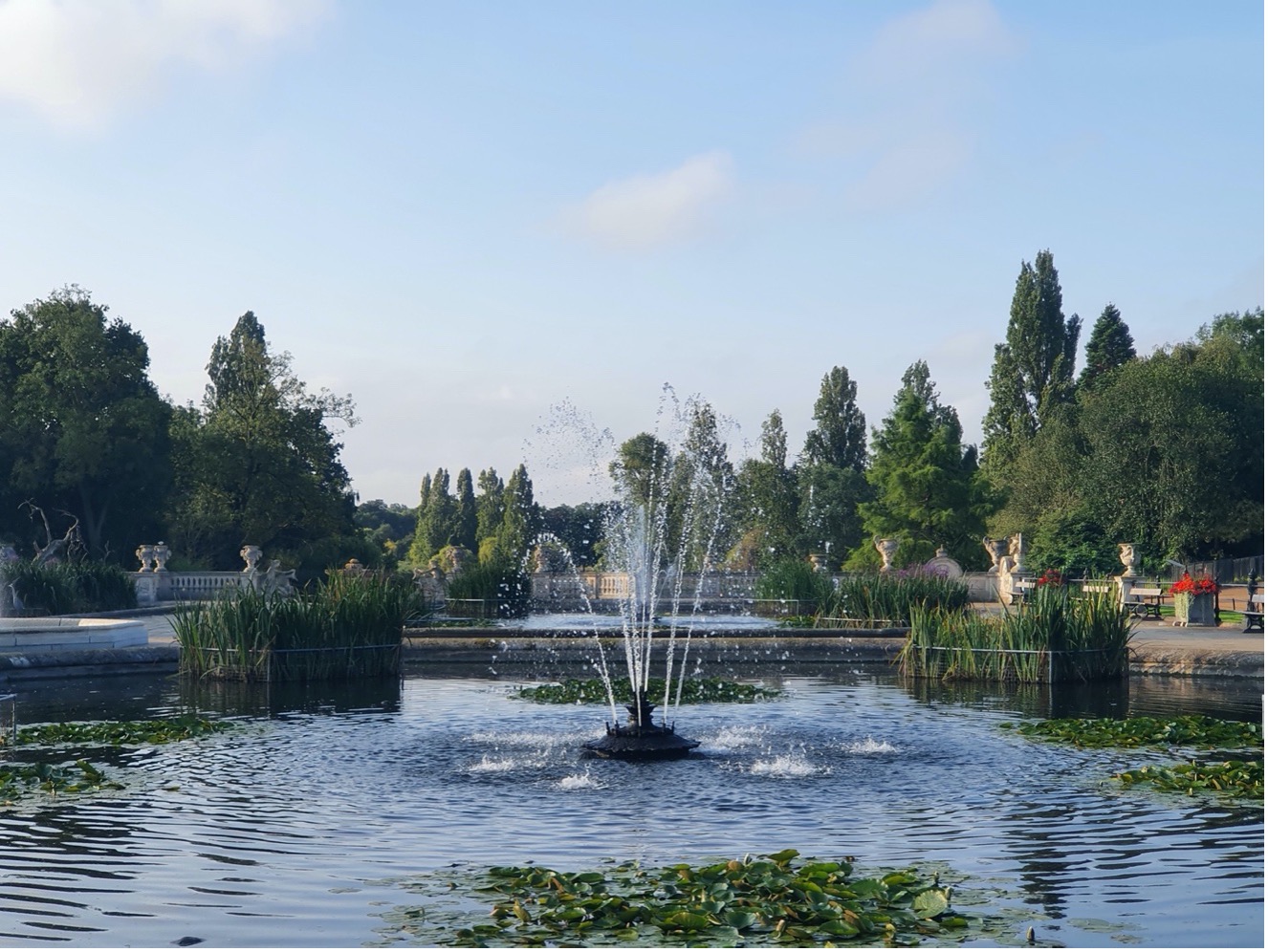 SABINE HOSSENFELDER is a research fellow at the Frankfurt Institute for Advanced Studies, an independent, multidisciplinary think tank dedicated to theoretical physics and adjacent fields. She is author of Lost in Math. She is also a singer-songwriter. 
Postcard from Samos
We're wandering across the Eastern Aegean looking for pots. The kind of rough, utilitarian ceramics that have been made in these islands for thousands of years. Each island has its own varieties, as distinctive as the Heliconid butterflies of Andean valleys. No-one knows why this diversity exists: ask and you're just told "it's how we've always made them." Modernity has washed over Greece just as elsewhere; but the country never really had an industrial revolution, so tradition is still a living memory. Even in the '60s there were places where girls carried water from the village well in earthenware pitchers.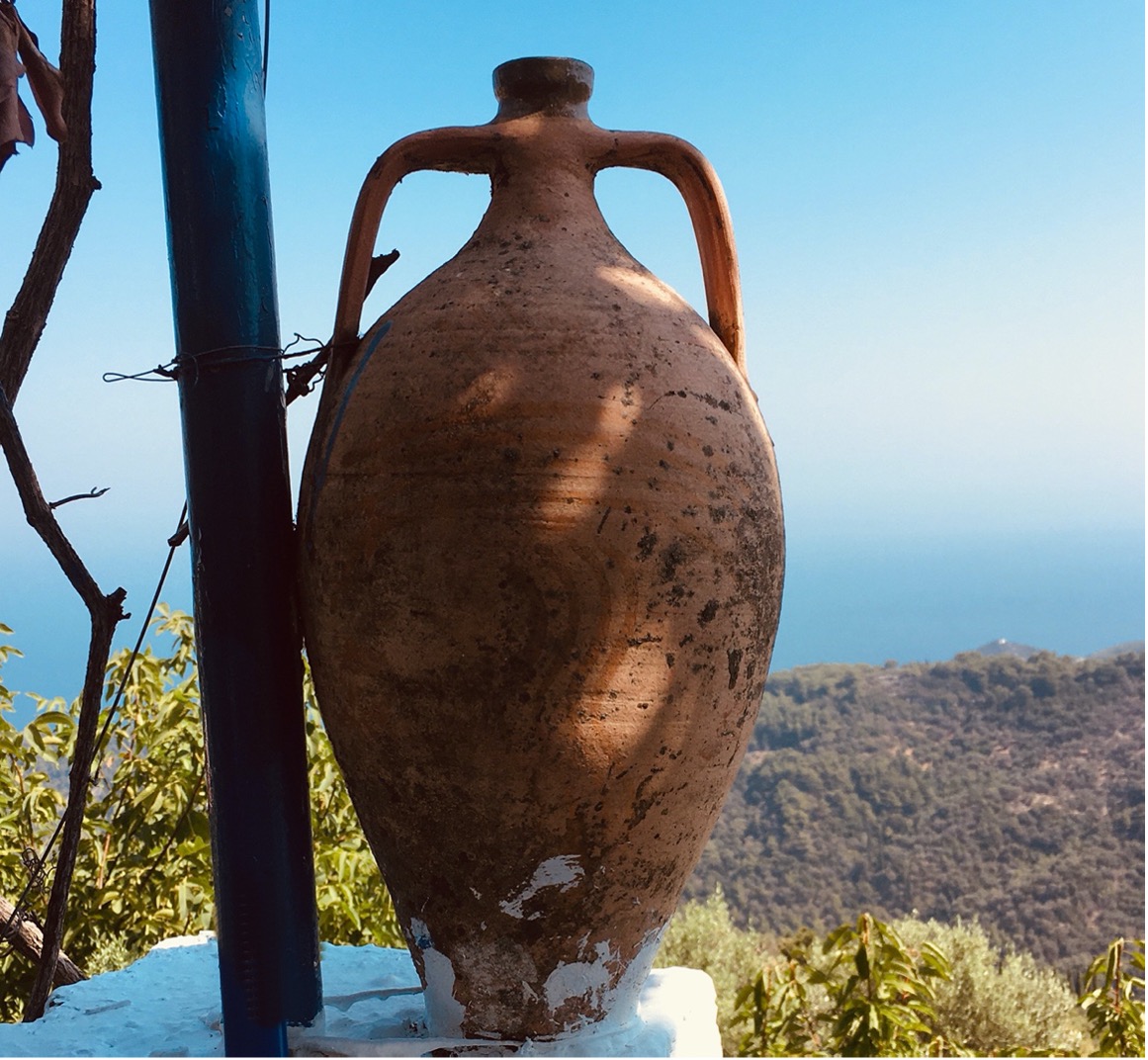 When we find a pot in a taverna, a monastery, or perhaps on the porch of a village house, we photograph it. I try to resist buying them. The collector's obsession is always there but must be ruthlessly suppressed. What do you do with the things in a London flat? So, the image suffices. When we get home, we'll run them through contour-finding algorithms, extract the numbers, cast them into shape space—weird Riemannian manifolds of unknown topography—and reconstruct their evolutionary histories as if they were dinosaur bones. The idea is to reveal the migrations of craftsmen across the Aegean, the hidden connections, that certainly run much deeper than the modern Greek State, perhaps deeper than the Ottomans who once ruled these seas, perhaps into Byzantium itself.
We began in Samos, just a few kilometres from the Asia Minor Coast. Rocky Ikaria is next. We'll end up in Lesvos, my true love among all the Greek isles. There I'll visit the last, true traditional potter on the island, a man who works as they did at Mycenae three thousand years ago. For fifty years he has dug and refined the Lesvian clay, shaped his pots on the wheel, and fired them in a kiln fueled by olive stones. He has done so as his father, and his father before him, and his father did—the genealogy disappears into the earth—but now he is tired. Village girls no longer hike about with water pitchers balanced upon their shoulders, and so his pots, elegant as Attic amphorae, accumulate unsold. At summer's end he will fire his kiln for the last time.
He's asked us to record the occasion. It's a momentous one. He really is the last. Of course, there will still be potters in Greece. Most islands have at least a few who make pretty ceramics for tourists, and Athens has its studio sophisticates with MFAs from London's Royal College. But this is where anonymous craft, what Soetsu Yanagi called "the beauty of everyday things" finally disappears so that only Art—and Science—remain.
ARMAND MARIE LEROI is professor of evolutionary developmental biology at Imperial College London, and author of Mutants and The Lagoon.
A "Winter" Postcard
Iron Cove, Sydney, Australia
If you can look into the seeds of time,
And say which grain will grow and which will not,
Speak then to me, …
           [Banquo to the three witches, Macbeth, Act 1, Scene iii]
I spent most of the first six months of 2021 trying to finish the manuscript of a book on the future. Well, my previous book tried to tell the story up to the present, from the dazzling moment, 13.8 billion years ago, when our universe first lit up, through the emergence of stars, planets and, at least here on earth, living organisms such as ourselves. That book described the Universe's first baby steps because the cosmologists tell us our Universe will exist for gazillions of years more. As I approached retirement, I thought it might be time to write about the rest of the story, that is to say, "the future."
I looked for guidance. Surely, someone had written a sort of Baedeker to the future, a "User's Manual" of sorts. And there is a whole field now known as "Futures Studies." But I couldn't find the book I was looking for. So, I decided to write it myself.
The future, I found, really is very very weird. As you try to make sense of it you meet all sorts of metaphysical and scientific and logical creepy-crawlies. I soon got lost in a philosophical and scientific jungle full of very spooky things: the philosophy and science of time. That was fun, but seriously daunting for a historian who's used to dealing with facts. Then I realized that all our future thinking begins with the future thinking of each cell in our body. So how does an E. coli bacterium plan for the future? Or an antelope? More creepy-crawlies, but this time of the biochemical and neurological kind. And how did our ancestors cope with the many mysteries of the future? 
That question took me into the enchanted, but sometimes very sophisticated, world of divination, a world full of manticores, inspectors of livers, and other strange beings. I thought it would be easier to describe today's seriously dis-enchanted ways of thinking about the future, from probability theory to statistics and computer modelling.
But no. Strange bugs lurk inside probability theory, statistics and even logic itself. Still, I was having such fun that I had to try one more thing: describing possible futures. So, I tried to think through the next 100 years (weird because the science is so good, but the politics is no more predictable than it was in Cicero's time) and then the next few millennia and finally, the end of time.
I wrestled with these thought-monsters in lockdown. Each morning I walked down to Iron Cove, a lovely little inlet of Sydney harbour, and it was there that some of the mistier aspects of the future began to take shape in my mind, sometimes just as the sun was rising.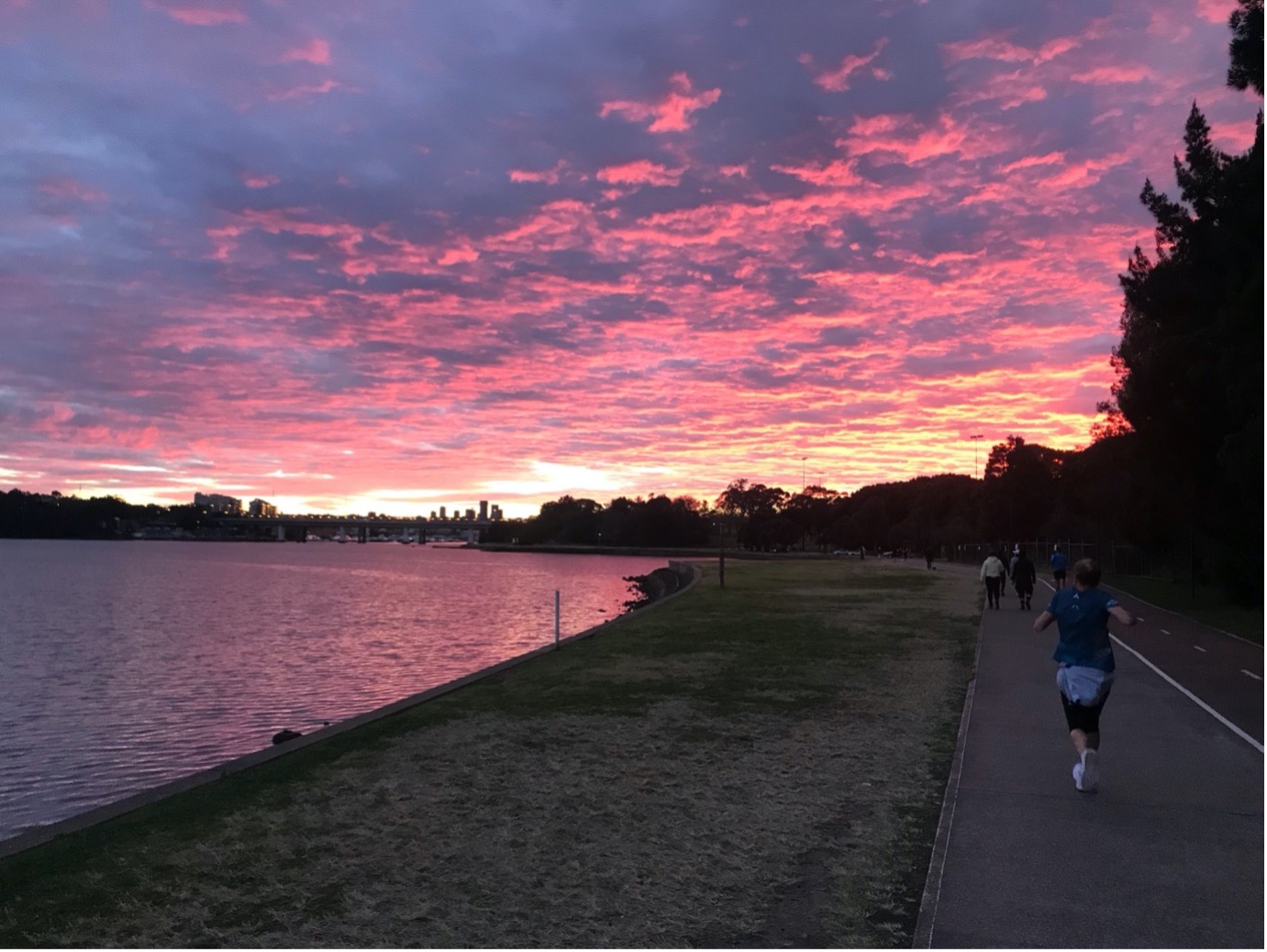 I have found the stillness and focus of lockdown profoundly satisfying. We know we are the lucky ones. But I do worry about the future we are leaving for our children.
—David
p.s. I should add that my postcard is, of course, a winter postcard as it comes from Sydney (whose winters are a bit like San Diego's, hard to distinguish from a fine English summer's day).
DAVID CHRISTIAN is professor of history at Macquarie University in Sydney and director of the University's Big History Institute. He is author of Maps of Time and Origin Story: A Big History of Everything. 
Swampscott/Somerville, MA
Long shifts keeping the parrots happy and healthy in temporary space while we figure out what happens next in our not-quite-post COVID world. Have not been able to carry out any significant amount of research but have been able to test some protocols for projects we hope to start in the near future. Several review papers and one manuscript (pre-COVID data collection) have been published this summer or are in press, and I am revising another manuscript (among their other talents, Grey parrots contrafreeload and delay gratification).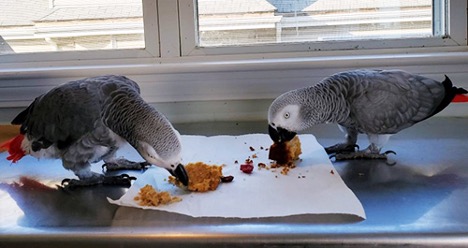 Did a Zoom meeting with middle school students—their questions were on par with those of colleagues! Gave talks and spoke at several virtual conferences (e.g., University of Geneva, Sci-Foo Lightning Talk, Human-Animal Studies [Israel], Symposium at American Psychological Association, Association of Avian Veterinarians; poster at Animal Behavior Society—missed interacting with colleagues but appreciated the lack of jet-lag). "Free" time seems to be about an hour a week to work in my garden and daily morning walks by the ocean very near my home in Swampscott.
IRENE PEPPERBERG is a research associate and lecturer at Harvard University who studies Grey parrots to determine the cognitive and communicative abilities of these birds and compare their abilities with those of great apes, marine mammals, and young children. She is author of The Alex Studies and Alex & Me.
Oxford
At the start of Act III of Shakespeare's Twelfth Night, Viola, disguised as a young man, meets the clown Feste playing on pipe and tabor. This gives rise to an exchange that explains my choice of postcard:
Viola. Save thee, friend, and thy music! Dost thou live by thy tabor?

Clown. No, sir, I live by the church.

Viola. Art thou a churchman?

Clown. No such matter, sir. I do live by the church, for I do live at my house, and my house doth stand by the church.
So does mine, and you see the medieval church in the photo taken last winter with, in these times of global warming, a rare sprinkling of snow.
Feste lived by his wits, I during the last two decades or so by writing a couple of books and getting research grants to work with collaborators on two questions that, back in 1963, gripped my interest and have never let go: What is time? What is motion?
More recently I have also concentrated on size and use the photo to make a point: we never see absolute size or length but only angles.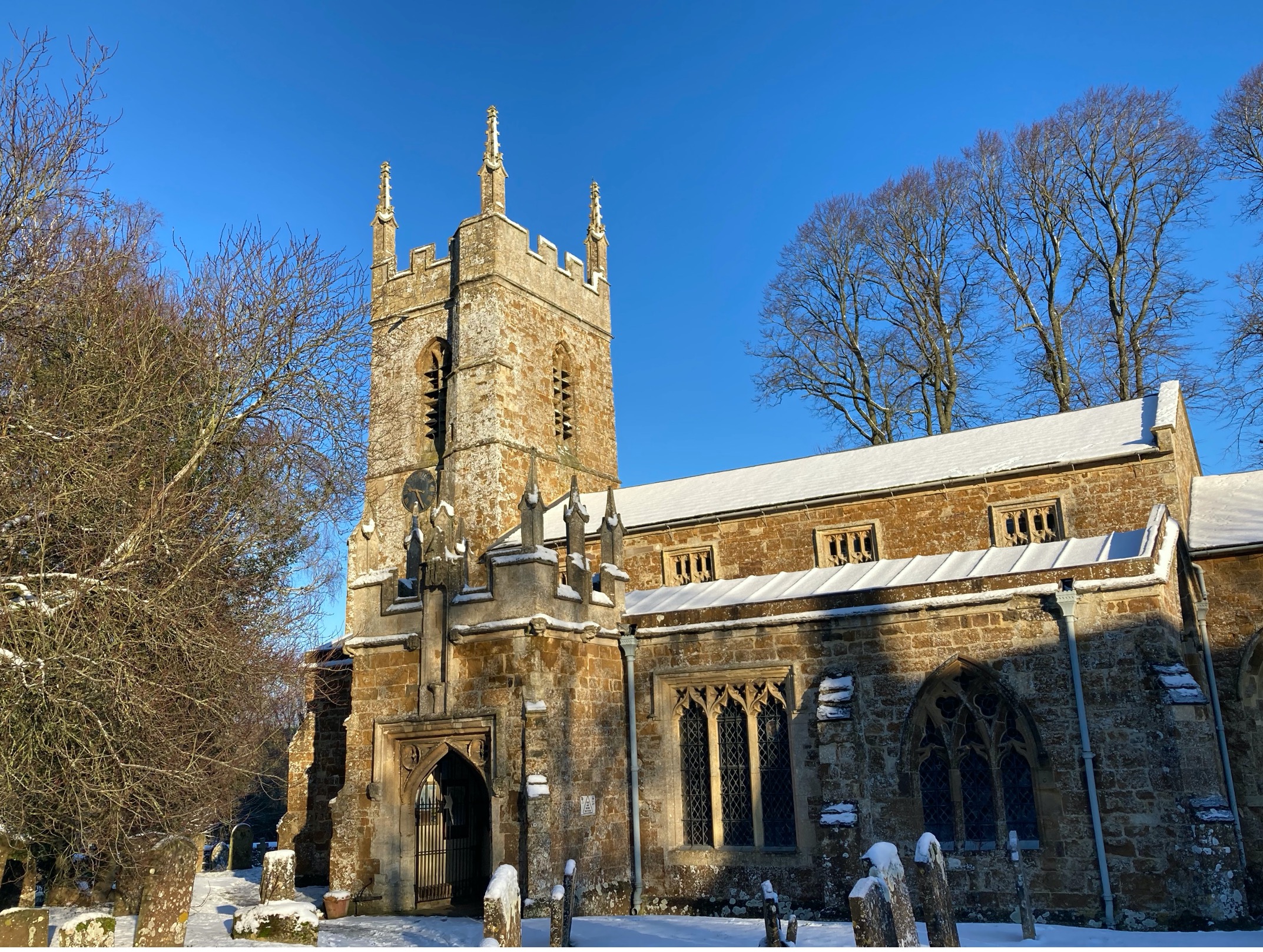 Look at the closest pinnacle. It subtends an angle that is a fraction of the 2pi of a great circle that girdles the sky. You may have seen the simulation of a flight through the universe. It shows galaxies whose sizes relative to the globe of the complete sky get larger or smaller during the cosmic journey. You never see the universe itself getting larger. Nor do astronomers; they only observe ratios. Why then do they say the universe is expanding? 
In 2002 I was, along with Martin Rees (then as now the Astronomer Royal), a participant in the BBC's weekly discussion programme In Our Time. The subject was cosmology. Egged on somewhat by Melvin Bragg, who still hosts the programme, I stuck my neck out and said "The idea that the universe is expanding stinks. It's changing its shape.'' To which Lord Rees of Ludlow, as he now is, responded: "Julian, your philosophy may be sound, but I think you are forgetting 90 percent of the physics.'' Not surprisingly we did not settle the matter. But take my word for it: the expansion of the universe is a mystery. Its resolution could lead us to the holy grail of modern physics: a quantum theory of gravity.
JULIAN BARBOUR is a theoretical physicist who has worked on foundational issues in physics for nearly fifty years, specializing in the study of time and motion. He is emeritus visiting professor in physics at the University of Oxford, and author of The Discovery of Dynamics, The End of Time, and The Janus Point.
Istanbul, Turkey
Greetings from the Mega printing plant in Istanbul, Turkey. This is one out of 100 pallets stacked with sewn signatures of my mammoth book, Vanishing Asia. The oversized pages are being readied to be bound into three volumes, with a total 1,080 pages for each book set.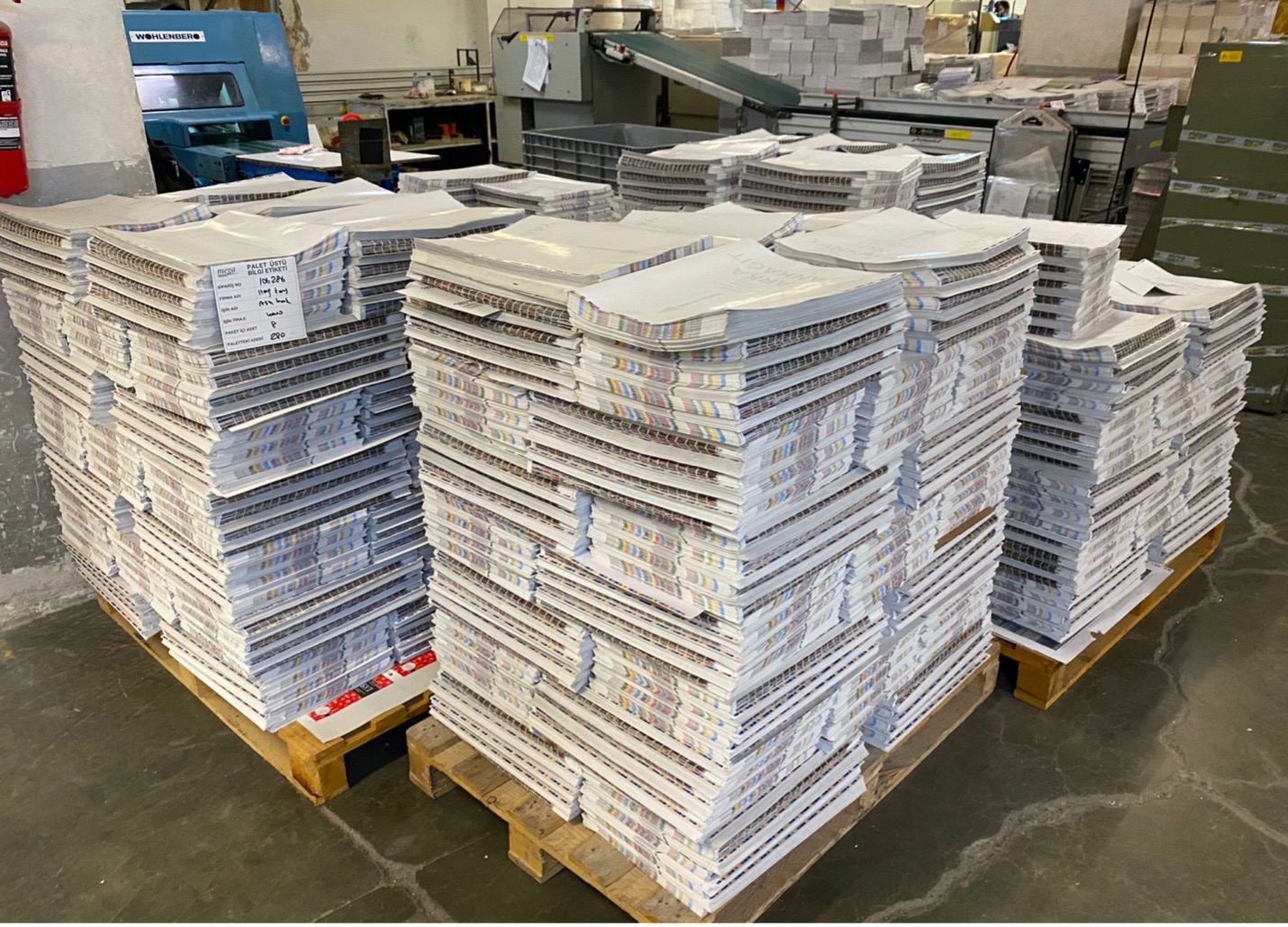 I have spent fifty years photographing the remote parts of Asia, in thirty-five countries between Turkey and Japan, and the result is this hand-designed, kaleidoscopic portrait of a continent. Most of the cultural moments I captured in the 9,000 photographs in the book are quickly disappearing. Amazing costumes, architecture, traditions are rapidly vanishing as Asia races into the future and beyond.
After being everywhere in Asia all the time, I have not been anywhere in two years. The pause in travel caused by the pandemic enabled me to spend the past year putting this book together and getting it published. Now when sit in my studio in the summer fog and I page through the first sample copies that were overnighted to me, I feel like a stranger wandering in places unknown. This other world seems so distant now, that I am able to travel through this book as if I am seeing these wonders for the first time.
The mind is a strange thing. Rather than acting as tokens that remind me, these images act as glimpses that surprise me, even though I was standing right there with my camera on. So my summer has been spent with my butt in a chair in Pacifica, California, while my being has been on a remarkable journey to places where few wore shoes, clothes were sewn by hand, homes constructed of materials nearby, cities had few vehicles, and all the inhabitants were sure of who they were.
KEVIN KELLY is senior maverick at Wired magazine. He helped launch Wired in 1993 and served as its executive editor until January 1999. He is editor and publisher of the popular Cool Tools, True Film, and Street Use websites, and author of Out of Control, New Rules for the New Economy, Asia Grace, What Technology Wants, Cool Tools, The Inevitable, and Vanishing Asia.
New York City
DAVID CHALMERS, University Professor of Philosophy and Neural Science, and co-director of the Center for Mind, Brain, and Consciousness at NYU, is best known for his work on consciousness, including his formulation of the "hard problem" of consciousness. Among his books are The Conscious Mind, Constructing the World, and Reality+: Virtual Worlds and the Problems of Philosophy (forthcoming).
Santa Fe
Greetings from Santa Fe, where we're normally inundated with visitors at this time of year, but alas, all is quiet on the Western front.
The scourge of COVID continues and my first projected airline trips in almost two years have had to be cancelled; despite having been boosted, it seems short-sighted to risk it at my age. I'm dysfunctional and neurologically impaired enough as it is! Maybe I'll never fly again? But fuck it, among other things, I'm giving up speaking at Gleneagles in Scotland and delivering a special lecture at Eton College—can you imagine what that would have meant for a poor boy from the East End!?
I've been static and sequestered all year; given my generally misanthropic personality, this hasn't been particularly onerous. But I do miss the serendipitous non-linear three-dimensional bull-shit discussions and intense engagement with my wonderful collaborators and colleagues, whom I can touch, smell, and viscerally feel, rather than the two-dimensional soulless antiseptic alien experience of Zoom.
Yes, but Zoom did save us all and, remarkably, we were able to publish some really good papers this year (even one in Nature)—ranging from a theory of sleep and brain development to a universal law of mobility in cities, the death and growth of companies, fairy circles, the scaling of universities and why COVID will likely last about two years, like the 1918 flu—so I should hardly complain.
Jacqueline and I did go on a road trip to see our children and new grandchildren in California early in the summer, since we had to go to Mayo Clinic en route to help us stay alive just a little longer—apparently, we will! First, we went to San Francisco to see Devorah, Jeff, and Alastair, then, for nostalgia's sake, we took the wonderful drive down through Big Sur to LA to be with Joshua, Tracey, and August. Ah, a reminder of the good old days when we'd go to Nepenthe to dance the evening away on the outdoor patio, followed by sneaking into Esalen after midnight for the hot spring baths high up on the cliffs, then crashing on Tony King's land. Hm, memories of Heinz, whom I miss... Like everything else—sadly including academia and universities—it's all now so corporate, sanitized, entrepreneurial, and controlled—the currency has been sorely debased.
But, maybe that's as it should be; it may be a platitude, but things change and they have to, and old farts have to die. I'm reading Hardy and Spinoza, watching Bergman and Tottenham, listening to Beethoven and Berlioz (I still shiver on hearing the "Dies Irae") and vaguely think about writing a new book, like everyone else. Maybe it'll be about Time, about life and death, birth and innovation, adaptation and evolution, sleep, entropy and mortgaging the future, collapse and rebirth, the future of the planet, the connectivity of all things, and the meaning of life but then... what new do I have to say?
GEOFFREY WEST is distinguished professor and past president of the Santa Fe Institute whose primary interests have been in fundamental questions in physics, especially those concerning the elementary particles, their interactions and cosmological implications. He is author of Scale: The Universal Laws of Growth, Innovation, Sustainability, and the Pace of Life in Organisms, Cities, Economies, and Companies.
La Jolla, California
Greetings from the California coast, where we are reacting to the pandemic in different ways. One family member headed for the hills—specifically to Coarsegold—a small mining town close to the Yosemite National Park, so named because gold was found there in 1849, leading to a brief influx of prospectors. But the rattlesnakes, excessive summer heat, smoke from wildfires, and torrential winter rains persuaded him to return home.
In contrast, I've been staying put in La Jolla, preparing invited video lectures for festivals of music and art—in Strasbourg, in Berlin, and elsewhere. In consequence, I've had many discussions with composers and visual artists, who bring fascinating new perspectives to the study of music perception. I've also been spending long hours improvising sound patterns on the computer, and in the process, have stumbled on a new class of musical illusions. These constantly surprise me—and although I understand part of why they occur, there is still much about them that's a complete mystery. Working with them has become an obsession.
Be not afeard; the isle is full of noises,
Sounds and sweet airs, that give delight, and hurt not.
Sometimes a thousand twangling instruments
Will hum about mine ears; and sometime voices,
That, if I then had waked after long sleep,
Will make me sleep again: and then, in dreaming,
The clouds methought would open, and show riches
Ready to drop upon me; that, when I waked,
I cried to dream again.
DIANA DEUTSCH is a psychologist and musician internationally known for the musical illusions and paradoxes she discovered. She is professor of psychology at the University of California, San Diego, and is author of several books, including Musical Illusions and Phantom Words.
Watertown, Massachusetts
Greetings from my desk—Pandemic USA—where I have now spent some vague eternity writing, reading, thinking, dreaming, pulling strands of thought like silk threads from the pages of books.
I play them like some polyphonic instrument—notes of Niels Bohr, Martin Buber, George Herbert Mead, Peter Putnam, Marjorie Grene, Maurice Merleau-Ponty, Mikhail Bakhtin—and listen for unexpected melodies in the tunes of quantum mechanics, enactivism, pragmatism, language, the mind.
What I hear are recurring riffs. Something about the relationship between subject and object. About how wrong we've gotten it severing them such that each can face the other, bewildered, from across a Cartesian abyss. I gather the threads and attempt to tie them into a knot. It's the abyss that invites the notion of representation—a brain's mental representation of the world, say, or a wavefunction's representation of a quantum system, a noun's representation of a thing. I pull at the loose strands and the knot disappears. Subject and object are contextual, relational notions. Unseverable from the start. Representations never stood a chance. The threads wrap around my fingers, a cat's cradle.
The brain doesn't represent the world, the brain responds to the world; wavefunctions aren't how we represent systems, they're how we engage with them; nouns don't represent things, but conjure them, through our bodily interactions with the world. Subject and object are unseverable because each acts back on the other in an ongoing dynamic that can't be teased apart.
But we forget. That our processes ossify into objects, but ossification is a process, too. That nouns are slip knots. That we use them to pause the world, but the world flows through them anyway. It's a peculiar revelation to have in the midst of the pandemic, here, where it feels like my life is still on hold: that the world keeps on worlding. That our attempts to pause it—to capture it, to represent it, to pin it like a butterfly—are themselves just more eddies in the flow. The silk threads have formed a cocoon now. Inside it, something is stirring.
AMANDA GEFTER is a science writer focused on physics, cosmology, cognitive science, and philosophy. She is author of Trespassing on Einstein's Lawn.
Tucson, Arizona
I've been tending my garden in Ann Arbor and planning changes in the Tucson garden I'm about to start working in as soon as the weather in Ann Arbor becomes less agreeable (around October 31). Believe it or not, the Tucson garden has had more rain this summer than the Ann Arbor garden.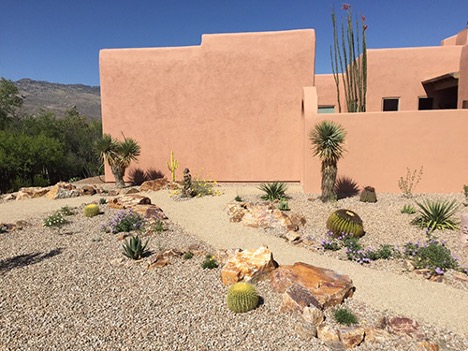 Part of my summer has been devoted to catchup reading, notably Behave by Robert Sapolsky and Sapiens by Yuval Noah Harari. The former is full of fascinating facts and perspectives about behavior, human and otherwise. The latter is full of answers to important questions I had never gotten around to exploring, e.g., what fraction of modern European genes are Neanderthal in origin; what fraction of modern Asian genes are Denisovan in origin; why is money so essential to any economy; how did capitalism arise and why is it the only possible basis for a modern economy?
I'm looking forward to the publication of my new book, Thinking: A Memoir, while I'm also engaged in planning my next book, which will examine the nature and roots of cultural differences in cognitive skills and temperamental characteristics that are helpful for success in various economic niches.
RICHARD NISBETT is the Theodore M. Newcomb Distinguished University Professor of Psychology and co-director of the Culture and Cognition Program at the University of Michigan. He is author of The Geography of Thought, Intelligence and How to Get It, Mindware, and Thinking: A Memoir.
Michigan
About 12,000 years ago, a half-mile wide chunk of ice lodged and melted here. The lake edges have filled in a bit in recent millennia, creating wonderful wading for a flock of thirty sandhill cranes. One of the colts from the nest at our lakeshore disappeared last week, but the other is ready to migrate.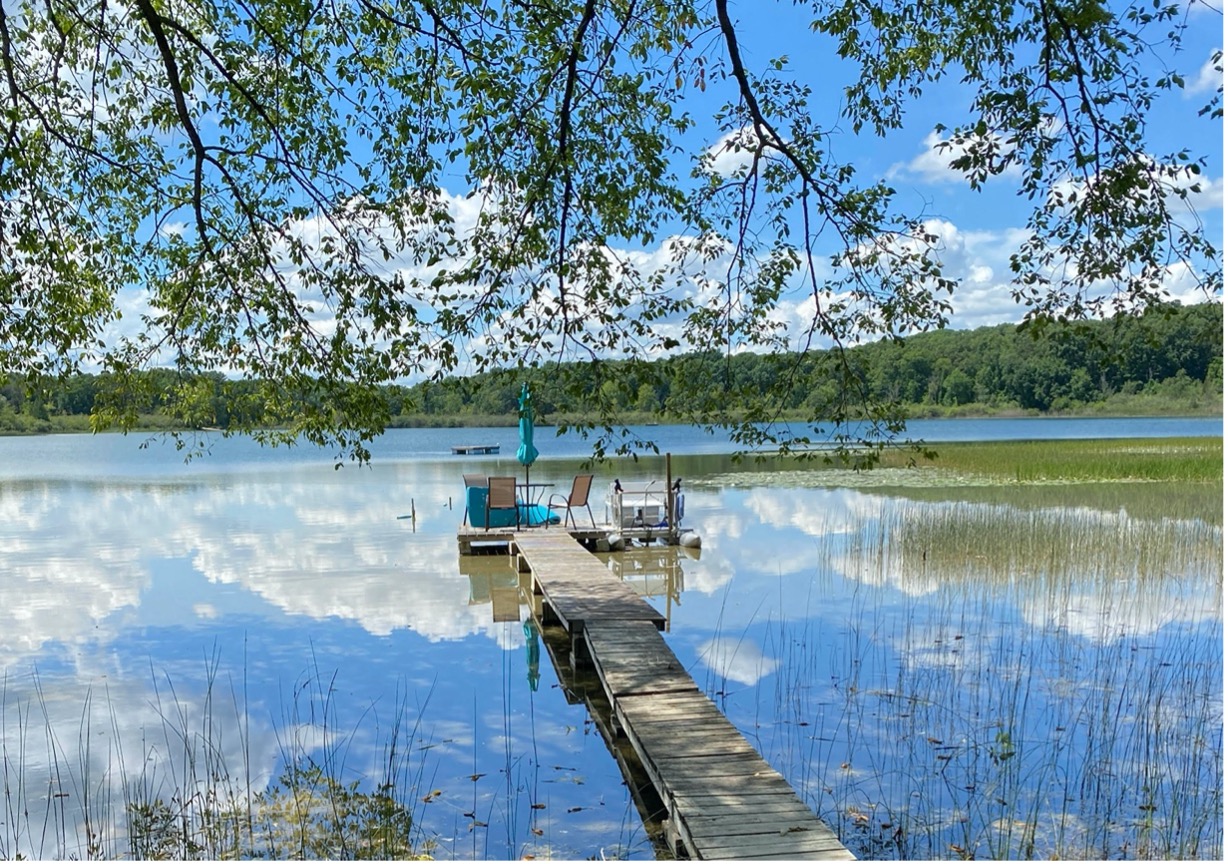 The dock is just outside Wi-Fi range, making it the perfect place to rework my ideas about why natural selection has left us vulnerable to so many maladies. And to read Hopkins and Wallace Stevens. And to talk with friends after dinner while we watch the cranes soar in.
This afternoon it is still warm enough to swim, so I will head out soon. The experience is full immersion in nature, especially when I float looking up at the clouds and the vultures circle in for a look.
RANDOLPH NESSE, professor of life sciences and director of the Center for Evolution and Medicine at Arizona State University, is a physician and evolutionary biologist. He is co-author (with George C. Williams) of Why We Get Sick and author of Good Reasons for Bad Feelings.
Durham
I've had a busy summer. I finished co-editing (with Alex Moran) a volume of essays by scientists and philosophers on the topic of panpsychism, which is coming out this October in Journal of Consciousness Studies. My contribution, "Putting Consciousness First," sketches out what "post-Galilean" science of consciousness—one in which consciousness is taken to be a fundamental feature of reality—might look like.
I also wrote a paper arguing that the inference from cosmological fine-tuning to a multiverse commits a logical fallacy, namely the inverse gambler's fallacy.
On a lighter note, I set up a YouTube channel/podcast, called "Mind Chat" with my fellow philosopher Keith Frankish. Keith is an illusionist, which is someone who thinks consciousness—at least as philosophers standardly conceive of it—doesn't really exist. So the gimmick is that I think consciousness is everywhere and Keith thinks it's nowhere.
Once all that was done, I managed to squeeze in a week off. We had a Beatrix Potter-themed holiday this year in the beautiful Lake District (if you're visiting the UK, don't forget the north of England is the most beautiful bit!). As well as doing a lot of hiking and biking, we took a trip to Potter's picturesque hometown of Bowness-on-Windermere, including a visit to Beatrix Potter World for the kids (that's my excuse anyway). Typical UK, it rained the last couple of days, so we went to the cinema to see the new Peter Rabbit film on a rainy afternoon (again, for the kids, honest… although it was really funny!). The photo is of a wonderful bit of outdoor theatre for kids we watched on another rainy day.
Coming back to work, I find everybody's converting to panpsychism! Or at least, influential materialist Michael Tye in his new book Vagueness and the Evolution of Consciousness. First Christof Koch, now Tye, who's next… Dennett?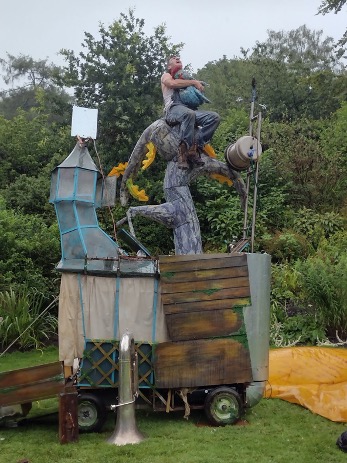 PHILIP GOFF is a philosopher and consciousness researcher at Durham University, UK, whose work focuses on how to integrate consciousness into our scientific worldview. He is author of Consciousness and Fundamental Reality and Galileo's Error: Foundations for a New Science of Consciousness.
Paris
This midmorning I walked to the midweek open-air market at La Motte-Piquet for vegetables and bargains. On the way, I went by the Pan Fu Chinese fast food takeout when they were opening and, intrigued by the name—could they live up to Kung Fu using their pan?—got Thai (spicy) chicken, fried noodles, and stir fry veggies. After getting other supplies at the market, I had a picnic at the Champs de Mars in the shade, looking at the Eiffel Tower and watching the locals and a few tourists going by. Two motorcycles pulled up, and first they took pictures of the beautiful woman driver in front of her motorcycle and then the man put on a yellow Pokémon Pikachu outfit for his photos. 
The weather was so nice, and this seemed so normal that it feels like nothing has changed and that I am lucky to be quarantined in such a nice place.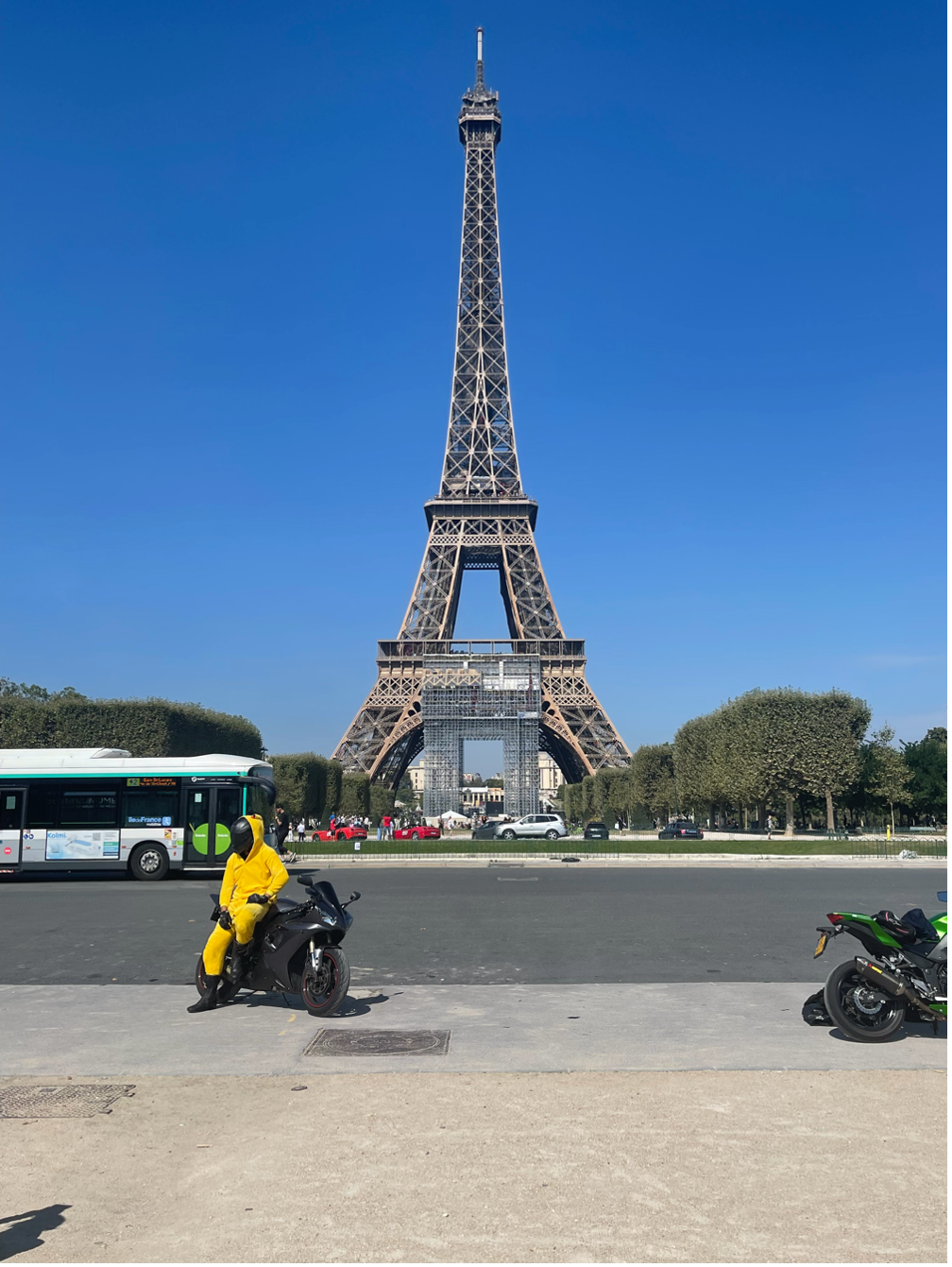 However, in the dead of winter things were different. Before, I was assuming things would be back to the old normal soon and had been writing many scientific papers with collaborators and encouraging students along. I thought over the stay at home enforced holidays I'd work on something different and approached the issue of information theory/conservation and how life and ecosystems have such complexity of information when the initial wave function seems as though it would be so simple. I did make good progress but wore myself out and fell behind on supporting my students etc. But it did make me realize that the result applies to people, to economic systems, and the issue of open science and scholarship as well as the overall stability of societies. This led to the eagerness of one of my graduate students to graduate, as the pandemic has slowed the lives of so many. But it weighs especially heavily on students who were anticipating graduating soon and whose fellowships have reached near nominal end to rush and take on a related project. He has pandemically, cheerfully written in a larger paper:
"Failure of complex networks often occur in a cascading manner, meaning that failure of one component of the system can trigger the failure of other nearby components, thereby causing a large-scale collapse of the entire system."
This relates to ecosystem failures and many others like finance, social systems, large electronic networks, software, etc. Much more to be done and, like Cassandra, doomed to be ignored. Really uplifting and cheerful thoughts on a beautiful day.
GEORGE SMOOT is an astrophysicist, cosmologist, and Nobel laureate in physics (2006) for his work on the Cosmic Background Explorer with John C. Mather that led to the "discovery of the black body form and anisotropy of the cosmic microwave background radiation." He is co-author (with Keay Davidson) of Wrinkles in Time.
Boca Raton, Florida
I've spent the summer founding my new Center for the Future Mind at the beach in Boca Raton, Florida. We will focus on the future of intelligence, bringing together ideas about the fundamental nature of mind, complex systems, the ethics of synthetic intelligence, deep learning, and more. I'm working on a new book on the future of intelligence and am continuing to advise Congress on these themes as well. So I'm delighted to be surrounded by colleagues working on these issues at the new Center, and I look forward to hosting future conversations on these themes! There have obviously been no big trips this summer, but I've discovered that I absolutely love waking up to the sound of the ocean, and walking the beach at sunrise. So I am sharing a photo of this morning's sunrise. Wishing you all peace and joy.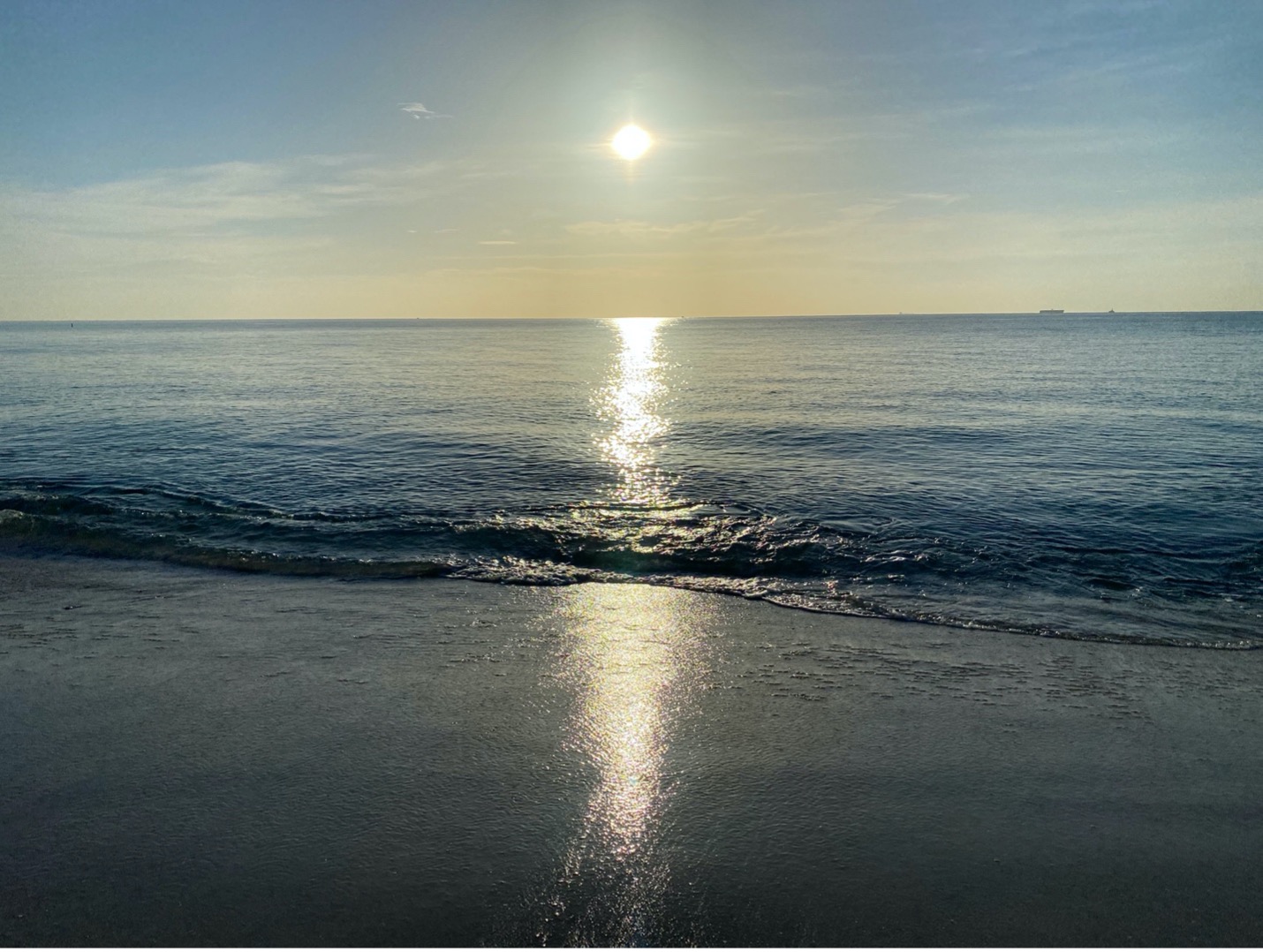 SUSAN SCHNEIDER is the NASA Chair at NASA and the Library of Congress, the founding director of the Center for the Future Mind and the W. Dietrich Distinguished Professor at the Stiles-Nicholson Brain Institute and College of Arts and Letters at Florida Atlantic University. She is author of Artificial You and editor (with Max Velmans) of The Blackwell Companion to Consciousness.
Village of Braemar, Scotland
In late June, we saw our children for the first time in two years, one of the problems of living in different continents during a pandemic. My son, a cellist, was teaching at Kneisel Hall, a summer program for early career chamber musicians in Blue Hill, Maine, so we decided to spend a couple of weeks there and hiked in nearby Acadia National Park.
In early September, I attended a meeting on "The New Enlightenment" in the picturesque village of Braemar in Scotland, with a nearby castle. It was an eclectic meeting in which we heard from the Oxford group about the creation of new vaccines, from DeepMind and others about the prospects and ethics of AI, from Martin Rees about space and the search for interplanetary life, and many others. Two people at my table at dinner were Edge's own Carlo Rovelli who discussed time—both physical and our biological perception of it with Hannah Fry, a mathematician who is also a superb writer and communicator. I am writing a book on why and how we age and die, so I spoke about our attempts to understand the biology of aging, current efforts toward prolonging life and the tech billionaires who are so interested in funding them because they don't want their party to end, and the question of whether we really should want to live much longer than we do.
VENKI RAMAKRISHNAN, past president of the Royal Society (2015-2020), is a Nobel laureate in chemistry for his work on ribosomal structure and a group leader and former deputy director of the MRC Laboratory of Molecular Biology in Cambridge. He is author of Gene Machine: The Race to Decipher the Secrets of the Ribosome.
Blue Hill, Maine
Not leaving Maine due to the pandemic, we still have two choices, our island house and our garden house and Susan and I have split our time this summer. The garden grows prodigiously, and we are unable to keep up, even with hired help. The schooners are less frequently passing our island house, thanks to COVID, but here is the Victory Chimes on its way to Bucks Harbor. I'm hard at work on an intellectual memoir, reliving old battles, triumphs and debacles. I've been so lucky!  
DANIEL C. DENNETT, a philosopher, is Austin B. Fletcher Professor of Philosophy, and co-director of the Center for Cognitive Studies at Tufts University. He is author of numerous books including Consciousness Explained; Freedom Evolves; Breaking the Spell; Intuition Pumps; Caught in the Pulpit; From Bacteria to Bach and Back; and co-editor (with Douglas Hofstadter) of The Mind's I. In 2012, he was awarded the Erasmus Prize by the Praemium Erasmianum Foundation.
Julian Alps, Slovenia
It's always great to take the racing mind out of overdrive during one of those European summer vacations. This year we discovered Slovenia in the Julian Alps as the newly propagated foodie destination. Tackled the steep learning curve of maneuvering a Kayak down a moderately turbulent mountain river. Spent long summer days at the pool of a guesthouse on a winery in Friuli. Nearing the end of summer and the beginning of a fall covering the frontlines of the pandemic, climate change and digitalization, Venice was a great intellectual air lock to come back from weeks of deliberate mental slackening.
Normally the floating city's biennale of architecture allows for silly ideas and thought experiments. This year it posed the dead serious question "how will we live together?" There was no want, can or should in there. Quite a lot of big questions loomed behind this one. How to tackle the climate catastrophe, pandemics, the great migrations of refugees, rising poverty, hunger, and sea levels. Architecture has found a very general answer. Science. It has always been political, it long relied on sociology. The new focus on biology, chemistry, and the understanding that is, in itself, a science at the junction of both utopias and dystopias, was indeed a great thrill beyond the ideas themselves.
It's great to lose yourself in the maze of ideas in the biennale's gardens and endless halls of former shipyards. The quality might be uneven. The acuteness of the general thrust is not. So, it was a farewell to the hazy days of the Southern European summer, Venice's oppressing heat, a not so gentle reminder of this planet's most pressing problem.
Walking back from the sensory overload of the exhibitions to the cool haven of our air-conditioned apartment we stumbled upon a street corner, where the wall of the local office of Italy's Communist Refoundation Party is adorned by an altar decorated with fresh flowers. Through an open window, the refuge of unapologetic communist fervor looked more like a relaxed bookstore café. Notwithstanding the idyllic setup, it reminded me of visions trying to answer the big questions of how we will live together on the shaky intellectual grounds of ideology and faith. They sure failed, where science is now under pressure to succeed.
ANDRIAN KREYE is editor-at-large of the German Daily Newspaper, Sueddeutsche Zeitung, Munich. In 2007 he moved from New York to Germany, where he took over the Feuilleton (arts & ideas) section of the newspaper (currently the largest German-language daily). He is the author of a book on artificial intelligence (Macht euch die Maschinen untertan / The Subjugation of Machines), that included a collaboration with Edge on a series of articles. He is the recipient of Germany's most prestigious journalism award, the Theodor Wolff Preis, for his work about AI.