March 5, 2014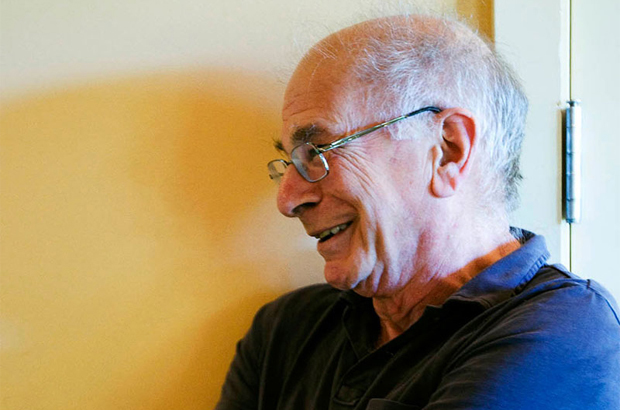 INTRODUCTION
Daniel Kahneman turns 80 today (March 5, 2014). Edge is using this occasion to launch a Reality Club Discussion about his work. (See:  On Kahneman). Also, we are pleased to reprise some of his contributions to our pages below. 
DANIEL KAHNEMAN is the recipient of the Nobel Prize in Economics, 2002 and the Presidential Medal of Freedom, 2013. He is Eugene Higgins Professor of Psychology Emeritus, Princeton, and Author of Thinking Fast and Slow. (Daniel Kahneman's Edge Bio Page)
---
2007
---
Millions of people have been asked the question, how satisfied are you with your life? That is a question to the remembering self, and there is a fair amount that we know about the happiness or the well-being of the remembering self. But the distinction between the remembering self and the experiencing self suggests immediately that there is another way to ask about well-being, and that's the happiness of the experiencing self.
 A SHORT COURSE IN THINKING ABOUT THINKING
Edge Master Class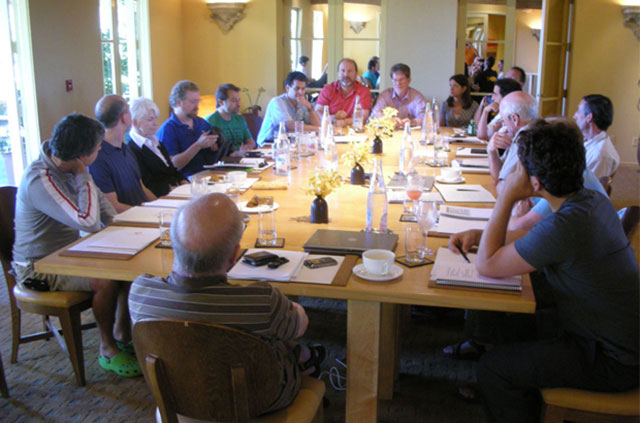 Daniel Kahneman, Larry Page, Jeff Bezos, Katinka Matson, Nathan Myrhvold, Peter Diamandis, Dean Kamen, W. Daniel Hillis, George Smoot, Karla Taylor, Jimmy Wales, Salar Kamangar, George Dyson, Seth Lloyd, Tim O'Reilly, Sergey Brin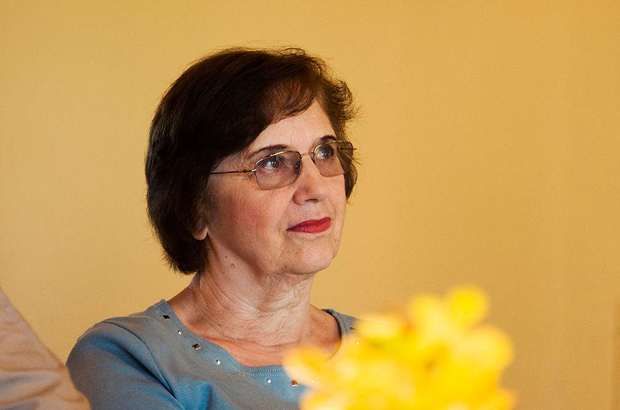 Anne Treisman
---
2008
---
What we're saying is that there is a technology emerging from behavioral economics. It's not only an abstract thing. You can do things with it. We are just at the beginning. I thought that the input of psychology into behavioral economics was done. But hearing Sendhil was very encouraging because there was a lot of new psychology there. That conversation is continuing and it looks to me as if that conversation is going to go forward. It's pretty intuitive, based on research, good theory, and important. — Daniel Kahneman
A SHORT COURSE IN BEHAVIORAL ECONOMICS
Edge Master Class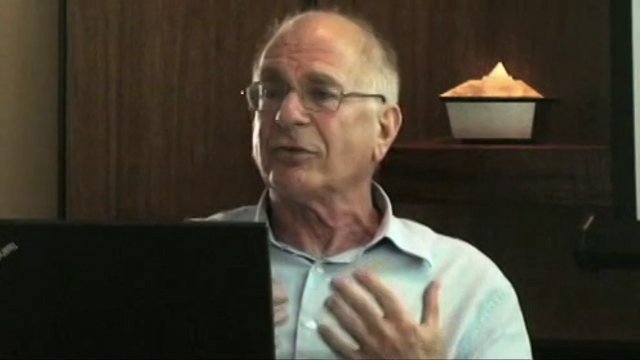 Jeff Bezos, John Brockman, Max Brockman, George Dyson, W. Daniel Hillis, Daniel Kahneman,   Salar Kamangar,  France LeClerc,  Katinka Matson, Sendhil Mullainathan, Elon Musk, Nathan Myhrvold, Sean Parker, Paul Romer, Richard Thaler, Anne Treisman, Evan Williams 
TWO BIG THINGS HAPPENING IN PSYCHOLOGY TODAY 
A Talk By Daniel Kahneman
PUTTING PSYCHOLOGY INTO BEHAVIORAL ECONOMICS 
Richard Thaler, Sendhil Mullainathan, Daniel Kahneman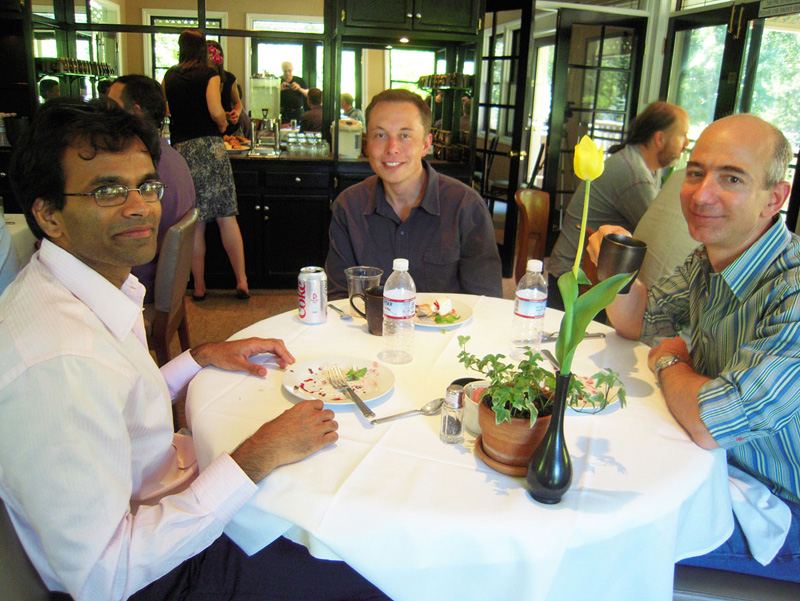 Sendhil Mullainathan, Elon Musk, Jeff Bezos
---
2011
---
The power of settings, the power of priming, and the power of unconscious thinking, all of those are a major change in psychology. I can't think of a bigger change in my lifetime. You were asking what's exciting? That's exciting, to me.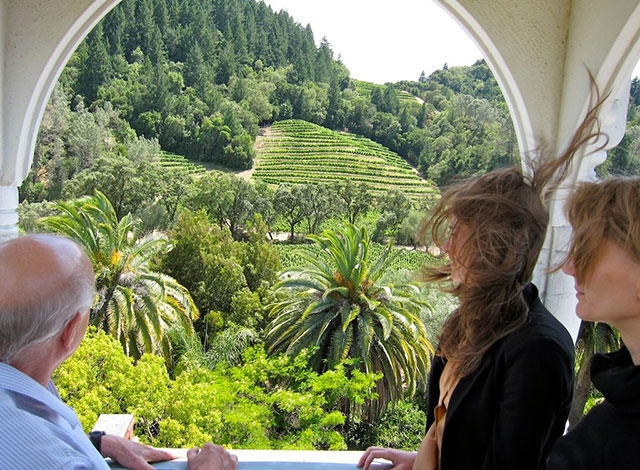 THE MARVELS AND THE FLAWS OF INTUITIVE THINKING
Daniel Kahneman 
Edge Master Class: THE SCIENCE OF HUMAN NATURE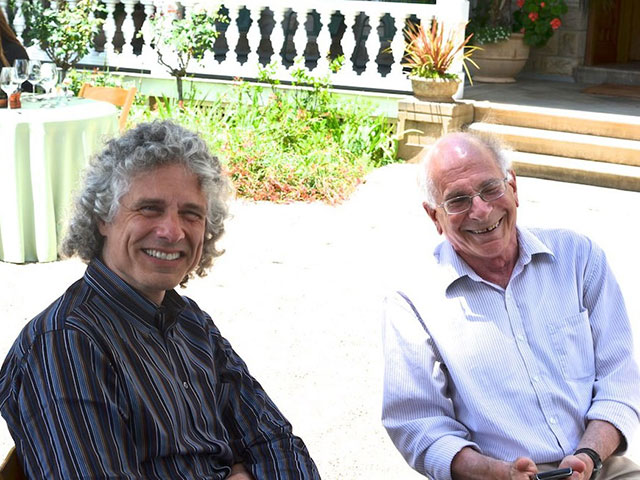 Steven Pinker & Daniel Kahneman 
---
2013
---
"I'm still not convinced it was a good idea to write the book." — Kahneman on Thinking Fast and Slow
EDGE RETREAT @ SPRING MOUNTAIN VINEYARD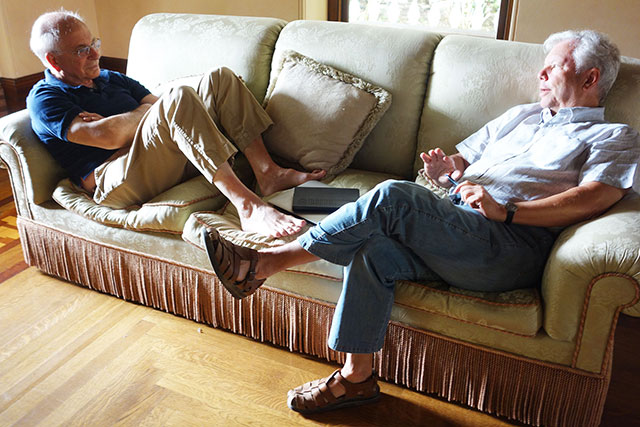 Daniel Kahneman & Richard Thaler 
---