April 18–July 26, 2011
11 West 53 Street  New York, NY 10019
(212) 708-9400 
Mezzanine, The Lewis B. and Dorothy Cullman Education and Research Building
Also online: View The exhibition site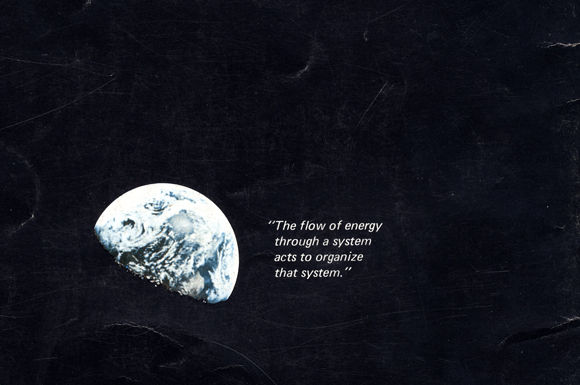 Whole Earth Catalog, spring 1969
In 1968, Stewart Brand founded the Whole Earth Catalog. Brand's goals were to make a variety of tools accessible to newly dispersed counterculture communities, back-to-the-land households, and innovators in the fields of technology, design, and architecture, and to create a community meeting-place in print. The catalogue quickly developed into a wide-ranging reference for new living spaces, sustainable design, and experimental media and community practices. After only a few years of publication it exploded in popularity, becoming a formidable cultural phenomenon.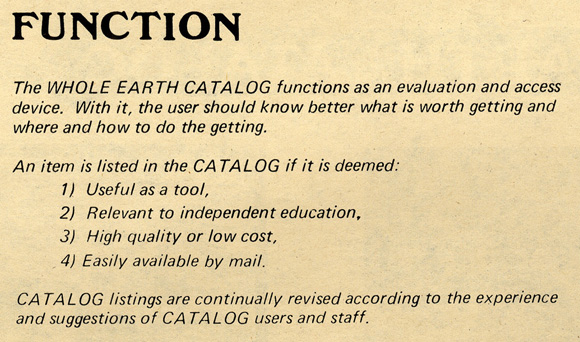 Function, from Whole Earth Catalog
Books, selected and described by the editorial staff and organized in sections titled Understanding Whole Systems, Shelter and Land Use, Communication, and Community, were the primary resources the Whole Earth Catalog offered. This exhibition of printed matter in the collection of The Museum of Modern Art Library surveys these publications and summarizes the history of the catalogue project. The selection does not represent all the subjects the catalogue featured, but it reflects the publication's focus on experimental ideas in design and technology and the dialogue between theorists and practitioners these ideas raised.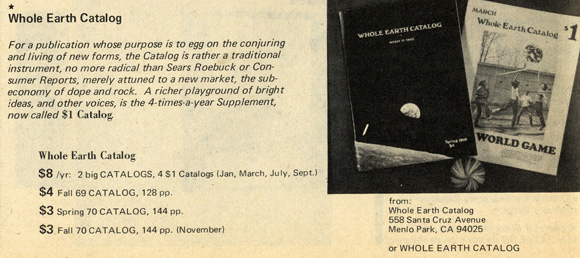 Advertisement for Whole Earth Catalog in Whole Earth Catalog
This exhibition is organized by David Senior, Bibliographer, MoMA Library.
---
Introducing the Whole Earth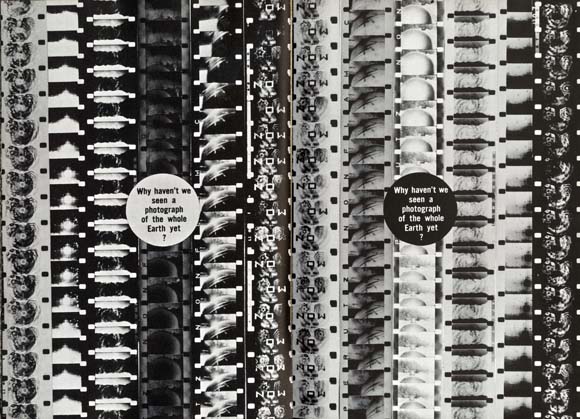 Tulane Drama Review, fall 1966
Prior to publishing the Whole Earth Catalog, Stewart Brand was a member of the art collective USCO, known primarily for its experimental light and sound environments and film projections mounted in museums, dance clubs, theaters, and universities. This feature about USCO includes an image of a pinback button by Brand reading, "Why haven't we seen a photograph of the whole Earth yet?" He distributed the button widely as part of a campaign for public access to images taken during United States space missions. He believed that a picture of the entire planet would be a unifying force in the management of global ecological challenges.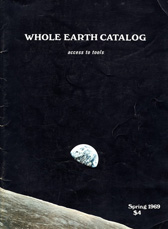 Whole Earth Catalog, spring 1969
The release of photographs taken during early space missions coincided with the first issues of the Whole Earth Catalog. Brand pioneered the publication and dissemination of the images, putting them on the covers of the first catalogue, in fall 1968, and all successive issues. Throughout its run, the catalogue consistently advertised the pictures and provided instructions for ordering them from the government.
---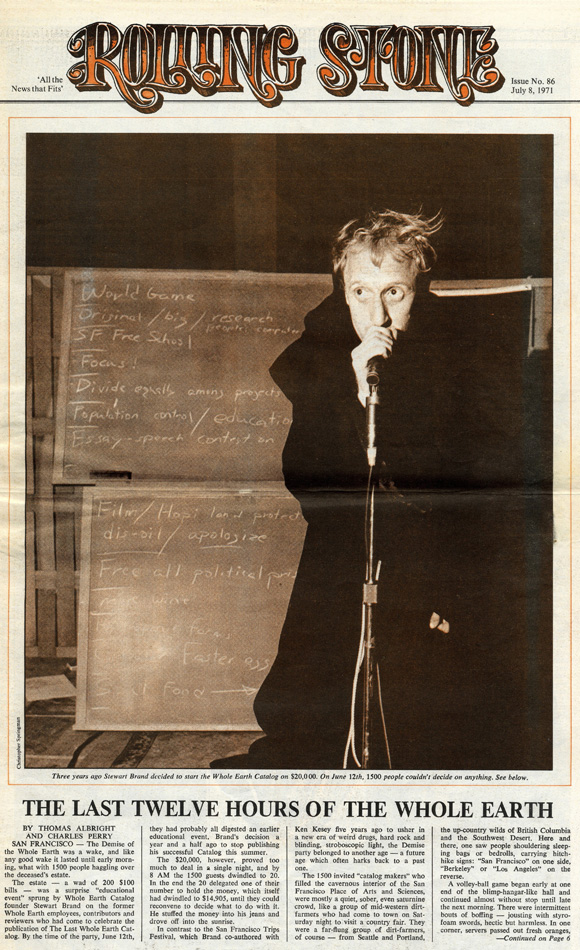 Thomas Albright and Charles Perry. The Last Twelve Hours of the Whole Earth Catalog, in Rolling Stone,no. 86 (July 8, 1971).