A SHORT COURSE IN THINKING ABOUT THINKING
Edge Master Class 07
DANIEL KAHNEMAN
Auberge du Soleil, Rutherford, CA, July 20-22, 2007
AN EDGE SPECIAL PROJECT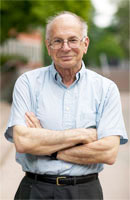 ATTENDEES: Jeff Bezos, Founder, Amazon.com; Stewart Brand, Cofounder, Long Now Foundation, Author, How Buildings Learn; Sergey Brin, Founder, Google; John Brockman, Edge Foundation, Inc.; Max Brockman, Brockman, Inc.; Peter Diamandis, Space Entrepreneur, Founder, X Prize Foundation; George Dyson, Science Historian; Author, Darwin Among the Machines; W. Daniel Hillis, Computer Scientist; Cofounder, Applied Minds; Author, The Pattern on the Stone; Daniel Kahneman, Psychologist; Nobel Laureate, Princeton University; Dean Kamen, Inventor, Deka Research; Salar Kamangar, Google; Seth Lloyd, Quantum Physicist, MIT, Author, Programming The Universe; Katinka Matson, Cofounder, Edge Foundation, Inc.; Nathan Myhrvold, Physicist; Founder, Intellectual Venture, LLC; Event Photographer; Tim O'Reilly, Founder, O'Reilly Media; Larry Page, Founder, Google; George Smoot, Physicist, Nobel Laureate, Berkeley, Coauthor, Wrinkles In Time; Anne Treisman, Psychologist, Princeton University; Jimmy Wales, Founder, Chair, Wikimedia Foundation (Wikipedia).
---
EDGE MASTER CLASS 2007 PHOTO GALLERY
---
INTRODUCTION
By John Brockman
Recently, I spent several months working closely with Danny Kahneman, the psychologist who is the co-creator of behavioral economics (with his late collaborator Amos Tversky), for which he won the Nobel Prize in Economics in 2002.
My discussions with him inspired a 2-day "Master Class" given by Kahneman for a group of twenty leading American business/Internet/culture innovators—a microcosm of the recently dominant sector of American business—in Napa, California in July. They came to hear him lecture on his ideas and research in diverse fields such as human judgment, decision making and behavioral economics and well-being.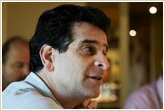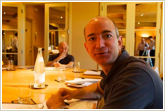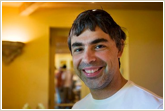 Dean Kamen, Jeff Bezos, Larry Page
While Kahneman has a wide following among people who study risk, decision-making, and other aspects of human judgment, he is not exactly a household name. Yet among many of the top thinkers in psychology, he ranks at the top of the field.

Harvard psychologist Daniel Gilbert (Stumbling on Happiness) writes: "Danny Kahneman is simply the most distinguished living psychologist in the world, bar none. Trying to say something smart about Danny's contributions to science is like trying to say something smart about water: It is everywhere, in everything, and a world without it would be a world unimaginably different than this one." And according to Harvard's Steven Pinker (The Stuff of Thought): "It's not an exaggeration to say that Kahneman is one of the most influential psychologists in history and certainly the most important psychologist alive today. He has made seminal contributions over a wide range of fields including social psychology, cognitive science, reasoning and thinking, and behavioral economics, a field he and his partner Amos Tversky invented."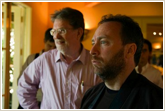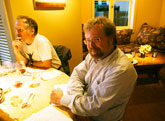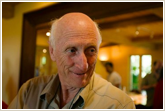 Jimmy Wales, Nathan Myhrvold, Stewart Brand
Here are some examples from the national media which illustrate how Kahneman's ideas are reflected in the public conversation:
In the Economist "Happiness & Economics " issue in December, 2006, Kahneman is credited with the new hedonimetry regarding his argument that people are not as mysterious as less nosy economists supposed. "The view that hedonic states cannot be measured because they are private events is widely held but incorrect."

Paul Krugman, in his New York Times column, "Quagmire Of The Vanities" (January 8, 2007), asks if the proponents of the "surge" in Iraq are cynical or delusional. He presents Kahneman's view that "the administration's unwillingness to face reality in Iraq reflects a basic human aversion to cutting one's losses—the same instinct that makes gamblers stay at the table, hoping to break even."

His articles have been picked up by the press and written about extensively. The most recent example is Jim Holt's lede piece in The New York Times Magazine, "You are What You Expect" (January 21, 2007), an article about this year's Edge Annual Question "What Are You Optimistic About?". It was prefaced with a commentary regarding Kahneman's ideas on "optimism bias".

In Jerome Groopman's New Yorker article, "What's the trouble? How Doctors Think" (January 29, 2007), Groopman looks at a medical misdiagnosis through the prism of a heuristic called "availability," which refers to the tendency to judge the likelihood of an event by the ease with which relevant examples come to mind. This tendency was first described in 1973, in Kahneman's paper with Amos Tversky when they were psychologists at the Hebrew University of Jerusalem.

Kahneman's article (with Jonathan Renshon) "Why Hawks Win" was published in Foreign Policy (January/February 2007); Kahneman points out that the answer may lie deep in the human mind. People have dozens of decision-making biases, and almost all favor conflict rather than concession. The article takes a look at why the tough guys win more than they should. Publication came during the run up to Davis, and the article became a focus of numerous discussions and related articles.
The event was an unqualified success. As one of the attendees later wrote: "Even with the perspective a few weeks, I can still think it is one of the all time best conferences that I have ever attended."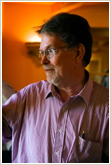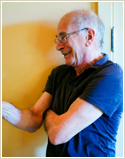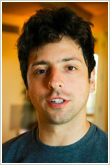 George Smoot, Daniel Kahneman, Sergey Brin
Over a period of two days, Kahneman presided over six sessions lasting about eight hours. The entire event was videotaped as an archive. Edge is pleased to present a sampling from the event consisting of streaming video of the first 10-15 minutes of each session along with the related verbatim transcripts.
—JB


DANIEL KAHNEMAN is Eugene Higgins Professor of Psychology, Princeton University, and Professor of Public Affairs, Woodrow Wilson School of Public and International Affairs. He is winner of the 2002 Nobel Prize in Economic Sciences for his pioneering work integrating insights from psychological research into economic science, especially concerning human judgment and decision-making under uncertainty.
Daniel Kahneman's Edge Bio Page
Daniel Kahneman's Nobel Prize Lecture