"Katinka Matson, an amazing digital artist, merging the technological with the botanical in a beautiful way. "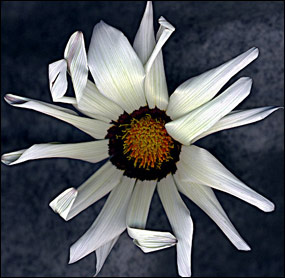 Katinka Matson's Scanner Art
Finally, about Katinka's flowers! I hope you take a long look at our "photo" essay (really a "scanner" essay) of a few of Ms. Matson's remarkable studies. (I regret that to publish her work on our website, we had to make dumbed-down petite versions.) When printed on large paper or shown, as they should also be, on high-definition television screens, Katinka's scanned creations are towering, dense and richly hued. For several years, using the same digital flatbed scanners most of us simply copy documents with, this Manhattan-based artist unlocked the simple elegance of nature. Without cameras or special lenses, Katinka Matson captures the unfiltered raw vibrancy of lilies, tulips, and daisies. Closer to painting with nature than to containing and "capturing" it, Ms. Matson's work is raw, striking, if not shocking. There is honest power in this fusion of technology with n ature and it's made possible by an inkjet printer and a humble scanner.

See CBS News Video & "Scanner Essay" on Katinka Matson's Art [3]
Katinka Matson [4] is cofounder of Edge and it's resident artist. Her work can be seen at katinkamatson.com [5].