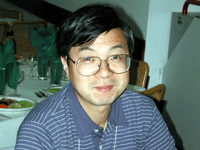 Japan Inc. Meets The Digerati
A Talk With Izumi Aizu ("The Bridge")
"The Keidenren's Man in Kuala Lumpur"
Introduction by
John Brockman
The motto of this endeavor is "To arrive at the edge of the world's knowledge, seek out the most complex and sophisticated minds, put them in a room together, and have them ask each other the questions they are asking themselves." Last fall, precisely at 4:30 p.m., September 27, I had such an opportunity.
Izumi Aizu, who runs GLOCOM, Center for Global Communications, had called a week before from Tokyo to ask if I would meet and talk with a delegation he was bringing over from Japan for a whirlwind telecom and Internet "learning tour. "Why don't you invite some of the digerati who are in town to stop by and mingle?" he added. "These guys are keen to meet people who are making things happen."
"No problem," I replied. "But don't expect miracles. This is New York City, hardly the innovative capital of the world these days. I'll see who's around," I said off-handedly."
"Good, I'll email the list to you."
A week later, a bus pulled up in front of my office building and more than 30 Japanese businessmen (and one woman) filed out. "The Keidenren," better known in the West as "Japan, Inc.," was coming to visit. They were traveling together to Washington (The White House, the FCC); New York (Time-Warner NBC, IBM, and me); London (British Telecom, OFTEL, Department of Industry); and Bonn (Deutsche Telekom, Congress).
And who might be coming to visit? The leader of the delegation was Shigeo Sawada, Chairman, Nippon Telegraph and Telephone Corporation (NTT). Other members of the group included, among others, Toshio Miki, Representative Director and Executive Vice President, Nippon Steel Corporation; Hitoshi Ito, General Manager, Information Systems, The Tokyo Marine and Fire Insurance Co.; Masanori Watanabe, General Manager, Corporate Department, The Industrial Bank of Japan; Osamu Kinoshita, Senior Vice President and Head of Management Planning Office, The Dai-Ichi Kangyo Bank; Yuzo Shinkai, Director, Information Systems and Services Group, Mitsubishi Corporation; Kouya Mita, Vice President, Itochu Corporation; Minoru Yoshikawa; Director, The Tokyo Electric Power Co.; Hisaji Nakazono, Managing Director, The Nomura Securities Co.; Osamu Takenaka, Senior Managing Director, Kokusai Denshin Denwa Co.; and Masato Chiba, Senior Vice President, NEC Corporation.
As the obligatory formal introductions and toasts were taking place, my teenage son, Max Brockman, leaned over and asked, in a whisper, the very question I was asking myself: "Dad, why you??"
Fortunately, a number of digerati showed up on short notice. They included Greg Clark President of NewsCorp Technology; Jaron Lanier, virtual reality pioneer and musician; Steven Levy, author of Hackers; Jerry Michalski, editor of Release 1.0; Stewart McBride, founder of United Digital Artists' Stewart McBride; Kip Parent, founder of Pantheon-Interactive; Richard Shaffer, editor and publisher of The Computer Letter; and Frank Moretti and Rachel Packman of Columbia University's New Laboratory for Teaching and Learning, and The Dalton School.
Between the talks and the drinks, the two groups, initially standing apart from each other, warmed up and became engaged in animate conversation. By all accounts the visit was a great success.
Izumi has been the man to see in Tokyo about the Internet. He's also been a regular visitor to the States, often with a group of Japanese executives in tow. But no more. The Keidenren has dispatched him to Kuala Lumpur to help develop the Multimedia Super Corridor and to give Japanese business a major presence in Malaysia as well as in Asia.
Izumi's email signature slogan is WRITING the HISTORY of the FUTURE . Next time you're in KL, look him up at the Asia Network Research.
Izumi Aizu is "The Bridge."