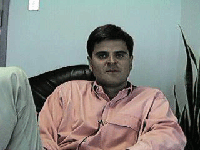 AOL has the big challenge we all have: it's right in the middle of the vortex of the change. One of the things it has been able to do is adapt and deal with the new and different competitive threats and regulatory environments and technology changes driving the business. This is one business where you want to spend very little time in internal strategizing and a ton of time with your head outside the window, or on an airplane, flying around, trying to figure out what's really going on. Technology in AOL's space is moving way faster than it does in the hardware space or the operating system space or the product space. Steve Case has done a good job of keeping his head in an environment that is swirling like crazy.
Steve Case
The Statesman
"There's too much focus on technology in the industry, an obsession with bandwidth and the latest browsers. What's much more important is creating a magical interactive experience, for which the technology is certainly an enabler. Human creativity is really going to drive us."
Steve Case has been at it a long time, which means he's tried more things and failed at more things. I met him in my office in 1985. He had just started Quantum, an online service and wanted to see if we could do some business together. He was an earnest, bright, engaging twenty-six year old man, but I was not keen on the business prospects. First, I didn't see a way to make money. Second, the idea of sitting in front of a computer screen and "communicating" left me cold. I told him so, perhaps too brusquely. Twelve years later, his company, renamed America Online, is the dominant online service in the United States, with more subscribers than the combined readership of the country's five largest newspapers. Part of my charm is that I am always wrong.
STEVE CASE is the founder and CEO of America Online.