"THE THING THAT I CALL DOUG"
A Talk with Douglas Rushkoff [10.25.99]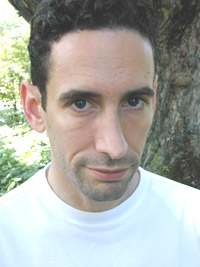 Introduction by
John Brockman
Until recently, media and technology guru Douglas Rushkoff believed that we should let technology develop at its own pace and in its own way. "I thought that this rapid acceleration of culture would allow us to achieve the kind of turbulence necessary to initiate a dynamical system," he says. "And I saw everyone who called for us to put on the brakes, or to put new governors on the development of culture, as the enemy to our evolution forward. Their vigilance would prevent us from reaching the next level of complexity."
Rushkoff abandonded his view of techno-utopianism when he began thinking that "when you eliminate fear and simply follow your bliss, you don't always get the best results. In the worst case, it can even be a recipe for fascism. Over the past few years we just let the Internet go, and we've got an electronic strip mall as a result. We thought government was the enemy, and kept them out of our network. That's what gave market forces free reign."
"I started to explore whether there is a way to foster growth, new thought, cultural innovation, and even markets without getting absolutely carried away and losing all sense of purpose."
— JB

DOUGLAS RUSHKOFF, a Professor of Media Culture at New York University's Interactive Telecommunications Program, is an author, lecturer, and social theorist. His books include Free Rides, Cyberia: Life in the Trenches of Hyperspace, The GenX Reader (editor), Media Virus! Hidden Agendas in Popular Culture, Ecstasy Club (a novel), Playing the Future, and Coercion: Why We Listen to What "They" Say .
As a journalist, Rushkoff is currently writing a monthly column for The Guardian of London, The Age, Silicon Alley Reporter, The Herald Tribune, Toronto Globe and Mail, The New The Fresno Bee, and dozens of other papers around the world through the New York Times Syndicate. He is also a commentator for NPR's All Things Considered. He regularly contributes features about pop-culture, media and technology to magazines including Time, Esquire, Details, The Modern Review, GQ, Paper and Magical Blend, as well as online publications from The Site to Nerve.
---
---