Douglas Rushkoff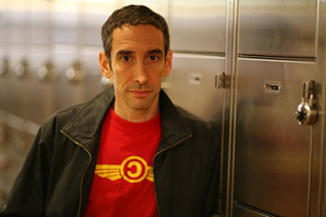 DOUGLAS RUSHKOFF analyzes the way people, cultures, and institutions create, share, and influence each other's values. He sees "media" as the landscape where this interaction takes place, and "literacy" as the ability to participate consciously in it.
Rushkoff is the author of eight best-selling books on new media and popular culture, that have been translated into over 20 languages, including Cyberia, Media Virus, Playing the Future, Coercion: Why We Listen to What "They" Say, Nothing Sacred: The Truth About Judaism, Life Inc.: How the World Became a Corporation and How to Take It Back and the novels Ecstasy Club, and Exit Strategy.

His writes essays and commentaries for NPR's All Things Considered, Time Magazine, and CBS Sunday Morning. Rushkoff lectures about media, art, society, and change at conferences and universities around the world. He hosts and writes documentaries for PBS, Channel Four, and the BBC. Rushkoff's award-winning Frontline documentary "The Merchants of Cool" was one of the most watched and most talked about documentaries of the year.
He has served as an professor of virtual culture at New York University's Interactive Telecommunications Program for the past four years, as an Advisor to the United Nations Commission on World Culture, on the Board of Directors of the Media Ecology Association and the Center for Cognitive Liberties and Ethics, and as a founding member of Technorealism. He is a Senior Fellow of the Markle Foundation, and a Center for Global Communications Fellow of the International University of Japan.
He regularly appears on TV shows from NBC Nightly News and Frontline to Larry King and Politically Incorrect. Rushkoff writes for magazines and newspapers including Time, The Guardian, Esquire, Paper, GQ and The Silicon Alley Reporter, and developed the Electronic Oracle software series for HarperCollins Interactive.
---
Further reading on Edge: "The Thing That I Call Doug"
Beyond Edge: Doulgas Ruskoff 's Home Page
---