WHAT QUESTIONS ARE ON PSYCHOLOGISTS' MINDS TODAY? [2.8.99]
David G. Myers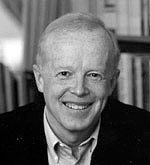 Introduction by
John Brockman
"To arrive at the edge of the world's knowledge, seek out the most complex and sophisticated minds, put them in a room together, and have them ask each other the questions they are asking themselves."
Inspired by last year's The World Question Center, psychologist David G. Myers, asked his own version of the Edge Question of some of psychology's leading lights. He received responses from Eliot Aronson, Daryl J. Bem, Ellen Berscheid, Gordon Bower, Noam Chomsky, William C. Dement, Paul Ekman, Rochel Gelman, Jerome Kagan, Walter Kintsch, Elizabeth Loftus, Jay McClelland, Don Meichenbaum, George Miller, Martin E. P. Seligman, Mark Snyder, Larry Squire, Shelley Taylor, Endel Tulving, Phil Zimbardo.
— JB


DAVID G. MYERS is professor of psychology at Hope College and the author of Psychology (5th ed.) and The Pursuit of Happiness.
WHAT QUESTIONS ARE ON PSYCHOLOGISTS' MINDS TODAY?


---