Doug Rowan
The Curator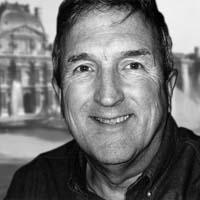 Introduction by John Brockman
We create tools and we are molded by our use of them. In our lifetime technology has changed the world as it changes our minds. Consider the great power in new imaging techniques made possible through technological development. One example: during the moon landing in the late '60s I recall the stunning televised image of the earth as seen from the moon: night and day at the same time -- all times all the time -- no matter what the time. And my watch told me the correct time was 3 pm.
A generation later, the advent of the PC and the current communications revolution are changing our worlds and our minds to such an extent that the biggest change is the rate of change. Nowhere is this more evident than in the graphical imaging power of today's desktop machines.
Corbis is a company whose headquarters is outside Seattle in Bellevue, Washington. They also have offices in New York and London. The business is building a digital visual library, and it's an endeavor that's been underway for almost 7 years. According to Doug Rowan, president of Corbis, it has accelerated quite a bit in the last three years, and the company ended 1996 with nearly one million high resolution photographs richly catalogued in the library.
The central concept of Corbis is to provide a very rich set of digital visual images that attempt to capture the entire human experience throughout history, so it includes such diverse topics as fine art, science, nature, technology, wild life, history, celebrity, sports, etc. Corbis licenses pictures for people to use in print and electronic publishing and produces CD-ROM products such as "Leonardo da Vinci", "FDR", and "The Passion for Art."
Doug Rowan, president and CEO of Corbis, worked for 22 years at IBM in a variety of marketing positions. He left IBM 12 years ago and since that time has worked in several companies which did imaging on the desktop. It was that 12 years and that journey that gave him an obsession with the technology of digital content, and the way that digital content is going to change communication. He was an engineer who got drawn into sales and marketing, and he's been returning to technology every since.
-JB