Experiment Marathon Reykjavík

Curated by Hans Ulrich Obrist
In collaboration with artist Ólafur Elíasson
Click on images to enlarge
Experiment Marathon Reykjavik, curated by Hans Ulrich Obrist, Co-Director of Exhibitions and Programs and Director of International Projects, Serpentine Gallery, and artist Ólafur Elíasson, was a two-fold project that expands the idea of experimentation and display. It comprised an exhibition and a public event, which brought together leading international artists, writers and scientists to form a 'laboratory of experiences'.
For this event, Obrist reprised the Edge World Question Center – Formulae for the 21st Century — which he first presented at the Serpentine Gallery in London last October.
As was the case in London, the event featured live presentations of "table-top" experiments from numerous artists and scientists. One of the presenters was Avant-garde film-maker, writer, visionary Jonas Mekas who was, and is, the organizing force behind Film-Makers Cinematheque. I hadn't seen or talked to him in 43 years.
In 1965, Mekas hired me to manage the Cinematheque. I was 24-years old at the time. One day he handed me a piece of paper with a list of about 50 artists, poets, dancers, film-makers, laid out hia vision for a "new cinema" festival, wished me luck, and left the country, leaving me to produce "The Expanded Cinema Festival" which took place in Novermber, 1965. The Festival included events/performances by Andy Warhol, Robert Rauschenberg, Claes Oldenburg, Nam June Paik, La Monte Young & Marian Zazeela, USCO, Carolee Schneemann (also at Reykjavik), Kenneth Dewey & Terry Riley, and Jack Smith. (See The Nation, 12.27,1967, second page.)
Hans Ulrich Obrist and I have been interviewing each other for years. As recently as last month I presented an Edge feature on his ideas about running an exhibition. (See "A Rule of the Game".) One event at the Reykjavik Festival was a conversation between us on my experiences in the art world and the intersections with science. I received a transcription of the 20-minute event which I was prepared to publish on Edge when until I realized that ten years ago, we sat together for the better art of a day covered much of the same ground much more extensively. The Q&A was published in Art Orbit and is available online. Click on the image.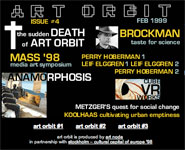 —JB
---
---


THE WALL STREET JOURNAL
MAY 30, 2008

Backstage With Hans-Ulrich Obrist and Olafur Eliasson
In Iceland, Building Bridges for Art
By Cathryn Drake
Curator Hans Ulrich Obrist and artist Olafur Eliasson have been discussing the nature of collaboration and art for more than a decade. They met in the early 1990s and soon began visiting Iceland each summer with a contingent of other artists and thinkers to explore the landscape and share ideas, in the hope of spurring creativity.
Their latest project, part of the Reykjavik Arts Festival, is a more formal version of the gatherings. Called the Experiment Marathon Reykjavik, it brought together more than 50 artists, architects, filmmakers and academics to demonstrate the intersection between art and science.
---


THE BOSTON GLOBE
MAY 24, 2008

Creators of Cool
By Tom Haines
At a solitary edge of the world, artists reach, project, search, question, in forms old and new and newer still

At the center of the room, a long table was laden with stacks of crackers and swirls of licorice. Hans Ulrich Obrist and Olafur Eliasson, curators of an "experiment marathon" that the next day would unite dozens of artists and scientists discussing topics as diverse as sleep patterns, wind currents, and how we laugh, stepped to a small stage.
Slide Show: Reykjavík Arts Festival in Iceland
---


ART FORUM
MAY 25, 2008

Amazing Race — Reykjavik

Cathryn Drake
As people arrived from all over the world to attend the opening weekend of the Reykjavik Arts Festival and participate in Hans-Ulrich Obrist and Olafur Eliasson's "Experiment Marathon Reykjavik," the mood resembled a summer camp—albeit one attended by Björk, who was on my flight from London, and the country's president, Olafur Ragnar Grímsson. Festivities kicked off with receptions at both the president's residence and at Reykjavik city hall, home of mayor Ólafur F. Magnússon. Iceland's intimate social landscape, along with its intimidating physical landscape, brought the eclectic crowd together, and it seemed that whenever someone was mentioned in conversation they appeared just around the corner. ...
...Bringing together art and science, the experiment marathon seemed like an inspirational DIY manual for life itself. Describing reality as a nonlinear process of input and output in which we ourselves are the instruments, Brockman noted, "You are not creating the world, you are inventing it." In "Laughing at Leonardo," filmmaker-composer Tony Conrad made a sort of Vitruvian Man joke using his own body as a stringed musical instrument. Brian Eno led the audience in a sing-along of "Can't Help Falling in Love," and proposed choral singing as the key to civilization: "In a group you stop being me and start being us. I encourage you all to start your own a cappella group and change the world." He added, "The three keys to happiness and a healthy old age are dancing, singing, and camping."
---


ARTNET
May 15, 2008

Fire And Ice
by Ben Davis
If you haven't thought too much about the cultural life of Iceland, that's probably because the entire population of the island nation -- about 312,000 souls in all -- makes it about half the size of my hometown of Seattle. Reykjavik, the country's clean, modern capital on the southwest coast, is roughly comparable in size to Tacoma, Seattle's more obscure neighbor.
If you have perchance thought of Icelandic culture, it probably has something to do with Bjork, the pop diva who wore a swan-shaped dress to the Oscars. If you're in the art world, you probably think of neo-light-and-space wizard Ólafur Elíasson, currently being canonized at the Museum of Modern Art in New York. And Bjork.
Both were on hand to support the opening of the second-ever Reykjavik Arts Festival, May 15-June 5, 2008, a triennial celebration of visual culture in Iceland and a little gem on the international art circuit. Bjork was present in the form of cameo appearances at various openings (and as the subject of nightly, untrue rumors -- which I somehow imagine are common in Reykjavik -- that she would be deejaying later). Elíasson lent his heft as co-MC of the "Experiment Marathon" at the Reykjavik Art Museum, along with ubiquitous art-world pied piper Hans Ulrich Obrist.
As the highlight of the nationwide festival, which featured shows across the country, the marathon offered a two-day program of presentations by international artists and scientists, an extension of a project Obrist first staged at the Elíasson-designed Serpentine Pavilion in London last year, itself an offshoot of a 2001 exhibition he co-curated in Antwerp called "Laboratorium."...
...For the artists, on the other hand, Obrist's interview on Sunday with weather-beaten thinker John Brockman had a more sobering lesson. Would-be polymath Obrist clearly has a special identification with Brockman, whose shtick is that he is a creativity guru who bridges the arts and sciences with his website Edge.org. For those disinclined to take seriously the possible impact of Obrist's pop-intellectual art-science synthesis, however, Brockman's description of how he went from hanging out with John Cage and pondering the implications of cybernetics to consulting for the Pentagon provides a cautionary note as to where an approach that turns art into just another technology to research might lead. ...
---


ART REVIEW
May 15, 2008

Reykjavik Arts Festival Diary, Days 1–4
By James Westcott
Descending through the clouds over Iceland, the land looks like cauliflower, or something growing in a giant petri dish. Driving from the airport, which is basically out in the wilderness a dozen or so miles from Reykjavik, the interminable rockiness of the earth becomes obvious: rock everywhere, volcanic black gnawed and gnarly masses smeared with a thin film of moss, stretching back to the horizon in incredible sliding perspective (as you drive by), before it's stopped short by a wall of squat, tempting mountains. I'm here for the Reykjavik Art Festival, which began last night, and my knee-jerk thought riding through the countryside was: how does culture, let alone a thriving triennial of visual art (this is the second after Bjorn Roth (son of Dieter) and Jessica Morgan's effort in 2005) get a toe-hold here in the midst of such overwhelming, isolating and intimidating nature?
Easy. At the packed opening reception for the festival, hosted by the Reykjavik Art Museum (a mixture of brutalist concrete and steel-and-glass elegance), Hans Urlich Obrist speculated that Iceland is possibly the only country in the world where the president and his wife would come to a performance by Emily Wardill, the emerging London-based film artist. President Ólafur Ragnar Grímsson – a big supporter of the arts – was indeed one of those watching in the small auditorium as Wardill kicked off the crowning event of the festival, Obrist and Olafur Eliasson's Experiment Marathon. This is a new iteration of the exhilarating event – a series of presentations, performances and interactions – that was first tried out in the Serpentine pavilion during Frieze last year. (And Obrist revealed that this summer's marathon at the Serpentine will be a Manifesto Marathon – for an era without manifestos – inside Frank Gehry's pavilion.)...
..."Try saying your brain is a computer in the 1970s, and you'd get a lot of flak. Now it's old hat", said cultural entrepreneur and founder of edge.org, John Brockman in an on-stage interview with Obrist. "Who we are is a changing game." Let's hope art can keep up. At the end of the short interview, Brockman quoted James Lee Byars, who is perhaps the father of this kind of polyphonous, multi-disciplinary thinking in the contemporary artworld with his World Question Center (1968): "It's Einstein, Gertrude Stein, Wittgenstein and Frankenstein" – you need all four in order to think; a man can't live on art alone.
Brian Eno, up next, demonstrated how man can't live alone either. Singing helps, and we don't do enough of it. Eno has been campaigning for a compulsory five minutes of singing in English schools every day, and it looks like he's succeeding. With a small group of volunteers leading us on stage, Eno soon got everyone in the audience (which was overflowing today) happily singing 'I can't help falling in love with you' a cappella. It was a joyous, silly, profound moment. ...
---


ART FACTS.NET

Artfacts.Net Interview with Hans-Ulrich Obrist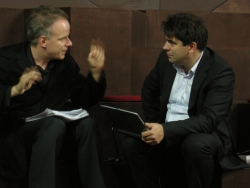 Hans-Ulrich Obrist and Marek Claassen
Hans-Ulrich Obrist is one of the most prestigious curators of contemporary art. Currently he serves as a Co-director of Exhibitions and Programmes, and Director of International Projects at the Serpentine Gallery in London. ...
...HUO: What happened is that suddenly this immaterial exhibition of formulas has, by being on 'Edge', reached a completely other context. Suddenly we ended up on top of Boing Boing which is the biggest blog on the planet, and hundreds of thousands of people all over the world would visit it. To some extent, that obviously is very important for us because it is not only about bridging the gap between disciplines, but it's also about reaching art and building bridges to other visitors who usually would not come to an art gallery, and we have 800,000 visitors p.a. Admission is free. So this kind of way is also an interesting link to the internet. You go to "Edge", it's free. You come to the Serpentine, it's free.
---