"The Deep Question"
A Talk With Rodney Brooks [11.19.97]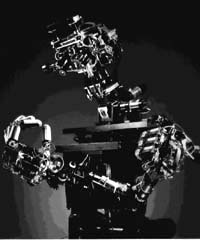 Introduction by
John Brockman
ROD BROOKS built computers as a kid. There was only one computer in the Autralian city where he grew up and there wasn't much technology. He spent his childhood building computers from whatever he could manufacture. There were no computer science departments in the colleges in Australia when he started so he did pure mathematics. He was going to become a pure mathematician, and then discovered that research assistantships were availalbe in American universities. He received a Ph.D. at Stanford in computer science, in John McCarthy's artificial intelligence lab, and then came to MIT where he thinks about biological systems and their interaction with the world.
Rod Brooks is director of the AI Lab at MIT.