Rebecca Mackinnon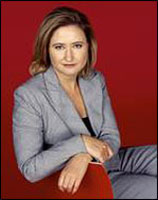 REBECCA MACKINNON is a Visiting Fellow at Princeton University's Center for Information Technology Policy. Fluent in Mandarin Chinese, she has lived in China on and off since childhood. She worked for CNN in Beijing for nine years, serving as CNN's Beijing Bureau Chief and Correspondent from 1998-2001 and then as CNN's Tokyo Bureau Chief and Correspondent from 2001-03.
More recently, MacKinnon is co-founder of Global Voices Online, an award-winning global citizen media network that amplifies online citizen voices from around the world. She is on the board of the Committee to Protect Journalists , and is also a founding member of the Global Network Initiative, a multi-stakeholder initiative to advance principles of freedom of expression and privacy among Internet and telecommunications companies.
After leaving CNN in early 2004 MacKinnon spent 2004-2006 as a Research Fellow at Harvard: first at the Shorenstein Center on the Press, Politics and Public Policy at the Kennedy School of Government, and then at the Berkman Center for Internet and Society. In 2007 and 2008 she was Assistant Professor at the University of Hong Kong's Journalism and Media Studies Centre, teaching online journalism and conducting research on the Internet, China, censorship, and the role of technology companies promoting or preventing free expression. While there she launched Creative Commons Hong Kong. In 2009 she carried out research and writing on China, the Internet and freedom of expression as an Open Society Fellow, supported by a grant from the Open Society Institute. MacKinnon graduated magna cum laude from Harvard College.
---
Beyond Edge:
RConversation
Rebecca MacKinnon's erratic postings about work, reading, and ideas since 2004.
Rebecca Mackinnon Profile
Center for Information Technology Policy
Global Voices Online
Committee to Protect Journalists
Global Network Initiative
Creative Commons Hong Kong