Xeni Jardin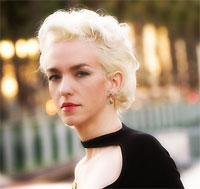 A self-trained journalist specializing in the lifestyle crossroads of technology and popular culture. Founding co-editor of an award-winning blog and online video program reaching millions of readers/viewers daily -- the most popular independent blog in the world. A highly sought-after expert in all phases of the internet and digital culture.
Jardin is a tech culture journalist, a Webby-honored online video host and producer, and co-editor of the collaborative weblog BoingBoing.net, the award-winning "Directory of Wonderful Things."
She has served as contributor, host, and "tech expert" for television, radio, and print venues such as NPR, CNN, ABC, NBC, MSNBC, G4TV, Current, MSNBC, PBS, The New York Times, The Los Angeles Times, Popular Science, and MAKE Magazine. In 2007, she launched Boing Boing TV, one of the web's most popular video series, offered at boingboingvideo.com, through YouTube and iTunes, and on a dedicated in-flight entertainment channel on-board Virgin America airlines. She continues to serve as the program's executive producer and host.
Jardin is a sought-after speaker for insight and analysis on tech culture trends at public and private industry events.
Previously, she was Vice President of Rising Tide Studios (RTS), the publishing company behind Silicon Alley Reporter, Digital Coast Reporter, and other pioneering internet industry publications. There, she managed and hosted technology conferences featuring a wide array of figures from tech, entertainment, and political realms.
Xeni served as a senior correspondent to the company's print and online magazines, and oversaw an annual conference series which included "The Rising Tide Summit," hosted by Charlie Rose of "The Charlie Rose Show" and "60 Minutes II. Participants included CEOs, technologists, authors, artists, celebrities, and thought leaders from academia and government.
Based in Los Angeles, she travels extensively, and has studied over a dozen languages including Maohi (Tahitian), K'iche' and Kaqchikel Maya (Guatemala), Nahuatl (an indigenous language of Mexico), Mandarin Chinese, and Yoruba (Nigeria).
Her cultural reports and travelogues have been featured in radio documentary series form on National Public Radio, and through online video at Boing Boing TV.
She is a professionally trained vocalist, and has studied acting and dance with a number of performing artists and dance troupes.
---
Beyond Edge :
Twitter: @xenijardin

---

---

---