Nick Bilton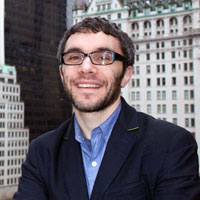 NICK BILTON is the Design Integration Editor and User Interface Specialist at The New York Times & The Times Research & Development Lab. His work over the past 15 year has weaved through many different fields of storytelling including advertising, journalism, design, technology, user interface, documentary film and hardware hacking.
At the New York Times, Bilton holds two roles. Within the newsroom, he is responsible for integration in the Design Department between the print paper and nytimes.com, helping rethink visual storytelling through the print to digital transition. In the Research & Development Labs, he explores the future of media in the next two to 20 years. His role requires core research of upcoming trends, technologies and reader behaviors and the development of future example prototypes. Some of these include "smart content" that follows readers between devices, becoming aware of your location, interests and previous news consumption. Bilton also focuses on 'Newspaper 2.0' where he explores and prototypes next generation newspaper devices made from eInk, OLED (Organic Light Emitting LED) and other low power, flexible displays.
Along with co-worker Michael Young, Bilton helped incubate a start-up within The Times called ShifD. ShifD came from the duo winning a major technology competition in 2007 called Yahoo! Hack Day. The concept behind ShifD allows a user to start reading something on their computer and seamlessly shift it to their mobile phone by simply getting up from their computer and walking away. There is currently a patent pending for the concept and idea behind ShifD.
Outside of The Times, Bilton is an Adjunct Professor at NYU in the Interactive Telecommunication Program. His class is called "1, 2, 10". Designing interaction for the one-foot (mobile phone), two-foot (computer) and 10-foot (television). He is currently developing a new class for the Fall of 2009 called "Sensors As Reporters"; students will learn to tell stories with sensors by integrating the data into news articles, online graphics and mobile interfaces.