---
---
---
---
---
172 Contributors
132,000 words
---
---

---
---
WHAT WILL CHANGE EVERYTHING?
---


EL MUNDO
January 3, 2009
Impíos deseos al empezar el año
By Arcadia Espada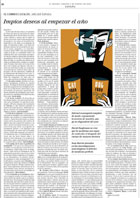 Al rito solar del Año Nuevo, el concierto de Viena (me paso las dos horas de valses, fantaseando con el frío de fuera, y la choucroute caliente y morosa que le espera al primer concertino: todo lo que me gusta me da hambre) y los saltos en Garmisch Partenkirchen se ha unido ya la pregunta de Edge. Al despuntar el alba, y con todas las ilusiones intactas, Brockman&Guests sacuden la resaca, preguntan y se responden. Lo hacen desde 1998 y este año proponen: BEl subtítulo lleva una consoladora precisión: se trata de cambios y desarrollos científicos que podamos ver en vida. El resumen de las ideas de Edge, la navajita más afilada de la cultura contemporánea, siempre es complicado. Excepto, claro está, en el caso de los dos o tres artistas que figuran cada año a modo de sansivieras: todas sus respuestas se pueden ignorar. Deberás fiarte, pues, de mi gusto y de mis obsesiones. También de las limitaciones del formato de la carta. Y, principalmente, de mis límites: no entiendo todas las respuestas. En todo caso, aquí tienes el catálogo completo....


SPEIGEL ONLINE
January 10, 2009

HEUTE IN DEN FEUILLETONS

Das Versagen der Linken im Gaza-Krieg
In der "SZ" erinnert sich Sibylle Lewitscharoff an ihre Zeit bei der Gruppe Spartacus Bolschewiki-Leninisten. Die "NZZ" hat in Detroit in die vielen Gesichter des Nichts gesehen. Und die "FAZ" erkennt in der chinesischen Markenpiraterie die Intelligenz des Volkes.
Frankfurter Allgemeine Zeitung, 10.01.2009...Weiteres: Wie es aussieht, "wenn die Intelligenz von sich selber träumt", weiß Thomas Thiel seit der Umfrage des Magazins edge.org unter hochdekorierten Naturwissenschaftlern zu der Frage: "Welche Entwicklung könnte könnte zu Ihren Lebzeiten alles ändern?"


FRANKFURTER ALLGEMEINE ZEITUNG
January 10, 2009

Visionen der Wissenschaft
Wenn die Intelligenz von sich selber träumt
Von Thomas Thiel




Man steigt, heißt es, nicht zweimal in denselben Fluss. Aber man hofft doch, als derselbe ans Ufer zurückzukehren. Nur im Horizont dieses Bildes zeigt sich die Radikalität der Frage, die der Literaturagent John Brockman von der Organisation "Edge" (Edge — die Website) der wissenschaftlichen Gemeinschaft vorgelegt hat: "Welche Entwicklung könnte zu Ihren Lebzeiten alles ändern?" Wie zu jedem Jahreswechsel fordert Brockman mit seiner Frage auf der Website von Edge die Phantasie der Wissenschaftler heraus, den Mut zum großen Gedanken. Es antworten oft hochdekorierte Forscher wie Ian Wilmut, Craig Venter oder Daniel Dennett, die in (Natur-)Wissenschaftlern und Technikern und nicht mehr im Literaten oder Historikern den zeitgemäßen Typus des Intellektuellen sehen.
Fasst man den Grundtenor der mehr als einhundertfünfzig Antworten zusammen, so gehört die Zukunft den Genetikern, Neurobiologen und Informatikern oder jedenfalls solchen Wesen, die sich die Ergebnisse neurobiologischer, informationstechnologischer und genetischer Forschung zunutze machen. Ob sie noch sinnvollerweise Menschen genannt werden sollten, ist dabei eine berechtigte Frage. ...


Letras Libres
December 16, 2008

Science in the Street

By Ramón González & Férriz Y Diego Salazar

Humanism today limps as Andalusia ostensibly despises science. Gonzalez and Salazar Férriz indicate a new and commendable effort to remedy that Soanish ignorance: Culture 3.0.

In the preface to the recent reissue of The betrayal of the intellectuals, 1927 Julien Benda (Galaxia Gutenberg), Fernando Savater stated that "perhaps the greatest paradox of the paradoxes of the twentieth century is this: there has never been a time in human history in which more developed the ability to produce tools and knowledge the inner structure of reality in all fields. So, never was more scientific and technical brilliance. But neither had ever so many ideological movements based (or better, desfondados) as irrational, dogmatic or unverifiable, above all, never was such a wealth of supporters of rapture or intuitive certainty blood among the elite of servers for high spiritual functions. "In the words of Benda," men whose function is to defend and selfless eternal values such as justice and reason, and I call intellectuals have betrayed that role for practical interests, which often result in the conversion of a mere intellectual ideologue who aspires to a space power...

...Following the wake of Snow and probably trying to repair the betrayal of Benda-speaking, John Brockman in 1988 founded the Edge Foundation (www.edge.org), an organization that seeks to reintegrate, under the idea of a "Third Culture "scientific and humanistic discourse and contribute to that science has a key role in the discussion of public affairs. ...


NEWS-OBSERVER
January 4, 2009

Science visions, dark and bright

By J. Peder Zane

Talk about change was more plentiful in 2008 than loose coins in an old couch.
Despite all the lip-flapping, that place where gods and devils dwell -- the details -- was largely unexplored.

The Obama administration will soon offer its ideas for reviving the economy and reshaping America's foreign policy. But politicians aren't the only ones who can remake the world.

Scientists have at least as much power to transform our lives and history. What "game-changing scientific ideas and developments" do they expect to occur during the next few decades?

That's the question John Brockman, editor of the Web site edge.org, posed to about 160 cutting-edge minds in his 11th annual Edge Question. As in years past, they responded with bold, often thrilling, sometimes chilling, answers.


THE GUARDIAN
January 2, 2009
SCIENCE BLOG

Richard Dawkins: How would you feel about a half-human half-chimp hybrid?

Dawkins speculates about how a human-chimp hybrid or the discovery of a living Homo erectus would change the way we see the world. — James Randerson
In a late response to Edge.org's annual New Year challenge to the world's leading thinkers, Prof Richard Dawkins has submitted his entry. Edge.org asked scientists, philosophers, artists and journalists "What will change everything?"
Dawkins — author of The Selfish Gene and The God Delusion — muses on the effect of breaking down the barrier between humans and animals, perhaps by the creation of a chimera in a lab or a "successful hybridisation between a human and a chimpanzee".

Here's what he had to say.


THE TELEGRAPH
January 2, 2009

New Year 2009: Leading thinkers offer predictions of 'next big thing'

By Jon Swaine

Leading thinkers — including Craig Venter and Ian McEwan — have marked New Year 2009 by predicting what will be the next big thing to shape the future.

[PHOTO: IAN MCKEWAN/PHILIP HOLLIS]

[Caption: Ian McEwan: predicts the full flourishing of solar technology as one of the next 'big things']

A 150-strong group of scientists, authors, musicians, philosophers and other respected experts were posed the question "What will change everything?"

Their task was set by Edge, an online intellectual discussion group, which claims its membership comprises "the most interesting minds in the world".

The responses spanned new methods of energy production, the dawn of telepathy, freely available artificial intelligence and the colonisation of the Milky Way."


NPR
January 2, 2009

THE BIG STORY
Weekend reading

ANALYSIS
The Big Question Of The Year
By Linton Weeks
Every year, John Brockman — who runs the nonprofit Edge Foundation in New York — asks a gaggle of forward-thinking people a provocative question.


THE GUARDIAN
January 2, 2009
SCIENCE BLOG

Brian Eno: The feeling that things are inevitably going to get worse

The artist and composer responds to this year's Edge.org question: What will change everything?



[PHOTO: BRIAN ENO/EAMONN MCCABE]

What would change everything is not even a thought. It's more of a feeling.
Human development thus far has been fueled and guided by the feeling that things could be, and are probably going to be, better. The world was rich compared to its human population; there were new lands to conquer, new thoughts to nurture, and new resources to fuel it all. The great migrations of human history grew from the feeling that there was a better place, and the institutions of civilisation grew out of the feeling that checks on pure individual selfishness would produce a better world for everyone involved in the long term.


THE DALLAS MORNING NEWS
January 2, 2009

OPINION PAGE

THE BIG STORY
Weekend reading

Edge World Question 2009: What will change everything?

Annual science survey asks: "What game-changing scientific ideas and developments do you expect to live to see?" Among the answers:

• West Antarctica and sleeping giants
• Quantum laptops
• Mind-reading ...


GLASCOW HERALD
January 2, 2009

Top thinkers divided on whether future is bright

Chris Watt
The predictions range from miracle cures and world peace to economic ruin and nuclear war. If there is a theme to the World Questions 2009, an online survey of some of the world's top thinkers, it would seem to be inconsistency.
Published yesterday on intellectual Website edge.org, the survey asked 150 leading scientists, artists and commentators for their views on the single biggest change likely to affect the world during their lifetimes.
The wide range of answers they gave provides a snapshot of the hopes — and fears — that may come to define our times.


BLOGGINGHEADS TV
January 3, 2009

JOHN HORGAN/
GEORGE JOHNSON

Science Saturday: The More Things Change... (27:45)

• Edge contributors answer "What will change everything?"

GJ: We were talking abut great thiigs on the Internet in science...so you read Edge.org' question of the year?

JH: Yes, the annual question from John Brockman, the science book impressario. He's got this great site edge.org 2hich we've talked about before and every year he asks this question and he's asks this ever-growing stable of people, primarily scientists but a of of quasi-scientist pundits to respond this question. The question this year is "What will change everything".

GJ: Yes, Good New Year's Day reading.


PHARYNGULA
January 2, 2009

PZ MYERS

Brockman asks, we answer

GRIST
January 2, 2009

We're gonna need a bigger boat

Scientists and other experts rattle off options for averting climate catastrophe

Meanwhile, the mysterious Edge Foundation released its annual question for 2009, asking smart folks of all disciplines to name what new idea or technology will "change everything." Responses range all over, but there are a few climate-related responses, including British novelist Ian McEwan's prediction that solar technology will really take off and Stanford climatologist Stephen H. Schneider's guess that rapid melting of Greenland's ice sheets will wake up the world to the need to take concerted action on curbing C02 emissions.


BELIEFNET
January 2, 2009

CRUNCH CON BLOG/
RON DREHER
Edge 2009: What will change everything?

If you're familiar with The Edge's annual survey of scientists, science writers and scientific types, you know how fascinating the answers are. Follow the link above to get started reading them -- and then share in the comboxes your own answer to the question, and how you reached that conclusioN


O'REILLY RADAR
January 1, 2009

What Will Change Everything?

By Brady Forrest
Regular Radar contributor Linda Stone sent this in to be posted today.

...Venter imagines creating life from synthetic materials and expects that our view of life, itself, will be transformed.

Nobel Laureate, Frank Wilczek, believes everything will continue to become smaller, faster, cooler, and cheaper -- with its implications of an Internet on steroids and exciting new designer materials.


ARTS & LETTER DAILY
January 1, 2009

Essays and Opinion
Printing — electricity — radio — antibiotics: after them, nothing was the same. Intellectual impresario John Brockman asks a select group of thinkers, "What will change everything?"... more»


THE GUARDIAN
January 1, 2009

Leading thinkers predict technologies that will turn the world upside-down

James Randerson, science correspondent


[Caption: Ian McEwan muses that we will look back and 'wonder why we ever thought we had a problem when we are bathed in such beneficent radiant energy'. Photograph: Getty]

Flying cars, personal jetpacks, holidays on the moon, the paperless office — the predictions of futurologists are, it seems, doomed to fail. The only thing predictable about the future is its unpredictability.

But that has not stopped edge.org — the online intellectual salon — asking which ideas and inventions will provide humanity's next leap forward. In its traditional New Year challenge to the planet's best thinkers it asks, "What will change everything — What game-changing scientific ideas and developments do you expect to live to see?"

THE TIMES
January 1, 2009


Science minds reveal vision of life, the universe and everything

Mark Henderson, Senior Editor

Most scientists like to dream about what will change the world — even if they understand that their own work is never likely to have quite the impact of a Copernicus or a Darwin.

The fascinating breadth of their visions of the future is revealed today by the discussion Website edge.com, which has asked some of the world's finest minds the question: "What will change everything?"


Xconomy
January 1, 2009

What Will Change Everything?

Linda Stone

What game-changing ideas can we expect to see in OUR lifetimes?

As each year winds to a close, John Brockman, literary agent representing some of the finest minds in science and technology and the founder of Edge Foundation, poses a provocative question to an international community of physicists, psychologists, futurists, thought leaders, and dreamers. Brockman is a master convener, both online and in real life. This year's annual Edge question, What will change everything?, generated responses from Freeman Dyson, Danny Hillis, Martin Seligman, Craig Venter, and Juan Enriquez, to name a few. Here are a few highlights.


NEWSWEEK
December 31, 2008

LAB NOTES

Crystal-Ball Time

By Sharon Begley

Every December the online intellectual salon called Edge, presided over by literary agent John Brockman, asks a select (virtual) assembly of scientists to ponder a question, such as what they are optimistic about (2007), what "dangerous" ideas they have (2006) and what they believe is true but cannot prove (2005). As the bell tolls on 2008 and rings in 2009, Edge is unveiling this year's: "What game-changing scientific ideas and developments do you expect to live to see?"

As usual, the offerings vary as much in quality as a cheap spumante does from Dom Perignon. Predictably, contributors foresee space colonization and the discovery of intelligent life elsewhere in the universe. More intriguing, there are predictions that a new human species will evolve from Homo sapiens, and that we will discover how to identify the brain pattern that indicates a person is about to commit a violent act (and will also discover how to suppress that pattern).



THE GUARDIAN
January 1, 2009

SCIENCE BLOG

Which technological wonders are set to change everything?

The world's greatest thinkers have revealed the ideas and technologies they think will change the world forever. Now it's our turn ...

James Randerson, science correspondent
Futurology is notoriously hit-and-miss. According to 2001: A Space Odyssey, we should already be using suspended animation to send humans to Jupiter
"Through science we create technology and in using our new tools we recreate ourselves." So says the intro to edge.org's annual New Year challenge to the world's greatest thinkers.This year it is asking "What will change everything — What game-changing scientific ideas and developments do you expect to live to see?" And as ever, the great and the good have responded to the call. ...
---
---
WHAT HAVE YOU CHANGED YOUR MIND ABOUT?
---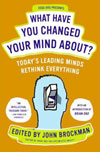 ---


The splendidly enlightened Edge Website (www.edge.org) has rounded off each year of inter-disciplinary debate by asking its heavy-hitting contributors to answer one question. I songly recommend a visit.

A great event in the Anglo-Saxon culture


As fascinating and weighty as one would imagine


They are the intellectual elite, the brains the rest of us rely on to make sense of the universe and answer the big questions. But in a refreshing show of new year humility, the world's best thinkers have admitted that from time to time even they are forced to change their minds


Even the world's best brains have to admit to being wrong sometimes: here, leading scientists respond to a new year challenge


Provocative ideas put forward today by leading figures


The world's finest minds have responded with some of the most insightful, humbling, fascinating confessions and anecdotes, an intellectual treasure trove. ... Best three or four hours of intense, enlightening reading you can do for the new year. Read it now.


As in the past, these world-class thinkers have responded to impossibly open-ended questions with erudition, imagination and clarity.

A jolt of fresh thinking...The answers address a fabulous array of issues. This is the intellectual equivalent of a New Year's dip in the lake — bracing, possibly shriek-inducing, and bound to wake you up

Answers ring like scientific odes to uncertainty, humility and doubt; passionate pleas for critical thought in a world threatened by blind convictions

For an exceptionally high quotient of interesting ideas to words, this is hard to beat. ...What a feast of egg-head opinionating!.
---
---
---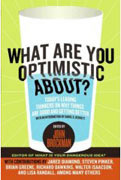 What Are you Optimistic About?
Edited by John Brockman
Introduction by Daniel C. Dennett
---


Was läuft hier richtig?
Der neue Optimismus der Wissenschaften kommt gerade zur rechten Zeit
RALF BÖNT


C'est la double question posée par John Brockman, éditeur de Edge à plus de 160 "penseurs de la troisième culture, ces savants et autres penseurs du monde empirique qui, par leur travail ou leurs écrits prennent la place des intellectuels traditionnels en rendant visibles les sens profonds de nos vies, en redéfinissant autant qui nous sommes que ce que nous sommes".
Ça change des unes constamment catastrophiques de nos médias habituels.


But when the scientific thinkers look beyond their own specializations to the big picture, they continue to find cause for cheer — foreseeing an end to war, for example, or the simultaneous solution of our global warming and energy problems. The most general grounds for optimism offered by these thinkers, though, is that big-picture pessimism so often proves to be unfounded.

Global warming, the war on terror and rampant consumerism getting you down? Well, lighten up: here, 17 of the world's smartest scientists and academics share their reasons to be cheerful


Brockman's respondents were forward-looking, describing cutting-edge research that will help combat global warming and other looming problems.
Edgie's Chris Anderson of TED and Robert Provine of University of Maryland as the proponents of optimism on program concerning Optimism and the Doomsday Clock


a titillating compilation


Peering into their crystal telescopes, the world's leading scientists see a magnificent future


El foro virtual Edge propone buscar razones, no simplemente deseos, para el optimismo. Edge es un club que reúne, segén ellos mismos, algunas de las mentes más interesantes del mundo. Su propósito es estimular discusiones en las fronteras del conocimiento. La intención es llegar al borde del conocimiento mundial, acercándose a las mentes más complejas y refinadas, juntarlas en un foro y hacerlos que se pregunten las preguntas que ellos mismos se hacen. La fundación actúa, de este modo, como surtidora de problemas y alojamiento de réplicas. Cada ano se constituye como Centro Mundial de Preguntas.

God bless those upbeat scientists

Looking through rose-colored microscopes
Why some scientists are optimistic about the future



One way or another the answers should give you a warm glow — either because you agree, or because they make you angry.


Edge's future-themed article is making some news....
From the lips of contributors to the online magazine Edge to God's ears (one wonders if She or It may be listening): dozens of scientists and other thinkers have looked ahead to the future.


a Web site that aims to bridge the gap between scientists and other thinkers


[E]ven in the face of such threats as global warming and religious fundamentalism, scientists remain positive about the future.


People's fascination for religion and superstition will disappear within a few decades as television and the Internet make it easier to get information, and scientists get closer to discovering a final theory of everything, leading thinkers argue today.


What are you optimistic about? Why? Tons of brilliant thinkers respond.


What Are You Optimistic About?
Posted by Hemos on Monday January 01, @08:43AM
from the explain-yourself dept.


Intellectual impresario John Brockman puts his annual Edge question to
leading thinkers.


What are you optimistic about? Intellectual impresario John Brockman puts his annual Edge question to leading thinkers...


[A]ccording to Edge — the heady Website for world-class scientists and thinkers, and the brainchild of author and entrepreneurial idea man, John Brockman, there's good news ahead.
---
---
---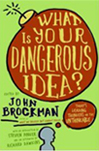 What Is Your Dangerous Idea
Edited by John Brockman
Introduction by Steven Pinker
Afterword by Richard Dawkins
---


KYUNG HANG (Soeul)
The great world-wide scholars talk about their 'dangerous ideas'.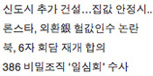 Most of the contributors appear to have interpreted "dangerous" as meaning something like "subversive," challenging to one or another received orthodoxy.


Meine gefährlichste Idee. Seit nunmehr neun Jahren startet die Stiftung Edge mit einer Umfrage zu einem großen generellen Thema ins neue Jahr.


Crónicas Bárbaras Ciencia racista, atractiva pero muy peligrosa.


(Sydney) Into the minds of the believers. With the aim of gathering ideas from the world's leading thinkers on intellectual, philosophical, artistic and literary issues, US writer John Brockman established The Edge Foundation in 1988.


Royal Society president Martin Rees said the most dangerous idea was public concern that science and technology were running out of control.


Audacious Knowledge. What is a dangerous idea? One not assumed to be false, but possibly true?What do you believe is true even though you cannot prove it?"


Seductive power of a hazardous idea. The responses to Brockman's question do not directly engage with each other, but they do worry away at a core set of themes.


Academics see gene cloning perils, untamed global warming and personality-changing drugs as presenting the gravest dangers for the future of civiliztion


Risky ideas; What do scientists currently regard as the most dangerous thoughts?



Be Afraid. Edge.org canvassed scientists for their "most dangerous idea." David Buss, a psychologist at the University of Texas, chose "The Evolution of Evil."


The most dangerous idea. Brockman's challenge is noteworthy because his buddies include many of the world's greatest scientists: Freeman Dyson, David Gelertner, J. Craig Venter, Jared Diamond, Brian Greene.


Dangerous Ideas About Modern Life. Free will does not exist. We are not always created equal. Science will never be able to address our deepest concerns.


Genome sequencing pioneer Craig Venter suggests greater understanding of how genes influence characteristics such as personality, intelligence and athletic capability could lead to conflict in society.


The wilder shores of creativity. He asked his roster of thinkers [...] to nominate an idea, not necessarily their own, they consider dangerous not because it is false, but because it might be true.


From cloning to predetermination of sex: the answers of investigators and philosophers to a question on the online salon Edge.


Who controls humans? God? The genes? Or nevertheless the computer? The on-line forum Edge asked its yearly question — and the answers raised more questions.


La pregunta de l'any. La Web Edge.org penjarà l'1 de gener la pregunta de l'any. La del 2005 va ser resposta per 120 ments de l'anomenada 'tercera cultura', que van reflexionar sobre l'enunciat "Què creus que és veritat tot i no poder-ho demostrar?"


THE HANKYOREH (Seoul)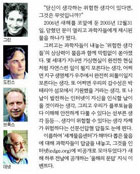 The 117 respondents include Richard Dawkins, Freeman Dyson, Daniel Dennett, Jared Diamond — and that's just the D's! As you might expect, the submissions are brilliant and very controversial.


Gene discoveries highlight dangers facing society. Mankind's increasing understanding of the way genes influence behaviour and the issue's potential to cause ethical and moral dilemmas is one of the biggest dangers facing society, according to leading scientists.


Why it can be a very smart move to start life with a Jewish momma: There is one dangerous idea that still trumps them all: the notion that, as Steven Pinker describes it, "groups of people may differ genetically in their average talents and temperaments". For "groups of people", read "races."


The Earth can cope with global warming, schools should be banned and we should learn to love bacteria. These are among the dangerous ideas revealed by a poll of leading thinkers.


Science can be a risky game, as Galileo learned to his cost. Now John Brockman asks over a hundred thinkers, "What is your most dangerous idea?"


"Our brains are constantly subjected to the demands of multi-tasking and a seemingly endless cacophony of information from diverse sources. "


Very complex systems — whether organisms, brains, the biosphere, or the universe itself — were not constructed by design; all have evolved. There is a new set of metaphors to describe ourselves, our minds, the universe, and all of the things we know in it.


John Brockman Blogs Edge's Annual Question on Huff Po
---
---
---


What We Believe but Cannot Prove: Today's Leading Thinkers on Science in the Age of Certainty
Edited by John Brockman
Introduction by Ian McEwan
---

The natural gift of consciousness should be treasured all the more for its transience.

The answers...exert an un- questionable morbid fascination — those are the very ideas that scientists cannot confess in their technical papers.

"Fate largo alle «beautiful minds» di Roberto Casati;;
"La terza cultura di John Brockman" di Armando Massarenti

God (or Not), Physics and, of Course, Love: Scientists Take a Leap: Fourteen scientists ponder everything from string theory to true love.
Space Without Time, Time Without Rest: John Brockman's Question for the Republic of Wisdom — It can be more thrilling to start the New Year with a good question than with a good intention. That's what John Brockman is doing for the eight time in a row.

What do you believe to be true, even though you can't prove it? John Brockman asked over a hundred scientists and intellectuals... more» ... Edge

That's what online magazine The Edge — the World Question Center asked over 120 scientists, futurists, and other interesting minds. Their answers are sometimes short and to the point

Science's Scourge of Believers Declares His Faith in Darwin...

Singolare inchiesta in usa di un sito Internet. Ha chiesto ai signori della ricerca di svelare i loro "atti di fede". Sono arrivate le risposte piu' imprevedibili i fantasmi dello scienziato: non ho prove ma ci credo.

To celebrate the new year, online magazine Edge asked some leading thinkers a simple question: What do you believe but cannot prove? Here is a selection of their responses...

Scientists dream too — imagine that

"Fantastically stimulating ...Once you start, you can't stop thinking about that question. It's like the crack cocaine of the thinking world." — BBC Radio 4

Scientists, increasingly, have become our public intellectuals, to whom we look for explanations and solutions. These may be partial and imperfect, but they are more satisfactory than the alternatives.

Bangladesh — The cynic and the optimist, the agnostic and the believer, the rationalist and the obscurantist, the scientist and the speculative philosopher, the realist and the idealist-all converge on a critical point in their thought process where reasoning loses its power.

Il Sole 24 Ore-Domenica Segnalate le vostre cuioosita, chiederemo riposta alle persone piu autorevoli
---
---
---

"So now, into the breach comes John Brockman, the literary agent and gadfly, whose online scientific salon, Edge.org, has become one of the most interesting stopping places on the Web. He begins every year by posing a question to his distinguished roster of authors and invited guests. Last year he asked what sort of counsel each would offer George W. Bush as the nation's top science adviser. This time the question is "What's your law?"

"John Brockman, a New York literary agent, writer and impresario of the online salon Edge, figures it is time for more scientists to get in on the whole naming thing...As a New Year's exercise, he asked scores of leading thinkers in the natural and social sciences for "some bit of wisdom, some rule of nature, some law-like pattern, either grand or small, that you've noticed in the universe that might as well be named after you."

"John Brockman has posted an intriguing question on his Edge Website. Brockman advises his would-be legislators to stick to the scientific disciplines."

"Everything answers to the rule of law. Nature. Science. Society. All of it obeys a set of codes...It's the thinker's challenge to put words to these unwritten rules. Do so, and he or she may go down in history. Like a Newton or, more recently, a Gordon Moore, who in 1905 coined the most cited theory of the technological age, an observation on how computers grow exponentially cheaper and more powerful... Recently, John Brockman went looking for more laws."
---
---
---


"In 2002, he [Brockman] asked respondents to imagine that they had been nominated as White House science adviser and that President Bush had sought their answer to 'What are the pressing scientific issues for the nation and the world, and what is your advice on how I can begin to deal with them?'Here are excerpts of some of the responses. "

"Edge's combination of political engagement and blue-sky thinking makes stimulating reading for anyone seeking a glimpse into the next decade."

"Dear W: Scientists Offer
President Advice on Policy"

"There are 84 responses, ranging in topic from advanced nanotechnology to the psychology of foreign cultures, and lots of ideas regarding science, technology, politics, and education."
---
---
---
"Brockman's thinkers of the 'Third Culture,' whether they, like Dawkins, study evolutionary biology at Oxford or, like Alan Alda, portray scientists on Broadway, know no taboos. Everything is permitted, and nothing is excluded from this intellectual game."

"The responses are generally written in an engaging, casual style (perhaps encouraged by the medium of e-mail), and are often fascinating and thought — provoking.... These are all wonderful, intelligent questions..."
---
---
---

"We are interested in 'thinking smart,'" declares Brockman on the site, "we are not interested in the anesthesiology of 'wisdom.'"

"INSPIRED ARENA: Edge has been bringing together the world's foremost scientific thinkers since 1998, and the response to September 11 was measured and uplifting."
---
---
---

"Responses to this year's question are deliciously creative... the variety astonishes. Edge continues to launch intellectual skyrockets of stunning brilliance. Nobody in the world is doing what Edge is doing."

"Once a year, John Brockman of New York, a writer and literary agent who represents many scientists, poses a question in his online journal, The Edge, and invites the thousand or so people on his mailing list to answer it."
---
---
---

"Don't assume for a second that Ted Koppel, Charlie Rose and the editorial high command at the New York Times have a handle on all the pressing issues of the day.... a lengthy list of profound, esoteric and outright entertaining responses.
---
---
---


The Greatest Inventions of the Past 2,000 Years
Edited by John Brockman

---

"A terrific, thought provoking site."
"The Power of Big Ideas"

"The Nominees for Best Invention Of the Last Two Millennia Are . . ."

"...Thoughtful and often surprising answers ....a fascinating survey of intellectual and creative wonders of the world ..... Reading them reminds me of how wondrous our world is." — Bill Gates, New York Times Syndicated Column
---
---
---

"A site that has raised electronic discourse on the Web to a whole new level.... Genuine learning seems to be going on here."

"To mark the first anniversary of [Edge], Brockman posed a question: 'Simply reading the six million volumes in the Widener Library does not necessarily lead to a complex and subtle mind," he wrote, referring to the Harvard library. "How to avoid the anesthesiology of wisdom?' "

"Home to often lively, sometimes obscure and almost always ambitious discussions."
---
---
---

"Open-minded, free-ranging, intellectually playful ...an unadorned pleasure in curiosity, a collective expression of wonder at the living and inanimate world ... an ongoing and thrilling colloquium." — Ian McEwan, Author of Saturday
---

"Astounding reading."
---

"An unprecedented roster of brilliant minds, the sum of which is nothing short of visionary
---

"Fantastically stimulating...It's like the crack cocaine of the thinking world.... Once you start, you can't stop thinking about that question."
---

"Wonderful reading."
---

"One of the most interesting stopping places on the Web"
---

"Brilliant! Stimulating reading."
---


"Today's visions of science tomorrow."
---

"Fascinating and thought-provoking ...wonderful, intelligent."
---

"Edge.org...a Web site devoted to dis- cussions of cutting edge science."
---

"Awesome indie newsletter with brilliant contribu-tors."
---

"Everything is permitted, and nothing is excluded from this intellectual game."
---

"Websites of the year...Inspired Arena...the world's foremost scientific thinkers."
---

"High concept all the way...the brightest scientists and thinkers ... heady ... deep and refreshing."
---

" Deliciously crea-tive...the variety astonishes...intel-lectual skyrockets of stunning brill-iance. Nobody in the world is doing what Edge is doing."
---

"A marvellous showcase for the Internet, it comes very highly recom-mended."
---

"Profound, esoteric and outright enter-taining."
---

"A terrific, thought provoking site."
---

"...Thoughtful and often surprising ...reminds me of how wondrous our world is." — Bill Gates
---

"One of the Net's most prestigious, invitation-only free trade zones for the exchange of potent ideas."
---

"An enjoyable read."
---

"A-list: Dorothy Parker's Vicious Circle without the food and alcohol ... a brilliant format."
---

"Big, deep and ambitous questions... breathtaking in scope."
---

"Has raised electronic discourse on the Web to a whole new level."
---
"Lively, sometimes obscure and almost always ambitious."
---
JOHN BROCKMAN
Publisher & Editor, Edge; Author, By The Late John Brockman, The Third Culture
THE COLLECTIVE CONSCIOUS
"Love Intermedia Kinetic Environments." John Brockman speaking — partly kidding, but conveying the notion that Intermedia Kinetic Environments are In in the places where the action is — an Experience, an Event, an Environment, a humming electric world.

— The New York Times
On a Sunday in September 1966, I was sitting on a park bench reading about myself on the front page of the New York Times Arts & Leisure section. I was wondering whether the article would get me fired from my job at the New York Film Festival at Lincoln Center, where I was producing "expanded cinema" and "intermedia" events. I was twenty-five years old.
New and exciting ideas and forms of expression were in the air. They came out of happenings, the dance world, underground movies, avant-garde theater. They came from artists engaged in experiment. Intermedia consisted more often than not of unscripted, sometimes spontaneous theatrical events in which the audience was also a participant. I was lucky enough to have some small part in this upheaval, having been hired a year earlier by the underground filmmaker and critic Jonas Mekas to manage the Filmmakers' Cinémathèque and organize and run the Expanded Cinema Festival.
During that wildly interesting period, many of the leading artists were reading science and bringing scientific ideas to their work. John Cage gave me a copy of Norbert Wiener's Cybernetics; Bob Rauschenberg turned me on to James Jeans' The Mysterious Universe. Claes Oldenburg suggested I read George Gamow's 1,2,3...Infinity. USCO, a group of artists, engineers, and poets who created intermedia environments; La Monte Young's Theatre of Eternal Music; Andy Warhol's Factory; Nam June Paik's video performances; Terry Riley's minimalist music — these were master classes in the radical epistemology of a set of ideas involving feedback and information.
Another stroke of good luck was my inclusion in a small group of young artists invited by Fluxus artist Dick Higgins to attend a series of dinners with John Cage — an ongoing seminar about media, communications, art, music, and philosophy that focused on the ideas of Norbert Wiener, Claude Shannon, and Marshall McLuhan. Cage was aware of research conducted in the late 1930s and 1940s by Wiener, Shannon, Vannevar Bush, Warren McCulloch, and John von Neumann, who were all present at the creation of cybernetic theory. And he had picked up on McLuhan's idea that by inventing electric technology we had externalized our central nervous systems — that is, our minds — and that we now had to presume that "There's only one mind, the one we all share." We had to go beyond personal mind-sets: "Mind" had become socialized. "We can't change our minds without changing the world," Cage said. Mind as a man-made extension had become our environment, which he characterized as a "collective consciousness" that we could tap into by creating "a global utilities network."

Back then, of course, the Internet didn't exist, but the idea was alive. In 1962, J.C.R Licklider, who had published "Man-Computer Symbiosis" in 1960 and described the idea of an "Intergalactic Computer Network" in 1961, was hired as the first director of the new Information Processing Techniques Office (IPTO) at the Pentagon's Advanced Research Projects Agency, an agency created as a response to Sputnik. Licklider designed the foundation for a global computer network. He and his successors at IPTO, including Robert Taylor and Larry Roberts, provided the ideas that led to the development of the ARPAnet, the forerunner of the Internet, which itself emerged as an ARPA-funded research project in the mid-1980s.
Inspired also by architect-designer Buckminster Fuller, futurist John McHale, and cultural anthropologists Edward T. ("Ned") Hall and Edmund Carpenter, I began to read avidly in the field of information theory, cybernetics, and systems theory. McLuhan himself introduced me to The Mathematical Theory of Communication by Shannon and Weaver, which began: "The word communication will be used here in a very broad sense to include all of the procedures by which one mind may affect another. This, of course, involves not only written and oral speech, but also music, the pictorial arts, the theater, the ballet, and in fact all human behavior."
Inherent in these ideas is a radical new epistemology. It tears apart the fabric of our habitual thinking. Subject and object fuse. The individual self decreates. I wrote a synthesis of these ideas in my first book, By the Late John Brockman (1969), taking information theory — the mathematical theory of communications — as a model for regarding all human experience. I began to develop a theme that has informed my endeavors ever since: New technologies beget new perceptions. Reality is a man-made process. Our images of our world and of ourselves are, in part, models resulting from our perceptions of the technologies we generate.
We create tools and then we mold ourselves in their image. Seventeenth-century clockworks inspired mechanistic metaphors ("The heart is a pump"), just as the self-regulating engineering devices of the mid-twentieth century inspired the cybernetic image ("The brain is a computer"). The anthropologist Gregory Bateson has characterized the post-Newtonian worldview as one of pattern, of order, of resonances in which the individual mind is a subsystem of a larger order. Mind is intrinsic to the messages carried by the pathways within the larger system and intrinsic also in the pathways themselves.
Ned Hall once pointed out to me that the most critical inventions are not those that resemble inventions but those that appear innate and natural. Once you become aware of this kind of invention, it is as though you had always known about it. ("The medium is the message." Of course, I always knew that).
Hall's candidate for the most important invention was not the capture of fire, the printing press, the discovery of electricity, or the discovery of the structure of DNA. The most important invention was ... talking. To illustrate the point, he told a story about a group of prehistoric cavemen having a conversation.
"Guess what?" the first man said. "We're talking." Silence. The others looked at him with suspicion.
"What's 'talking'?" a second man asked.
"It's what we're all doing, right now. We're talking!"
"You're crazy," the third man said. "I never heard of such a thing!"
"I'm not crazy," the first man said. "You're crazy. We're talking."
Talking, undoubtedly, was considered innate and natural until the first man rendered it visible by exclaiming, "We're talking."
A new invention has emerged, a code for the collective conscious, which requires a new way of thinking. The collective externalized mind is the mind we all share. The Internet is the infinite oscillation of our collective conscious interacting with itself. It's not about computers. It's not about what it means to be human — in fact it challenges, renders trite, our cherished assumptions on that score. It's about thinking. "We're talking."
---
---
---
HANS ULRICH OBRIST
Curator, Serpentine Gallery, London; Editor: A Brief History of Curating; Formulas for Now
EDGE A TO Z (PARS PRO TOTO)

A is for And And
The Internet made me think more BOTH AND instead of EITHER OR instead of NOR NOR.
B is for Beginnings
In terms of my curatorial thinking, my 'Eureka moments' occurred pre-Internet, when I met visionary Swiss artists Fischli/Weiss in 1985. These conversations freed me up — freed my thoughts as to what curating could be and how curating can produce reality. The arrival of the Internet was a trigger for me to think more in the form of Oulipian lists — practical-poetical, evolutive and often nonlinear, lists. This A to Z is an incomplete list ….Umberto Eco calls the World Wide Web the 'mother of all lists': infinite by definition and in constant evolution.
C is for Curating the World
The Internet made me think towards a more expanded notion of curating. Stemming from the Latin word 'curare', the word 'curating' originally meant 'to take care of objects in museums'. Curation has long since evolved. Just as art is no longer limited to traditional genres, curating is no longer confined to the gallery or museum but has expanded across all boundaries. The rather obscure and very specialized notion of curating has become much more publicly used since one talks about curating of Websites and and this marks a very good moment to rediscover the pioneering history of art curating as a toolbox for 21st century society at large.
D is for Delinking
In the years before being online, I remember that there were many interruptions by phone and fax day and night. The reality of being permanently linked to the triggered my increasing awareness of the importance of moments of concentration — moments without interruption that require me to be completely unreachable. I no longer answer the phone at home and I only answer my mobile phone in the case of fixed telephone appointments. To link is beautiful. To delink is sublime. (Paul Chan)
D is for Disrupted narrative continuity
Forms of film montage , as the disruption of narrative and the disruption of spatial and temporal continuity, have been a staple tactic of the avant-garde from Cubism and Eisenstein, through Brecht to Kluge or Godard. For avant-gardism as a whole, it was essential that these tactics were recognized (experienced) as a disruption. The Internet has made disruption and montage the operative bases of everyday experience. Today, these forms of disruption can be harnessed and poeticized. They can foster new connections, new relationships, new productions of reality: reality as life-montage / life as reality-disruption? Not one story but many stories………
D is for Doubt
A certain unreliability of technical and material information on the Internet brings us to the notion of doubt. I feel that doubt has become more pervasive. The artist Carsten Höller has invented the Laboratory of Doubt, which is opposed to mere representation. As he has told me, 'Doubt and perplexity ... are unsightly states of mind we'd rather keep under lock and key because we associate them with uneasiness, with a failure of values'. Höller's credo is not to do; not to intervene. To exist is to do and not to do is a way of doing. 'Doubt is alive; it paralyzes certainty.' (Carsten Höller)
E is for Evolutive exhibitions
The Internet makes me think more about non-final exhibitions and exhibitions in a state of becoming. When conceiving exhibitions, I sometimes like to think of randomized algorithms, access, transmission, mutation, infiltration and circulation (the list goes on). The Internet makes me think less of exhibitions as top down masterplans but bottom up processes of self organisation like do it or Cities on the Move
F is for Forgetting
The ever growing ever pervasive records that the Internet produces make me think sometimes about the virtues of forgetting. Is a limited life space of certain information and data becoming more urgent?
H is for Handwriting (and Drawing ever Drawing)
The Internet has made me aware of the importance of handwriting and drawing. Personally, I typed all my early texts, but the more the Internet has become all-encompassing , the more I have felt that something went missing. Hence the idea to reintroduce handwriting.I do more and more of my correspondence as handwritten letters scanned and sent by email. On a professional note, I observe, as a curator, the importance of drawing in current art production. One can also see it in art schools: a moment when drawing is an incredibly fertile zone.
I is for Identity
"Identity is shifty, identity is a choice". (Etel Adnan)
I is for Inactual considerations
The future is always built out of fragments of the past. The Internet has brought thinking more into the present tense, raising questions of what it means to be contemporary.
Recently, Giorgio Agamben revisited Nietzsche's 'Inactual Considerations', arguing that the one who belongs to his or her own time is the one who does not coincide perfectly with it. It is because of this shift, this anachronism, that he or she is more apt than others to perceive and to catch his or her time. Agamben follows this observation with his second definition of contemporaneity: the contemporary is the one who is able to perceive obscurity, who is not blinded by the lights of his or her time or century.
This leads us, interestingly enough, to the importance of astrophysics in explaining the relevance of obscurity for contemporaneity. The seeming obscurity in the sky is the light that travels to us at full speed but which can't reach us because the galaxies from which it originates are ceaselessly moving away from us at a speed superior to that of light. The Internet and a certain resistance to its present tense have made me increasingly aware that there is an urgent call to be contemporary. To be contemporary means to perpetually come back to a present where we have never yet been. To be contemporary means to resist the homogenization of time, through ruptures and discontinuities.
M is for Maps
The Internet increased the presence of maps in my thinking. It's become easier to make maps, to change them, and also to work on them collaboratively and collectively and share them (e.g. Google Maps and Google Earth). After the focus on social networks of the last couple of years, I have come to see the focus on location as a key dimension.
N is for New geographies
The Internet has fuelled (and been fuelled by) a relentless economic and cultural globalization, with all its positive and negative aspects. On the one hand, there is the danger of homogenizing forces, which is also at stake in the world of the arts. On the other hand, there are unprecedented possibilities for difference enhancing global dialogues. In the long duration there have been seismic shifts, like that in the 16th century when the paradigm shifted from the Mediterranean to the Atlantic. We are living through a period in which the center of gravity is transferring to new centres. . The early 21st century is seeing the growth of a polyphony of art centers in the East and West in the North and South.
N is for Non-mediated experiences N is for the New Live
I feel an increased desire for non-mediated experiences Depending on one's point of view, the virtual may be a new and liberating prosthesis of the body or it may threaten the body. Many visual artists today negotiate and mediate between these two staging encounters of non mediated intersubjectivity. In the music fields the crisis of the record industry goes hand in hand with an increased importance of live concerts.
P is for Parallel realities
The Internet creates and fosters new constituencies; new micro-communities. As a system that infinitely breeds new realities, it is predisposed to reproduce itself in a proliferating series of ever more functionally differentiated subsystems. As such, it makes my thinking go towards the production of parallel realities, bearing witness to the multiverse, as the physicist David Deutsch might say and for better or worse, the Internet allows that which is already latent in the fabric of reality to unravel itself and expand in all directions.
P is for Protest against forgetting
Over the last years I feel an increasing urgency to more and more interviews, to make an effort to preserve traces of intelligence from the last decades. One particularly urgent part of this are the testimonies of the 20th century pioneers who are in their 80s or 90s or older and whom I regularly interview, testimonies of a century from those who are not online and who very often fall into oblivion. This protest might, as Rem Koolhaas has told me, act as 'a hedge against the systematic forgetting that hides at the core of the information age and which may in fact be its secret agenda'?
S is for Salon of the 21st century
The Internet has made me think more about whom I would like to introduce to whom; to cyberintroduce people as a daily practice or to introduce people in person through actual salons for the 21st century (see the Brutally Early Club).
Last but not least a the response of David Weiss who answers this years Edge question with a new question asking if our thinking can influence the Internet.

---
CLAY SHIRKY
Social & Technology Network Topology Researcher; Adjunct Professor, NYU Graduate School of Interactive Telecommunications Program (ITP); Author, Here Comes Everybody
THE SHOCK OF INCLUSION
The Internet has been in majority use in the developed world for less than a decade, but we can already see some characteristic advantages (dramatically improved access to information, very large scale collaborations) and disadvantages (interrupt-driven thought, endless distractions.) It's tempting to try to adjudicate the relative value of the network on the way we think by deciding whether access to Wikipedia outweighs access to tentacle porn or the other way around.
Unfortunately for us, though, the intellectual fate of our historical generation is unlikely to matter much in the long haul. It is our misfortune to live through the largest increase in expressive capability in the history of the human race, a misfortune because surplus always breaks more things than scarcity. Scarcity means valuable things become more valuable, a conceptually easy change to integrate. Surplus, on the other hand, means previously valuable things stop being valuable, which freaks people out.
To make a historical analogy with the last major increase in the written word, you could earn a living in 1500 simply by knowing how to read and write. The spread of those abilities in the subsequent century had the curious property of making literacy both more essential and less professional; literacy became critical at the same time as the scribes lost their jobs.
The same thing is happening with publishing; in the 20th century, the mere fact of owning the apparatus to make something public, whether a printing press or a TV tower, made you a person of considerable importance. Today, though, publishing, in its sense of making things public, is becoming similarly de-professionalized; YouTube is now in the position of having to stop 8 year olds from becoming global publishers of video. The mere fact of being able to publish to a global audience is the new literacy, formerly valuable, now so widely available that you can't make any money with the basic capability any more.
This shock of inclusion, where professional media gives way to participation by two billion amateurs (a threshold we will cross this year) means that average quality of public thought has collapsed; when anyone can say anything any time, how could it not? If all that happens from this influx of amateurs is the destruction of existing models for producing high-quality material, we would be at the beginning of another Dark Ages.
So it falls to us to make sure that isn't all that happens.
To the question "How is Internet is changing the way we think?", the right answer is "Too soon to tell." This isn't because we can't see some of the obvious effects already, but because the deep changes will be manifested only when new cultural norms shape what the technology makes possible.
To return to the press analogy, printing was a necessary but not sufficient input to the scientific revolution. The Invisible College, the group of natural philosophers who drove the original revolution in chemistry in the mid-1600s, were strongly critical of the alchemists, their intellectual forebears, who for centuries had made only fitful progress. By contrast, the Invisible College put chemistry on a sound scientific footing in a matter of a couple of decades, one of the most important intellectual transitions in the history of science. In the 1600s, though, a chemist and an alchemist used the same tools and had access to the same background. What did the Invisible College have that the alchemists didn't?
They had a culture of sharing. The problem with the alchemists had wasn't that they failed to turn lead into gold; the problem was that they failed uninformatively. Alchemists were obscurantists, recording their work by hand and rarely showing it to anyone but disciples. In contrast, members of the Invisible College shared their work, describing and disputing their methods and conclusions so that they all might benefit from both successes and failures, and build on each other's work.
The chemists were, to use Richard Foreman's phrase, "pancake people". They abandoned the spiritual depths of alchemy for a continual and continually incomplete grappling with what was real, a task so daunting that no one person could take it on alone. Though as schoolchildren, the history of science we learn is often marked by the trope of the lone genius, science has always been a networked operation.
In this we can see a precursor to what's possible for us today. Just as the Invisible College didn't just use the printing press as raw capability, but created a culture that used the press to support the transparency and argumentation science relies on, we have the same opportunity.
As we know from arXiv.org, the 20th century model of publishing is inadequate to the kind of sharing possible today. As we know from Wikipedia, post-hoc peer review can support astonishing creations of shared value. As we know from the search for Mersenne Primes, whole branches of mathematical exploration are now best taken on by groups. As we know from Open Source efforts like Linux, collaboration between loosely joined parties can work at scales and over timeframes previously unimagined. As we know from NASA clickworkers, groups of amateurs can sometimes replace single experts. As we know from Patients Like Me, patient involvement accelerates medical research. And so on.
The beneficiaries of the system where making things public was a privileged activity, whether academics or politicians, reporters or doctors, will complain about the way the new abundance of public thought upends the old order, but those complaints are like keening at a wake; the change they fear is already in the past. The real action is elsewhere.
The Internet's primary effect on how we think will only reveal itself when it affects the cultural milieu of thought, not just the behavior of individual users. The members of the Invisible College did not live to see the full flowering of the scientific method, and we will not live to see what use humanity makes of a medium for sharing that is cheap, instant, and global (both in the sense of 'comes from everyone' and 'goes everywhere.') We are, however, the people who are setting the earliest patterns for this medium. Our fate won't matter much, but the norms we set will.
Given what we have today, the Internet could easily become Invisible High School, with a modicum of educational material in an ocean of narcissism and social obsessions. We could, however, also use it as an Invisible College, the communicative backbone of real intellectual and civic change, but to do this will require more than technology. It will require that we adopt norms of open sharing and participation, fit to a world where publishing has become the new literacy.
---
---
RICHARD DAWKINS
Evolutionary Biologist; Emeritus Professor of the Public Understanding of Science, Oxford; Author, The Greatest Show on Earth

NET GAIN
If, forty years ago, the Edge Question had been "What do you anticipate will most radically change the way you think during the next forty years?" my mind would have flown instantly to a then recent article in Scientific American (September 1966) about 'Project MAC'. Nothing to do with the Apple Mac, which it long pre-dated, Project MAC was an MIT-based cooperative enterprise in pioneering computer science. It included the circle of AI innovators surrounding Marvin Minsky but, oddly, that was not the part that captured my imagination. What really excited me, as a user of the large mainframe computers that were all you could get in those days, was something that nowadays would seem utterly commonplace: the then astonishing fact that up to 30 people simultaneously, from all around the MIT campus and even from their homes, could simultaneously log in to the same computer: simultaneously communicate with it and with each other. mirabile dictum, the co-authors of a paper could work on it simultaneously, drawing upon a shared database in the computer, even though they might be miles apart. In principle, they could be on opposite sides of the globe.
Today that sounds absurdly modest. It's hard to recapture how futuristic it was at the time. The post-Berners-Lee world of 2009, if we could have imagined it forty years ago, would have seemed shattering. Anybody with a cheap laptop computer, and an averagely fast WiFi connection, can enjoy the illusion of bouncing dizzily around the world in full colour, from a beach Webcam in Portugal to a chess match in Vladivostok, and Google Earth actually lets you fly the full length of the intervening landscape as if on a magic carpet. You can drop in for a chat at a virtual pub, in a virtual town whose geographical location is so irrelevant as to be literally non-existent (and the content of whose LOL-punctuated conversation, alas, is likely to be of a drivelling fatuity that insults the technology that mediates it).
'Pearls before swine' over-estimates the average chat-room conversation, but it is the pearls of hardware and software that inspire me: the Internet itself and the World Wide Web, succinctly defined by Wikipedia as "a system of interlinked hypertext documents contained on the Internet." The Web is a work of genius, one of the highest achievements of the human species, whose most remarkable quality is that it was not constructed by one individual genius like Tim Berners-Lee or Steve Wozniak or Alan Kay, nor by a top-down company like Sony or IBM, but by an anarchistic confederation of largely anonymous units located (irrelevantly) all over the world. It is Project MAC writ large. Suprahumanly large. Moreover, there is not one massive central computer with lots of satellites, as in Project MAC, but a distributed network of computers of different sizes, speeds and manufacturers, a network that nobody, literally nobody, ever designed or put together, but which grew, haphazardly, organically, in a way that is not just biological but specifically ecological.
Of course there are negative aspects, but they are easily forgiven. I've already referred to the lamentable content of many chat room conversations without editorial control. The tendency to flaming rudeness is fostered by the convention — whose sociological provenance we might discuss one day — of anonymity. Insults and obscenities, to which you would not dream of signing your real name, flow gleefully from the keyboard when you are masquerading online as 'TinkyWinky' or 'FlubPoodle' or 'ArchWeasel'.
And then there is the perennial problem of sorting out true information from false. Fast search engines tempt us to see the entire Web as a gigantic encyclopaedia, while forgetting that traditional encyclopaedias were rigorously edited and their entries authored by chosen experts. Having said that, I am repeatedly astounded by how good Wikipedia can be. I calibrate Wikipedia by looking up the few things I really do know about (and may indeed have written the entry for in traditional encyclopaedias) say 'Evolution' or 'Natural Selection'. I am so impressed by these calibratory forays that I go, with some confidence, to other entries where I lack first-hand knowledge (which was why I felt able to quote Wikipedia's definition of the Web, above). No doubt mistakes creep in, or are even maliciously inserted, but the half-life of a mistake, before the natural correction mechanism kills it, is encouragingly short. Nevertheless, the fact that the Wiki concept works, even if only in some areas such as science, flies so flagrantly in the face of all my prior pessimism, that I am tempted to see it as a metaphor for all that deserves optimism about the World Wide Web.
Optimistic we may be, but there is a lot of rubbish on the Web, more than in printed books, perhaps because they cost more to produce (and, alas, there's plenty of rubbish there too). But the speed and ubiquity of the Internet actually helps us to be on our critical guard. If a report on one site sounds implausible (or too plausible to be true) you can quickly check it on several more. Urban legends and other viral memes are helpfully catalogued on various sites. When we receive one of those panicky warnings (often attributed to Microsoft or Symantec) about a dangerous computer virus, we do not spam it to our entire address book but instead Google a key phrase from the warning itself. It usually turns out to be, say, "Hoax Number 76", its history and geography meticulously tracked.
Perhaps the main downside of the Internet is that surfing can be addictive and a prodigious timewaster, encouraging a habit of butterflying from topic to topic, rather than attending to one thing at a time. But I want to leave negativity and nay saying and end with some speculative — perhaps more positive — observations. The unplanned worldwide unification that the Web is achieving (a science-fiction enthusiast might discern the embryonic stirrings of a new life form) mirrors the evolution of the nervous system in multicellular animals. A certain school of psychologists might see it as mirroring the development of each individual's personality, as a fusion among split and distributed beginnings in infancy.
I am reminded of an insight that comes from Fred Hoyle's science fiction novel, The Black Cloud. The cloud is a superhuman interstellar traveller, whose 'nervous system' consists of units that communicate with each other by radio — orders of magnitude faster than our puttering nerve impulses. But in what sense is the cloud to be seen as a single individual rather than a society? The answer is that interconnectedness that is sufficiently fast blurs the distinction. A human society would effectively become one individual if we could read each other's thoughts through direct, high speed, brain-to-brain radio transmission. Something like that may eventually meld the various units that constitute the Internet.
This futuristic speculation recalls the beginning of my essay. What if we look forty years into the future? Moore's Law will probably continue for at least part of that time, enough to wreak some astonishing magic (as it would seem to our puny imaginations if we could be granted a sneak preview today). Retrieval from the communal exosomatic memory will become dramatically faster, and we shall rely less on the memory in our skulls. At present we still need biological brains to provide the cross-referencing and association, but more sophisticated software and faster hardware will increasingly usurp even that function.
The high-resolution colour rendering of virtual reality will improve to the point where the distinction from the real world becomes unnervingly hard to notice. Large-scale communal games such as Second Life will become disconcertingly addictive to many ordinary people who understand little of what goes on in the engine room. And let's not be snobbish about that. For many people around the world, 'first life' reality has few charms and, even for those more fortunate, active participation in a virtual world is more intellectually stimulating than the life of a couch potato slumped in idle thrall to 'Big Brother'. To intellectuals, Second Life and its souped-up successors will become laboratories of sociology, experimental psychology and their successor disciplines, yet to be invented and named. Whole economies, ecologies, and perhaps personalities will exist nowhere other than in virtual space.
Finally, there may be political implications. Apartheid South Africa tried to suppress opposition by banning television, and eventually had to give up. It will be more difficult to ban the Internet. Theocratic or otherwise malign regimes, such as Iran and Saudi Arabia today, may find it increasingly hard to bamboozle their citizens with their evil nonsense. Whether, on balance, the Internet benefits the oppressed more than the oppressor is controversial, and at present may vary from region to region (see, for example, the exchange between Evgeny Morozov and Clay Shirky in Prospect, Nov-Dec 2009).
It is said that Twitter is playing an important part in the current unrest in Iran, and latest news from that faith-pit encourages the view that the trend will be towards a net positive effect of the Internet on political liberty. We can at least hope that the faster, more ubiquitous and above all cheaper Internet of the future may hasten the long-awaited downfall of Ayatollahs, Mullahs, Popes, Televangelists, and all who wield power through the control (whether cynical or sincere) of gullible minds. Perhaps Tim Berners-Lee will one day earn the Nobel Prize for Peace.
---
---
NASSIM N. TALEB
Distinguished Professor of Risk Engineering, NYU-Poly; Principal, Universa Investments; Author, The Black Swan

THE DEGRADATION OF PREDICTABILITY — AND KNOWLEDGE
I used to think that the problem of information is that it turns homo sapiens into fools — we gain disproportionately in confidence, particularly in domains where information is wrapped in a high degree of noise (say, epidemiology, genetics, economics, etc.). So we end up thinking that we know more than we do, which, in economic life, causes foolish risk taking. When I started trading, I went on a news diet and I saw things with more clarity. I also saw how people built too many theories based on sterile news, the fooled by randomness effect. But things are a lot worse. Now I think that, in addition, the supply and spread of information turns the world into Extremistan (a world I describe as one in which random variables are dominated by extremes, with Black Swans playing a large role in them). The Internet, by spreading information, causes an increase in interdependence, the exacerbation of fads (bestsellers like Harry Potter and runs on the banks become planetary). Such world is more "complex", more moody, much less predictable.
So consider the explosive situation: more information (particularly thanks to the Internet) causes more confidence and illusions of knowledge while degrading predictability.
Look at this current economic crisis that started in 2008: there are about a million persons on the planet who identify themselves in the field of economics. Yet just a handful realized the possibility and depth of what could have taken place and protected themselves from the consequences. At no time in the history of mankind have we lived under so much ignorance (easily measured in terms of forecast errors) coupled with so much intellectual hubris. At no point have we had central bankers missing elementary risk metrics, like debt levels, that even the Babylonians understood well.
I recently talked to a scholar of rare wisdom and erudition, Jon Elster, who upon exploring themes from social science, integrates insights from all authors in the corpus of the past 2500 years, from Cicero and Seneca, to Montaigne and Proust. He showed me how Seneca had a very sophisticated understanding of loss aversion. I felt guilty for the time I spent on the Internet. Upon getting home I found in my mail a volume of posthumous essays by bishop Pierre-Daniel Huet called Huetiana, put together by his admirers c. 1722. It is so saddening to realize that, being born close to four centuries after Huet, and having done most of my reading with material written after his death, I am not much more advanced in wisdom than he was — moderns at the upper end are no wiser than their equivalent among the ancients; if anything, much less refined.
So I am now on an Internet diet, in order to understand the world a bit better — and make another bet on horrendous mistakes by economic policy makers. I am not entirely deprived of the Internet; this is just a severe diet, with strict rationing. True, technologies are the greatest things in the world, but they have way too monstrous side effects — and ones rarely seen ahead of time. And since spending time in the silence of my library, with little informational pollution, I can feel harmony with my genes; I feel I am growing again.
---
---
KEVIN KELLY
Editor-At-Large, Wired; Author, New Rules for the New Economy

AN INTERMEDIA WITH 2 BILLION SCREENS PEERING INTO IT
We already know that our use of technology changes how our brains work. Reading and writing are cognitive tools that, once acquired, change the way in which the brain processes information. When psychologists use neuroimaging technology, like MRI, to compare the brains of literates and illiterates working on a task, they find many differences, and not just when the subjects are reading.
Researcher Alexandre Castro-Caldas discovered that processing between the hemispheres of the brain was different between those who could read and those who could not. A key part of the corpus callosum was thicker in literates, and "the occipital lobe processed information more slowly in individuals who learned to read as adults compared to those who learned at the usual age." Psychologists Ostrosky-Solis, Garcia and Perez tested literates and illiterates with a battery of cognitive tests while measuring their brain waves and concluded that "the acquisition of reading and writing skills has changed the brain organization of cognitive activity in general is not only in language but also in visual perception, logical reasoning, remembering strategies, and formal operational thinking."
If alphabetic literacy can change how we think, imagine how Internet literacy and 10 hours per day in front of one kind of screen or another is changing our brains. The first generation to grow up screen literate is just reaching adulthood so we don't have any scientific studies of the full consequence of ubiquitous connectivity, but I have a few hunches based on my own behavior.
When I do long division or even multiplication I don't try to remember the intermediate numbers. Long ago I learned to write them down. Because of paper and pencil I am "smarter" in arithmetic. In a similar manner I now no longer to try remember facts, or even where I found the facts. I have learned to summon them on the Internet. Because the Internet is my new pencil and paper, I am "smarter" in factuality.
But my knowledge is now more fragile. For every accepted piece of knowledge I find, there is within easy reach someone who challenges the fact. Every fact has its anti-fact. The Internet's extreme hyperlinking highlights those anti-facts as brightly as the facts. Some anti-facts are silly, some borderline, and some valid. You can't rely on experts to sort them out because for every expert there is an equal and countervailing anti-expert. Thus anything I learn is subject to erosion by these ubiquitous anti-factors.

My certainty about anything has decreased. Rather than importing authority, I am reduced to creating my own certainty — not just about things I care about — but about anything I touch, including areas about which I can't possibly have any direct knowledge . That means that in general I assume more and more that what I know is wrong. We might consider this state perfect for science but it also means that I am more likely to have my mind changed for incorrect reasons. Nonetheless, the embrace of uncertainty is one way my thinking has changed.
Uncertainty is a kind of liquidity. I think my thinking has become more liquid. It is less fixed, as text in a book might be, and more fluid, as say text in Wikipedia might be. My opinions shift more. My interests rise and fall more quickly. I am less interested in Truth, with a capital T, and more interested in truths, plural. I feel the subjective has an important role in assembling the objective from many data points. The incremental plodding progress of imperfect science seems the only way to know anything.
While hooked into the network of networks I feel like I am a network myself, trying to achieve reliability from unreliable parts. And in my quest to assemble truths from half-truths, non-truths, and some other truths scattered in the flux (this creation of the known is now our job and not the job of authorities), I find my mind attracted to fluid ways of thinking (scenarios, provisional belief) and fluid media like mashups, twitter, and search. But as I flow through this slippery Web of ideas, it often feels like a waking dream.
We don't really know what dreams are for, only that they satisfy some fundamental need. Someone watching me surf the Web, as I jump from one suggested link to another, would see a day-dream. Today, I was in a crowd of people who watched a barefoot man eat dirt, then the face of a boy who was singing began to melt, then Santa burned a Christmas tree, then I was floating inside mud house on the very tippy top of the world, then Celtic knots untied themselves, then a guy told me the formula for making clear glass, then I was watching myself, back in high school, riding a bicycle. And that was just the first few minutes of my day on the Web this morning. The trance-like state we fall into while following the undirected path of links may be a terrible waste of time, or like dreams, it might be a productive waste of time. Perhaps we are tapping into our collective unconscious in a way watching the directed stream of TV, radio and newspapers could not. Maybe click-dreaming is a way for all of us to have the same dream, independent of what we click on.
This waking dream we call the Internet also blurs the difference between my serious thoughts and my playful thoughts, or to put it more simply: I no longer can tell when I am working and when I am playing online. For some people the disintegration between these two realms marks all that is wrong with the Internet: It is the high-priced waster of time. It breeds trifles. On the contrary, I cherish a good wasting of time as a necessary precondition for creativity, but more importantly I believe the conflation of play and work, of thinking hard and thinking playfully, is one the greatest things the Internet has done.
In fact the propensity of the Internet to diminish our attention is overrated. I do find that smaller and smaller bits of information can command the full attention of my over-educated mind. And not just me; everyone reports succumbing to the lure of fast, tiny, interruptions of information. In response to this incessant barrage of bits, the culture of the Internet has been busy unbundling larger works into minor snippets for sale. Music albums are chopped up and sold as songs; movies become trailers, or even smaller video snips. (I find that many trailers really are better than their movie.) Newspapers become twitter posts. Scientific papers are served up in snippets on Google. I happily swim in this rising ocean of fragments.
While I rush into the Net to hunt for these tidbits, or to surf on its lucid dream, I've noticed a different approach to my thinking. My thinking is more active, less contemplative. Rather than begin a question or hunch by ruminating aimlessly in my mind, nourished only by my ignorance, I start doing things. I immediately, instantly go.
I go looking, searching, asking, questioning, reacting to data, leaping in, constructing notes, bookmarks, a trail, a start of making something mine. I don't wait. Don't have to wait. I act on ideas first now instead of thinking on them. For some folks, this is the worst of the Net — the loss of contemplation. Others feel that all this frothy activity is simply stupid busy work, or spinning of wheels, or illusionary action. I think to myself, compared to what?
Compared to the passive consumption of TV or sucking up bully newspapers, or of merely sitting at home going in circles musing about stuff in my head without any new inputs, I find myself much more productive by acting first. The emergence of blogs and Wikipedia are expressions of this same impulse, to act (write) first and think (filter) later. I have a picture of the hundreds of millions people online at this very minute. To my eye they are not wasting time with silly associative links, but are engaged in a more productive way of thinking then the equivalent hundred of millions people were 50 years ago.

This approach does encourage tiny bits, but surprisingly at the very same time, it also allows us to give more attention to works that are far more complex, bigger, and more complicated than ever before. These new creations contain more data, require more attention over longer periods; and these works are more successful as the Internet expands. This parallel trend is less visible at first because of a common short sightedness that equates the Internet with text.
To a first approximation the Internet is words on a screen — Google, papers, blogs. But this first glance ignores the vastly larger underbelly of the Internet — moving images on a screen. People (and not just young kids) no longer go to books and text first. If people have a question they (myself included) head first for YouTube. For fun we go to online massive games, or catch streaming movies, including factual videos (documentaries are in a renaissance). New visual media are stampeding onto the Nets. This is where the Internet's center of attention lies, not in text alone. Because of online fans, and streaming on demand, and rewinding at will, and all the other liquid abilities of the Internet, directors started creating movies that were more than 100 hours long.
These vast epics like Lost and The Wire had multiple interweaving plot lines, multiple protagonists, an incredible depth of characters and demanded sustained attention that was not only beyond previous TV and 90-minute movies, but would have shocked Dickens and other novelists of yore. They would marvel: "You mean they could follow all that, and then want more? Over how many years?" I would never have believed myself capable of enjoying such complicated stories, or caring about them to put in the time. My attention has grown. In a similar way the depth, complexity and demands of games can equal these marathon movies, or any great book.
But the most important way the Internet has changed the direction of my attention, and thus my thinking, is that it has become one thing. It may look like I am spending endless nano-seconds on a series of tweets, and endless microseconds surfing between Web pages, or wandering between channels, and hovering only mere minutes on one book snippet after another; but in reality I am spending 10 hours a day paying attention to the Internet. I return to it after a few minutes, day after day, with essentially my full-time attention. As do you.
We are developing an intense, sustained conversation with this large thing. The fact that it is made up of a million loosely connected pieces is distracting us. The producers of Websites, and the hordes of commenters online, and the movie moguls reluctantly letting us stream their movies, don't believe they are mere pixels in a big global show, but they are. It is one thing now, an intermedia with 2 billion screens peering into it. The whole ball of connections — including all its books, all its pages, all its tweets, all its movies, all its games, all its posts, all its streams — is like one vast global book (or movie, etc.), and we are only beginning to learn how to read it. Knowing that this large thing is there, and that I am in constant communication with it, has changed how I think.
---
GEORGE DYSON
Science Historian; Author, Darwin Among the Machines

KAYAKS vs CANOES
In the North Pacific ocean, there were two approaches to boatbuilding. The Aleuts (and their kayak-building relatives) lived on barren, treeless islands and built their vessels by piecing together skeletal frameworks from fragments of beach-combed wood. The Tlingit (and their dugout canoe-building relatives) built their vessels by selecting entire trees out of the rainforest and removing wood until there was nothing left but a canoe.
The Aleut and the Tlingit achieved similar results — maximum boat / minimum material — by opposite means. The flood of information unleashed by the Internet has produced a similar cultural split. We used to be kayak builders, collecting all available fragments of information to assemble the framework that kept us afloat. Now, we have to learn to become dugout-canoe builders, discarding unneccessary information to reveal the shape of knowledge hidden within.
I was a hardened kayak builder, trained to collect every available stick. I resent having to learn the new skills. But those who don't will be left paddling logs, not canoes.
---
BRIAN ENO
Artist; Composer; Recording Producer: U2, Cold Play, Talking Heads, Paul Simon; Recording Artist
THE 'AUTHENTIC' HAS REPLACED THE REPRODUCIBLE

I notice that some radical social experiments which would have seemed Utopian to even the most idealistic anarchist 50 years ago are now working smoothly and without much fuss. Among these are open source development, shareware and freeware, Wikipedia, MoveOn, and UK Citizens Online Democracy.
I notice that the Net didn't free the world in quite the way we expected — repressive regimes can shut it down, and liberal ones can use it as a propaganda tool. On the upside, I notice that the variable trustworthiness of the Net has made people more sceptical about the information they get from all other media.
I notice that I now digest my knowledge as a patchwork drawn from a wider range of sources than I used to. I notice too that I am less inclined to look for joined-up finished narratives and more inclined to make my own collage from what I can find. I notice that I read books more cursorily — scanning them in the same way that I scan the Net — 'bookmarking' them.
I notice that the turn-of-the-century dream of Professor Darryl Macer to make a map of all the world's concepts is coming true autonomously — in the form of the Net.
I notice that I correspond with more people but at less depth. I notice that it is possible to have intimate relationships that exist only on the Net — that have little or no physical component. I notice that it is even possible to engage in complex social projects — such as making music — without ever meeting your collaborators. I am unconvinced of the value of these.
I notice that the idea of 'community' has changed — whereas that term used to connote some sort of physical and geographical connectedness between people, it can now mean 'the exercise of any shared interest'. I notice that I now belong to hundreds of communities — the community of people interested in active democracy, the community of people interested in synthesizers, in climate change, in Tommy Cooper jokes, in copyright law, in acapella singing, in loudspeakers, in pragmatist philosophy, in evolution theory, and so on.
I notice that the desire for community is sufficiently strong for millions of people to belong to entirely fictional communities such as Second Life and World of Warcraft. I worry that this may be at the expense of First Life.
I notice that more of my time is spent in words and language — because that is the currency of the Net — than it was before. My notebooks take longer to fill. I notice that I mourn the passing of the fax machine, a more personal communication tool than email because it allowed the use of drawing and handwriting. I notice that my mind has reset to being primarily linguistic rather than, for example, visual.
I notice that the idea of 'expert' has changed. An expert used to be 'somebody with access to special information'. Now, since so much information is equally available to everyone, the idea of 'expert' becomes 'somebody with a better way of interpreting'. Judgement has replaced access.
I notice that I have become a slave to connectedness — that I check my email several times a day, that I worry about the heap of unsolicited and unanswered mail in my inbox. I notice that I find it hard to get a whole morning of uninterrupted thinking. I notice that I am expected to answer emails immediately, and that it is difficult not to. I notice that as a result I am more impulsive.
I notice that I more often give money in response to appeals made on the Net. I notice that 'memes' can now spread like virulent infections through the vector of the Net, and that this isn't always good.
I notice that I sometimes sign petitions about things I don't really understand because it is easy. I assume that this kind of irresponsibility is widespread.
I notice that everything the Net displaces reappears somewhere else in a modified form. For example, musicians used to tour to promote their records, but, since records stopped making much money due to illegal downloads, they now make records to promote their tours. Bookstores with staff who know about books and record stores with staff who know about music are becoming more common.
I notice that, as the Net provides free or cheap versions of things, 'the authentic experience' — the singular experience enjoyed without mediation — becomes more valuable. I notice that more attention is given by creators to the aspects of their work that can't be duplicated. The 'authentic' has replaced the reproducible.
I notice that almost all of us haven't thought about the chaos that would ensue if the Net collapsed.
I notice that my daily life has been changed more by my mobile phone than by the Internet.
---
MARISSA MAYER
Vice President, Search Products & User Experience, Google
IT'S NOT WHAT YOU KNOW, IT'S WHAT YOU CAN FIND OUT
It's not what you know, it's what you can find out. The Internet has put at the forefront resourcefulness and critical-thinking and relegated memorization of rote facts to mental exercise or enjoyment. Because of the abundance of information and this new emphasis on resourcefulness, the Internet creates a sense that anything is knowable or findable — as long as you can construct the right search, find the right tool, or connect to the right people. The Internet empowers better decision-making and a more efficient use of time.
Simultaneously, it also leads to a sense of frustration when the information doesn't exist online. What do you mean that the store hours aren't anywhere? Why can't I see a particular page of this book? And, if not verbatim, no one has quoted it even in part? What do you mean that page isn't available? Page not found?
The Internet can facilitate an incredible persistence and availability of information, but given the Internet's adolescence, all of the information simply isn't there yet. I find that in some ways my mind has evolved to this new way of the thinking, relying on the information's existence and availability, so much so that it's almost impossible to conclude that the information isn't findable because it just isn't online.
The Web has also enabled amazing dynamic visualizations, where an ideal presentation of information is constructed — a table of comparisons or a data-enhanced map, for example. These visualizations — be it news from around the world displayed on a globe or a sortable table of airfares — can greatly enhance our understanding of the world or our sense of opportunity. We can understand in an instant what would have taken months to create just a few short years ago. Yet, the Internet's lack of structure means that it is not possible to construct these types of visualizations over any or all data. To achieve true automated, general understanding and visualization, we will need much better machine learning, entity extraction, and semantics capable of operating at vast scale.
On that note — and in terms of future Internet innovation, the important question may not be how the Internet is changing how we think but instead how the Internet is teaching itself to think.
---
---
---
PHILIP CAMPBELL
Editor-in Chief, Nature
NIGHT-TIME IDEAS
For better or worse, the Internet is changing when I think — night-time ideas can be instantly acted on. But much more importantly, the Internet has immeasurably supported my breadth of consideration and enhanced my speed of access to relevant stuff. Frustrations arise, above all, where these are constrained — and there's a rub.
We are in sight of technologies that can truly supersede paper, retaining the portability, convenience and format variety of that medium. Instant payment for added-value content will become easier and, indeed, will be taken for granted in many contexts.
But finding the stuff will remain a challenge. Brands, both publishers' and others', if deployed in a user-friendly way, will by their nature assist those seeking particular types of content. But content within established brands is far from an adequate representation of what matters, and that's why robust and inclusive indexing systems are so important.
I remain uneasy that biologists worldwide are so dependent on a literature-indexing system wholly funded by US tax-payers: PubMed. Nevertheless, it's extraordinarily valuable, and works in the interests not only of researchers but also publishers by making their work accessible without undermining their business models.
I emphasise that last point with good reason. One of the worst (ie self-defeatingly short-sighted) acts of 'my' industry occurred in the early 2000s. Congress, lobbied by publishers, and seemingly ignorant of the proven virtues of PubMed, rejected support for an equivalent search infrastructure PubSCIENCE, established by the US Department of Energy as an index for physical sciences and energy research. The lobbyists argued, wrong-headedly, that it competed with private sector databases. It was abandoned in 2002. Publishers have lost opportunities as a result, as has everyone else. Energy research, after all, has never been more urgent nor more in the US's and world's public interest.
PubMed imposes overly conservative restrictions on what it will index, but is a beacon nevertheless. Anyone in the natural sciences who, like me, has taken an active interest in the social sciences knows how hopelessly unfindable by comparison is that literature, distributed as it is amongst books, reports and unindexed journals. Google Scholar is in some ways valuable, providing access also to some "grey" literatures, but its algorithms are a law unto themselves and, in my experience, miss some of the literature. And so often the books and reports are themselves difficult to obtain.
There are foundations and other funders potentially more enlightened than Congress when it comes to supporting literature digitization and indexing. And universities are developing online repositories of their outputs, though with limited success.
Whatever works! Those wishing to promote the visibility and, dare one say, usefulness of their own work and of their disciplines should hotly pursue online availability of all types of substantive texts and, crucially, inclusive indexing.
---
HOWARD RHEINGOLD
Communications Expert; Author, Smart Mobs

ATTENTION IS THE FUNDAMENTAL LITERACY
Digital media and networks can only empower the people who learn how to use them — and pose dangers to those who don't know what they are doing. Yes, it's easy to drift into distraction, fall for misinformation, allow attention to fragment rather than focus, but those mental temptations pose dangers only for the untrained mind. Learning the mental discipline to use thinking tools without losing focus is one of the prices I am glad to pay to gain what the Web has to offer.
Those people who do not gain fundamental literacies of attention, crap detection, participation, collaboration, and network awareness are in danger of all the pitfalls critics point out — shallowness, credulity, distraction, alienation, addiction. I worry about the billions of people who are gaining access to the Net without the slightest clue about how to find knowledge and verify it for accuracy, how to advocate and participate rather than passively consume, how to discipline and deploy attention in an always-on milieu, how and why to use those privacy protections that remain available in an increasingly intrusive environment.
I have concluded that the realities of my own life as a professional writer — if the words didn't go out, the money didn't come in — drove me to evolve a set of methods and disciplines. I know that others have mastered far beyond my own practice the mental habits that I've stumbled upon, and I suspect that learning these skills is less difficult than learning long division. I urge researchers and educators to look more systematically where I'm pointing.
When I started out as a freelance writer in the 1970s, my most important tools were a library card, a typewriter, a notebook, and a telephone. In the early 1980s, I became interested in the people at Xerox Palo Alto Research Center who were using computers to edit text without physically cutting, pasting, and retyping pages.
Through PARC I discovered Douglas Engelbart, who had spent the first decade of his career trying to convince somebody, anybody, that using computers to augment human intellect was not a crazy idea. Engelbart set out in the early 1960s to demonstrate that computers could be used to automate low-level cognitive support tasks like cutting, pasting, revising text, and also to enable intellectual tools like the hyperlink that weren't possible with Gutenberg-era technology.
He was convinced that this new way to use computers could lead to "increasing the capability of a man to approach a complex problem situation, to gain comprehension to suit his particular needs, and to derive solutions to problems. Increased capability in this respect is taken to mean a mixture of the following: more-rapid comprehension, better comprehension, the possibility of gaining a useful degree of comprehension in a situation that previously was too complex, speedier solutions, better solutions, and the possibility of finding solutions to problems that before seemed insoluble." Important caveats and unpredicted side-effects notwithstanding, Engelbart's forecasts have come to pass in ways that surprised him. What did not surprise him was the importance of both the know-how and how-to-know that unlock the opportunities afforded by augmentation technology.
From the beginning, Engelbart emphasized that the hardware and software created at his Stanford Research Institute laboratory, from the mouse to the hyperlink to the word processor, were part of a system that included "humans, language, artifacts, methodology and training." Long before the Web came along, Engelbart was frustrated that so much progress had been made in the capabilities of the artifacts, but so little study had been devoted to advancing the language, methodology and training — the literacies that necessarily accompany the technical capabilities
Attention is the fundamental literacy. Every second I spend online, I make decisions about where to spend my attention. Should I devote any mindshare at all to this comment or that headline? — a question I need to answer each time an attractive link catches my eye. Simply becoming aware of the fact that life online requires this kind of decision-making was my first step in learning to tune a fundamental filter on what I allow into my head — a filter that is under my control only if I practice controlling it. The second level of decision-making is whether I want to open a tab on my browser because I decided that this item will be worth my time tomorrow. The third decision: do I bookmark this site because I am interested in the subject and might want to reference it at some unspecified future time? Online attention-taming begins with what meditators call "mindfulness" — the simple, self-influencing awareness of how attention wanders.
Life online is not solitary. It's social. When I tag and bookmark a Website, a video, an image, I make my decisions visible to others. I take advantage of similar knowledge curation undertaken by others when I start learning a topic by exploring bookmarks, find an image to communicate an idea by searching for a tag. Knowledge sharing and collective action involve collaborative literacies.
Crap detection — Hemingway's name for what digital librarians call credibility assessment — is another essential literacy. If all schoolchildren could learn one skill before they go online for the first time, I think it should be the ability to find the answer to any question and the skills necessary to determine whether the answer is accurate or not.
Network awareness, from the strength of weak ties and the nature of small-world networks to the power of publics and the how and why of changing Facebook privacy settings, would be the next literacy I would teach, after crap detection. Networks aren't magic, and knowing the principles by which they operate confers power on the knowledgeable. How could people NOT use the Internet in muddled, frazzled, fractured ways when hardly anybody instructs anybody else about how to use the Net salubriously? It is inevitable that people will use the Net in ways that influence how they think and what they think.
It is not inevitable that these influences will be destructive. The health of the online commons will depend on whether more than a tiny minority of Net users become literate Netizens.
---
---
LARRY SANGER
Co-founder of Wikipedia and Citizendium
THE UN-FOCUSING, DE-LIBERATING EFFECTS OF JOINING THE HIVE MIND
The instant availability of an ocean of information has been an epoch-making boon to humanity. But has the resulting information overload also deeply changed how we think? Has it changed the nature of the self? Has it even — as some have suggested — radically altered the relationship of the individual and society? These are important philosophical questions, but vague and slippery, and I hope to clarify them.
The Internet is changing how we think, it is suggested. But how is it, precisely? One central feature of the "new mind" is that it is spread too thin. But what does that mean?
In functional terms, being spread too thin means we have too many Websites to visit, we get too many messages, and too much is "happening" online and in other media that we feel compelled take on board. Many of us lack effective strategies for organizing our time in the face of this onslaught. This makes us constantly distracted and unfocused, and less able to perform heavy intellectual tasks. Among other things, or so some have confessed, we cannot focus long enough to read whole books. We feel unmoored and we flow along helplessly wherever the fast-moving digital flood carries us.
We do? Well — some of us do, evidently.
Some observers speak of "where we are going," or of how "our minds" are being changed by information overload, apparently despite ourselves. Their discussions make erstwhile free agents mere subjects of powerful new forces, and the only question is where those forces are taking us. I don't share the assumption here. When I read the title of Nick Carr's essay, "Is Google Making Us Stupid?" I immediately thought, "Speak for yourself." It seems to me that in discussions like Carr's, it is assumed that intellectual control has already been ceded — but that strikes me as being a cause, not a symptom, of the problem Carr bemoans. After all, the exercise of freedom requires focus and attention, and the ur-event of the will is precisely focus itself. Carr unwittingly confessed for too many of us a moral failing, a vice; the old name for it is intemperance. (In the older, broader sense, contrasted with sophrosyne, moderation or self-control.) And, as with so much of vice, we want to blame it on anything but ourselves.
Is it really true that we no longer have any choice but to be intemperate in how we spend our time, in the face of the temptations and shrill demands of networked digital media? New media are not that powerful. We still retain free will, which is the ability to focus, deliberate, and act on the results of our own deliberations. If we want to spend hours reading books, we still possess that freedom. Only philosophical argument could establish that information overload has deprived us of our agency. The claim at root is philosophical, not empirical.
My interlocutors might cleverly reply that we now, in the age of Facebook and Wikipedia, do still deliberate, but collectively. In other words, for example, we vote stuff up or down on Digg, del.icio.us, and Slashdot, and then we might feel ourselves obligated — if we're participating as true believers — to pay special attention to the top-voted items. Similarly, we attempt to reach "consensus" on Wikipedia, and — again, if participating as true believers — endorse the end result as credible. To the extent that our time is thus directed by social networks, engaged in collective deliberation, then we are subjugated to a "collective will," something like Rousseau's notion of a general will. To the extent that we plug in, we become merely another part of the network. That, anyway, is how I would reconstruct the collectivist-determinist position that is opposed to my own individualist-libertarian one.
But we obviously have the freedom not to participate in such networks. And we have the freedom to consume the output of such networks selectively, and holding our noses — to participate, we needn't be true believers. So it is very hard for me to take the "woe is us, we're growing stupid and collectivized like sheep" narrative seriously. If you feel yourself growing ovine, bleat for yourself.
I get the sense that many writers on these issues aren't much bothered by the un-focusing, de-liberating effects of joining the Hive Mind. Don Tapscott has suggested that the instant availability of information means we don't have to "memorize" anything anymore — just consult Google and Wikipedia, the brains of the Hive Mind. Clay Shirky seems to believe that in the future we will be enculturated not by reading dusty old books but in something like online fora, plugged into the ephemera of a group mind, as it were. But surely, if we were to act as either of these college teachers recommend, we'd become a bunch of ignoramuses. Indeed, perhaps that's what social networks are turning too many kids into, as Mark Bauerlein argues cogently in The Dumbest Generation. (For the record, I've started homeschooling my own little boy.)
The issues here are much older than the Internet. They echo the debate between progressivism and traditionalism found in philosophy of education: should children be educated primarily so as fit in well in society, or should the focus be on training minds for critical thinking and filling them with knowledge? For many decades before the advent of the Internet, educational progressivists have insisted that, in our rapidly changing world, knowing mere facts is not what is important, because knowledge quickly becomes outdated; rather, being able to collaborate and solve problems together is what is important. Social networks have reinforced this ideology, by seeming to make knowledge and judgment collective functions. But the progressivist position on the importance of learning facts and training individual judgment withers under scrutiny, and, pace Tapscott and Shirky, events of the last decade have not made it more durable.
In sum, there are two basic issues here. Do we have any choice about ceding control of the self to an increasingly compelling "Hive Mind"? Yes. And should we cede such control, or instead strive, temperately, to develop our own minds very well and direct our own attention carefully? The answer, I think, is obvious.
---
GEORGE CHURCH
Professor, Harvard University, Director, Personal Genome Project.
SORRY, JOHN, NO TIME TO THINK ABOUT THE EDGE QUESTION
If time did permit, I'd begin with the "How" of "How is Internet changing the way that we think?" Not "how much?" or "in what manner?", but "for what purpose?" "To be, that is the question."
Does the Internet pose an existential risk to all known intelligence in the universe or a path to survival? Yes; we see sea change from I-Ching to e-Change.
Yes; it (IT) consumes 100 billion watts, but this is only 0.7% of human power consumption.
Yes; it might fragment the attention span of the Twitter generation. (For my world, congenitally shattered by narcolepsy and dyslexia, reading/chatting online in 1968 was no big deal).
Before cuneiform, we revered the epic poet. Before Gutenberg, we exalted good handwriting. We still gasp at feats of linear memory, Lu Chao reciting 67890 digits of π or Kim Peek's recall of 12,000 books (60 gigabytes) — even though pathetic compared to the Internet of 10 exabytes (double that in 5 years).
But the Internet isn't amazing for storage (or math), but for connections. Going from footnotes to hypertext to search-engines dramatically opens doors for evidence-based-thinking, modeling, and collaboration. It transforms itself from mere text to Goggles for places and Picasa for faces.
But still it can't do things that Einstein and Curie could. Primate brains changed dramatically from early apes at 400 cc to Habilis at 750 cc to Neanderthal at 1500 cc.
"How did THAT change the way that we think?" and "For what purpose?" How will we think to rebuild the ozone after the next nearby supernova? or nudge the next earth-targeted asteroid? Or contain a pandemic in our dense and well-mixed population? And how will we prepare for those rare events by solving today's fuel, food, psychological and poverty problems, which prevent 6.7 billion brains from achieving our potential? The answer is blowin' in the Internet wind.
---
---
GERD GIGERENZER
Psychologist; Director of the Center for Adaptive Behavior and Cognition at the Max Planck Institute for Human Development in Berlin; Author, Gut Feelings
OUTSOURCING THE MIND
When I came to the Center for Advanced Study in Palo Alto in the fall of 1989, I peered into my new cabin-like office. What struck me was the complete absence of technology. No telephone, e-mail, or other communication facilitators. Nothing could interrupt my thoughts. Technology could be accessed outside the offices whenever one wished, but it was not allowed to enter through the door at its own will. This protective belt was deliberately designed to make sure that scholars had time to think, and to think deeply.
In the meantime, the Center, like other institutions, has surrendered to technology. Today, people's minds are in a state of constant alert, waiting for the next e-mail, the next SMS, as if these will deliver the final, earth-shattering insight. I find it surprising that scholars in the "thinking profession" would so easily let their attention be controlled from the outside, minute by minute, just like letting a cell phone interrupt a good conversation. Were messages to pop up on my screen every second, I would not be able to think straight. Maintaining the Center's spirit, I check my email only once a day, and keep my cell phone switched off unless I make a call. An hour or two without interruption are heaven for me.
But the Internet can be used in an active rather than a reactive way, that is, not letting it determine how long we can think and when we have to stop. The question is, does an active use of the Internet change our way of thinking? I believe so. The Internet shifts our cognitive functions from searching for information inside the mind towards searching outside the mind. It is not the first technology to do so.
Consider the invention that changed human mental life more than anything else: writing, and subsequently, the printing press. Writing made analysis possible; with writing, one can compare texts, which is difficult in an oral tradition. Writing also made exactitude possible, as in higher-order arithmetic — without any written form, these mental skills quickly meet their limits. But writing makes long-term memory less important than it once was, and schools have largely replaced the art of memorization by training in reading and writing.
Most of us can no longer memorize hour-long folktales and songs as in an oral tradition. The average modern mind has a poorly trained long-term memory, forgets rather quickly, and searches for information more in outside sources such as books instead inside memory. The Internet has amplified this trend of shifting knowledge from the inside to the outside, and taught us new strategies for finding what one wants using search machines.
This is not to say that before writing, the printing press, and the Internet, our minds did not have the ability to retrieve information from outside sources. But these sources were other people, and the skills were social, such as the art of persuasion and conversation. To retrieve information from Wikipedia, in contrast, social skills are no longer needed.
The Internet is essentially a huge storage room of information, and we are in the process of outsourcing information storage and retrieval from mind to computer, just as many of us have already outsourced the ability of doing mental arithmetic to the pocket calculator. We may loose some skills in this process, such as the ability to concentrate over an extended period of time and storing large amounts of information in long-term memory, but the Internet is also teaching us new skills for accessing information.
It is important to realize that mentality and technology are one extended system. The Internet is a kind of collective memory, to which our minds will adapt until a new technology eventually replaces it. Then we will begin outsourcing other cognitive abilities, and hopefully, learn new ones.
---
SCOTT ATRAN
Anthropologist, National Center for Scientific Research, Paris; Author, In Gods We Trust

THE FOURTH PHASE OF HOMO SAPIENS
I received this year's Edge Question while in Damascus, shuttling messages from Jerusalem aimed at probing possibilities for peace. And I got to thinking about how my thinking on world peace and transnational violence has been shaped by the Internet, and how the advent of the Internet has framed my view of human history and destiny.
I'm aware that I'm living on the cusp of perhaps the third great tipping point in human history, and that this is an awesome and lucky thing to experience.
First, I imagine myself with a small band moving out of Africa into the Fertile Crescent around 60,000 years ago or so, when humans mastered language and began to conquer the globe. More than half a million years ago, the Neanderthal and human branches of evolution began to split from our common ancestor Homo erectus (or perhaps Homo ergaster). Neanderthal, like erectus before, spread out of Africa and across Eurasia. But our ancestors, who acquired fully human body structures about 200,000 years ago, remained stuck in the savanna grasslands and scrub of eastern then southern Africa. Recent archaeological and DNA analyses suggest that our species may have tottered on the verge of extinction as recently as 70,000 years ago, dwindling to fewer than 2000 souls. Then, in almost miraculous change of fortune about 60,000 — 50,000 years ago, one or a few human bands moved out of Africa for good.
This beginning of human wanderlust was likely stirred by global cooling and the attendant parching of the African grasslands which led to loss of game and grain. But there is also the strong possibility, based on circumstantial evidence relating to a "cultural explosion" of human artifacts and technologies, that a mutation rewired the brain for computational efficiency. This rewiring allowed for recursion (embedding whole bundles of perceptions and thought within other bundles of perceptions and thoughts), which is an essential property of both human language (syntactic structures) and mindreading skills (or "Theory of Mind," the ability to infer other people's thoughts and perceptions: "I know, that she knows, that I know, that he knows, that… etc.).
Language and mindreading, in turn, became critical to development of peculiarly human forms of thinking and communication, including planning and cooperation among anonymous strangers, imagining plausible versus fictitious pasts and futures, the counterfactuals of reason and the supernaturals of religion. Together, language and mind reading generated both self-awareness and awareness of others. Other animals may have beliefs, but they don't know they have them. Once humans could entertain and communicate imaginary worlds and beliefs about beliefs, they could break apart and recombine representations of the material and social world at will, with our without regard to immediate or future biological needs.
Human societies, the great French anthropologist Claude Lévi-Strauss argued, divide into "cold" and "hot" cultures. For most of the time that humans have walked the earth, there were only preliterate "cold" societies, whose people conceived of nature and social time as eternally static or entirely cyclical. The present order is conceived as a projection of an order that has existed since mythical times. The interpretation of the origins of the world and the development of society is rendered in mythological terms. Every element of the knowable universe would be connected in Kaleidoscope fashion to every other element in memorable stories, however arbitrary or fantastic, that could be passed down orally from generation to generation.
A typical mythic account of the world might "explain" how nomadic patterns of residence and seasonal movement emanated from patterns perceived in the stars; how star patterns, in turn, got their shapes from the wild animals around; and how men were made to organize themselves into larger totemic societies, dividing tasks and duties according to the "natural order."
So, I imagine myself in ancient Mesopotamia, trying to kick myself out of this cold cycle, as human history began to heat up at the dawn of writing. I try to conjure up in my mind how the seemingly unchanging and cyclical world of oral memory and myth, of frozen and eternal history, could almost all of a sudden, after tens of thousands of years of near stasis, flame forward along the Eurasian silk road into civilizations and world commerce, universal religions and government by law, armies and the accumulated knowledge that would one day become science.
Direct reciprocity of the form "I'll scratch your back and you scratch mine" works well within small bands or neighborhoods where people know one another and it would be hard to get away with cheating customers. But as societies become larger and more complex, transactions increasingly involve indirect forms of reciprocity: promises between strangers of delivery after payment or payment after delivery. Roads, writing, money, contracts and laws — the channels of communication and exchange that make state-level societies viable ? greatly increase prospects for variety, reliability and accountability in indirect transactions. As groups expanded in size, exploiting widening range of ecological habitats, an increasing division of productive and cognitive labor became both possible and preferable.
By the time of Jesus Christ, two millennia ago, four great neighboring polities spanned Eurasia's middle latitudes: the Roman Empire, the Parthian Empire centered in Persia and Mesopotamia, the Kushan Empire of Central Asia and Northern India, and the Han Empire of China and Korea. The Kushan Empire had diplomatic links with the other three, and all four were linked by a Network of trade routes, known to posterity as "The Silk Road." It's along the Silk Road that Eurasia's three universalist moral religions — Judaism, Zoroastrianism and Hinduism — continued to interact, and mutated from their respective territorial and tribal origins into the three proselytizing, globalizing religions that today vie for the soul of humanity — Christianity, Islam and Buddhism.
The three globalizing religions created two new concepts in human thought: individual free choice and collective humanity. People not born into these religions could, in principle, choose to belong (or remain outside), without regard to ethnicity, tribe or territory. The mission of these religions was to extend moral salvation to all peoples, not just to a "Chosen People" that would light the way for others.
Secularized by European Enlightenment, the great quasi-religious "isms" of modern history– colonialism, socialism, anarchism, fascism, communism, democratic liberalism ? harnessed industry and science to continue on a global scale the human imperative of "Cooperate to Compete."
Now, today, I see myself riding on the information highway of cyberspace as if I were on a light beam, casting off previous human technologies and relationships, like books and nation states. If people could fly like Superman they wouldn't need cars or elevators; and if they can electronically surf for knowledge and relationships then physical libraries and borders become irrelevant.
I try to imagine what the world will be like with social relationships unbounded by space, and the spiraling fusion of memory and knowledge in a global social brain than anyone can access. Future generations will be able to bind with their ancestors in different ways because they can see and hear them as they actually were, and not just in isolated phrases, paintings and pictures. And the multiple pathways and redundancies in knowledge Networks will enable even the simple minded to approach the creations of genius.
Truth be told, I can no more foresee the actual forms of knowledge, technology and society that are likely to result than an ancient Bushman or Sumerian could foresee how people could split the atom, traipse on the moon, crack the genetic code, or meet for life in cyberspace. (And anyone who says they can is just blowing smoke in your face.)
But I am reasonably sure that whatever new forms arise, they will have to accommodate to fundamental aspects of human nature that have barely changed since the Stone Age: love, hate, jealousy, guilt, contempt, pride, loyalty, friendship, rivalry, the thrill of risk and adventure, accomplishment and victory, the desire for esteem and glory, the search for pattern and cause in everything that touches and interests us, and the inescapable need to fashion ideas and relationships sufficiently powerful to deny our nothingness in the random profusion of the universe.
As for future forms of human governance, I see as equally likely (as things look now) the chance that political freedom and diversity, or a brave new world of dumbing homogeneity and deadening control by consensus, will prevail or perhaps alternate in increasingly destructive cycles. For the Internet is currently both the oxygen of a truly open society, and of spectacular transnational terrorism.
Here are two snippets that illustrate this duality:
"On the Internet, nobody knows you' e a dog," said the cunning canine in Peter Steiner's 1993 New Yorker cartoon; and on the Internet, any two communicators can believe they are the world.

"The media is [sic] coming!" Skyped the Lashkar-e-tayibah handler to the killers for God at the Taj hotel in Mumbai, signaling to them that now was the best timing for their martyrdom.
Around the Shi'ite holiday of Ashura (December 28, 2009), I received an email from a friend in Tehran who said how helpless he felt to stop the merciless beating of a young woman at the hands of government thugs, but he went on to say that: "we will win this thing if the West does nothing but help us keep the lines of communication open with satellite Internet." The same day, I saw the Facebook communications of the Xmas plane bomber and the army psychiatrist who shot up Fort Hood who, along with many others, self bound into a virtual community whose Internet Imams spin Web dreams of glory in exchange for real and bloody sacrifice.
"I imagine how the great jihad will take place, how the Muslims will win, insha Allah [God willing], and rule the whole world, and establish the greatest empire once again!!!" reads one post from "farouk 1986," the angel-faced British-educated engineering student and son of a prominent Nigerian banker who attempted to blow up Northwest flight 253 out of Amsterdam as it was about to land in Detroit. "Happiness is martyrdom" can be as emotionally contagious to a lonely boy on the Internet as "Yes, we can." That is a psychologically stunning and socially far-reaching development that scientists have hardly begun to explore.
And so, as a result of the advent of the Internet, I spend most of my time these days trying to think how, with the aid of the Internet, to get "farouk 1986" and friends from blowing up people to Kingdom Come.
The Collapse of Cultures
Human rights constitute a pillar of one global political culture, originally centered upon the Americas and Europe, and is a growing part of a massive, Internet-driven global political awakening. The decidedly non-secular Jihad is another key mover in this transnational political awakening: thoroughly modern and innovative, despite atavistic cultural references. Its appeal, to youth especially, lies in its promise of moral simplicity, a harmonious and egalitarian community (at least for men) whose extent is limitless, and the call to passion and action on humanity's behalf. It is a twisting of the tenets of human rights, the granting to each individual the "natural right" of sovereignty. It claims a moral duty to annihilate any opposition to the coming of true justice, and gives the righteous the prerogative to kill. The means justify the end, where no sacrifice of individuals is too costly for progress towards the final good.
Many made giddy by globalization — the ever-faster and deeper integration of individuals, corporations, markets, nations, technologies and knowledge — believe that a connected world inexorably shrinks differences and divisions, making everyone safer and more secure in one great big happy family. If only it were not for people's pre-modern parochial biases: religions, ethnicities, native languages, nations, borders, trade barriers, historical chips on the shoulder.
This sentiment is especially common among scientists (me included) and the deacons of Davos, wealthy and powerful globetrotters who schmooze one another in airport VIP clubs, three-star restaurants and five-star hotels, and feel that pleasant buzz of comraderie over wine or martinis at the end of the day. I don't reject this world; I sometimes embrace it.
But my field experience and experiments in a variety of cultural settings lead me to believe that an awful lot of people on this planet respond to global connectivity very differently than does the power elite. While economic globalization has — steamrolled or left aside large chunks of humankind, political globalization actively engages people of all societies and walks of life. Even the global economy's driftwood: refugees, migrants, marginals, and those most frustrated in their aspirations.
For there is, together with a flat and fluid world, a more tribal, fragmented and divisive world, as people unmoored from millennial traditions and cultures flail about in search of a social identity that is at once individual and intimate but with a greater sense of purpose and possibility of survival than a man, or Man, alone.
Ever since the collapse of the Soviet Union, which shattered the briefly timeless illusion of a stable bipolar world, and for the first time in history, most of humanity is politically engaged. Many, especially the young, are becoming increasingly independent yet interactive, in the search for respect and meaning in life, in their visions of economic advancement and environmental awareness. These youth form their identities in terms of global political cultures through exposure to the media.
Even the blistered legacies of imperialism and colonialism are now more about the mediatization of the past and contemporary construction of cultural identity than the material effects of things that happened. Global political cultures arise horizontally among peers with different histories, rather than vertically as before, in traditions tried and passed in place from generation to generation. Jihad offers the pride of great achievements for the underachieving: brave new hearts for an outworn and overstretched world.
Traditionally, politics and religion were closely connected to ethnicity and territory, and in more recent times to nations and cultural areas (or "civilizations"). No longer. Religion and politics are becoming increasingly detached from their cultures of origin, not so much because of the movement of peoples (only about 3 percent of the world's population migrates, notes French political scientist Olivier Roy), but through the worldwide traffic of media-friendly information and ideas. Thus, contrary to those who see global conflicts along long-standing "fault lines" and a "clash of civilizations," these conflicts represent a collapse of traditional territorial cultures, not their resurgence. The crisis is most likely to be resolved, I believe, in cyberspace. To what end I cannot tell, but can only hope.
---
---
---
---
---
JAMES O'DONNELL
MY FINGERS HAVE BECOME PART OF MY BRAIN
How is the Internet changing the way I think? My fingers have become part of my brain. What will come of this? It's far too early to say.
Once upon a time, knowledge consisted of what you knew yourself and what you heard — literally, with your ears — from others. If you were asked a question in those days you thought of what you had seen and heard and done yourself and what others had said to you. I'm rereading Thucydides this winter and watching the way everything depended on who you knew and where the messengers came from and whether they were delayed en route, walking from one end of Greece to another. Thucydides was literate, but his world hadn't absorbed that new technology yet.
With the invention of writing, the eyes took on a new role. Knowledge wasn't all in memory, but was found in present, visual stimuli: the written word in one form or another. We have built a might culture based on all the things that humankind can produce and the eye can study. What we could read in the traditional library of 25 years ago was orders of magnitude richer and more diverse than the most that any person could ever see, hear, or be told of in one lifetime. The modern correlative to Thucydides would be Churchill's history of World War II and the abundance of written documents he shows himself dependent on at every stage of the war. But imagine Churchill or Hitler with Internet-like access to information!
Now we change again. It's less than twenty years since the living presence of networked information has become part of our thinking machinery. What it will mean to us that vastly more people have nearly instantaneous access to vastly greater quantities of information cannot be said with confidence. In principle, it means a democratization of innovation and of debate. In practice, it also means a world in which many have already proven that they can ignore what they do not wish to think about, select what they wish to quote, and produce a public discourse demonstrably poorer than what we might have known in the past.
But just for myself, just for now, it's my fingers I notice. Ask me a good question today, and I find that I begin fiddling. If I am away from my desk, I pull out my Blackberry so quickly and instinctively that you probably think I'm ignoring your question and starting to read my e-mail or play Brickbreaker — and sometimes I am! But when I'm not — that is, when you've asked a really interesting question, it's a physical reaction, a gut feeling that I need to start manipulating (the Latin root for 'hand', *manus*, is in that word) the information at my fingertips, in order to find the data that will support a good answer. At my desktop, it's the same pattern: the sign of thinking is that I reach for the mouse and start "shaking it loose" — the circular pattern on the mouse pad that lets me see where the mouse arrow is, make sure the right browser is open, get a search window handy. My eyes and hands have already learned to work together in new ways with my brain in a process of clicking, typing a couple of words, clicking, scanning, clicking again that really is a new way of thinking for me.
That finger work is unconscious. It just starts to happen. But it's the way I can now tell thinking has begun as I begin working my way through an information world more tactile than ever before. Will we next have three-dimensional virtual spaces in which I gesture, touch, and run my fingers over the data? I don't know: nobody can. But we're off on a new and great adventure whose costs and benefits we will only slowly come to appreciate.
What all this means is that we are in a different space now, one that is largely unfamiliar to us even when we think we are using familiar tools (like a "newspaper" that has never been printed or an "encyclopedia" vastly larger than any shelf of buckram volumes), and one that has begun life by going through rapid changes that only hint at what is to come. I'm not going to prophesy where that goes, but I'll sit here a while longer, watching the ways I really have come to "let my fingers do the walking", wondering where they will lead.
---
---
SETH LLOYD
Quantum Mechanical Engineer, MIT; Author, Programming the Universe
MOVE ASIDE, SEX
I think less. My goal is to transfer my brain's functions, bit by bit, to the Cloud.
When I do think, I am lazier. There's no point in making the strenuous trek over to the library to find the source when you can get an expurgated electronic version on Google books right away. And why go look up the exact theorem when you can find an approximate version on Wikipedia?
OK, you can get burned. Math being what it is, an approximate theorem is typically an untrue theorem. Over the years, I have found most statements in purely scientific reference articles on Wikipedia to be 99.44% correct. It's that last .56% that gets you. I just wasted three months and almost published an incorrect result because one clause in the Wikipedia statement of a theorem was, in fact, wrong. It's a lucky thing the referee caught my error. In the meanwhile, however, I had used one of the great Internet innovations, the scientific preprint archive, to post the incorrect result on the Internet for everyone to see.
For hundreds of millions of years, Sex was the most efficient method for propagating information of dubious provenance: the origins of all those snippets of junk DNA are lost in the sands of reproductive history. Move aside, Sex: the world-wide Web has usurped your role. A single illegal download can propagate more parasitic bits of information than a host of mating Tse Tse flies. Indeed, as I looked further afield, I found that it was not just Wikipedia that was in error: essentially every digital statement of the clause in the theorem of interest was also incorrect. For better or worse, it appears that the only sure way to find the correct statement of a theorem is to trek to the library and to find some book written by some dead mathematician, maybe even the same one who proved the theorem in the first place.
In fact, the key to correctness probably does not even lie in the fact that the book was written by that mathematician, so much as that the book was scrupulously edited by the editor of the series who invited the mathematician to write the book. Prose, poetry, and theorems posted on the Internet are no less insightful and brilliant than their paper predecessors: they are simply less edited. Moreover, just when we need them most, the meticulously trained editors of our newspapers, journals, and publishing houses are being laid off in droves.
Life, too, has gone through periods of editorial collapse. During the Cambrian explosion, living systems discovered the evolutionary advantage of complex, multicellular forms. Like the digital organisms of today's Internet, the new Cambrian lifeforms rewrote the rules of habitat after habitat, evolving rapidly in the process. Finally, however, they filled their environment to its carrying capacity: at that point, just being cool, complex, and multicellular was no longer enough to insure survival. The sharp red pencil of natural selection came out and slashed away the gratuitous sequences of DNA.
For the moment, however, the ability of the Internet to propagate information promiscuously is largely a blessing. The preprint archives where scientific work (like my wrong paper) are posted for all to read are great levelers: a second- or third-world scientist with a modem can access the unedited state of the art in a scientific field as it is produced, rather than months or years later. They, in turn, can produce and post their own unedited preprints, and so on. As long as computer memories keep doubling in capacity every year or two, those stacks of unedited information will keep doubling and doubling, too, swamping the useful and correct in a sea of extraneous bits. Eventually, the laws of physics themselves will stop this exponential explosion of memory space, and we will be forced, once more, to edit. What will happen then?
Don't ask me. By then, the full brain transfer to the Cloud should be complete. I hope not to be thinking at all.
---
SEIRIAN SUMNER
Research Fellow in Evolutionary Biology, Institute of Zoology, Zoological Society of London
BY CHANGING MY BEHAVIOUR, OVER AND OVER AGAIN
I was rather stumped by this question because I have little experience of work or play without the Internet. My interests and the way I think, work and play have evolved alongside the Internet. Perhaps it would help if I could work out what life would be like for me without the Internet. Abstaining from the Internet is not a feasible experiment even on a personal level! Instead, I exploited the very resource we are evaluating, and asked my friends on Facebook what they thought their lives would be like without the Internet. If I could empathize with my alter-ego in a parallel 'offline' universe where there was no Internet, perhaps I can understand how the Internet has influenced the way I think.
Initial impressions of an Internet-free life from my Facebook friends were of general horror. The Internet plays a crucial role in our personal lives: my friends said they would be 'lost', 'stressed', 'anxious' and 'isolated' without it. They were concerned about 'No 24-7 chats?'; 'How would I make new friends/meet new people?'; 'How would I keep in touch with my friends abroad?'; 'I'd actually have to buy things in person from real people!'. We depend on the Internet as our social network, to connect with friends, strangers and to access resources. Sitting at my computer, I am one of the millions of 'nodes' making up the network. Whilst physical interactions with other nodes in the network is largely impossible, I am potentially connected to them all.
Caution and suspicion of the unfamiliar are ancestral traits of humans, ensuring survival by protecting against usurpation and theft of resources. A peculiar thing about the Internet is that it makes us highly receptive and indiscriminate in our interactions with complete strangers. The other day I received a message inviting me to join a Facebook group for people sharing 'Seirian' as their first name. Can I resist? Of course not! I'll probably never meet the other 17 Seirians, but I am now a 'node' connected to a virtual network of Seirians. Why did I join? Because I had nothing to lose, there were no real consequences, and I was curious to tap into a group of people wholly unconnected with my current social network. The more friendly connections I engage in, the greater the rewards I can potentially reap. If the 'Facebook Seirians' had knocked on my real front door instead of my virtual one, would I have signed up? No, of course not — too invasive, personal and potentially costly (they'd know where I live and I can't unplug them!). Contrary to our ancestral behaviours, we tolerate invasion of privacy online, and the success of the Internet relies on this.
Connectivity comes at the cost of privacy, but it does promote information acquisition and transfer. Although the initial response from my Facebook friends was fear of disconnection, more considered responses appreciated the Internet for the incredible resource it is, and that it could never be replaced with traditional modes of information storage and transfer. 'How do I find things out?'; 'Impossible to access information'; 'You mean I have to physically go shopping/visit the library?'; 'So slow..'; 'Small life'. The Internet relies on our greed for knowledge and connections, but also on our astonishing online generosity. We show inordinate levels of altruism on the Internet, wasting hours on chat room sites giving advice to complete strangers, or contributing anonymously to Wikipedia just to enrich other people's knowledge. There is no guarantee or expectation of reciprocation. Making friends and trusting strangers with personal information (be it your bank details or musical tastes) is an essential personality trait of an Internet user, despite being at odds with our ancestral natural caution. The data we happily give away on Facebook is exactly the sort of information that communist secret police sought through interrogation. By relaxing our suspicion (or perception) of strangers and behaving altruistically (indiscriminately) we share our own resources and gain access to a whole lot more.
I thought I had too little pre-Internet experience to be able to answer this question. But now I realize that we undergo rapid evolution into a different organism every time we log on. The Internet may not necessarily change the way we think, but it certainly shapes and directs our thoughts by changing our behaviour. Offline, we may be secretive, miserly, private, suspicious and self-centered. Online, we become philanthropic, generous, approachable, friendly, and dangerously unwary of strangers. Online behaviour would be selected out in an offline world because no-one would cooperate — people don't want unprompted friendship and generosity from complete strangers. Likewise, offline behaviour does badly in an online world — unless you give a little of yourself, you get restricted access to resources. The reason for our personality change is that the Internet is a portal to lazy escapism: at the twitch of the mouse we enter a world where the consequences of our actions don't seem real. The degree to which our online and offline personas differ will of course vary from one person to another. At the most extreme, online life is literally one of care-free fantasy — Live vicariously through your flawless avatar in the fantastical world of Second Life! What better way to escape the tedium and struggles of reality that confront our offline-selves?
Is the change from offline to online behaviour adaptive? We ultimately strive to maximise our individual inclusive fitness. We can do this using our communication skills (verbal and written) to persuade other people to alter their behaviour for mutual benefits. Early hominid verbal communication and hieroglyphs were the tools of persuasion used by our ancestors. The Internet is the third great breakthrough in human communication, and our behavioural plasticity is a necessary means for exploiting it. Do we need to moderate these shifts in behaviour? One of my Facebook friends said it would be 'relaxing' without the Internet. Is our addiction to the Internet leaving us no time or space to think and process the complex stream of interactions and knowledge we get from it? Sleep is essential for 'brain sorting' — maybe offline life (behaviour) is too.
To conclude my answer to the question, the Internet changes my behaviour every time I log on and in doing so influences how I think. My daring, cheeky, spontaneous, and interactive online persona, makes me quicker-thinking and encourages me to think further outside my offline box. I think in tandem with the Internet, using its knowledge to inspire and challenge my thoughts. My essay is a testament to this – Facebook inspired my thoughts and provoked this essay, so I couldn't have done it without the Internet.
---
NICHOLAS A. CHRISTAKIS
Physician and Social Scientist, Harvard University; Coauthor, Connected: The Surprising Power of Our Social Networks and How They Shape Our Lives
MEET THE NEW BRAIN, SAME AS THE OLD BRAIN

Efforts to change the way we think — and to enhance our cognitive capacity — are ancient. Brain enhancers come in several varieties. They can be either hardware or software, and they can be either internal or external to our bodies. External hardware includes things like cave paintings, written documents, eyeglasses, wristwatches, wearable computers, or brain-controlled machines. Internal hardware includes things like mind-altering substances, cochlear implants, or intra-cranial electrical stimulation. Internal software includes things like education, meditation, mnemonics, and cognitive therapy. And external software includes things like calendars, voting systems, search engines, and the Internet.
I've had personal experience with most of these — save cave painting and the more esoteric forms of hardware — and I think I can say with confidence that they have not changed my brain.
What especially attracts my attention, though, is that the more complex types of external software — including the Internet — tend to involve communication and interaction, and thus they tend to be specifically social: they tend to involve the thoughts, feelings, and actions of many individuals, pooled in some way to make them accessible to individuals, including me. The Internet thus facilitates an age-old tendency of the human mind to benefit from our tendency as a species to be homo dictyous (network man), an innate tendency we all have to connect with others and to be influenced by them. In this regard, the Internet is both mind-expanding and atavistic.
The Internet is no different than previous (equally monumental) brain-enhancing technologies such as books or telephony, and I doubt whether books and telephony have changed the way I think, in the sense of actually changing the way my brain works (which is the particular way I am taking the question before us). In fact, I would say that it is much more correct to say that our thinking gave rise to the Internet than that the Internet gave rise to our thinking. Another apt analogy is perhaps mathematics. It has taken centuries for humans to accumulate mathematical knowledge; and I learned geometry and calculus in high school in a way that probably would have astonished mathematicians just a few centuries ago. But, like other students, I did this with the same brain we've all had for millennia. The math surely changed how I think about the world. But did it change the way I think? Did it change my brain? The answer is mostly no.
To be clear, the Internet is assuredly changing quite a few things related to cognition and social interaction. One widely appreciated and important example of both is the way the Internet facilitates hive-mind phenomena, like Wikipedia, that integrate the altruistic impulses and the knowledge of thousands of far-flung individuals. To the extent that I participate in such things (and I do), my thinking and I are both affected by the Internet.
But most thinking serves social ends. A strong indicator of this fact is that the intellectual content of most conversation is trivial, and it certainly is not focused on complex ideas about philosophy or mathematics. In fact, how often — unless we are ten-year-old boys — do we even think or talk about predators or navigation, which have ostensibly been important topics of thought and conversation for quite some time? Mostly, we think about, and talk about, each other. This is probably even true for those of us who spend our lives as scientists.
Indeed, our brains likely evolved their capacity for intelligence in response to the demands of social (rather than environmental) complexity. The evolution of larger social groups among primates required and benefited from the evolution of a larger neo-cortex (the outer, thinking part of our brain), and managing social complexity in turn required and benefited from the evolution of language. Known as the "social brain hypothesis," this idea posits that the reason we think at all has to do with our embeddedness in social life.
What role might technology play in this? Very little, it turns out. Consider, for example, the fact that the size of military units has not changed materially in thousands of years, even though our communication technology (from signal fires to telegraphy to radio to radar) has. The basic unit in the Roman army (the "maniple") was composed of 120-130 men, and the size of the analogous unit in modern armies (the company) is still about the same.
The fact that effective human group size has not changed very substantially — even though communication technology has — suggests that it is not the technology that is crucial to our performance. Rather, the crucial factor is the ability of the human mind to track social relationships, to form mental rosters that identify who is who, and to form mental maps that track who is connected to whom and how strong or weak, or cooperative or adversarial, those relationships are. I do not think that the Internet has changed the ability of my brain to do this. While we may use the word "friends" to refer to all our contacts online, they are decidedly not our friends, in the truly social, emotional, or biological sense of the word.
There is no new self. There are no new others. And so there is no new brain, and no new way of thinking. We are the same species after the Internet as before. Yes, the Internet can make it easy for us to learn how to make a bomb or find a willing sexual partner. But the Internet itself is not changing the fundamental reality of my thinking any more than it is changing our fundamental proclivity to violence or our innate capacity for love.
---
NERI OXMAN
ONCE I WAS LOST, BUT NOW I AM FOUND, OR HOW TO NAVIGATE IN THE CHARTROOM OF MEMORY

'I, myself, alone, have more memories than all mankind since the world began', he said to me. And also:''My dreams are like other people's waking hours'. And again, toward dawn: 'My memory, sir, is like a garbage heap.'— Funes, el Memorioso, Jorge Luis Borges
Funes, His Memory tells the evocative tale of Ireneo Funes, a Uruguayan boy who suffers an accident which leaves him hopelessly immobilized along with an acute form of Hypermnesia — a mental abnormality expressed in exceptionally precise memory. So vivid is Funes' memory that he can effortlessly distinguish any physical object at every distinct time of viewing. In his perpetual present images unfold their archaeology as infinite wells of detailed information: "He knew the forms of the clouds in the southern sky on the morning of April 30th, 1882". Funes' memories are intensely present as muscular and thermal sensations accompanying every visual record to have been recorded. He is able to reconstruct every event he had ever experienced. His recollections are so accurate that the time it takes to reconstruct an entire day's worth of events equals to the duration of that very day. In Funes' world perception makes no sense at all as there is simply no time or motive to perceive, reflect, or interpret.
As a consequence, Funes lacks the ability for detail suppression and any attempt to conceive of, or manage, his impressions — the very stuff of thought — is overridden with relentlessly literal recollections ("We, in a glance, perceive three wine glasses on the table; Funes saw all the shoots, clusters, and grapes of the vine".) Funes is not able to generalize, to deduce or to induce anything he experiences. Things are just what they are, scaled one to one. Cursed with meticulous memory, Funes escapes to live in remoteness and isolation — a "dark room" — where new images do not enter and where his motionless figure is absorbed in the contemplation of a sprig of Artemisia.
Over a century later, Hypermnesia appears to have been to Funes what the World Wide Web is today to the human race.
An inexhaustible anthology of every possible thing recorded at every conceivable location in any given time, the Internet is displacing the role of memory and it does so immaculately. Any imaginable detail about the many dimensions of any given experience is being either recorded or consumed as yet another fragment of reality. There is no time to think, it seems. Or perhaps, this is just a new kind of thinking. Is the Web yet another model of reality, or is reality becoming a model of the Web?
In his "On Exactitude in Science", Borges carries on with similar ideas concerning trace as he describes an empire in which the craft of cartography attained such precision that its map has emerged as large as the kingdom it depicts. Scale, or difference, was now replaced by repetition. A model within itself, such a map embodies the dissimilarity between reality and its representation. It becomes the territory itself and the origin loses authenticity; it achieves the state of being more real than real as there is no reality left to chart.
The Internet, no doubt, has become such a map of the world, both literally and symbolically, as it traces in an almost 1:1 ratio every event that has ever taken place. One cannot afford to get lost in a space so perfectly detailed and predictable. Physical navigation is completely solved as online maps offer even the most exuberant flâneur the knowledge of prediction. But there are also enormous mental implications to this.
As we are fed with the information required or desired to understand and perceive the world around us thus withers the very power of perception, and the ability to engage in abstract and critical thought atrophies. Models become the very reality that we are asked to model.
If one believes that the wetware source of intellectual production, whether in the arts or sciences, is guided by the ability to critically model reality, to scale information and to engage in abstract thought, where are we heading in the age of the Internet? Are we being victimized by our own inventions? The Internet may well be considered an oracle, the builder of composite and hybrid knowledge, but as it is today — is its present instantiation actually inhibiting the very cognitive nature of reflective and creative thought?
Funes is portrayed as an autistic savant, with the gift of memorizing anything and everything. This gift eventually drives him mad but Borges is said to have constructed Funes' image to suggest the "waste of miracle" and point at the vast and dormant potential we still encompass as humans. In letting the Internet think for us, as it were, are we encouraging the degeneration of our own mental capacities? Is the Internet making us obliviously somnolent?
Between the associative nature of memory and the referential eminence of the map lies a blueprint for the brain. In the ambience of future ubiquitous technologies looms the promise of an ecstasy of connectivity (or thus is the vision of new consciousness à la Gibson and Sterling). If such a view of augmented interactivity is even remotely accurate (as it must be), it is the absence of a cognate presence that defies the achievement of transforming the Internet to a new reality, a universally accessible medium for enhanced thinking. If the Internet can potentially become an alternative medium of human consciousness, how then can a cognate presence inspire the properties of infinite memory with the experiential and the reflective, all packaged for convenience and pleasure in a Mickey Mouse like antenna cap?
In Borges' tale, Funes cites a revealing line from the Latin Naturalis Historia. In the section entitled memory, it reads:
"ut nihil non iisdem verbis redderetur auditum"
So that, nothing that has been heard can be retold in the same words.
---
ALUN ANDERSON
Senior Consultant (and former Editor-in-Chief and Publishing Director of New Scientist); Author, After the Ice: Life, Death, and Geopolitics in the New Arctic

IF YOU DON'T CHANGE THE WAY YOU THINK, YOU RISK EXTINCTION

The Internet may not have changed how my brain works but if you take "thinking" to mean the interaction between what's in your brain, what's in other people's brains, and what's in the environment around you, then the Internet is changing everything. In my line of work, as a writer and journalist, "changing the way you think" is now more of an imperative than a possibility: if you don't change you risk extinction.
Powerful new technologies inevitably work a destructive fire on older ways. As advertising revenues vanish to the Internet, newspapers and magazines find they can no longer subsidize the information gathering operations that the public is unwilling to pay for directly. The job of print journalist is starting to look as quaint as that of chimney sweep. Many of the print newspapers and magazines that employ those journalists may not survive the Internet at all.
The book is likely set to vanish too. I imagine a late 21st century Wikipedia entry reading:
BOOK: A format for conveying information consisting of a single continuous piece of text, written on an isolated theme or telling a particular story, averaging around 100,000 words in length and authored by a single individual. Books were printed on paper between the mid-15th and early 21st century but more often delivered electronically after 2012. The book largely disappeared during the mid-21st entry as it became clear that it had only ever been a narrow instantiation, constrained by print technology, of texts and graphics of any form that could flow endlessly into others. Once free from the shackles of print technology, new story-telling modes flowered in an extraordinary burst of creativity in the early 21st century. Even before that the use of books to explain particular subjects (see textbook) had died very rapidly as it grew obvious that a single, isolated voice lacked authority, wisdom and breadth.
These changes and wonderful new creative opportunities, arrived or arriving, are the outward manifestation of a change in how we think as we shift away from information scarcity, low levels of interpersonal interaction and little feedback on the significance of what we say, to information abundance and high levels of interaction and feedback.
As a journalist I can remember when my most important possession was a notebook of "contacts". The information I wrested from them was refined with the help of a few close colleagues. That is the past. Thanks to the Internet, search engines and the millions of organizations, pressure groups and individuals who are producing free information, almost everything is already out there and available to everyone.
My work is not digging out information but providing the narrative thread that connects it. In the deluge of bits, it is the search for the bigger picture, the larger point that matters. You no longer find things out but find out what they mean. That new way of thinking is not so easy. Even the mighty US Department of Homeland Security could not connect the dots regarding a recent incident when different fragments of information about a young Nigerian radical surfaced. As a result, a plane full of passengers was very nearly blown from the sky.
To do that job well I don't think with just a few, close colleagues; I've delocalised my thought and spread it around the world electronically (Homeland Security might need to do the same). With the Internet my thoughts develop through sharing them with others who have a like interest; I've virtual friendships of ideas with scores of people who I will probably never meet and whose age, background and gender I do not even know. Their generosity is a delight. Anything I write is now soon modified. I don't think alone. Rather I steer a global conversation given form by the Web.
Neither magazines nor books, in solid, physical form, are good at capturing this flow, which is partly why their future is uncertain. The survivors among them may be those that exult in their physicality, in their existence as true objects. Physical beauty will flourish alongside a virtual world. I look forward to a rebirth for magazines with a touch, feel, look, and smell that will make them a pleasure to hold closely.
The word "pleasure" is a good one with which to switch direction. The Internet may be changing the way that I think in the cerebral sense but it may changing the way the world thinks in a far more physical way. The Internet is awash with sex. In a few hours, an innocent can see more of the pleasures and perversions of sex, in a greater number of close-up couplings, than a eighteenth century roué could experience in a lifetime devoted to illicit encounters. The Internet is the greatest sex education machine — or the greatest pornographer — that has ever existed. Having spent time teaching at a Muslim university, where the torrent of Internet sex was a hot topic, I would not underestimate its impact on traditional societies. There is a saying that rock and roll brought down the Soviet Union; once the Soviet subconscious had been colonized the political collapse followed easily. The flood of utterly uncensored images of sexual pleasure that reaches every corner of the world is certainly shaking the thinking of young men and women in the conservative societies that I've worked in. Where the conflicting emotions that have been unleashed will lead, I cannot tell.
---
ALBERT-LÁSZLÓ BARABÁSI
Complex Network Scientist; Distinguished Professor and Director of Northeastern University's Center for Complex Network Research; Author, Linked: How Everything Is Connected to Everything Else

MY SIXTH SENSE
For me the Internet is more than a search engine — it has become the subject of my research, a proxy of the many complex systems that we are surrounded with.
I even know when this transition started. It was December 1994.
Which was the time I decided to learn a bit about computers, given that my employer at that time was IBM. So lifted a book about computer science from the shelf of TJ Watson Research Center to keep my mind engaged during the holidays. It was my first encounter with networks. A few months later I submitted my first research paper on the subject and it was promptly rejected by four journals.
No one said it was wrong. The common answer was: why should we care about networks? While it never got published, it is still available — where else, but on the Internet — at the Los Alamos preprint archive, to be precise.
The Internet eventually rescued me, but it took four more years. In the meantime I have sent countless emails to search engines asking for data on the topology of the Web. All those requests must still be on their way to V4641 Sgr, the closest back hole to Earth, somewhere out there in the Milky Way. Finally, in 1998 a gifted postdoc, Hawoong Jeong told me that he knows how to build a search engine. And he did, providing us the WWW map that has finally legitimized my five years of persistence and serial failures: in 1999 it lead to my first publication on networks. It was about the structure of the www.
Today my work could not be possible without the Internet. I do not mean only the access to information: it has fundamentally changed the way I approach a research problem.
Much of my research consists of finding organizing principles — laws and mechanisms — that apply not to one, but to many complex systems. If these laws are indeed generic and universal, they should apply to our online world as well, from the Internet to online communities on the WWW. Thus, we often test our ideas on the Internet, rather in the cell or in economic systems, which are harder to monitor and measure.
Today the Internet is my sixth sense, as it has altered the way I approach a problem. But it has just as fundamentally changed what I think about. And that may by even more significant at the end.
---
LEE SMOLIN
Physicist, Perimeter Institute; Author, The Trouble With Physics

WE HAVE BECOME HUNTER GATHERERS OF IMAGES AND INFORMATION
The Internet hasn't, so far, changed how we think. But it has radically altered the contexts in which we think and work.
The Internet offers a vast realm for distraction but then so does reading and television. The Internet is an improvement on television in the same way that Jane Jacob's bustling neighborhood sidewalk is an improvement on the dullness of suburbia. The Internet requires an active engagement and as a result it is full of surprises. You don't watch the Internet, you search and link. What is important for thought about the Internet is not the content, it is the new activity of being a searcher, with the world's store of knowledge and images at your fingertips.
The miracle of the browser is that it can show you any image or text from that storehouse. We used to cultivate thought, now we have become hunter gatherers of images and information. This speeds things up a lot but it doesn't replace the hard work in the laboratory or notebook which prepares the mind for a flash of insight. But it nonetheless changes the social situation of that mind. Scholars used to be more tied to the past through texts in libraries than to their contemporaries. The Internet reverses that by making each of our minds a node in a continually evolving network of other minds.
The Internet is also itself a metaphor for the emerging paradigm of thought in which systems are conceived as networks of relationships. To the extent that a Web page can be defined only by what links to it and what it links to, it is analogous to one of Leibniz's monads. But Web pages still have content, and so are not purely relational. Imagine a virtual world abstracted from the Internet by deleting all the content so that all that remained was the links. This is an image of the universe according to relational theories of space and time, it is also an image of the neural network in the brain. The content corresponds to what is missing in those model, it corresponds to what physicists and computer scientists have yet to understand about the difference between a mathematical model and an animated world or conscious mind.
Perhaps when the Internet has been soldered into our glasses or teeth, with the screen replaced by a laser making images directly on our retinas, there will be deeper changes. But even in its present form the Internet has transformed how we scientists work.
The Internet flattens communities of thought. Blogs, email and Internet data bases put everyone in the community on the same footing. There is a premium on articulateness. You don't need a secretary to maintain a large and varied correspondence.
Since 1992 research papers in physics are posted on an Internet archive, arxiv.org, which has a daily distribution of just posted papers and complete search and cross reference capabilities. It is moderated rather then refereed; and the refereed journals now play no role in spreading information. This gives a feeling of engagement and responsibility, once you are a registered member of the community you don't have to ask anyone's permission to publish your scientific results.
The Internet delocalizes your community. You participate from where-ever you are. You don't need to travel to see or give talks and there is less reason to go into the office. Travel is no reason not to stay current reading the latest papers and blog postings.
It used to be that physics preprints were distributed by bulk mail among major research institutes and there was a big advantage to being at a major university in the United States; every one else was working with a handicap of being weeks to months behind. The increasing numbers and influence of scientists working in Asia and Latin America and the dominance of European science in some fields is a consequence of the Internet.
The Internet synchronizes the thinking of global scientific communities. Everyone gets the news about the new papers at the same time every day. Gossip spreads just as fast on blogs. Announcements of new experimental results are video-cast through the Internet as they happen.
The Internet also broadens communities of thought. Obscure thinkers that you had to be introduced to, who published highly original work sporadically and in hard to find places, now have Web pages and post their papers along side everyone else's. An it creates communities of diverse thinkers who would not otherwise have met, like the one we celebrate every year at this time when we answer the Edge Annual Question.
---
---
JOHN MARKOFF
Journalist; Covers Silicon Valley for The New York Times; Author, What the Dormouse Said: How the Sixties Counterculture Shaped the Personal Computer Industry
WHO SAID IT WAS GOING TO GET BETTER?

It's been three decades since Les Earnest, then assistant director of the Stanford Artificial Intelligence Laboratory, introduced me to the ARPAnet. It was 1979 and from his home in the hills overlooking Silicon Valley, he was connected via a terminal and a 2400 baud modem to Human Nets, a lively virtual community that explored the impact of technology on society.
It opened a window for me into an unruly cyberworld that at first seemed to be, to paraphrase the words of computer music researcher and composer John Chowning, a "Socratean Abode." Over the next decade-and-a-half I joined the camp of what I have since come to think of as "Internet Utopians." The Net seemed to offer this shining city-on-a-hill, free from the grit and foulness of the meat world. Ideologically this was a torch carried by Wired Magazine, and the ideal probably reached its zenith in John Perry Barlow's 1996 "Declaration of the Independence of Cyberspace" essay.
Silly me. I should have known better. It would all be spelled out clearly in Brunner's Shockwave Rider; Gibson's Neuromancer; Stephenson's Snowcrash, Vinge's True Names; and even less-well-read classics like Barnes' The Mother of Storms. Science fiction writers were always the best social scientists and in describing the dystopian nature of the Net they were again right on target.
There would be nothing even vaguely utopian about the reality of the Internet, despite preachy "The Road Ahead" vision statements by — late to the Web — luminaries like Bill Gates. This gradually dawned on me during the 1990s, driven home with particular force by the Kevin Mitnick affair. By putting every human on the planet directly in contact with every other, the Net opened a Pandora's Box of nastiness.
Indeed, while it was true that the Net skipped lightly across national boundaries, the demise of localism didn't automatically herald the arrival of a superior cyberworld. It simply accentuated and accelerated both the good and the bad, in effect becoming a mirror for all the world's fantasies and foibles.
Welcome to a bleak Bladerunner-esque world dominated by Russian, Ukrainian, Nigerian and American cyber-mobsters in which our every motion and movement is surveilled by a chorus of Big and Little Brothers.
Not only have I been transformed into an Internet pessimist, but recently the Net has begun to feel downright spooky. Not to be anthropomorphic but doesn't the Net seem to have a mind of its own? We've moved deeply into a world where it is leaching value from virtually every traditional institution in the name of some borg-like future. Will we all be assimilated, or have we been already? Wait! Stop me! That was The Matrix wasn't it?
---
SAM HARRIS
Neuroscientist; Chairman, The Reason Project; Author, Letter to a Christian Nation
THE UPLOAD HAS BEGUN
It is now a staple of scientific fantasy, or nightmare, to envision that human minds will one day be uploaded onto a vast computer network like the Internet. While I am agnostic about whether we will ever break the neural code, allowing our inner lives to be read out as a series of bits, I notice that the prophesied upload is slowly occurring in my own case. For instance, the other day I recalled a famous passage from Adam Smith that I wanted to cite: something about an earthquake in China. I briefly considered scouring my shelves in search of my copy of The Wealth of Nations. But I have thousands of books spread throughout my house, and they are badly organized. I recently spent an hour looking for a title, and then another skimming its text, only to discover that it wasn't the book I had wanted in the first place. And so it would have proved in the present case: for the passage I dimly remembered from Smith is to be found in The Theory of Moral Sentiments. Why not just type the words "adam smith china earthquake" into Google? Mission accomplished.
Of course, more or less everyone has come to depend on the Internet in this way. Increasingly, however, I rely on Google to recall my own thoughts. Being lazy, I am prone to cannibalizing my work: something said in a lecture will get plowed into an op-ed; the op-ed will later be absorbed into a book; snippets from the book may get spoken in another lecture. This process will occasionally leave me wondering just how and where and to what shameful extent I have plagiarized myself. Once again, the gates of memory swing not from my own medial temporal lobes but from a computer cluster far away, presumably where the rent is lower.
This migration to the Internet now includes my emotional life. For instance, I occasionally engage in public debates and panel discussions where I am pitted against some over-, under-, or mis-educated antagonist. "How did it go?" will be the question posed by wife or mother at the end of the day. I now know that I cannot answer this question unless I watch the debate online — for my memory of what happened is often at odds with the later impression I form based upon seeing the exchange. Which view is closer to reality? I have learned to trust the YouTube version. In any case, it is the only one that will endure.
Increasingly, I develop relationships with other scientists and writers that exist entirely online. Jerry Coyne and I just met for the first time in a taxi in Mexico. But this was after having traded hundreds of emails. Almost every sentence we have ever exchanged exists in my Sent Folder. Our entire relationship is, therefore, searchable. I have many other friends and mentors who exist for me in this way, primarily as email correspondents. This has changed my sense of community profoundly. There are people I have never met who have a better understanding of what I will be thinking tomorrow than some of my closest friends do.
And there are surprises to be had in reviewing this digital correspondence. I recently did a search of my Sent Folder for the phrase "Barack Obama" and discovered that someone wrote to me in 2004 to say that he intended to give a copy of my first book to his dear friend, Barack Obama. Why didn't I remember this exchange? Because, at the time, I had no idea who Barack Obama was. Searching my bit stream, I am reminded not only of what I used to know, but of what I never properly understood.
I am by no means infatuated with computers. I do not belong to any social networking sites; I do not tweet (yet); and I do not post images to Flickr. But even in my case, an honest response to the Delphic admonition "know thyself" already requires an Internet search.
---
---
NICK BOSTROM
Philosopher; Professor, Oxford University; Director, Future of Humanity Institute; Editor, Human Enhancement
MOST STILL TO COME
Perhaps the two most important world events during my thirty-six years are the ending of the Cold War and the beginning of the Internet. Of those two, I think the latter is the more significant.
The Internet has impacted my thinking in several ways. It has put me in touch with people I would not otherwise have met and whose ideas I would never have encountered. It has served as a platform for disseminating my work, helping me get faster and more extensive feedback. And it is of course a powerful research tools, giving instantaneous access to an immense and up-to-date store of knowledge. Rarely do I need to send a research assistant to the library. It saves time and makes it possible to take into account a wider range of research.
I find it hard to imagine how I could have done what I have done without the Internet. On the other hand, people did remarkable things before the Internet; so it cannot be quite as indispensable as it has come to appear.
The Internet shapes my thinking not only instrumentally but also as a subject matter. It is a factor that must be considered when we think about how the world might change.
Some trends are fairly obvious. Virtual reality will become more technically sophisticated and will grow in importance as a medium of social interaction. A marriage between social networking sites and next-generation virtual reality could result in compelling applications. Another trend is towards social transparency. More and more information about more and more people is stored and made globally accessible and searchable. There is also—if not quite a trend, then at least a hope that the development of improved tools for collaborative information processing will help increase humanity's effective level of wisdom and rationality.
The history of other wide-purpose technologies, such as writing, engines, electricity, and computers, teaches that it takes a long time—decades, even centuries—for their full range of applications to manifest. Had we evaluated their impact two decades after their initial deployment, we would have missed the ultimate extent of their ramifications. Expect that most of the Internet's impact on the world—including perhaps on me personally—is still to come.
---
DAVID G. MYERS
Social psychologist, Hope College; Author A Quiet World: Living with Hearing Loss

THE INTERNET AS SOCIAL AMPLIFIER
I cut my eye teeth in social psychology with experiments on "group polarization" — the tendency for face-to-face discussion to amplify group members' preexisting opinions. Never then did I imagine the potential dangers, or the creative possibilities, of polarization in virtual groups.
Electronic communication and social networking enable Tea Partiers, global warming deniers, and conspiracy theorists to isolate themselves and find support for their shared ideas and suspicions. As the Internet connects the like-minded and pools their ideas, White supremacists may become more racist, Obama-despisers more hostile, and militia members more terror prone (thus limiting our power to halt terrorism by conquering a place). In the echo chambers of virtual worlds, as in real worlds, separation + conversation = polarization.
But the Internet-as-social-amplifier can instead work for good, by connecting those coping with challenges. Peacemakers, cancer survivors, and bereaved parents find strength and solace from kindred spirits.
By amplifying shared concerns and ideas, Internet-enhanced communication can also foster social entrepreneurship. An example: As a person with hearing loss, I advocate a simple technology that doubles the functionality of hearing aids, transforming them, with the button push, into wireless loudspeakers. After experiencing this "hearing loop" technology in countless British venues, from cathedrals to post office windows and taxi back seats, I helped introduce it to West Michigan, where it can now be found in several hundred venues, including Grand Rapids' convention center and all gate areas of its airport. Then, via a Website, hearing listservs, and e-mail I networked with fellow hearing advocates and, by feeding each other, our resolve gained strength.
Thanks to the collective efficacy of our virtual community, hearing aid compatible assistive listening has spread to other communities and states. New York City is installing it in 488 subway information booths. Leaders in the American Academy of Audiology and the Hearing Loss Association of America are discussing how to promote this inexpensive, wireless assistive listening. Several state hearing loss associations are recommending it. The hearing industry is now including the needed magnetic receiver in most hearing aids and cochlear implants. And new companies have begun manufacturing and marketing hearing loop systems. Voila!, a grassroots, Internet-fueled transformation in how America provides listening assistance is underway.
The moral: By linking and magnifying the inclinations of kindred-spirited people, the Internet can be very, very bad, but also very, very good.
---
RUDY RUCKER
Mathematician, Computer Scientist; CyberPunk Pioneer; Novelist; Author, Lifebox, the Seashell, and the Soul

SEARCH AND EMERGENCE
Twenty or thirty years ago, people dreamed of a global mind that knew everything and could answer any question. In those early times, we imagined that we'd need a huge breakthrough in artificial intelligence to make the global mind work — we thought of it as resembling an extremely smart person. The conventional Hollywood image for the global mind's interface was a talking head on a wall-sized screen.
And now, in 2010, we have the global mind. Search-engines, user-curated encyclopedias, images of everything under the sun, clever apps to carry out simple computations — it's all happening. But old-school artificial intelligence is barely involved at all.
As it happens, data, and not algorithms, is where it's at. Put enough information into the planetary information cloud, crank up a search engine, and you've got an all-knowing global mind. The answers emerge.
Initially people resisted understanding this simple fact. Perhaps this was because the task of posting a planet's worth of data seemed so intractable. There were hopes that some magically simple AI program might be able to extrapolate a full set of information from a few well-chosen basic facts — just a person can figure out another person on the basis of a brief conversation.
At this point, it looks like there aren't going to be any incredibly concise aha-type AI programs for emulating how we think. The good news is that this doesn't matter. Given enough data, a computer network can fake intelligence. And — radical notion — maybe that's what our wetware brains are doing, too. Faking it with search and emergence. Searching a huge data base for patterns.
The seemingly insurmountable task of digitizing the world has been accomplished by ordinary people. This results from the happy miracle that the Internet is that it's unmoderated and cheap to use. Practically anyone can post information onto the Web, whether as comments, photos, or full-blown Web pages. We're like worker ants in a global colony, dragging little chunks of data this way and that. We do it for free; it's something we like to do.
Note that the Internet wouldn't work as a global mind if it were a completely flat and undistinguished sea of data. We need a way to locate the regions that are most desirable in terms of accuracy and elegance. An early, now-discarded, notion was that we would need some kind of information czar or committee to rank the data. But, here again, the anthill does the work for free.
By now it seems obvious that the only feasible way to rank the Internet's offerings is to track the online behaviors of individual users. By now it's hard to remember how radical and rickety such a dependence upon emergence used to seem. No control! What a crazy idea. But it works. No centralized system could ever keep pace.
An even more surprising success is found in user-curated encyclopedias. When I first heard of this notion, I was sure it wouldn't work. I assumed that trolls and zealots would infect all the posts. But the Internet has a more powerful protection system than I'd realized. Individual users are the primary defenders.
We might compare the Internet to a biological system in which new antibodies emerge to combat new pathogens. Malware is forever changing, but our defenses are forever evolving as well.
I am a novelist, and the task of creating a coherent and fresh novel always seems in some sense impossible. What I've learned over the course of my career is that I need to trust in emergence also known as the muse. I assemble a notes document filled with speculations, overheard conversations, story ideas, and flashy phrases. Day after day, I comb through my material, integrating it into my mental Net, forging links and ranks. And, fairly reliably, the scenes and chapters of my novel emerge. It's how my creative process works.
In our highest mental tasks, any dream of an orderly process is a will-o'-the wisp. And there's no need to feel remorseful about this. Search and emergence are good enough for the global mind — and they're good enough for us.
---
LINDA STONE
NAVIGATING PHYSICAL AND VIRTUAL LIVES

Before the Internet, I made more trips to the library and more phone calls. I read more books and my point of view was narrower and less informed. I walked more, biked more, hiked more, and played more. I made love more often.

The seductive online sages, scholars, and muses that joyfully take my curious mind where ever it needs to go, where ever it can imagine going, whenever it wants, are beguiling. All my beloved screens offer infinite, charming, playful, powerful, informative, social windows into global human experience.
The Internet, the online virtual universe, is my jungle gym and I swing from bar to bar: learning about: how writing can be either isolating or social; DIY Drones (unmanned aerial vehicles) at a Maker Faire; where to find a quantified self meetup; or how to make Sach moan sngo num pachok. I can use image search to look up hope or success or play. I can find a video on virtually anything; I learned how to safely open a young Thai coconut from this Internet of wonder.
As I stare out my window, at the unusually beautiful Seattle weather, I realize, I haven't been out to walk yet today — sweet Internet juices still dripping down my chin. I'll mind the clock now, so I can emerge back into the physical world.
The physical world is where I not only see, I also feel — a friend's loving gaze in conversation; the movement of my arms and legs and the breeze on my face as I walk outside; and the company of friends for a game night and potluck dinner. The Internet supports my thinking and the physical world supports that, as well as, rich sensing and feeling experiences.
It's no accident we're a culture increasingly obsessed with the Food Network and Farmer's Markets — they engage our senses and bring us together with others.
How has the Internet changed my thinking? The more I've loved and known it, the clearer the contrast, the more intense the tension between a physical life and a virtual life. The Internet stole my body, now a lifeless form hunched in front of a glowing screen. My senses dulled as my greedy mind became one with the global brain we call the Internet.
I am confident that I can find out about nearly anything online and also confident that in my time offline, I can be more fully alive. The only tool I've found for this balancing act is intention.
The sense of contrast between my online and offline lives has turned me back toward prizing the pleasures of the physical world. I now move with more resolve between each of these worlds, choosing one, then the other — surrendering neither.
---
BARRY C. SMITH
Professor & Director, Institute of Philosophy School of Advanced Study University of London

THINKING MORE ABOUT LESS OR LESS ABOUT MORE?
The growth of the Internet has reversed previous assumptions: the private is now public; the local appears globally; information is entertainment; consumers turn into producers; everyone is an expert; and the socially isolated become part of an enormous community preferring the virtual to the real. What have all these changes brought about?
Initially, they appear empowering. Everyone can have their say, opinion is democratic; and at a time when natural resources are shrinking, and where environmental threats require us to limit our emissions, the Internet seems to be an ever expanding and almost limitless resource. Here, it seems, I discover a parallel world where neat models replace messy reality, where freedom reigns, where wrongs are righted, and where fates can be changed. I am cheered by the possibilities.
However, the truth is that the virtual world grows out of, and ultimately depends on, the one world whose inputs it draws on, whose resources it consumes, and whose flaws it inevitably inherits. I find everything there: the good, the bland, the important, the trivial, the fascinating and the off-putting. And just as there are crusading writers, and eye-witness reporters, there are also cyber lynch mobs, hate mailers and stalkers. As more of my information appears on the Net, more use is made of it, for good or for ill. Increasing Internet identity means increasing identity theft, and whatever I have encrypted, hackers will try to decode. So much so that governments and other organisations often restrict their most secure communications to older technologies, even sending scrolled messages in small capsules through pneumatic pipes. This, of course, fuels the suspicions of Internet conspiracy theorists.
Looking at what have I've gained, I now hear from a greater range of different voices, discover new talents with something to say: niche writers, collectors, musicians and artists. I have access to more books, journal articles, newspapers, tv programs, documentaries and films. Missed something live? It will be on the Web. The greatest proportion of these individuals and outputs were already offering something interesting or important to which the Internet gave worldwide access. Here we have ready-made content for the voracious Internet to consume and display.
But new media have emerged, too, whose content arose for, or on, the Internet: these include blogging, Wikipedia, and YouTube; along with new forms of shared communication, such as Facebook, Google Groups and Twitter. Will these new forms replace the ready-made contents? It's unclear. Amid the bread and circus element to the Internet here is a need for good quality materials, and a means to sort out the wheat from the chaff: garbage in, garbage out, as computer programmers say. It is our choice, some will say, and yet I find myself looking with sheer disbelief or ironic amusement at what people have chosen to put up on the Net. The greatest fascination is bloggers who rather knowingly provide alternative slices of life. Here we have diarists who desire to be intimate with everyone. Those with a distinctive voice and a good theme, have found a following, when worldwide word spreads, the result is usually a contract to publish their output, lightly edited, as a book, which in turn can be read on the Internet.
What of the new Web-dependent phenomena: open access and open source programming, virtual social networking, the co-construction of knowledge? All these are gains and reflect something hopeful: the collaborative effort of our joint endeavour; our willingness to share. The inclusive natures of these phenomena are encouraging. I want to join in and like the idea of making a modest contribution to a larger enterprise. But the new technologies let me witness their distancing and distorting influences: Internet fuelled fantasies where everyone can be a celebrity, or can live through their avatar in virtual reality, or develop alternative personalities in chat rooms — fantasies that someone, somewhere on the Internet is making money from.
How do I cope with the speeded up information age? The overload is overwhelming, but so is my desire to know and not to miss anything. I'm tempted to know a little bit about everything and look for pre-digested, concise, neatly formatted content from reliable sources. My reading habits have changed making me aware of how important well-packaged information has become. It's become necessary to consume thousands of abstracts from scientific journals, doing one's own fast search for what should be read in more detail. Debates seem to be decided at the level of abstracts. Repudiations signalled by the title and a hundred words. The real work, of course, goes on elsewhere but we want the Internet to brings us the results. This leaves me knowing less about more and more. At the same time I am exhilarated by the dizzying effort to make connections and integrate information. Learning is faster. Though the tendency to forge connecting themes can feel dangerously close to the search for patterns that overtakes the mentally ill. Time to slow down and engage in longer study.
The Internet shows me more and more about those who participate in it, but I worry lest I forget that not everything or everyone in the world has a home on the Internet. Missing are those who cannot read or write, who have no access to a computer, or who chose to remain disconnected. There is a danger of coming to think that what cannot be found on an Internet search doesn't exist, and that the virtual world is the world. It isn't. However bizarre and incredible the people populating the Internet are, they are still akin to me, people with knowledge of computers and their applications. Certainly, there is diversity and hierarchy, and vast domains of varied information, but nevertheless, except when Internet users turn their attention on the those who are excluded, or who exclude themselves, a mirror will be held up to those who sustain the information age, and it is only this part of the world I come to have scattered information about.
---
ROBERT SHAPIRO
Professor Emeritus of Chemistry and Senior Research Scientist, New York University; Author, Planetary Dreams
PUBLICATIONS CAN PERISH
The Internet has made it far easier for professionals to access and search the scientific literature. Unfortunately, it has also increased the chances that we will lose part or all of that literature.
When I was young, I imagined that everything I wrote would be preserved forever. Future biographers would seek out every letter, diary and memorandum to capture the essence of my creativity. My first laboratory notebook still captured the same emotions. On page one I had printed, very legibly, the following preface: "To Posterity: This volume contains the authentic record of ingenious and original chemical research conducted by Robert Shapiro, currently a graduate student of organic chemistry at Harvard University."
Reality gradually whittled down my grandiosity, and I recognized that my published papers had the best chance of survival. The New York University library carried bound journals that dated from the 19th century, and the articles thay contained had obviously outlived their authors. As the number of my own published works grew, curiosity chose me to select one of them and track its impact. I deliberately picked one of minor importance.
A generation ago, a persistant PhD student and I had failed in an effort to synthesize a new substance of theoretical interest. We had however prepared some other new compounds and improved some methods, so I wrote a paper that was published in 1969 in The Journal of Organic Chemisty. Had our results ever mattered to anyone? Using new computer-driven search tools, I could quickly check whether it had had ever been noticed. To my surprise, I found that 11 papers and some patents had cited our publication, up to 2002. In one instance, our work provided a starting point for the preparation of new tranquilizers. I imagined that in the distant future, other workers might pull the appropriate volume off a library shelf and find my work to be some help. I did not forsee that such bound volumes might no longer exist.
The Journal of Organic Chemistry started in 1936, and continues up to the present. Its demands on library shelf space have increased over time: the first volume contained only 583 pages, while the 2009 edition had 9680. The arrival of the Internet rescued libraries from the space crisis created by the proliferation of new journals and the vast increase in the size of existing ones. Many paper subscriptions were replaced by electronic ones, and past holdings were converted to digital form. It is not hard to imagine a future time when paper copies of the scientific literature will no longer exist. Many new journals are appearing only in digital form.
This conversion has produced many benefits for readers. In the past I had to leave my office, ride an elevator, walk several blocks, take another elevator, and make my way through a maze of shelves to find a paper that I needed. Occasionally, the issue I wanted was being used by someone else or had been misplaced, and I had traveled in vain. Now I can bring most papers that I want onto a computer screen in my office or at home in a matter of minutes. I can store the publication in my computer, or print out a copy if I wish. But with this gain in the accessibility of the literature of science has come an increase in its vulnerability.
Materials that exist in one or a few copies are inherently at greater risk than those that are widely distributed. A Picasso painting might be destroyed but the Bible will survive. Alexander Stille in The Future of the Past reported that the works of Homer and Virgil survived from antiquity because their great popularity lead them to be copied and recopied. On the other hand, only 9 of Sophocles 120 plays have survived. Before the Internet came into play, I could take pride that my each of my papers was present in hundreds or thousands of libraries across the globe. Its survival into the future was enhanced by the protection afforded by multiple copies. The same applies, of course to the remainder of the scientific literature.
Thousands of paper copies of the literature have now been replaced by a few electronic records stored in computers. Furthermore, the storage medium is fragile. Some paper manuscripts have survived for centuries. The lifetimes of the various discs, drives and tapes currently used for digital storage are unknown, but are commonly estimated in decades. In some cases, works available only in electronic form have disappeared much more rapidly for another reason — lack of maintenance of the sites. One survey found that 12% of the Internet addresses cited in three prestigious medical and scientific journals were extinct two years after publication.
Such difficulties are unlikely to affect prestigious sources such as the Journal of Organic Chemistry. But material stored only on the Internet is far more vulnerable to destruction than the same material present in multiple paper copies. Electrical breakdown can disrupt access for a time, while cyberterrorism, civic disturbances, war and a variety of natural catastrophes could destroy part ar all of the storage system, leading to the irretrievable loss of sections of the scientific literature. Anton Zeilinger wrote in a previous edition of this series that a nuclear explosion outside the earth's atmosphere would cause all computers, and ultimately society, to break down.
How has this changed my thinking? I no longer write with the expectation of immortality in print. I am much more tempted to contribute to Internet discussion forums, blogs, and media which may not persist. I seek my reward from the immediate response that my efforts may bring, with little thought to the possibility that some stranger may see my words centuries from now, and wonder about the life that was led by the person who wrote them.
---
CHRIS DIBONA
Open Source and Public Sector, Google
EPHEMERA AND BACK AGAIN
Oftentimes, I feel as if my brain is at best a creative and emotional caching front end on the Internet. With a few bare exceptions (my children, my wife, my family) I feel little practical need any more to commit my long term memory to endeavors I formerly spent days, weeks, months and years. I've come to think that I should memorize things more for the long term health of my brain rather for any real practical need in knowing, for example, that decimal 32 is space in ASCII, or that the second stanza of the Major-General's song shows his acquaintance with the binomial theorem.
I don't memorize phone numbers of nearly anyone outside my immediate family anymore and I used to proudly tuck away nearly all of them. Now, as a result of the richness of a life connected to the Internet, I mostly retain area codes, so that I can guess who might be calling. A casualty of contact syncing, perhaps, but still, I find myself considering many voice conversations or audio recordings to be too information sparse to be listened too unless I'm otherwise occupied with driving or cleaning the dishes.
For elements of culture especially, I don't wonder for long who was in the movie about the fall of communism with the woman in the coma. I just look it up, faster, online. I don't spend much time considering what techno song that is where the dude from star trek says "time becomes a loop", nor do I find it difficult to find, online, the name of that book I read which had the dude orbiting a neutron star for an alien race who finds out about its tidal effects. Nor do I have to consider what game was it that had the dog accompanying me through post-apocalyptic California? As I scroll pavlovian through my feed, the waves of knowledge roll over me.
When I travel, I no longer take any pictures of these outings, unless my family is in them, as I know there are better photos available to me, and of me, online if I feel like jogging my memory about a trip.
I don't even especially worry about where I am, either, considering myself not unlike a packet being routed not from client machine to router to server to backhaul to peer to machine to client machine, but instead from house to car to plane to car to hotel to car to office or conference to car to hotel to car to plane to home, with only jet lag my friend, and my laptop my source of entertaining books (Neutron Star), movies (Goodbye Lenin), games (Fallout) or music (Orbital) Meat to Munich with cellular data, headphones and circuits.
Some would equate this sort of information pruning to a kind of reinforced and embraced ignorance, or evidence of an empty life. Nicholas Carr, writing in The Atlantic Monthly, enjoyed some attention in 2008 with his article titled "Is Google making us stupid". The author, reacting to (or justifying) his own reduced attention span, accuses Google (my employer) of trying to do away with deep thinking, while indulging in what comes off as an absurd nostalgia for making knowledge difficult to find and obtain.
There was an important thought worthy of exploration within that article, that there is a kind of danger in reinforcing the shallow. I have come to understand, expect and accept that people try to find the Internet that aligns with their beliefs. This is impossible to change without strangling the Internet of the creativity that makes it so useful, as for every Wikipedia expanding and storing humankind's knowledge about everything, there is a conservapedia rewriting the bible to be more free market friendly.
But, people who wallow in ignorance are no different online than off. I don't believe that the Internet creates ignorant people. But what the Internet changes is the notion of unique thought. I have come to think that with nearly 6.7 billion people on the planet, with over a billion capable of expressing themselves on the Internet and hundreds of millions if not billions on the Internet via their cell phones, there is very little chance that any idea I might have outside my specialty hasn't already been explored, if not executed on. Within my specialty, even, there is a fair amount of what I'd charitably call non-unique thinking. This is not to say the world doesn't need practitioners, I proudly consider myself to be a good one, but only rarely do I come up with an approach that I'd consider unique within my specialty.
At one time I found this a rather bleak realization, thinking we're all just conduits from urge to hand to Net to work, but over the last decade, I've come to find it a source of comfort. Not all ideas need be mine; I can save the higher functions where it matters, locally with my family and on my work, on things I enjoy and treasure and less on loading a browser or opening a tab into today's ephemera.
Queries I executed while writing this article:
modern major general
google stupid
garden paving pruning cleaving
garden paring pruning cleaving
garden paring pruning
garden paring
dense antonyms
major general's Song
define: stanza
ascii chart
game had a dog accompanying me through post-apocalyptic california
orbiting a neutron star for an alien race finds out about tidal effects.
for an alien race finds out about tidal effects
orbiting a neutron star in a ship built by aliens
dude orbiting a neutron star for an alien race with eyes in their hands.
time becomes a loop
the german movie about the fall of communism with the woman in the coma
books printed each year
conservapedia
Internet enabled cell phones
people with Internet enabled cell phones
people with Internet enabled cellphones
planet population
---
ANDY CLARK
Philosopher and Cognitive Scientist, University of Edinburgh. Author: Supersizing the Mind: Embodiment, Action, and Cognitive Extension

WHAT KIND OF A DUMB QUESTION IS THAT?
How is the Internet changing the way I think? There is something tremendously slippery — but actually, despite my attention-seeking title, interestingly and importantly slippery — about this question. To see what it is, reflect first that the question has an apparently (perhaps merely apparently) trivial variant:
"Is the Internet changing the things I think?"
This is a question that has all kinds of apparently shallow answers. The Internet is certainly changing what I think (it makes all kinds of information and views available to me that would not be otherwise). It is also changing when I think it, how long it takes me to think it, and what I do with it when I've finished thinking it. It is even changing how I carry out lots of the thinking, making that a rather more communal enterprise than is used to be (at least in my area, which is scientifically informed Philosophy of Mind).
But that all sounds kind of shallow. We all know the Internet does that. What the question means to get at, surely, is something slippery but deeper, something that may or may not be true, viz:
"Is the Internet changing the nature of my thinking?"
It's this question, I suggest, that divides the bulk of the respondents. There are those who think that the nature of human thinking hasn't altered at all, and those who think it is becoming radically transformed. The question I want to ask in return, however, is simply this:
"How can we know?"
I don't think this question has any easy answer.
One place to start might be to distinguish what we think from the routines that we use to think it. By 'routines' I mean something in the ballpark of an algorithm: some kind of computational recipe for solving a problem or class of problems. Once we make this distinction it can seem (but this may turn out to be a deep illusion) plain sailing. For it then seems as if the question is simply one for science to figure out. For how would you know if the way you were thinking altered? If what you tend to think alters, does that imply that the way you are thinking it must be altered too? I guess not. Or try it the other way around. If what you tend to think and believe remains the same, does that imply that the way you are thinking it remains the same? I guess not.
The most that we can tell from our armchairs, it seems to me, is that what we are thinking (and when we tend to think it) is in some way altering. But of course, there can be no doubt that the Internet alters what we tend to think and when. If it didn't, we wouldn't need it. So that's true but kind of trivial.
Otherwise put: from my philosopher's armchair, all I know is what anyone else knows, and that's all about content. I know (on a good day) what I think. But as to the routines I use to think it, I have as little idea as I have (from my armchair) of what moves the planets. I have access to the results, not the means. Insofar as I have any ideas at all about what routines or means I use to do my thinking, those ideas are no doubt ragingly false. At best, they reflect how I think I think my thoughts, not how I do.
So far so good. At this point it looks like we must indeed turn to some kind of experimental science to find the answer to any non-trivial reading of the question.
Is the Internet changing the way I think? Let's put on our lab coats and go find out.
But how?
Suppose we go looking for some serious neural changes in heavy Internet users.
Problem: there are bound to be some changes, as surfing the Web is a skill and skills alter brains. But when does some such change count as a change to the way we think? Does learning to play the piano change the way I think? Presumably not in the kind of way that the question means. Even quite large neural changes might not reveal a change in the way we think. Perhaps it's just the same old way, being used to do some new stuff. Conversely, even a quite small neural change might amount to the installation of a whole new computational architecture (think of adding a recurrent loop to a simple neural network…a small 'neural' change with staggeringly profound computational consequences).
It gets worse.
Not only is it unclear what science needs to discover, it is unclear where science ought to look to discover (or not discover) it.
Suppose we convince ourselves, by whatever means, that as far as the basic mode of operation of the brain goes, Internet experience is not altering it one whit. That supports a negative answer only if we assume that the routines that fix the 'nature of human thinking' must be thoroughly biological: that they must be routines running within, and only within, the individual human brain. But surely it is this assumption that our experiences with the Internet (and with other 'intelligence amplifiers' before it) most clearly calls into question. Perhaps the Internet is changing the 'way we think' by changing the circuits that get to implement some aspects of human thinking, providing some hybrid (biological and non-biological) circuitry for thought itself. This would be a vision of the Internet as a kind of world-wide supra-cortex. Since this electronic supra-cortex patently does not work according to the same routines as, say, the neocortex, an affirmative answer to our target question seems easily on the cards.
But wait. Why look there in the first place? What exactly determines (or better, what should determine) where we look for the circuitry whose operational profile, even assuming we can find it, determines the 'way we think'?
This is a really hard question, and sadly, I don't know how to answer it. It threatens to bring us all the way back to where we started, with content. For perhaps one way to motivate an answer is to look for deep and systematic variation in human performances in various spheres of thought. But even if we find such variation, those who think that our 'ways of thinking' remain fundamentally unaltered can hold their ground by stressing that the basic mode of neural operation is unaltered, and has remained the same for (at least) tens of thousands of years.
Deep down, I suspect that our two interrogative options — the trivial-sounding question about what we think, and the deep-sounding one about the nature of our thinking — are simply not as distinct as the fans of either response (yes, the Internet is changing the way we think/ no, it isn't) might wish.
But I don't know how to prove this.
Dammit.
---
EVGENY MOROZOV
Commentator on Internet and politics "Net Effect" blog; Contributing editor, Foreign Policy
WHAT DO WE THINK ABOUT? WHO GETS TO DO THE THINKING?
As it might take decades for the Internet to rewire how our brains actually process information, we should expect that most immediate changes would be social rather than biological in nature. Of those, two bother me in particular. One has to do with how the Internet changes what we think about; the other one — with who gets to do the thinking.
What I find particularly worrisome with regards to the "what" question is the rapid and inexorable disappearance of retrospection and reminiscence from our digital lives. One of the most significant but overlooked Internet developments of 2009 — the arrival of the so-called "real-time Web", whereby all new content is instantly indexed, read, and analyzed — is a potent reminder that our lives are increasingly lived in the present, completely detached even from the most recent of the pasts. For most brokers dealing on today's global information exchange, past is a "strong sell".
In a sense, this is hardly surprising: the social beast that has taken over our digital lives has to be constantly fed with the most trivial of ephemera. And so we oblige, treating it to countless status updates and zetabytes of multimedia (almost a thousand photos are uploaded to Facebook every second!). This hunger for the present is deeply embedded in the very architecture and business models of social networking sites. Twitter and Facebook are not interested in what we were doing or thinking about five years ago; it's what we are doing or thinking about right now that they would really like to know.
These sites have good reasons for such a fundamentalist preference for the present, as it it greatly enhances their ability to sell our online lives to advertisers: after all, much of the time we are thinking of little else but satisfying our needs, spiritual or physical, and the sooner our needs can be articulated and matched with our respective demographic group, the more likely it is that we'll be coerced into buying something online.
Our ability to look back and engage with the past is one unfortunate victim of such reification of thinking. Thus, amidst all the recent hysteria about the demise of forgetting in the era of social networking, it's the demise of reminiscence that I find deeply troublesome. The digital age presents us with yet another paradox: while we have nearly infinite space to store our memories as well as all the multi-purpose gadgets to augment them with GPS coordinates and 360-degree panoramas, we have fewer opportunities to look back and engage with those memories.
The bottomless reservoirs of the present have blinded us to the positive and therapeutic aspects of the past. For most of us, "re engaging with the past" today means nothing more than feeling embarrassed over something that we did years ago after it has unexpectedly resurfaced on social networks. But there is much more to reminiscence than the feeling of embarrassment. Studies show that there is an intricate connection between reminiscence (particularly about positive events in our lives) and happiness: the more we do of the former, the more we feel of the latter. Substituting links to our past with links to our Facebook profiles and Twitter updates risks turning us into hyperactive, depressive, and easily irritant creatures who do not know how to appreciate own achievements.
The "who" question — i.e. who gets to do the thinking in the digital age — is much trickier. The most obvious answer — that the Internet has democratized access to knowledge and we are all thinkers now, bowing over our keyboards much like the character of Rodin's famous sculpture — is wrong. One of my greatest fears is that the Internet would widen the gap between the disengaged masses and the over engaged elites, thus thwarting our ability to collectively solve global problems — climate change and the need for smarter regulation in the financial industry come to mind — that require everyone's immediate attention. The Internet may yield more "thinking" about such issues but such "thinking" would not be equally distributed.
The Marxists have been wrong on many issues but they were probably right about the reactionary views espoused by the "lumpenproletariat". Today we are facing the emergence of the "cyber-lumpenprolitariat", of people who are being sucked into the digital whirlwind of gossip sites, trashy video games, populist and xenophobic blogs, and endless poking on social networking sites. The intellectual elites, on the other hand, continue thriving in the new digital environment, exploiting superb online tools for scientific research and collaboration, streaming art house films via Netflix, swapping their favorite books via e-readers, reconnecting with musical treasures of the bygone eras via iTunes, and, above all, perusing materials in the giant online libraries like the one that Google could soon unveil. The real disparities between the two groups become painfully obvious once members of the cyber-lumpenproletariat head to the polls and push for issues of extremely dubious — if not outright unethical — nature (the recent referendum on minarets in Switzerland is a case in point; the fact that Internet users voted the legalization of marijuana as the most burning issue on Obama's change.gov site is another one).
As an aside, given the growing concerns over copyright and the digitization of national cultural heritage in many parts of the world, there is a growing risk that this intellectual cornucopia would be available only in North America, creating yet another divide. Disconnected from Google's digital library, even the most prestigious universities in Europe or Asia may look less appealing than even middling community colleges in the US. This may seem counterintuitive but it's increasingly likely that the Internet would not diffuse knowledge-production and thinking around the globe but rather further concentrate it in one place.
---
VIRGNIA HEFFERNAN
Columnist ("The Medium"), The New York Times
THE INTERNET IS A CULTURAL OBJECT: READ IT
People who study the real world, including historians and scientists, may find that the reality of the Internet changes how they think. But those of us who study symbolic systems, including philosophers and literary critics, find in the Internet another yet another symbolic system, albeit a humdinger, that yields — spectacularly, I must say — to our accustomed modes of inquiry.
Anyway, a new symbolic order need not disrupt Truth, wherever Truth may now be said to reside (Neurons? Climate change? Atheism?). Certainly to those of us who read more novels than MRIs, the Internet — and especially the World Wide Web — looks like what we know: a fictional world made mostly of words.
Philosophers and critics must only be careful, as we are trained to be careful, not to mistake this new, highly stylized and artificial order, the Internet, for reality itself. After all, all cultural forms and conceits that gain currency and influence — epic poetry, the Catholic mass, the British empire, photography — do so by purporting to be reality, to be transparent, to represent or proscribe life as it really is. As an arrangement of interlocking high, pop and folk art forms, the Internet is no different. This ought to be especially clear when what's meant by "the Internet" is that mostly comic, intensely commercial bourgeois space known as the World Wide Web.
We who have determinedly kept our heads while suffrage, the Holocaust, the highway system, Renaissance perspective, coeducation, the Pill, household appliances, the moon landing, the Kennedy assassination and rock 'n' roll were supposed to change existence forever, cannot falter now. Instead of theatrically changing our thinking, this time, we must keep our heads, which means — to me — that we must keep on reading and not mistake new texts for new worlds, or new forms for new brains.
---
SHERRY TURKLE
Psychologist, MIT who studies the culture of the Internet; Author: Life on the Screen; Alone Together
THE INTERNET DISCONNECT
You stare at a screen in your home or in your hand. You own it; it is passive and glows — all things that seem to promise safety and a bounded space. But the feeling of sending an e-mail or text or instant message is at odds with its reality. You feel in a zone that is private and ephemeral. But the Internet is public and forever. This is the disconnect of Internet communication. It begins to explain why people, sophisticated people, continue to send damaging e-mails and text messages that document them breaking the law and betraying their families. These make the headlines. Other consequences of the disconnect show up in the inner life of the generation that has grown up with always-on/always-on-you connectivity. The disconnect shapes their psychological and political sensibility.
Dawn, eighteen, "scrubs" her Facebook pages just before she receives her college acceptance letters. She says, "I didn't want stories and pictures about high school parties and boys out there. I want a fresh start." But she could only delete so much. Her friends have pictures of her on their pages and messages from her on their walls. All of these will remain. And on the Internet, the worlds "delete" and "erase" are metaphorical; files, photographs, mail, and search history are only deleted from your sight. All of this upsets Dawn. She says, "It's like somebody is about to find a horrible secret that I didn't know I left someplace."
The psychologist and psychoanalyst Erik Erikson argued that adolescents needed an experience of "moratorium," a time and space for relatively consequence-free experimentation. They need to fall in and out of love with people and ideas. I have argued that the Internet provides such spaces and is thus a rich ground for working through identity. But over time, it has become clear that the idea of the moratorium space does not easily mesh with a life that generates its own electronic shadow. Over time, many find a way to ignore or deny the shadow. For teenagers, the need for a moratorium space is so compelling that they will recreate it as fiction. And indeed, leaving an electronic trace can come to seem so natural that the shadow seems to disappear. We want to forget that we have become the instruments of our own surveillance.
In the spirit of keeping the shadow at a distance, some work at staying uninformed. Julia, eighteen, says "I've heard that school authorities and local police can get into your Facebook," but doesn't want to know the details. "I live on Facebook" she explains, and "I don't want to be upset." A seventeen-year-old girl thinks that Facebook "can see everything," but even though "you can try to get Facebook to change things," it is really out of her hands. She sums up: "That's just the way it is." A sixteen-year-old girl says that even without privacy, she feels safe because "No one would care about my little life." For all the talk of a generation empowered by the Net, the question of online privacy brings out claims of intentionally vague understandings and protests of impotence. This is a life of resignation: teens are sure that at some point their privacy will be invaded, but that this is the course of doing business in their world.
I grew up with my grandparents who were frightened by the McCarthy era. A government that spied on its citizens; this is what their families had fled. In Eastern Europe, my grandmother explained, you assumed that other people read your mail. This never led to good. When someone knows everything, everyone can be turned into an informer. She was proud to be in America where things were different. Every morning, we went together to the mailboxes of our apartment building. And many days, she would tell me as if it had never come up before, "In America, no one can look at your mail. It's a federal offense. That's the beauty of this country." For me, and from the earliest age, this civics lessons at the mailbox joined together privacy and civil liberties. I think of how different things are for today's teenagers who accommodate to the idea that their e-mail might be scanned by school authorities and that their online identities might be tampered with. Not a few sum up their position on all of this by saying in one way or another: "The way to deal is to just be good."
But sometimes a citizenry should not "be good." You have to leave room for this, space for dissent, real dissent. You need to leave technical space (a sacrosanct mailbox) and mental space. The two are intertwined. We make our technologies and they, in turn, make and shape us. My grandmother made me an American citizen and a civil libertarian in front of a row of mailboxes in Brooklyn. I am not sure what to tell and 18-year-old who thinks that Loopt (the application that uses the GPS capability of the iPhone to show you where your friends are) seems creepy but notes that it would be hard to keep it off her phone if all her friends had it. "They would think I had something to hide."
In democracy, perhaps we all need to begin with the assumption that everyone has something to hide, a zone of private action and reflection, a zone that needs to be protected. Life with an electronic shadow provokes anxieties that lead today's teenagers to look toward a past they never knew. This nostalgia of the young looks forward because it may remind us of things that are worth protecting. So, for example, teens talk longingly about the "full attention" that is implicit when someone sends you a letter or meets with you in a face-to-face meeting. And poignantly, they talk about seeking out a pay phone when they really want to have a private conversation.
The Internet teaches us to rethink nostalgia and give it a good name. I learned to be a citizen at the Brooklyn mailboxes. To me, opening up a conversation about rethinking the Net, privacy, and civil society is not backward-looking nostalgia or Luddite in the least. It seems like part of a healthy process of democracy defining its sacred spaces.
---
SIMON BARON-COHEN

1000 HOURS A YEAR
Like you, all my email goes into my Sent Mailbox, just sitting there if I want to check back at what I said to whom years ago. So what a surprise to see that I send approximately 18,250 emails each year (roughly 50 a day). Assuming 3 minutes per email (let's face it, I can't afford to spend too long thinking about what I want to say), that's about 1000 hours a year on email alone. I've been on email since the early 90s. Was that time well spent?
The answer is both yes and no. Yes, I have been able to keep in touch with family, friends, and colleagues in far-flung corners of the planet with ease, and have managed to pull off projects with teams spread across different cities in timescales that previously would have been unthinkable. All this feeds my continued use of email. But whilst these undoubted benefits are the reasons why I continue to email, it is not without its own cost. Most importantly, as the above analysis shows, email eats my time just as it likely eats yours. And unlike Darwin's famous 15,000 letters (penned with thought, and now the subject of the Darwin Correspondence Project in my university library in Cambridge), three-minute email exchanges do not deliver communication with any depth and as such are not intellectually valuable in their own right.
And we all recognize that email has its addictive side. Each time a message arrives there's just the chance that it might contain something exciting, something new, something special, a new opportunity. Like all effective behavioural reinforcement schedules, the reward is very intermittent: Maybe one in 100 emails contain something I really want to know or hear about. That's just enough to keep me checking my Inbox, but that means perhaps only 10 of the 1000 hours I spent on emails this year were actually wanted.
Bite-size emails also carry another cost: We all know there's no substitution for thinking hard and deep about a problem and how to solve it, or for getting to grips with a new area, and such tasks demand long periods of concentrated attention. Persistent, frequent email messages threaten our capacity for the real work. Becoming aware of what email is doing to our allocation of time is the first step to re-gaining control. Like other potential addictions we should perhaps attempt to counter the email habit by restricting it to certain times of the day, or by creating email-free zones by turning off Wi-Fi. This year's Edge question at least gives me pause to think whether I really want to be spending 1000 hours a year on email, at the expense of more valuable activities.
---
PETER SCHWARTZ
Futurist, Business Strategist; Cofounder. Global Business Network, a Monitor Company; Author, Inevitable Surprises
MY THOUGHT PROCESSES ARE NOT BOUND BY THE MEAT MACHINE THAT IS MY BRAIN, NOR MY LOCALITY NOR MY TIME
In 1973, just as I was starting work at Stanford Research Institute I had the good fortune to be one of the earliest users of what was then known as the ARPANET. Collaborative work at a distance was the goal of the experiment that led to the suitcase sized TI Silent 700 portable terminal with an acoustic coupler, and thermal printer on the back (no screen) sitting on my desk at home in Palo Alto. I was writing scenarios for the future of the State of Washington with the staff of Governor Dan Evans in Olympia. It was the beginning of the redistribution of my sense of identity.
In the 1980s I was also a participant in the WELL one of the first meaningful on-line communities. Nearly everyone who was part of the WELL had this sense of a very rich set of multiple perceptions constantly and instantly accessible. And not because the Deadheads were a large part of that community my sense of an aware distributed consciousness began to develop.
And finally with the coming of the modern Internet, the World Wide Web and the incredible explosion of knowledge access another level in transformation took hold. I am one of those people who used to read encyclopedias and almanacs. I just wanted to know more, actually, everything. I also make my living, researching, writing, speaking and consulting. Depth, breadth and richness of knowledge are what make it work in my passions and my profession. Before the Internet that was limited by the boundaries of my brain. Now there is a near infinite pool of accessible information that becomes my knowledge in a heartbeat measured in bits/sec. For those of us who wallow in the world of knowledge for pleasure and profit the Internet has become a vast extension of our potential selves.
The modern Internet has achieved much of what Ted Nelson articulated decades ago in his vision of the Xanadu project or Doug Englebart in his human augmentation vision at SRI. Nearly all useful knowledge is now accessible instantaneously from much of the world. Our effective personal memories are now vastly larger, essentially infinite. Our identity is embedded in what we know. And how I think is an expression of that identity. For me the Internet has led over time to that deep sense of collaboration, awareness and ubiquitous knowledge that means that my thought processes are not bound by the meat machine that is my brain, nor my locality nor my time.
---
JASON CALACANIS
Internet Entrepreneur; Founder, Mahalo.com
TRUST NOTHING, DEBATE EVERYTHING
As a former journalist I used to withhold judgment and refrain from speculating about breaking stories until "all the facts" were in. I used to keep a mental scorecard of an issue with the confirmed facts neatly organized. However, with the velocity of information and tools to curate and process it on the Internet, I've moved to speculation as my scorecard.
The "real time" Web means we get to flip our positions, argue all sides of a debate and test theories.
We're being lied to and manipulated more than we're being told the truth, so instead of trying to figure out what's true I'd rather speculate in my social network and see what comes back.
When the shooting at Ford Hood happened, I immediately speculated on Facebook and Twitter that Nidal Malik Hasan's name was probably an indication of a terrorism link — it couldn't be coincidence right? That was the first thing you thought right? Dozens of responses came back, outraged that I would speculate to my 80,000 followers without "knowing for sure."
Most claimed we should wait until the authorities completed their investigation. A couple of folks thought I was showing some bias against Muslims, which, of course I was!
Any investigator would follow the radical Muslim pattern when faced with the same evidence, and certainly the newscasters on CNN were thinking it. The terrorism connection at Fort Hood was so obvious that the CNN reporters made a point of saying that just because the name sounded like the names of 9/11 hijackers we shouldn't jump to conclusions. Really? Isn't that exactly what the investigators did? Isn't that what the Internet was doing while CNN anchors fumbled their way through the moment, trying to fill air time with anything BUT speculation about radical muslims.
They've tracked Hasan's connections to a mosque in Virginia where two of the September 11th hijackers attended services. Speculation on the Internet was correct this time, and CNN was doing "the responsible thing" by not participating in it. Really? Doesn't speculation lead to debate which leads to, hopefully, some resolution?
Jumping to conclusions is a critical piece of information gathering, and we should be doing it more — not less. The Internet is built to route around bad routers and bad facts. Hasan's business card had "SoA" on it, which stands for, wait for it, "Soldier of Allah." If only someone had jumped to some conclusions about that fact on their Twitter account.
Consuming passive news gave way to commenting on blogs in 2003 and 2004. Now we all have blogs tethered to our mobile phones, even if they are micro in nature, with Facebook and Twitter accounts. We shouldn't wait for facts, we should be speculating and testing assumptions as news and knowledge unfolds.
Facts are, of course, valuable, but speculation gets me further and builds better Webs in my mind.
We've moved from jury to investigators, and the audience is on stage. Support thought bombs and the people who throw them into your social graph. It's messy, but essential. Study the reactions on either side of the aisle because reactions can be more telling than the facts sometimes. That's how the Internet has change my thinking: trust nothing, debate everything.
---
JOSHUA GREENE
Cognitive Neuroscientist and Philosopher, Harvard University
THE DUMB BUTLER
Have you ever read a great book from before the mid 1990s and thought to yourself, "My Goodness! These ideas are so primitive! So… pre-Internet!" Me neither. The Internet hasn't changed the way we think anymore than the microwave oven has changed the way we digest food. The Internet has provided us with unprecedented access to information, but it hasn't changed what we do with it once it's made it into our heads. This is because the Internet doesn't (yet) know how to think. We still have to do it for ourselves, and we do it the old-fashioned way.
One of the Internet's early disappointments was the now defunct Website "Ask Jeeves." (It was succeeded by Ask.com, which dropped Jeeves in 2006) Jeeves appeared as a highly competent infobutler who can understand and answer questions posed in natural language. ("How was the East Asian economy affected by the Latin American debt crisis?" "Why do fools fall in love?") Anyone who spent more than a few minutes querying Jeeves quickly learned that Jeeves himself didn't understand squat. Jeeves was just a search engine like the rest, mindlessly matching the words contained in your question to words found on the Internet. The best Jeeves could do with your profound question—the best any search engine can do today—is direct you to the thoughts of another human being who has already attempted to answer a question related to yours. This is not to say that cultural artifacts can't change the way we think.
Jim Flynn has documented massive gains in IQ over the 20th Century (the "Flynn Effect"), which he attributes to our enhanced capacity for abstract thought, which he in turn attributes to the cognitive demands of the modern marketplace. Why hasn't the Internet had a comparable effect? The answer, I think, is that the roles of master and servant are reversed. We place demands on the Internet, but the Internet hasn't placed any fundamentally new demands on us. In this sense, the Internet really is like a butler. It gives us the things that we want faster and with less effort, but it doesn't give us anything that we couldn't otherwise get for ourselves and doesn't require us to do anything more than give comprehensible orders.
Someday we'll have a nuts-and-bolts understanding of complex abstract thought, which will enable us to build machines that can do it for us, and perhaps do it better than we do, and perhaps teach us a thing or two about it. But until then, the Internet will continue to be nothing more, and nothing less, than a very useful, and very dumb, butler.
---
MARTI HEARST
Computer Scientist, UC Berkeley, School of Information; Author, Search User Interfaces
I NOW EXPECT TO HEAR WHAT OTHER PEOPLE THINK
In graduate school, as a computer scientist whose focus was on search engines even before the Web, I always dreamed of an Internet that would replace the inefficiencies of libraries, making all important information easily available online. This amazingly came to pass, despite what seemed like insurmountable blockages in the early days.
But something I did not anticipate is how social the Internet would become. When the Web took off, I expected to see recipes online. But today I also expect to learn what other people thought about a recipe, including what ingredients they added, what salad they paired it with and who in their family liked or disliked it. This multitude of perspectives has made me a better cook.
Now if I enjoy a television show, within minutes or hours of the air time of the latest episode, I expect to be able to take part in a delightful, informed conversation about it, anchored by an essay by a professional writer, supported with high-quality user-contributed comments that not only enhance my pleasure of the show, but also reveal new insights.
And I can not only get software online, but in the last few years a dizzying cornucopia of free software components have appeared, making it possible to do research and development in days that would have taken months or years in the past. There have always been online forums to discuss software — in fact, coding was unsurprisingly one of the most common topics of early online groups. But the variety and detail of the kind of information that other people selflessly supply each other with today is staggering. And the design of online question-answering sites has moved from crufty to excellent in just a few years.
Most relevant to the scientists and researchers who contribute to the Edge question, we see the use of the Web to enhance communication in the virtual college, with academic meetings being held online, math proofs being done collaboratively on blogs, and deadly viruses being isolated within weeks by research labs working together online.
Sure, we used email in the early eighties, and there were online bulletin boards for at least a decade before the Web, but only a small percentage of the population used them, and usually over a very slow modem. In the early days of the Web, ordinary people's voices were limited primarily to information ghettos like Geocities; most text was produced by academics and businesses. There was very little give-and-take. By contrast, according to a 2009 Pew study, 51% of Internet users now post content online that they have created themselves, and 1 in 10 Americans post something online for others to see every day.
Of course, the increased participation means that there is an increase in the equivalent of what we used to call flame wars, or generally rude behavior, as well as a proliferation of false information and gathering places for people to plan and encourage hurtful activities. Some people think this ruins the Web, but I disagree. It's what happens when everyone is there.
Interestingly, the Edge Question, while innovative in format when it started, still does not allow readers to comment on the opinions offered. I am not saying if this is a good or a bad thing. The Edge Foundation's goal is to increase public understanding of science by encouraging intellectuals to "express their deepest thoughts in a manner accessible to the intelligent reading public." I just wonder if it is time to embrace the new Internet and let that public write back.
---
SCOTT D. SAMPSON
Dinosaur paleontologist and science communicator; Author: Dinosaur Odyssey: Fossil Threads in the Web of Life
THE EXTINCTION OF EXPERIENCE
Like many others, my personal experience is that the Internet is both the Great Source for information and the Great Distractor, fostering compulsions to stay "connected," often at the expense of other, arguably more valuable aspects of life. I do not sense that the Internet alters the way that I think as much as it does the way I work; having the Great Source close at hand is simply irresistible, and I generally keep a window open on my laptop for random searches that pop into my head.
Nevertheless, I am much less concerned about "tweeners" like me who grew up before the Internet than I am with children of the Internet age, so-called "Digital Natives." I want to know how the Internet changes the way they think. As will no doubt be confirmed by answers to the Edge Annual Question, the jury is still out. Although the supporting research may still be years away, it seems likely that a lifetime of daily conditioning dictated by the rapid flow of information across glowing screens will generate substantial changes in brains, and thus thinking. Commonly cited potential effects include fragmented thinking and shorter attention spans together with a concomitant reduction (let alone interest) in reflection, introspection, and in-depth thought. Another oft-noted concern is the nature of our communications, which are becoming increasingly terse and decreasingly face-to-face.
But I have a larger fear, one rarely mentioned in these discussions—the extinction of experience. This term, which comes from author Robert Michael Pyle, refers to the loss of intimate experience with the natural world. Clearly, anyone who spends 10-plus hours each day with their attention focused on a screen is not devoting much time to experiencing the "real" world. More and more, it seems, real-life experience is being replaced by virtual alternatives. And, to my mind at least, this is a grave problem. Let me explain.
As the first generation to contemplate the fact that humanity may have a severely truncated future, we live at arguably the most pivotal moment in the substantial history of Homo sapiens. Decisions made and actions taken during the next generation will have an imbalanced impact on the future of humans and all other life on Earth. If we blunder onward on our present course—increasing populations, poverty, greenhouse gas emissions, and habitat destruction—we face no less than the collapse of civilization and the decimation of the biosphere. Given the present dire circumstances, any new far-reaching cultural phenomenon must be evaluated in terms of its ability to help or hinder the pressing work to be done; certainly this concern applies to how the Internet influences thinking.
Ecological sustainability, if it is to occur, will include greener technologies and lifestyles. In addition, however, we require a shift in worldview that re-configures our relationship with non-human nature. To give one prominent example of our current dysfunctional perspective, how are we to achieve sustainability as long as we see nature as part of the economy rather than the inverse? Instead of a collection of resources available for our exploitation, nature must become a community of relatives worthy of our respect and a teacher to whom we look for inspiration and insight. In contrast to the present day, sustainable societies will likely be founded on local foods, local materials, and local energy. They will be run by people who have a strong passion for place and a deep understanding of the needs of those places. And I see no way around the fact that this passion and understanding will be grounded in direct, firsthand experiences with those places.
My concern, then, is this: How are we to develop new, more meaningful connections to our native communities if we are staring at computer screens that connect us only to an amorphous worldwide "community?" As is evident to anyone who has stood in a forest or on a seashore, there is a stark difference between a photograph or video and the real thing. Yes, I understand the great potential for the Internet to facilitate fact-finding, information sharing, and even community-building of like-minded people. I am also struck by the radical democratization of information that the Internet may soon embody. But how are we to establish affective bonds locally if our lives are consumed by virtual experiences on global intermedia? What we require is uninterrupted solitude outdoors, sufficient time for the local sights, sounds, scents, tastes, and textures to seep into our consciousness. What we are seeing is children spending less and less time outdoors actually experiencing the real world and more and more time indoors immersed in virtual worlds.
In effect, my argument is that the Internet may influence thinking indirectly through its unrelenting stranglehold on our attention and the resultant death (or at least denudation) of non-virtual experience. If we are to care about larger issues surrounding sustainability, we first must care about our local places, which in turn necessitates direct experiences in those places. As Pyle observes, "what is the extinction of the condor to a child who has never known a wren?"
One thing is certain. We have little time to get our act together. Nature, as they say, bats last. Ultimately, I can envision the Internet as a Net positive or a Net negative force in the critical sustainability effort, but I see no way around the fact that any positive outcome will involve us turning off the screens and spending significant time outside interacting with the real world, in particular the nonhuman world.
---
HAIM HARARI
Physicist, former President, Weizmann Institute of Science; Author, A View from the Eye of the Storm
HARMFUL ONE-LINERS, AN OCEAN OF FACTS AND REWIRED MINDS

It is entirely possible that the Internet is changing our way of thinking in more ways than I am willing to admit, but there are three clear changes that are palpable:
The first is the increasing brevity of messages.
Between Twittering, chatting and sending abbreviated Blackberry e-mails, the "old" sixty-second sound byte of TV newscasts is now converted into one-liners, attempting to describe ideas, principles, events, complex situations and moral positions.
Even when the message itself is somewhat longer, the fact that we are exposed to more messages, than ever before, means that the attention "dose" allocated to each item is tiny. The result, for the general public, is a flourishing of extremist views on everything. Not only in politics, where only the ideas of the lunatic far left and the crazy far right can be stated in one sentence, but also in matters of science.
It is easy to state in one sentence nonsense such as "the theory of evolution is wrong", "global warming is a legend", "immunization causes Autism" and "God (mine, yours, or hers) has all the answers". It requires long essays to explain and discuss the "ifs" and "buts" of real science and of real life.
I, personally, find that this trend makes me a fanatic anti-extremist. I am boiling mad whenever I see or read such telegraphic (to use an ancient terminology) elaborations of ideas and facts, knowing that they are so wrong and misleading, and, at the same time, they find their ways into so many hearts and minds. Even worse, people who are still interested in a deeper analysis and a balanced view of topics, whether scientific, social, political or other, are considered leftovers from an earlier generation, and are labeled as extremists of the opposite color, by the fanatics of one corner or another.
The second change is the diminishing role of factual knowledge, in the thinking process.
The thought pattern of different people, on different subjects, requires varying mixtures of knowing facts, being able to correlate them, creating new ideas, distinguishing between important and secondary matters, knowing when to prefer pure logic and when to let common sense dominate, analyzing processes and numerous other components of a complex mental exercise.
The Internet allows us to know fewer facts, being sure that they are always literally at our fingertips, thus reducing their importance as a component of the thought process. This is similar to, but much more profound than, the reduced role of pure computation and simple arithmetic with the introduction of calculators.
But we should not forget that, often, in the scientific discovery process, the greatest challenge is to ask the right question, rather than answer a well posed question, and to correlate facts that no one thought of connecting. The existence of many available facts, somewhere in the infinite ocean of the Internet, is no help in such an endeavor. I find, personally, that my scientific thinking is changed very little by the availability of all of these facts, but my attitude towards social, economic and political issues is enriched by having many more facts at my disposal.
An important warning is necessary here: A crucial enhanced element of the thought process, demanded by the flood of available facts, must be the ability to evaluate the credibility of "facts" and of "quasi-facts". Both are abundant in the Web and telling them apart is not as easy as it may sound.
The third change is in the entire process of teaching and learning.
Here it is clear that the change must be profound and multifaceted, but it is equally clear that, due to the ultraconservative nature of the educational system, it has not yet happened on a large scale.
The Internet brings to us art treasures, ability to simulate complex experiments, mechanisms of learning by trial and error, explanations and lessons from the greatest teachers on earth, special aids for children of special needs, less need to memorize facts and numbers, and numerous other incomparable marvels, not available to previous generations. Anyone involved in teaching, from kindergarten to graduate school, must be aware of the endless opportunities, as well as of the lurking dangers. These changes in learning, when they materialize, may create an entirely different pattern of knowledge, understanding and thinking in the student mind.
I am personally amazed by how little has changed in the world of education, but, whether we like it or not, the change must happen and it will happen. It may take another decade or two, but education will never be the same. An interesting follow-up issue, to this last comment, is the question whether the minds and brains of children growing up in an Internet inspired educational system, will be physically "wired" differently than those of earlier generations. I tend to speculate in the affirmative, but this may only be answered by the Edge question of 2040.
---
DOUGLAS RUSHKOFF
Media Analyst; Documentary Writer; Author, Life, Inc.

THE INTERNET MAKES ME THINK IN THE PRESENT TENSE
How does the Internet change the way I think? It puts me in the present tense. It's as if my cognitive resources are shifted from my hard drive to my RAM. That which is happening right now is valued, and everything in the past or future becomes less relevant.
The Internet pushes us all toward the immediate. The now. Every inquiry is to be answered right away, and every fact or idea is only as fresh as the time it takes to refresh a page.
And as a result, speaking for myself, the Internet makes me mean. Resentful. Short-fused. Reactionary.
I feel it when I'm wading through a stack of emails, keeping up with an endless Twitter feed, accepting Facebook "friends" from a past I prefer not to remember, or making myself available on the Web to readers to whom I should feel grateful — but instead feel obligated. And it's not a matter of what any of these folks might want me to do, but when. They want it now.
This is not a bias of the Internet itself, but of the way it has changed from an opt-in activity to an "always on" condition of my life. The bias of medium was never towards real-time activity, but towards time shifting. Unix, the operating system of the Net, doesn't work in real time. It sits and waits for human commands. Likewise, early Internet forums and bulletin boards were discussions users returned to at their convenience. I dropped in the conversation, then came back the next evening or next week to see how it had developed. I took the time to consider what I might say — to contemplate someone else's response. An Internet exchange was only as rich as the amount of time I allowed to pass between posts.
Once the Internet changed from a resource at my desk into an appendage chirping from my pocket and vibrating on my thigh, however, the value of depth was replaced by that of immediacy masquerading as relevancy. This is why Google is changing itself from a search engine to a "live" search engine, why email devolved to SMS and blogs devolved to tweets. It's why schoolchildren can no longer engage in linear arguments, why narrative structure collapsed into reality TV, why and why almost no one can engage in meaningful dialogue about long-term global issues. It creates an environment where a few incriminating emails between scientists generate so more news than our much slower but more significant climate crisis.
It's as if the relentless demand of networks for me to be everywhere, all the time, denies me access to the moment in which I am really living. And it is this sense of disconnection — more than distraction, multi-tasking, or long-distance engagement — that makes the Internet so aggravating.
In some senses, this was the goal of those who developed the computers and networks on which we depend today. Technology visionaries such as Vannevar Bush and James Licklider sought to develop machines that could do our remembering for us. Computers would free us from the tyranny of the past — as well as the horrors of World War II — allowing us to forget everything and devote our minds to solving the problems of today. The information would still be there — it would simply be stored out of body, in a machine.
And that may have worked had technological development leaned towards the option of living life disconnected from those machines whenever access to their memory banks was not required. Instead, I feel encouraged to use networks not just to access information, but to access other people, and to grant them access to me — wherever and whenever I happen to be.
This always-on approach to digital technology surrenders my nervous system rather than expanding it. Likewise, the simultaneity of information streaming towards me prevents parsing or consideration. It becomes a constant flow which must be managed, perpetually.
The now-ness of the Internet engenders impulsive, unthinking responses over considered ones, and a tendency to think of communications as a way to bark orders or fend off those of others. I want to satisfy the devices chirping and vibrating in my pockets, only to make them stop. Instead of looking at each digital conversation as an opportunity for depth, I experience them as involuntary triggers of my nervous system. Like my fellow networked humans, I now suffer the physical and emotional stresses previously associated with careers such as air traffic controllers and 911 operators.
By surrendering my natural rhythms to the immediacy of my networks, I am optimizing myself and my thinking to my technologies — rather than the other way around. I feel as though I speeding up, when I am actually just becoming less productive, less thoughtful, and less capable of asserting any agency over the world in which I live. The result something akin to future shock. Only in our era, it's more of a present shock.
I try to look at the positive: Our Internet-enabled emphasis on the present may have liberated us from the 20th century's dangerously compelling ideological narratives. No one — well, hardly anyone — can still be persuaded that brutal means are justified by mythological ends. And people are less likely to believe employers' and corporations' false promises of future rewards for years of loyalty now.
But, for me anyway, it has not actually brought me into greater awareness of what is going on around me. I am not approaching some Zen state of an infinite moment, completely at one with my surroundings, connected to others, and aware of myself on any fundamental level.
Rather, I am increasingly in a distracted present, where forces on the periphery are magnified and those immediately before me are ignored. My ability to create a plan — much less follow through on it — is undermined by my need to be able to improvise my way through any number of external impacts which stand to derail me at any moment. Instead of finding a stable foothold in the here and now, I end up reacting to ever-present assault of simultaneous impulses and commands.
The Internet tells me I am thinking in real time, when what it really does, increasingly, is take away the real and take away the time.
---
TERRENCE SEJNOWSKI

THIS IS YOUR BRAIN ON INTERNET
What is the impact of spending hours each day in front of a monitor, surfing the Internet and playing games? Brains are highly adaptable and experiences have long-term effects on the brain's structure and function. You are aware of some of the changes and call it your memory, but this is just the tip of the iceberg. We are not aware of more subtle changes, which nonetheless can affect your perception and behavior. These changes occur at all levels of your brain, from the earliest perceptual levels to the highest cognitive levels.
Priming is a dramatic example of unconscious learning, in which a brief exposure to an image or a word can affect how you respond to the same image or word, even in degraded forms, many months later. In one experiment, the outlines of animals and other familiar objects were viewed briefly and 17 years later the subjects could still identify the animals and objects above chance levels from versions in which half the outlines were erased. Some of the subjects did not remember participating in the original experiment. With conceptual priming, an object like a table can prime the response to a chair. Interestingly, priming decreases reaction times and is accompanied by a decrease in brain activity — it becomes faster and more efficient.
Brains, especially youthful ones, have an omnivorous appetite for information, novelty and social interaction, but it is less obvious why we are so good at unconscious learning. One advantage is that it allows the brain to build up an internal representation of the statistical structure of the world, whether it is the frequency of neighboring letters in words or the textures, forms and colors that make up images. Brains are also adept at adapting to sensorimotor interfaces. We first adapted to clunky keyboards, then to virtual pointers to virtual files, and now to texting with fingers and thumbs. As you become an expert at using it, the Internet, as with other tools, becomes an extension of your brain.
Are the changes occurring in your brain as you interact with the Internet good or bad for you? Adapting to the touch and feel of the Internet makes it easier to extract information, but a better question is whether the changes in your brain will improve your fitness. There was a time, no long ago, when the heads of corporations did not use the Internet because they never learned to type, but they are going extinct and have been replaced with more Internet savvy managers.
Gaining knowledge and skills should benefit survival, but not if you spend all of your time immersed in the Internet. The intermittent rewards can become addictive, hijacking your dopamine neurons that predict future rewards. The Internet, however, has not been around long enough, and is changing too rapidly, to know what the long-term effects will be on brain function. What is the ultimate price for omniscience?
---
DONALD HOFFMAN
Cognitive Scientist, UC, Irvine; Author, Visual Intelligence

THE SCULPTING OF HUMAN THOUGHT
Human thought has many sculptors, and each wields special tools for distinct effects. Is the Internet in the tool kit? That depends on the sculptor.
Natural selection sculpts human thought across generations and at geologic time scales. Fitness is its tool, and human nature, our shared endowment as members of a species, is among its key effects. Although the thought life of each person is unique, one can discern patterns of thought that transcend racial, cultural and occupational differences; similarly, although the face of each person is unique, one can discern patterns of physiognomy — two eyes above a nose above a mouth — that transcend individual differences.
Is the Internet in the tool kit of natural selection? That is, does the Internet alter our fitness as a species? Does it change how likely we are to survive and reproduce? Debate on this question is in order, but the burden is surely on those who argue no. Our inventions in the past have altered our fitness: arrow heads, agriculture, the control of fire. The Internet has likely done the same.
But has the Internet changed the patterns of thought that transcend individual differences? Not yet. Natural selection acts over generations; the Internet is but one generation old. The Internet is in the tool kit, but has not yet been applied. Over time, as the Internet rewards certain cognitive skills and ignores or discourages others, it could profoundly alter even the basic patterns of thought that we share as a species. The catch, however, is "over time." The Internet will evolve new offspring more quickly than Homo sapiens and they, rather than the Internet, will alter human nature. These offspring will probably no more resemble the Internet than Homo sapiens resembles amoebas.
Learning sculpts human thought across the lifetime of an individual. Experience is its tool, and unique patterns of cognition, emotion and physiology are its key effects. Marcel Just and Timothy Keller found that poor readers in elementary school can dramatically improve their skills with six months of intensive training, and that white matter connections in the left hemispheres of their brains are measurably increased in the process.
There are, of course, endogenous limits to what can be learned, and these limits are largely a consequence of mutation and natural selection. A normal infant exposed to English will learn to speak English, but the same infant exposed to C++ or HTML will learn little.
Is the Internet in the tool kit of learning? No doubt. Within the endogenous limits of learning set by one's genetic inheritance, exposure to the Internet can alter how one thinks no less than can exposure to language, literature or mathematics. But the endogenous limits are critical. Multi-tasking, for instance, might be a useful skill for exploiting in parallel the varied resources of the Internet, but genuine multi-tasking, at present, probably exceeds the limitations of the attentional system of Homo sapiens. Over generations, this limitation might ease. What the Internet cannot accomplish as a tool of learning, it might eventually accomplish as a tool of natural selection.
Epigenetics sculpts human thought within a lifetime and across a few generations. Experience and environment are its guides and shifts in gene expression that trigger shifts in cognition, emotion and physiology are its relevant effects. Oberlander and colleagues found that a mother's anxiety can change the expression of the NR3C1 gene in her child, leading to the child's increased reactivity to stress. Childhood abuse can similarly lead to persistent feelings of anxiety and acute stress in a child, fundamentally altering its thought life.
Is the Internet in the toolkit of epigenetics? Possibly, but no one knows. The field of epigenetics is young, and even the basic mechanisms by which transgenerational epigenetic effects are inherited are not well understood. But the finding that parental behavior can alter gene expression and thought life in a child certainly leaves open the possibility that other behavioral environments, including the Internet, can do the same.
Thus, in sum, the relevance of the Internet to human thought depends on whether one evaluates this relevance phylogenetically, ontogenetically or epigenetically. Debate on this issue can be clarified by specifying the framework of evaluation.
---
THOMAS METZINGER
Philosopher; Author, The Ego-Tunnel
PUBLIC DREAMING
I heard a strange, melodic sound from the left and turned away from the Green Woman. As I shifted my gaze towards the empty landscape, I noticed that something wasn't quite right. The new visual scene, the hills and the trees, were as real as it could be — but somehow it just hadn't come into sight as it would in real life, had I turned my head as I would normally. Somehow it wasn't quite real-time. The way the visual scene popped up had a slightly different temporal dynamics, an almost unnoticeable delay — as if I was surfing the Web, clicking my way on to another page. But I certainly wasn't surfing! I had just talked to the Green Woman, and no!, my right index finger wasn't clicking, and my right hand certainly wasn't lying on a mouse pad — it hung down from the side of my body, completely relaxed, as I gazed into the empty landscape of hills and trees. In a flash of excitement and disbelief it dawned on me: I was dreaming!

Lucid dreams are something I have always been interested in, and have written about extensively. For consciousness researchers lucid dreams are interesting, because you can go for a walk through the dynamics of your own neural correlate of consciousness, unconstrained by external input, and look at the way it unfolds, from the inside. For philosophers they are certainly interesting too. You can ask dream characters you encounter what they think about notions like "virtual embodiment" and "virtual selfhood" — and if they actually believe they have a mind of their own. Unfortunately, I have lucid dreams only rarely — once or twice a year. The episode above was the beginning of my last one, and a lot of things dawned on me at once, not just the fact that I was actually all inside my own head: The Internet is reconfiguring my brain, it changes not only the way in which I think. The influence is much deeper; it already penetrates my dream life. Sure, for academics the Internet is a fantastic resource — almost all of the literature at your fingertips, unbelievably efficient ways of communicating and cooperating with researchers around the world, an endless source of learning and inspiration. Something that leads you right into attention deficit disorder. Something that gets you hooked. Something that confronts you with your greed. Something that is already changing us in our deepest core.
This is about much more than cognitive style alone: For those of us intensively working with it, the Internet has already become a part of our self-model. We use it for external memory storage, as a cognitive prosthesis, and for emotional autoregulation. We think with the help of the Internet, and it helps us determine our desires and goals. Affordances infect us, subtly eroding the sense of control. We are learning to multitask, our attention span is becoming shorter, and many of our social relationships are taking on a strangely disembodied character. Some software tells us "You are now friends with Peter Smith!" — when we were just too shy to click the "Ignore" button.
"Online addiction" has long become a technical term in psychiatry. Many young people (including an increasing number of university students) suffer from attention deficits and are no longer able to focus on old-fashioned, serial symbolic information; they suddenly have difficulty reading ordinary books. Everybody has heard about midlife burnout and rising levels of anxiety in large parts of the population. Acceleration is everywhere.
The core of the problem is not cognitive style, but something else: attention management. The ability to attend to our environment, to our own feelings, and to those of others is a naturally evolved feature of the human brain. Attention is a finite commodity, and it is absolutely essential to living a good life. We need attention in order to truly listen to others — and even to ourselves. We need attention to truly enjoy sensory pleasures, as well as for efficient learning. We need it in order to be truly present during sex, or to be in love, or when we are just contemplating nature. Our brains can generate only a limited amount of this precious resource every day. Today, the advertisement and entertainment industries are attacking the very foundations of our capacity for experience, drawing us into the vast and confusing media jungle. They are trying to rob us of as much of our scarce resource as possible, and they are doing so in ever more persistent and intelligent ways. We know all that. But here is something we are just beginning to understand — that the Internet affects our sense of selfhood, and on a deep functional level.
Consciousness is the space of attentional agency: Conscious information is exactly that information in your brain to which you can deliberately direct your attention. As an attentional agent, you can initiate a shift in attention and, as it were, direct your inner flashlight at certain targets: a perceptual object, say, or a specific feeling. In many situations, people lose the property of attentional agency, and consequently their sense of self is weakened. Infants cannot control their visual attention; their gaze seems to wander aimlessly from one object to another, because this part of their Ego is not yet consolidated. Another example of consciousness without attentional control is the non-lucid dream state. In other cases, too, such as severe drunkenness or senile dementia, you may lose the ability to direct your attention — and, correspondingly, feel that your "self" is falling apart.
If it is true that the experience of controlling and sustaining your focus of attention is one of the deeper layers of phenomenal selfhood, then what we are currently witnessing is not only an organized attack on the space of consciousness per se but a mild form of depersonalization. New medial environments may therefore create a new form of waking consciousness that resembles weakly subjective states — a mixture of dreaming, dementia, intoxication, and infantilization. Now we all do this together, every day. I call it Public Dreaming.
---
PAUL KEDROSKY
Editor, Infectious Greed; Senior Fellow, Kauffman Foundation
THE LARGE INFORMATION COLLIDER, BDTS, AND GRAVITY HOLIDAYS ON TUESDAYS
Three friends have told me recently that during their just-completed holidays they unplugged from the Internet and had big, deep thoughts. This worries me. First, three data points means it's a trend, so maybe I should be doing it. Second, I wonder if I could disconnect from the Internet long enough to have big, deep thoughts. Third, like most people I know, I worry that even if I disconnect long enough, my info-krill-addled brain is no longer capable of big, deep thoughts (which I will henceforth calls BDTs).
Could I quit? At some level it seems a silly question, like asking how I feel about taking a breathing hiatus, or if on Tuesdays I would give up gravity. The Internet no longer feels involuntary when it comes to thinking. Instead, it feels more like the sort of thing that when you make a conscious effort to stop doing it bad things happen. As a kid I once swore off gravity and jumped from a barn hay mow, resulting in a sprained ankle. Similarly, a good friend of mine sometimes asks fellow golfers before a swing whether they breathe in or they breathe out. The next swing is inevitably horrible as the golfer sends a ball screaming into receptive underbrush.
Could I quit the Internet if it meant I would have more BDTs? Sure, I suppose I could, but I'm not convinced it would happen. First, the Internet is, for me, a kind of internal cognition combustion engine, something that vastly accelerates my ability to travel vast landscapes. Without it it would be much more difficult to compare, say, theories about complexity, cell phones and bee colony collapse disorder rather than writing an overdue paper, or to count hotel room in default in California versus Washington state. (In case you're curious, there are roughly two-times as many defaulted hotel rooms in California as there total hotel rooms in Seattle.)
In saying I could quit, but not quitting (even if quitting meant more BDTs), I could be accused of cynicism. I get to tell myself I could quit and have BDTs, without actually testing if or when I did quit whether I had said thoughts. That has a great deal of appeal, not least because I get the frisson of contemplating BDTs without actually going to the trouble of a) giving up the Internet, and b) seeing if I actually have the aforementioned thoughts.
Because like most people I know, I worry noisily and loudly that the Internet has made me incapable of having BDTs. I feel sure that I used to have such things, but for some reason I no longer do. Maybe the Internet has damaged me — I've informed myself to death! — to the point that I don't know what big, deep thoughts are, or that the brain chemicals formerly responsible for their emergence are now doing something else. Then again, this smacks of historical romanticism, like remembering the skies as always being blue and summers as eternal when you were eight years old.
So, as much as I kind of want to believe people who say they have big, deep thoughts when they disconnect from the web, I don't trust them. It reminds me of a doctor declaring herself/himself Amish for the day, and then heading from New York to Boston by horse & carriage with a hemorrhaging patient. Granted, you could do it, and some patients might even survive, but it isn't prudent or necessary. It seems instead a kind of public exercise in macho symbolism, like Iggy Pop carving something in his chest, a way of bloodily demonstrating that you're different, or even a sign of outright crankishness. Look at me! I'm thinking! No Internet!
If we know anything about knowledge, about innovation, and therefore about coming up with BDTs, it is that it is cumulative, an accretive process of happening upon, connecting, and assembling, like an infinite erector set, not just a few pretty I-beams strewn about on a concrete floor. But if BDTs were just about connecting things then the Internet would only be mildly interesting in changing the way I think. Libraries connect things, people connect things, and connections can even happen, yes, while sitting disconnected from the Internet under an apple tree somewhere. Here is the difference: The difference is that the Internet increases the speed and frequency of these connections & collisions, while dropping the cost of both to near zero.
It is that combination — cheap connections plus cheap collisions — that has done violence to the way I think. It is like having a private particle accelerator on my desktop, a way of throwing things into violent juxtaposition, and then the resulting collisions reordering my thinking. The result is new particles — ideas! — some of which are BDTs, and many of which are nonsense. But the democratization of connections, collisions and therefore thinking is historically unprecedented. We are the first generation to have the information equivalent of the Large Hadron Collider for ideas. And if that doesn't change the way you think, nothing will.
---
ROBERT R. PROVINE

INTERNET SOCIETY

At the end of my college lectures, students immediately flip-open their cellphones, checking for calls and texts. In the cafeteria, I observe students standing in queues, texting, neglecting fellow students two feet away. Late one afternoon, I noticed six students wandering up-and-down a long hallway while using cellphones, somehow avoiding collision, like ships cruising in the night, lost in a fog of conversation, or like creatures from The Night of the Living Dead. A student reported emailing during a "computer date," not leaving her room on a Saturday night. Paradoxically, these students were both socially engaged and socially isolated.
My first encounter with people using unseen phone headsets was startling; they walked through an air terminal apparently engaging in soliloquies or responding to hallucinated voices. More is involved than the displacement of snail mail by email, a topic of past decades; face-to-face encounters are being displaced by relations with a remote, disembodied conversant somewhere in cyberspace. These experiences forced a rethinking of my views about communication, technological and biological, ancient and modern, and prompted research projects examining the emotional impact, novelty and evolution of social media.
The gold standard for interpersonal communication is face-to-face conversation in which you can both see and hear your conversant. In several studies, I contrasted this ancestral audiovisual medium with cellphone use in which you hear but do not see your conversant, and texting in which you neither see nor hear your conversant. Conversations between deaf signers provided a medium in which individuals see but not hear their conversant.
The telephone, cell or land line, provides a purely auditory medium that transmits two-way vocal information, including the prosodic (affective) component of speech, but filters the visual signals of gestures, tears, smiles and other facial expressions. The purely auditory medium of the telephone is, itself, socially and emotionally potent, generating smiles and laughs in remote individuals, a point confirmed by observation of 1,000 solitary people in public places. Unless using a cellphone, isolated people are essentially smile less, laugh less and speechless. (We confirmed the obvious because the obvious is sometimes wrong.) Constant, emotionally rewarding vocal contact with select, distant conversants is a significant contributor to the worldwide commercial success of cellphones. Radio comedy and drama further demonstrate the power of a purely auditory medium, even when directed one-way from performer to audience. While appreciating the inventions of the telephone and broadcasting, it occurred to me that the ability to contact unseen conversants is a basic property of the auditory sense; it's as old as our species and occurs every time that we speak with someone in the dark or not in our line of sight. Phones become important when people are beyond shouting distance.
The emotional communication between individuals who can see but not hear their conversant was explored in a study of deaf individuals with collaborator Karen Emmorey. We observed vocal laughter and associated social variables in conversations between deaf signers using American Sign Language. Despite their inability to hear their conversational partner, deaf signers laughed at the same places in the stream of signed speech, at similar material, and showed the same gender patterns of laughter as hearing individuals during vocal conversations. An emotionally rich dialogue can be, therefore, conducted with an exclusively visual medium that filters auditory signals and passes only visual ones. Less nuanced visual communication is ancient and used when communicating beyond vocal range via such signals as gestures, flags, lights, mirrors, or smoke.
Text messaging, whether meaty emails or telegraphic tweets, involves conversants who can neither see nor hear each other and are not interacting in real time. My research team examined emotional communication online by analyzing the placement of 1,000 emoticons in Website text messages. Emoticons resembled conversational laughter in their placement in the text-stream — they seldom interrupted phrases. For example, you may text, "You are going where on vacation? Lol," but not "You are — lol — going where on vacation?"
Technophiles writing about text messaging sometime justify emoticon use as a response to the "narrowing of band-width" characteristic of text messaging, ignoring that text viewed on a computer monitor or cellphone is essentially identical to that of a printed page. I suspect that emoticon use is a likely symptom of the limited literary prowess of texters.

Know what I mean? Lol. Readers seeking the literary subtleties of irony, paradox, sarcasm, or sweet sorrow are unlikely to find it in text messages. Although not providing immediate, long distance contact, physically transported handwritten text messages have existed since clay tables and papyrus, and could be faster than commonly thought. Unless checked frequently, electronic text messaging may not be faster than the postal service of 18th Century London that had up to six deliveries per day and offered the possibility of a same-day receipt and response. A century later, telegraphy provided an even faster pre-Internet text option.
The basic cellphone has morphed into a powerful, mobile, multimedia communication device and computer terminal that is a major driver of Internet society. It gives immediate, constant contact with select, distant conversants, and can tell you where you are, where you should go next, how to get there, provide diversions while waiting, and document your journey with text, snaps and video images. For some, this is enhanced reality, but it comes at the price of the here-and-now. Whatever your opinion and level of engagement, the cellphone and related Internet devices are profound social prostheses — almost brain implants — that have changed our lives and culture.
---
---
WILLIAM CALVIN
Neuroscientist; Professor, University of Washington; Author, Global Fever

INTERNET ENHANCEMENT OF THE THOUGHT PROCESS
"The way you think" is nicely ambiguous. It could be a worldview: the way I
think about climate change has certainly been changed by the access to
knowledge and ideas afforded by the Internet. There is no way that I could
have gotten up to speed in climate science without the Web. It has literally
changed my view of the world and its future prospects.
But being a physiologist, I first assumed that "The way you think" was asking about process (changing one sort of stuff into another) and how my thought process has been changed by the Internet. And as it happens, I can sketch out how that might work.
A thinking process can pop up new ideas or make surprising new connections between old thoughts. So in order to explore how the Internet changes the thinking process, consider for a moment how thought normally works.
Assembling a new combination ("associations") may be relatively easy. The problem is whether the parts hang together, whether they cohere. We get a nightly reminder of an incoherent thought process from our dreams, which are full of people, places, and occasions that do not hang together very well. Awake, an incoherent collection is what we often start with, with the mind's back office shaping it up into the coherent version that we finally become aware of — and occasionally speak aloud. Without such intellectual constructs, there is, William James said a century ago, only "a bloomin' buzzin' confusion."
To keep a half-dozen concepts from blending together like a summer drink, you need some mental structuring. In saying "I think I saw him leave to go home" with its four verbs, you are nesting three sentences inside a fourth. We also structure plans (not just anticipation but with contingencies), play games (not just a romp but with arbitrary rules), create structured music (not just rhythm but with harmony and recursion), and employ logic (in long chains).
And atop this structured capability, we have a fascination with discovering how things hang together, as seen when we seek hidden patterns within seeming chaos — say, doing crossword and jigsaw puzzles, doing history, doing science, and trying to appreciate a joke. Our long train of connected thoughts is why our consciousness is so different from what came before. Structuring with quality control made it possible for us to think about the past, and to speculate about the future, in far more depth than if we were ruled by instinct and memory alone.
I'll use creating a novel sentence for my examples but it's much the same for new thoughts and action plans. Quality is a matter of the degree of coherence, both within a sentence and within an enlarged context. Quality control without a supervising intelligence occurs in nature.
On a millennial time scale, we see a new species evolving to better fit an ecological niche. It's a copying competition biased by the environment, making some variants reproduce better than others.
On the time scale of the days to weeks after our autumn flu shot, we see the immune response shaping up a better and better antibody to fit the invading molecule. Again, this is a Darwinian copying competition improving quality.
My favorite creative process, operating in milliseconds to minutes, can create a new thought that is spot on, first time out.
All are examples of the universal Darwinian process. Though often summarized by Darwin's phrase, "natural selection," it is really a process with six essential ingredients. So far as I can tell, you need:
1. a characteristic pattern (A, the stand-in for the long form — something like a bar code) that can 2. be copied, with 3. occasional variations (A') or compounding, where 4. populations of A and A' clones compete for a limited territory, their relative success biased by 5. a multifaceted environment of, say, memories and instincts under which some variants do better than others (Darwin's natural selection), and where 6. the next round of variants is primarily based on the more successful of the current generation (Darwin's inheritance principle).

Such recursion is how you bootstrap quality, why we can start with subconscious thoughts as jumbled as our night time dreams and still end up with a sentence of quality or a chain of logic — or anticipate the punch line of a joke.
You need a quality bootstrapping mechanism in order to figure out what to do with leftovers in the refrigerator; with successive attempts running through your head as you stand there with the door open, you can often find a "quality" scheme (that is, one that doesn't require another trip to the grocery store).
So how has the Internet connectedness changed the Darwinian creative process? For the data-gathering stage, it affords us more variants that others have already checked for quality. Search engine speed provides them faster, so that a number can be gathered within the time constraints of working memory — say, ten minutes. When we think we have a good-enough assembly, we can do a quick search to see what others have said about near-fits to our candidate. Typically, we will be forced to conclude that our candidate isn't quite right, and further Internet searches will guide us in create new variant formulations.
We can do all of this without the Internet, but it takes time — often much longer than the time span of working memory. To then think about the modified situation requires refreshing working memory with the old stuff. The sheer speed of checking out possibilities can minimize the need for that. Even if one is working from a library carrel in the stacks, getting a PDF of an article by Wi-Fi is a lot faster than chasing around the stacks.
I recall how envious I was when the Berkeley astronomer Rich Muller described how they worked out the comet problem for explaining the timing of mass extinctions. He said that it wasn't a good week if they couldn't kill off one or two possibilities for how comets from the Oort Cloud might achieve orbits sufficient to strike the Earth. A candidate would either turn out to be physically impossible or to make predictions that conflicted with observations. Nothing in brain research can possibly work that fast. It takes us decades to discover better explanations and move on. They could do it in a week.
And that's how I have been feeling about the Internet's expansion of quick access to knowledge and ideas. You can stand on the shoulders of a lot more giants at the same time.
---
LEO CHALUPA

THE GREATEST DETRACTOR TO SERIOUS THINKING SINCE TELEVISION

The Internet is the greatest detractor to serious thinking since the invention of television. It can devour time in all sorts of frivolous ways from chat rooms to video games. And what better way to interrupt one's thought processes than by an intermittent stream of incoming email messages? Moreover, the Internet has made inter-personal communication much more circumscribed than in the pre-Internet era. What you write today may come back to haunt you tomorrow. The recent brouhaha following the revelations of the climate scientists' emails is an excellent case in point.
So while the Internet provides a means for rapidly communicating with colleagues globally, the sophisticated user will rarely reveal true thoughts and feelings in such messages. Serious thinking requires honest and open communication and that is simply untenable on the Internet by those that value their professional reputation.

The one area where the Internet could be considered to be an aid to thinking is the rapid procurement of new information. But even here this is more illusionary than real. Yes the simple act of typing in a few words into a search engine will virtually instantaneously produce links related to the topic at hand. But the vetting of the accuracy of information obtained in this manner is not a simple manner. What one often gets is no more than abstract summaries of lengthy articles. As a consequence, I suspect that the number of downloads of any given scientific paper has little relevance to the number of times that the entire article has been read from beginning to end. My advice is that if you want to do some seriously thinking than you better disconnect the Internet, phone and television set and try spending 24 hours in absolute solitude as was suggested in my 2006 Edge Annual Question response.
---
MARK PAGEL

Professor of Evolutionary Biology, Reading University, England and The Santa Fe Institute
BRAIN CANDY AND BAD MATHEMATICS

The Internet isn't changing the way I or anybody else thinks. We know this because we can still visit some people on Earth who don't have the Internet and they think the same way that we do. My general purpose thinking circuits are hard wired into my brain from genetic instructions honed over millions of years of natural selection. True, the brain is plastic, it responds to the way it is brought up by its user, or to the language it has been taught to speak, but its fundamental structure is not changed this way, except perhaps in extremis, maybe eight hours per day of computer games.
But the Internet does takes advantage of our appetites, and this changes our thoughts, if not the way we think. Our brains have appetites for thinking, learning, feeling, hearing and seeing. They like to be used. It is why we do crossword puzzles and brain-teasers, read books and visit art galleries, watch films, and play or listen to music. Our brain appetites act as spurs to action, in much the same way that our emotions do; or much the same way that our other appetites — for food and sex — do. Those of us throughout history who have acted on our world — even if just to wonder why fires start, why the wind blows out of the southwest, or what would happen if we combined heat with clay, will have been more successful than those of us who sat around waiting for things to happen.
So, the Internet is brain candy to me and, I suspect, to most of us — it slakes our appetite to keep our brain occupied. That moment when a search engine pops up its 1,278,000 search results to my query is a moment of pure injection of glucose into my brain. It loves it. It is why so many of us keep going back for more. Some think that this is why the Internet is going to make us lazy, less-literate, and less-numerate, that we will forget what lovely things books are, and so on. But even as brain candy I think the Internet's influence on these sorts of capabilities and pleasures is probably not as serious as the curmudgeons and troglodytes would have you believe. They will be the same people who grumbled about the telegraph, trains, the motorcar, the wireless, and television.
There are far more interesting ways that the Internet changes our thoughts, and especially the conclusions we draw, and it does this also by acting on our appetites. I speak of contagion, false beliefs, neuroses — especially medical and psychological — conspiracy theories, and narcissism. The technical point is this: the Internet tricks us into doing bad mathematics; it gets us to do a mathematical integration inside our brains that we don't know how to do. What? In mathematics, integration is a way of summing an infinite number of things. It is used to calculate quantities like volumes, areas, rates, and averages. Our brains evolved to judge risks, to assess likelihood or probabilities, to defend our minds against undue worry, and to infer what others are thinking, by sampling and summing or averaging across small groups of people, most probably the people in my tribe. They do this automatically, and normally without us even knowing about it.
In the past my assessment of the risk of being blown up by a terrorist, or of getting swine flu, or of my child being snatched by a pedophile on the way to school, was calculated from the steady input of information I would have received mainly from my small local group, because these were the people I spoke to or heard from and these were the people whose actions affected me.
What the Internet does, and what mass communication does more generally is to sample those inputs from the 6.8 billion people on Earth. But my brain is still considering that the inputs arose from my local community, because that is the case its assessment circuits were built for. That is what I mean by bad mathematics. My brain assumes a small denominator (that is the bottom number in a fraction) with the result that the answer to the question of how likely something is to happen is too big.
So, when I hear every day of children being snatched my brain gives me the wrong answer to the question of risk: it has divided a big number (the children snatched all over the world) by a small number (the tribe). Call this the 'Madeleine McCann' effect. We all heard months of coverage of this sad case of kidnapping — still unresolved — and although trivial compared to what the McCann's suffered, it has caused undue worry in the rest of us.
The effects of the bad mathematics don't stop with judging risks. Doing the integration wrong, means that contagion can leap across the Internet. Contagion is a form of risk assessment with an acutely worrying conclusion. Once it starts on the Internet, everyone's bad mathematics make it explode. So, do conspiracy theories: if it seems everyone is talking about something, it must be true! But this is just the wrong denominator again. Neuroses and false beliefs are buttressed: we all worry about our health and in the past would look around us and find that no one else is worrying or ill. But consult the Internet and 1,278,000 people (at least!) are worrying, and they've even developed Websites to talk about their worry. The 2009 swine flu pandemic has been a damp squib but you wouldn't have known that from the frenzy.
The bad mathematics can also give us a sense that we have something useful to say. We'd all like to be taken seriously and evolution has probably equipped us to think we are more effective than we really are, it seeds us with just that little bit of narcissism. A false belief perhaps but better for evolution to err on the side of getting us to believe in ourselves than not to. So, we go up on the Internet and make Websites, create Facebook pages, contribute to YouTube and write Web logs and, surprise, it appears that everyone is looking at or reading them, because look at how many people are leaving comments! Another case of the wrong denominator.
The maddening side of all this is that neither I nor most others can convince ourselves to ignore these worries, neuroses, narcissistic beliefs and poor assessments of risk — to ignore our wrong thoughts — precisely because the Internet has not changed the way we think.
---
PAUL SAFFO
Technology Forecaster; Consulting Associate Professor, Stanford University
A THIRD KIND OF KNOWLEDGE
Back in the mid-1700s, Samuel Johnson observed that there were two kinds of knowledge: that which you know, and that which you know where to get. It was a moment when cheap and abundant print coupled with reliable postal networks triggered an information explosion that dramatically changed the way people thought. Johnson's insight was crucial because until then scholars relied heavily on the first kind of knowledge, the ability to know and recall scarce information. Abundant print usurped this task and in the process created the need for a new skill — Johnson's knowing "where to get it."
Print offloaded knowing from memory to paper and in the process triggered a revolution focused on making knowledge easier to get. Johnson's great Dictionary of the English Language — the first modern dictionary — was an exemplar of this effort, followed in the next century by innovations from Roget's thesaurus, to catalogs, index cards and file cabinets. As the store of paper-based knowledge grew, the new skill of research displaced the old skill of recall. A scholar could no longer get by on memory alone — one had to know where and how to get knowledge.
Now the Internet is changing how we think again. Just as print took over the once-human task of knowing, cyberspace is assuming the task of knowing where to get what we seek. A single click now accomplishes what once required days in a research library. A well-phrased search query is vastly more effective than resort to a card catalogue, and one no longer needs to master a thesaurus just to find a synonym. Knowing where to get is now the domain of machines, not humans.
Make something easy to do and skills once reserved to elites will become tools of the masses. Electronic calculators were not mere slide rule substitutes; they made computation convenient and accessible to everyone. The Internet is changing our thinking by giving the tremendous power of search to the most casual of users. We have democratized knowledge-finding in the same way 18th century publishing democratized knowledge access.
Computers have become intellectual bulldozers for the curious, but the result falls short of the utopian knowledge future hoped for at the dawn of the Internet. Back in Johnson's time the public reveled in their newfound access, buying up books, consuming newspapers and sending endless streams of letters to friends. It must have been exhilarating, but much of it was to utterly no purpose. Now we revel in search, but most of what we search for isn't worth seeking, as the top search lists on Google, Yahoo and Bing make clear. Couch potatoes who once channel-surfed their way through TV's vast wasteland have morphed into mouse potatoes Google-surfing the vaster wasteland of Cyberspace. They are wasting their time more interactively, but they are still wasting their time.
The Internet has changed our thinking, but if it is to be a change for the better, we must add a third kind of knowledge to Johnson's list — the knowledge of what matters. Two centuries ago the explosion of print demanded a new discipline of knowing where to find knowledge. When looking up was hard, one's searches inevitably tended towards seeking only what really mattered. Now that finding is easy, the temptation to chase down info-fluff is as seductive as a 17th century Londoner happily wallowing in books with no purpose. Without a discipline of knowing what matters, we will merely amuse ourselves to death.
Knowing what matters is more than mere relevance. It is the skill of asking questions that have purpose, that lead to larger understandings. Formalizing this skill seems as strange to us today as a dictionary must have seemed in 1780, but I'll bet it emerges just as surely as print abundance led to whole new disciplines devoted to organizing information for easy access. The need to determine what matters will inspire new modes of cyber-discrimination and perhaps even a formal science of determining what matters. Social media hold great promise as discrimination tools, and AI hints at the possibility of cyber-Cicerones who would gently keep us on track as we traverse the vastness of cyberspace in our enquiries. Perhaps the 21st century equivalent of the Great Dictionary will be assembled by a wise machine that knows what matters most.
---
MATT RIDLEY
Science Writer; Founding chairman of the International Centre for Life; Author, Francis Crick: Discoverer of the Genetic Code.

THE COLLECTIVE BRAIN
The Internet is the ultimate mating ground for ideas, the supreme lekking arena for memes. Cultural and intellectual evolution depends on sex just as much as biological evolution does; otherwise it remains a merely vertical transmission system. Sex allows creatures to draw upon mutations that happen anywhere in their species. The Internet allows people to draw upon ideas that occur to anybody in the world. Radio and printing did this too, and so did writing, and before that language, but the Internet has made it fast and furious.
Exchange and specialization are what makes cultural evolution happen, and the Internet's capacity for encouraging exchange encourages specialization too. Somebody somewhere knows the answer to any question I care to ask, and it is much easier to find him or her. Often it is an amateur, outside journalism or academia, who just happens to have a piece of knowledge to hand. An example: suspicious of the claim that warm seas (as opposed to rapidly warming seas) would kill off coral reefs, I surfed the Net till I found the answer to the following question: is there any part of the oceans that is too hot for corals to grow? One answer lay in a blog comment from a diver just back from the Iranian side of the Persian Gulf where he had seen diverse and flourishing coral reefs in 35C water (ten degrees warmer than much of the Great Barrier Reef).
This has changed the way I think about human intelligence. I've never had much time for the academic obsession with intelligence. Highly intelligent people are sometimes remarkably stupid; stupid people sometimes make better leaders than clever ones. And so on. The reason, I realize, is that human intelligence is a collective phenomenon. If they exchange and specialize, a group of 50 dull-witted people can have a far higher collective intelligence than 50 brilliant people who don't. So that's why it is utterly irrelevant if one race turns out to have higher IQ than another, or one company hires people with higher IQs than another. I would rather be marooned on a desert island with a diverse group of mediocre people who know how to communicate, from a singer to a plumber, say, than with a bunch of geniuses.
The Internet is the latest and best expression of the collective nature of human intelligence.
---
---
---
ARNOLD TREHUB
Psychologist, University of Massachusetts, Amherst; Author, The Cognitive Brain
EXPOSING THE LANDSCAPES OF DEEP SCIENTIFIC PROBLEMS

As I write this, a group of neuroscientists, psychologists, and philosophers located at far-flung corners of the world have been meeting online in a workshop devoted to solving what is arguably the fundamental problem in science — the mystery of human consciousness. The Internet has given me and the other participants in this effort the opportunity to ask each other probing questions, to engage in civil argument, specify areas of agreement, clarify points of disagreement, and to suggest what we should do next to advance our scientific understanding of consciousness. All of this discussion is taking place in near real-time, and all of our comments are preserved and archived for publication.
The usual scientific conferences did provide the opportunity to meet colleagues with common interests, present papers, and discuss them within very limited time frames. But this is nothing like what the Internet now makes possible. In online workshops of the kind in which I am now engaged, serious issues can be explored among key investigators, in depth, over many months; challenges can be posed and answered, and the current landscape of a deep scientific problem can be more sharply exposed. I believe that the Internet, used this way, will play a revolutionary role in promoting our understanding of the fundamental problems at the frontiers of science.
---
---
---
---
---
---
---
---
---
---
---
JESSE BERING
Psychologist, Director, Institute of Cognition and Culture, Queens University, Belfast; Columnist, Scientific American ("Bering in Mind"); Author, Under God's Skin
A RETURN TO THE SCARLET-LETTER SAVANNAH
Only ten thousand years ago, our Homo sapiens ancestors were still living in close-knit societies about the size of a large lecture hall in a state university. What today might be seen as an embarrassing faux pas back then could have been the end of the line for you. At least, it could have been the end of the line for your reproductive success, since an irreversibly spoiled reputation in such a small group could have meant a surefire death for your genes.
Just imagine the very worst thing you've ever done: the most vile, scandalous and vulgar. Now imagine all the details of this incident tattooed on your forehead. This scenario is much like what our ancestors would have encountered if their impulsive, hedonistic and self-centered drives weren't kept in check by their more recently evolved prudent inhibitions. And this was especially the case, of course, under conditions in which others were watching them, perhaps without them realizing. If their ancient, selfish drives overpowered them, our ancestors couldn't simply up sticks and move to a new town. Rather, since they were more or less completely dependent on those with whom they shared a few hundred kilometers, cutting off all connections wasn't a very viable option. And effectively hiding their identities behind a mantle of anonymity wasn't really doable either, since they couldn't exactly be just a nameless face. The closest our ancestors had to anonymity was the cover of night. Thus, in the ancestral past, being good, being moral, by short-circuiting our species' evolved selfish desires was even more a matter of life and death than it is today. It was a scarlet-letter Savannah.
Yet, curiously, for all its technological sophistication and seeming advances, the Internet has heralded something of a return to this scarlet-letter Savannah environment, and in many ways has brought our species back to its original social roots.
After a long historical period during which people may have been able to emigrate to new social groups and to "start over" if they spoiled their reputations, the present media age more accurately reflects the conditions faced by our ancestors. With newspapers, telephones, cameras, television and especially the Internet at our disposal, personal details about medical problems, spending activities, criminal and financial history and divorce records (to name just a few tidbits potentially costly to our reputations) are not only permanently archived, but can be distributed in microseconds to, literally, millions of other people. With the Internet being an active microcosm of human sociality, the old adage "wherever you go, there you are" takes on new meaning in light of the evolution of information technology. From background checks to matchmaking services, to anonymous Website browsing to piracy and identity theft, from "Googling" others (and ourselves) to flaming bad professors (e.g., www.ratemyprofessor.com) and stingy customers (e.g., www.bitterwaitress.com), the Internet is simply ancient social psychology meeting new information technology.
---
JARON LANIER
Musician, Computer Scientist; Pioneer of Virtural Reality; Author, You Are Not A Gadget: A Manifesto

THE FLAWS OF THE LATEST POP VERSION OF THE INTERNET HAVE MADE ME MORE OF A BIOLOGICAL REALIST, AND IN PARTICULAR HAVE MADE ME MORE SENSITIVE TO NEOTENY
The Internet as it evolved up to about the turn of the century was a great relief and comfort to me, and influenced my thinking positively in a multitude of ways. There were the long-anticipated quotidian delights of speedy information access and transfer, but also the far more important optimism born from seeing so many people decide to create Web pages and become expressive, proving that the late 20th century's passive society on the couch in front of the TV was only a passing bad dream.
In the last decade, the Internet has taken on unpleasant qualities, and has become gripped by reality-denying ideology.
The current mainstream, dominant culture of the Internet is the descendant of what used to be the radical culture of the early Internet. The ideas are unfortunately motivated to a significant degree by a denial of the biological nature of personhood. The new true believers attempt to conceive of themselves as becoming ever more like abstract immortal information machines, instead of messy, mortal, embodied creatures. This is nothing but yet another approach to an ancient folly; the psychological denial of ageing and dying. To be a biological realist today is to hold a minority opinion during an age of profound, overbearing, technologically-enriched groupthink.
When I was in my twenties, my friends and I we were motivated by the eternal frustration of young people that they are not immediately all made rulers of the world. It used to seem supremely annoying to my musician friends, for instance, that the biggest stars, like Michael Jackson, would get millions of dollars in advance for an album, while an obscure, minor artist like me would only get $100K advance to make one (and this was in early 1990's dollars.)
So what to do? Kill the whole damned system! Make music free to share, and demand that everyone build reputation on a genuine all-to-all network instead of a broadcast network, so that it would be fair. Then we'd all go out and perform to make money, and the best musician would win.
The lecture circuit was particularly good to me as a live performer. My lecture career was probably one of the first of its kind that was driven mostly by my online presence. (In the old days, my crappy Web site got enough traffic to merit coverage as an important Web site by the mainstream media like the New York Times.) It seemed as though money was available on tap.
Seemed like a sweet way to run a culture back then, but in the bigger picture, it's been a disaster. Only a tiny, token number of musicians, if any, do as well within the new online utopia as even I used to do in the old world, and I wasn't particularly successful. Every musician I have been able to communicate with about their true situation, including a lot of extremely famous ones, has suffered after the vandalism of my generation, and the reason isn't abstract but because of biology.
What we denied was that we were human and mortal, that we might someday have wanted children, even though it seemed inconceivable at the time. In the human species, neoteny, the extremely slow fading of our juvenile characteristics, has made child rearing into an extreme, draining long-term commitment.
That is the reality. We were all pissed at our own parents for not coming through in some way or other, but evolution has extended the demands of human parenting to the point that it is impossible for parents to come through well enough, ever. Every child must be disappointed to some degree because of neoteny, but economic and social systems can be designed to minimize the frustration. Unfortunately the Internet, as it has come to be, maximizes it.
The way that neoteny relates to the degradation of the Internet is that as a parent, you really can't go running around to play gigs live all the time. The only way for a creative person to live with what we can call dignity is to have some system of intellectual property to provide sustenance while you're out of your mind with fatigue after a rough night with a sick kid.
Or, spouses might be called upon to give up their own aspirations for a career, but there was this other movement called Feminism happening at the same time that made that arrangement less common.
Or, there might be a greater degree of socialism to buffer biological challenges, but there was an intense libertarian tilt coincident with the rise of the Internet in the USA. All the options have been ruled out, and the result is a disjunction between true adulthood and the creative life.
The Internet, in its current fashionable role as an aggregator of people through social networking software, only values humans in real time and in a specific physical place, that is usually away from their children. The human expressions that used to occupy the golden pyramidion of Maslow's pyramid, are treated as worthless in themselves.
But dignity is the opposite of real time. Dignity means, in part, that you don't have to wonder if you'll successfully sing for your supper for every meal. Dignity ought to be something one can earn. I have focused on parenting here, since it is what I am experiencing now, but the principle becomes even more important as people become ill, and then even more as people age. So, for these reasons and many others, the current fashionable design of the Internet, dominated by so-called social networking designs, has an anti-human quality. But very few people I know share my current perspective.
Dignity might also mean being able to resist the near-consensus of your peer group.
---
KEITH DEVLIN
Executive Director, H-STAR Institute, Stanford University; Author, The Unfinished Game: Pascal, Fermat, and the Seventeenth-Century Letter that Made the World Modern
"IT ALL DEPENDS ON WHAT YOU MEAN BY"
I just googled the exact phrase "It all depends on what you mean by", and our favorite research tool returned 920,000 hits. As a result, my originally intended opening sentence is no longer, "As a mathematician, I always approach a question by first asking exactly what it means, both as a whole and all its constituent terms."
Google tells me that it is not just mathematicians that ask the "meaning" question. To be sure, in many cases (some famous, even infamous) the question seems to be used as a political, legal, or social get-out-of-jail card. Though others use it for more honorable purposes, I suspect that only mathematicians are quite literally unable to do anything until they have answered the question to their satisfaction. Indeed, much of the history of mathematics amounts to successive re-clarification and re-specification of terms.
In the case of this year's Edge question, the key phrase is surely "the way you think," and the key word therein is "think."
No one can contribute to an online discussion forum like this without thereby demonstrating that the Internet has changed and continues to change the way we work.
The Internet also changes the way we make decisions. I now choose my flights on the basis of a lot more information than any one air carrier would like me to have (except perhaps for Southwest, who currently benefit from the Internet decision process), and I select hotels based on reviews by other customers, which I temper by a judgment based (somewhat dubiously, I admit) on their use of language as to whether they are sufficiently "like me" for their views to be relevant to me.
But is that really a change in the way I think? I don't think so. In fact, we Edge contributors are probably a highly atypical society grouping to answer this question, since we have all been trained over many years to think in certain, analytic ways. In particular, we habitually begin by gathering information, questioning that information and our assumptions, looking at (some) alternatives, and basing our conclusions on the evidence before us.
We are also used to having our conclusions held up to public scrutiny by our peers. Which of course is why it is rare (though intriguingly, and I think all to the good, not totally impossible) to find trained scientists who believe in Biblical Creationism or who doubt that Global Warming is a real and dangerous phenomenon.
When I reflect on how I go about my intellectual work these days, the Internet has changed it dramatically, but what has changed is the execution process (and hence, on some occasions, the conclusions I reach or the way I present them), not the underlying thinking process.
I would hope for Humanity's future that the same is true for all my fellow highly-trained specialists. The scientific method for reaching conclusions has served us well for many generations, leading to a length and quality of life for most of us that was beyond the imagination of our ancestors. If that way of thinking were to be replaced by a blind "wisdom of the crowd" approach, which the Internet offers, then we are likely in for real trouble. For wisdom of the crowd, like its best known exemplar google search, gives you the mostly-best answer most of the time.
As a result of those two "mostly's, wisdom of the crowd without questioning, though fine for booking flights or selecting hotels, can be potentially dangerous, even when restricted to experts. To give one example, not many decades ago, wisdom of the crowd among the scientific community told us that Plate Tectonics was nonsense; now it is the accepted theory.
The good thing about the analytic method, of course, is that once there was sufficient evidence in support of Plate Tectonics, the entire scientific community switched from virtual dismissal to total acceptance.
That example alone explains why I think it is good that a few well-informed (this condition is important) individuals question both global warming and evolution by natural selection. Our conclusions need to be constantly questioned. I remain open to having my mind changed on either. But to make that change, I require convincing evidence rather than blind faith or discomfort with the conclusions, evidence that is so far totally lacking. In the meantime, I will continue to accept both theories.
The real "Edge question" for me, is one that is only implied by the question as stated: Does the Internet change the way of thinking for those people born in the Internet age — the so-called Digital Natives? Only time can really answer that.
Living organisms adapt and the brain is a highly plastic organ, so it strikes me as not impossible that the answer to this modified question may be yes. On the other hand, recent research by my Stanford colleague Cliff Nass (and others) suggests that there are limitations to the degree to which the digital environment can change our thinking.
An even more intriguing question is whether the Internet is leading to society as a whole (at least those who are on the Net) constituting an emergent global thinking. By most practical definitions of "thinking" I can come up with, distinguishing it from emotions and self-reflective consciousness, the answer seems to be "Yes." And that development will surely change our future in ways we can only begin to imagine.
---
---
MICHAEL SHERMER
Publisher of Skeptic magazine, monthly columnist for Scientific American; Author, The Mind of the Market
LEVELING THE INTELLECTUAL PLAYING FIELD
In the 1980s I was a competitive bicycle racer, competing five times in the 3,000-mile nonstop transcontinental Race Across America, an event that Outside magazine called "the world's toughest sporting event." I felt that the playing field was level because in a pure sport such as cycling (this was before the days of sophisticated doping programs) it doesn't matter what your last name is, what schools you attended, how much money your parents have, which country clubs you belong to, your politics, religion, or socio-economic status, or any other social conventions. It only matters how fast you can pedal your bike. Full stop. Cycling is as close to a pure meritocracy as there is.
In my intellectual pursuits, however, I never felt that the playing field was level. In academia especially, but in other careers as well (most notably politics and corporate business), your name, money, connections, social standing, religion, and especially which institutions you are affiliated with do seem to matter…a lot. Pure skill and talent, while important, often seem to play second fiddle in the orchestral arrangement of society. The Internet is changing this.
Thanks to the Internet, for the first time in my life I feel that I have a chance to compete on a level playing field. My academic background is embarrassing compared to that of most successful intellectuals. My public high school education was so abysmal that I had to attend to a community college in California for two years before matriculating at the (then) reputationless Pepperdine University. I scraped together a master's degree through the second-tier California State University system, and finally gave up hope for an intellectual life and raced bikes for a decade. By the time I earned a Ph.D. from the distinctly non-elitist Claremont Graduate University, I discovered there were next to no jobs, especially for someone with an intellectual pedigree such as mine. Since teaching as an adjunct professor is no way to make a living (literally), I founded the Skeptics Society and Skeptic magazine just as the Internet was getting legs in the early-1990s.
Starting with no money, no backers, and no affiliation with elite institutions, the Internet made it possible for us to succeed by making knowledge accessible and searchable to me and my editors and writers on a scale never previously available. The intellectual playing field was being leveled and the Internet changed the way I think about the very real possibility of fairness and opportunity in a world that has for too long been rigged to favor the elite.
Who needs brick and mortar libraries when knowledge is available at fingertips' notice? Who needs acceptance into elite universities when the same knowledge is searchable by anyone from anywhere? Who needs access to exclusive clubs when knowledge is no longer the province of just the privileged? We're not all the way there yet, but the Internet is leveling the knowledge playing field by democratizing access to information.
This is real power, and I feel that power as never before.
---
LYNN MARGULIS
Biologist, Distinguished University Professor, UMass, Amherst; Coauthor (with Dorion Sagan), Acquiring Genomes: A Theory of the Origins of Species

BY AFFORDING ME NEW WORLDWIDE SCIENTIFIC COMMUNICATION ACCESS
By using the Internet I have renewed or begun new epistolary interactions on a global basis with superb, knowledgeable scientists and historians. The Internet has made quickly available much obscure, scientific literature relevant and invaluable to me. It has generated new colleagues. The luxury (far beyond the usual "he says, she says, they-say gossip") of the Internet leads us (both nearby and geographically distant associates: graduate students, family members, et al.) towards the answer to a key question about the grand sweep of the history of life in its biospheric environment on Planet Earth. (Note: of course our planet is mostly not earth, it ought to be renamed Planet Water or Planet Hard Rock.)
The Internet makes a difference as we zero in toward the final detailed solution of our scientific problem: "How did the ancestral nucleated cell evolve some 1000 million years ago?" (The cells of which all animals, plants, mushrooms and algae etc. are composed.) Everyone agrees this evolutionary turning point, the appearance of animal-type cells in the fossil record happened in the time period the geologists call the Proterozoic Eon)? How?
The short answer is nucleated cells evolved "by promiscuous forbidden sexual fusion among wildly different kinds of bacteria." Alas, our motley collection of fused bacterial ancestors never escaped from their "marriage contract". They survived and still live together with the ups-and-downs of permanent merger.
Probably some bacterial ancestors look back at the period 1000-600 million years ago when both water and air were full of hydrogen sulfide (poisonous to people). Before oxygen bubbled up and its combustion fueled the frenetic rate of environmental degradation that began in the Proterozoic eon and continues until today was "The Age of Bacteria", a calmer, quieter time. Aided and abetted by our very recent (Holocene) loud, careless, ignorant, frantic, clever but unwise, ephemeral human species, the rest of our planetmates have been there before us and will be there when we're gone.
The Internet pushes this notion farther, louder and of course with the velocity of light.
---
OLAFUR ELIASSON
Artist
THE INTERNET AS REALITY PRODUCER
The dimensionality of the Internet has yet to be defined, and the principles outlining its space are constantly negotiated through our use of it. With its unique time-/space situation – the fact that it is possible to physically be in one place, and, simultaneously, have access to the entire world – the Internet can potentially have a huge impact on our understanding of our surroundings.
Ideally, the relation between user and network should one of mutual exchange: I co-produce the network through my involvement in it, and it co-produces me through the information, I get from it. But for this to happen, we have to make better use of the potentials of the Internet, and the Internet has to have an interest in this mutual exchange – it has to invest itself in its users, so to speak. In its current form, the Internet, the way I see it, has signed a contract with a Modernist, two-dimensional conception of space. The relation between it and its users is one of subject and object: I can see it as if it were an image, but I cannot feel it, I'm not present in it, the interaction between the medium and I is too weak.
Being a profoundly democratic medium, opening up unprecedented possibilities of self-expression, freedom of the press and access to information, the Internet is not only the source of unlimited access to knowledge, but paradoxically enough also the breeding ground of a general acceptance of a lack of competences. Large social communities such as Facebook, which do not produce or exchange any kind of knowledge, seem to flourish, and because search machines are based on trivial algorithmic principles of recognition, it can be hard to find the qualified, critical voices in the bulk of information.
If the Internet should help us become more consciously involved with the world, it is not enough to just canalise huge amounts of information into society. Search engines should be competence-focused, social networks should relate to competent search engines, and video and search functions should be better integrated. This requires that Google, Yahoo, AOL and the other large companies defining the future of the Internet, provide the medium with enough confidence to operate with self-criticism. The only self-criticism, the Internet is operating with at the moment seems to be the one of the market economy – the most efficient, frequently updated and trimmed sites being the ones where money is changing hands. This is not enough. We have to base our use of the Internet on both trust and scepticism.
In this way, the Internet would not stand outside reality and send information in, rather it would be conceived of as a part of reality, and thus the distinction between subject and object would dissolve, and we would experience the Internet as if it were a three-dimensional space. The Internet would become a reality producing machine.
---
IRENE M. PEPPERBERG
Research Associate & Lecturer, Harvard; Adjunct Associate Professor, Brandeis; Author, Alex & Me
I THINK, THEREFORE I AM — STILL ME
The Internet hasn't changed the way I think; it hasn't altered one whit the way in which I — that is, my brain—processes information…other than maybe by forcing me to figure out how to process a lot more of it. Consciously, I still use the same scientific training that was drummed into me as an undergraduate and graduate student in theoretical chemistry, even when it comes to evaluating aspects of my daily life: Based on a certain preliminary amount of information, I develop a hypothesis and try to refine it so that it differs from any competing equally plausible hypotheses; I test the hypothesis; if it is proven true, I rest my case within the limits of that hypothesis, accepting that I may have solved only one piece of a puzzle; if it is proven false, I revise and repeat the procedure.
Maybe the Internet has given me more things to think about, but that doesn't fundamentally change the way I think. Rather, what has changed, and is still changing, is my relationship with the Internet — from unabashed infatuation to disillusionment to a kind of armed truce. And, no, I'm not sidestepping the question, because until the Internet actually rewires my brain, it won't change my processing abilities. Of course, such rewiring may be in the offing, and quite possibly sooner than we expect, but that's not yet the case.
So, my changing love-hate relationship with the Internet.
First came the honeymoon phase — believing that nothing in the world could ever be as wondrous — an appreciation for all the incredible richness and simplicity that the Internet brought into my life. No longer did I have to trudge through winter's snow or summer's heat to a library at the other end of campus — or even come to campus — to acquire information, or to make connections to friends and colleagues all over the world.
Did I need to set up a symposium for an international congress? Just a few emails and all was complete. Did I need an obscure reference or that last bit of data for the next day's powerpoint presentation while in an airport lounge, whether in Berlin or Beijing, Sydney or Saltzburg? Ditto. Did I need a colleague's input on a tricky problem or to provide the same service myself? Ditto. Even when it came to forgetting a birthday or anniversary and needing to research and send a gift somewhere in the world? Ditto. A close friend and colleague moves to Australia? No problem staying in touch anymore. But did all this change the way I think? No. It may have changed the way I work, because what changed were various limitations on the types of information that were accessible within certain logistical boundaries, but my actual thought processes didn't alter.
Next came the disenchantment phase…the realization that more and faster were not always better. My relationship with the Internet began to feel oppressive, overly demanding of my time and energy. Just because I can be available and can work 24/7, 365 — must I?? The time saved and the efficiencies achieved began to backfire. I no longer had the luxury of recharging my brain by observing nature during that walk to the library, or by reading a novel while at that airport lounge.
Emails that supplanted telephone calls were sometimes misunderstood, because vocal modulations were missing. The number of requests to do X, Y, or Z began to increase exponentially, because, for example, it was far easier to shoot me a question than to spend the time digging up the answers — even on the Internet. The lit search I performed on the supposedly infinitely large data base failed to bring up that reference I needed and knew existed, because I read it a decade ago but didn't save it for my files because I figured I could always bring it up again.
This Internet relationship was supposed to enable all of my needs to be met; how did it instead become the source of endless demands? How did it end up draining away so much time and energy? The Internet seemed to have given me a case of Attention Deficit Disorder, but did it really change the way I think, or just made it more difficult have the time to think? Most likely the latter, because judicious use of the "off" button allowed a return to normalcy.
Which brings me to that armed truce — .an attempt to appreciate the positives and accept the negatives, to set personal boundaries and to refuse to let them be breached. Of course, maybe it is just this dogmatic approach that prevents the Internet from changing the way that I think.
---
MORE EFFICIENT, BUT TO WHAT END?
An engineer, a physicist and a computer scientist go for a drive. Near the crest of a hill, the engine sputters and stops running.
"It must be the carburetor," says the engineer, opening his toolbox. "Let me see if I can find the problem."
"If we can just push it to the top of the hill, we'll be able to coast down by gravity and get to a garage," says the physicist.
"Wait a second," says the computer scientist. "Let's all get out of the car, shut the doors, open them again, get in, turn the ignition and see what happens."
---
I like programming, and when I do, I am often unable to stop because there is always one more easy thing you can try before you get up and stop, one more bug you can try to fix, one more attempt you can make to find the cause of a problem, one more shot at incrementally improving something. Because of the interactivity of programming – edit, compile, run, examine, repeat – you can always take a quick preliminary whack at something and see if it works. You can try a solution without understanding the problem completely.
If, as I do, you spend most of your day in front of a computer, then the Internet brings this endless micro-interactivity into your entire life by providing you with a willing co-respondent. It abhors a vacuum. It can fill up all your available time by breaking it up into smaller and smaller chunks. If you have even a split moment, you can reply to an email, check wikipedia, look at the weather, scan your horoscope, read a movie review, watch a video, suffer through an ad. All hurriedly.
One unmitigatedly good thing is the associative memory this facilitates. If you can't remember the name of the abstract expressionist you read about in an article fifteen years ago in the Times, an artist who used to live on Old Slip in New York in the Nineteen Fifties with his French actress then-wife who, you recall, was in Last Year in Marienbad, you can go to imdb, look up the movie, find her name, look her up on Wikipedia and discover that her husband was Jack Youngerman. When I do this a second time now for verification, I go off on a tangent and discover that she acted with Allan Ginsberg in Pull My Daisy. And that she is buried in Cimetière du Montparnasse, one of the more restful places to be buried, not far from where Hemingway used to drink and write at the …
But I digress.
---
Some people say the Internet has made us more efficient.
I waste many hours each day being efficient.
Efficiency should be a means, not an end.
The big question, as always, is: How shall I live?
The Internet hasn't changed the way I think about that.
What's changed the way I think about big things, as always, are the people I talk to and the books I read.
---
NOT AT ALL

As someone who believes both in human nature and in timeless standards of logic and evidence, I'm skeptical of the common claim that the Internet is changing the way we think. Electronic media aren't going to revamp the brain's mechanisms of information processing, nor will they supersede modus ponens or Bayes' theorem. Claims that the Internet is changing human thought are propelled by a number of forces: the pressure on pundits to announce that this or that "changes everything"; a superficial conception of what "thinking" is that conflates content with process; the neophobic mindset that "if young people do something that I don't do, the culture is declining." But I don't think the claims stand up to scrutiny.
Has a generation of texters, surfers, and twitterers evolved the enviable ability to process multiple streams of novel information in parallel? Most cognitive psychologists doubt it, and recent studies by Clifford Nass confirm their skepticism. So-called mutlitaskers are like Woody Allen after he took a speed-reading course and devoured War and Peace in an evening. His summary: "It was about some Russians."
Also widely rumored are the students who cannot write a paper without instant-message abbreviations, emoticons, and dubious Web citations. But students indulge in such laziness to the extent that their teachers let them get away with it. I have never seen a paper of this kind, and a survey of university student papers by Andrea Lunsford shows they are mostly figments of the pundits' imaginations.
The way that intellectual standards constrain intellectual products is no more evident than in science. Scientists are voracious users of the Internet, and of other computer-based technologies that are supposedly making us stupid, like Powerpoint, electronic publishing, and email. Yet it would be ludicrous to suggest that scientists think differently than they did a decade ago, or that the progress of science has slowed.
The most interesting trend in the development of the Internet is not how it is changing people's ways of thinking but how it is adapting to the way that people think. The leap in Internet usage that accompanied the appearance of the World Wide Web more than a decade ago came from its user interface, the graphical browser, which worked around the serial, line-based processing of the actual computer hardware to simulate a familiar visual world of windows, icons, and buttons. The changes we are seeing more recently include even more natural interfaces (speech, language, manual manipulation), better emulation of human expertise (as in movie, book, or music recommendations, and more intelligent search), and the application of Web technologies to social and emotional purposes (such as social networking, sharing of pictures, music, and video) rather than just the traditional nerdy ones.
To be sure, many aspects of the life of the mind have been affected by the Internet. Our physical folders, mailboxes, bookshelves, spreadsheets, documents, media players, and so on have been replaced by software equivalents, which has altered our time budgets in countless ways. But to call it an alternation of "how we think" is, I think, an exaggeration.
---
I HAVE OUTSOURCED MY MEMORY

The process was so gradual, so natural, that I didn't notice it at first. In retrospect, it was happening to me long before the advent of the Internet. The earliest symptoms still mar the books in my library. Every dog-eared page represents a hole in my my memory. Instead of trying to memorize a passage in the book or remember an important statistic, I took an easier path, storing the location of the desirable memory instead of the memory itself. Every dog-ear is a meta-memory, a pointer to an idea that I wanted to retain but was too lazy to memorize.

The Internet turned an occasional habit into my primary way of storing knowledge. As the Web grew, my browsers began to bloat with bookmarked Websites, with sites that stored information that I deemed important but didn't feel obliged to commit to memory. And as search engines matured, I stopped bothering even with bookmarks; I soon relied upon Altavista, Hotbot, and then Google to help me find — and recall — ideas. My meta-memories, my pointers to ideas, started being replaced by meta-meta-memories, by pointers to pointers to data. Each day, my brain fills with these quasi-memories, with pointers and with pointers to pointers, each one a dusty IOU sitting where a fact or idea should reside.

Now, when I expend the effort to squirrel memories away, I store them in the clutter of my hard drive as much as I do in the labyrinth of my brain. As a result, I spend as much time organizing them, making sure I can retrieve them on demand, as I do collecting them. My memories are filed in folders within folders within folders, easily accessible — and searchable, in case my meta-memory of their location fails. And when a file becomes corrupt, all I am left with a pointer, a void where an idea should be, a ghost of a departed thought.
---
A woman witnesses a crime and recounts it to a policeman. Months later she appears in court to testify. As her story unfolds, it begins to differ from the notes taken by the policeman. A journalist covering the case notices that her testimony includes things she could not have known at the time but that were later discovered and that appeared in his newspaper. Though intensely grilled by the DA, she sticks by her story.
Why did her memory change? Why didn't she know the difference between what she experienced and what she read in the paper? The short answer is that remembering is a dangerous affair in the life of a memory. A slightly longer answer requires that we delve into the mechanisms that store memories.
Memory formation occurs in stages. Initially, a temporary or short-term memory is formed. This memory is fragile and will dissipate unless it is converted into a long-term memory through protein synthesis inside the neurons that processed the experience. The new proteins stabilize the synaptic connections that constitute memory at the cellular level. If protein synthesis is disrupted in the hours following the experience, a long-term memory does not result. The conversion of short-term into long-term memory via protein synthesis is called consolidation.
It has also been found that disruption of protein synthesis after the remembrance of a fully consolidated long-term memory produces a loss of the memory. This is taken to mean that when memories are retrieved they have to be reconsolidated via protein synthesis in order to persist.
Reconsolidation is essentially an updating process. After consolidation, a memory remains unchanged until it is retrieved. At that point, the brain has the opportunity to incorporate new information into the memory, things that have been learned since the memory was stored initially. I haven't thought about the Edge Annual Question since last year, but now that I have been forced to remember it, my memory of it includes the new question.
So far so good. But considerable research now suggests that reconsolidation can overwrite previous memories. That is, the old memory is eliminated and the new one involves a collage of old and new information. This integration process determines what we will remember the next time. When our witness read the newspaper account, the old memory was retrieved and new information was integrated with the old information. She was unable to tell the difference between what she experienced and what she later learned because it was now one memory. Laboratory studies in fact show that people are not very good at remembering what they actually experienced, and often make mistakes that involve the insertion of new information into a memory.
The bottom line of reconsolidation research is that your memory of some experience is only as good as your last recollection of the experience. Each use of a memory changes the memory. Obviously, the changes are not always so dramatic as what I have described. But the fact is that memory can, at least to some extent, be changed by experience, and sometimes the changes can be striking.
There a number of practical implications of this research. One is that it might be possible to relieve emotional stress by having people remember their stressful experiences and then interfering with reconsolidation. This is pretty much what happened to Jim Carey's character in The Eternal Sunshine of the Spotless Mind. But there is also evidence that it works in real life situations with trauma victims. Studies in rats also suggest that this same approach can be used to reduce the ability of drug-related cues to produce relapse.
Memory works pretty well most of the time. But we should be careful as a society when we make significant decisions on the basis of one person's memory. The only way a memory remains "pure" and resistant to change is by never being used. The most accurate memories are indeed the ones never remembered. Be careful about what you remember.
---
THE ROTATING PROBLEM, OR HOW I LEARNED TO ACCELERATE MY MENTAL CLOCK
Like the Gutenberg press in its time, the Internet is revolutionizing our access to knowledge and the world we live in. Few people, however, pay attention to a fundamental aspect of this change: the shift in our notion of time. Human life used to be organized in inflexible day-and-night cycles — a quiet routine that has become radically disrupted, for good or for worse.
Some years ago, I was working out of Paris with colleagues in Harvard on the mathematical mind of Amazon Indians. The project was so exciting, and we were so motivated by the paper we were writing, that we worked on it every day, if not day and night (we had families and friends…).
At the end of each day, I would send my colleagues a new draft of our article, full of detailed questions and issues that needed to be addressed. In a world without Internet, I would have had to wait several weeks for a reply. Geographically dispersed and collective work used to be slower than individual thought. Not so in today's world. Every morning, after a good night's sleep, I woke up to find that most of my questions had been answered during the night, as if by magic. The experience reminded me of the mysterious instances of non-conscious problem solving during sleep, as famously reported by Kekulé, Poincaré, Hadamard and other mathematicians and scientists. The difference, of course, was that my problems were solved thanks to conscious effort and the pooling together of several minds around the planet.
For my Harvard colleagues too, the experience felt somewhat miraculous. They too had many questions, and I dutifully computed the statistics they requested, drew the new data plots they asked for and wrote the paragraphs they needed — all this while Harvard was still plunged into the night. Thanks to this collective effort, our work was completed much faster than any one of us could have managed alone. We had almost doubled the speed of our mental clocks!
The idea is now common place. A great many companies outsource translation or maintenance to Indian, Australian or Taiwanese employees on the other side of the world, so that the work can be completed overnight. However, the entire scope of this phenomenon does not yet appear to have fully dawned on us.
For the sake of example, imagine an international corporation, say a movie studio like Pixar, intentionally placing three of its computing centers at the vertices of a giant equilateral triangle spanning the earth, so that the employees at a given location can work on a project for 8 daylight hours and then pass it on to another team in a different time zone.
For a more grandiose picture, one that could have arisen from Jorge Borges' mind, imagine a complex Problem that moves around the planet via Internet, at a fixed speed precisely countering the earth's rotation, in such a way that the Problem itself constantly faces the sun. As dawn rises for a fraction of humanity, the Problem is already present on their computer screens — but some of it has been chipped away by armies of fellow workers who, by this time, are sound asleep. Day and night, without interruption, the earth's rotation cranks away at the Problem until it is solved.
But such giant Utopian or Borgesian projects do, in fact, already exist — they are called Wikipedia, Linux, SourceForge or OLPC (one laptop per child). They are beyond the scope, or even the imagination, of any single human being. Nowadays, open source development literally moves around in the infosphere and is being improved constantly on whatever side of the planet happens to be in sunshine (and often on the other side as well).
There is grandeur in this new way of computer life, where the normal sleep-wake cycle is replaced by the constant churning of silicon and mind. But there is much inherent danger in it as well. Take a look at Amazon's aptly named "mechanical turk", and you'll find an alternative Web site where largely profitable enterprises, in developed countries, offer short-term, badly paid computer jobs to the third-world's poor. For a few pennies, they propose a number of thankless assignments ironically called "human intelligence tasks" that require completing forms, categorizing images or typing handwritten notes — anything that computers still cannot do. They provide no benefits, no contract, no guarantees, and ask no questions: the dark side of the intellectual globalization now made possible by the Internet.
As our mental clocks keep on accelerating, and we become increasingly impatient about our unfinished work, the Internet provides our society with a choice that deserves reflection: do we aim for ever faster intellectual collaboration? Or for ever faster exploitation that will allow us to get good night's sleep while others do the dirty work? With the Internet, a new sense of time is dawning, but our basic political options remain essentially unchanged.
---
---
RICHARD FOREMAN
Playwright & Director; Founder, The Ontological-Hysteric Theater
THE DAZED STATE

How is the Internet changing the way I think? But what is it — this doing "thinking" that I assume I do along with everybody else? Probably there is no agreement about what this "thinking" consists of. But I certainly do not believe "gathering information" is thinking — and that has obviously been an activity that has expanded and sped up as a result of the Internet. But for me — to "think" is to withdraw from gathered information into a blankness within which something arises — pops out — is born.
Of course it will be maintained that what "pops" out may have its roots, may be conditioned, by many factors in my experiential past. But nevertheless — while the Internet swamps us in "connectedness" and "fact" — it is only in the withdrawal from those I claim a space for thinking.
So in one sense, the Internet expands the arena within which thinking may resonate, and so perhaps the thinking is thereby "attuned" somewhat differently. But I must admit to being one of those who believes that while it is clearly "life-changing" — it is no way, if you will — "soul-changing" Accessing the ever expanding, ever faster Internet means a life that is changing as it becomes the life of a surfer (just as life might change if one moved to a California beach community) — one becomes more and more agile balancing on top of the flow, leaping from hyper-link to hyper-link — giving one's mental "environment" a certain shape based on those chosen jumps.
But the Internet sweeps you away from where and "WHAT" you were — so instead of filling you with the fire to dig deeper into the magic bottomless source that is the self — it lets you drift into the dazed state of having everything at your finger-tips — which are used to caress the world of course, but only the world as it assumes the shape of the now-manifest rather than the world of the still un-imaginable.
So even though I myself do spend LOTS of time on the Internet — (fallen, "Pancake Person" that I am) I can't help being reminded of the Greek philosopher who attributed his long life to avoiding dinner parties. (If only I could avoid the equally distracting Internet which, in it's promise of connectedness and expanded knowledge is really a substitute social phenomenon).
The "entire world" that the Internet seems to offer harmonized strangely with the apple offered to Eve from the Tree of Knowledge — ah, we don't believe in those old myths? (I guess one company guru did).
Well, the only hope I see hovering in the never-never land (now real) where the Internet does it's work of feeding smart people amphetamines and "dumb" people tranquilizers — the only hope is that the expanding puddle of boiling, bubbling hot milk will eventually COAGULATE and a new unforeseen pattern will emerge out of all that activity that thought it was aiming at a certain goal. but (as is usual with life) was really headed someplace else nobody knew about.
That makes it sound like the new mysticism for a new Dark Ages. Well, we've already bitten the Apple. Good luck to those much younger than me who may be around to see either the new Heaven or the new Hell.
---
JUDITH RICH HARRIS
Independent Investigator and Theoretician; Author, No Two Alike: Human Nature and Human Individuality
THE JOY OF JUST-ENOUGHNESS
The Internet dispenses information the way a ketchup bottle dispenses ketchup. At first there was too little; now there is too much.
In between, there was a halcyon interval of just-enoughness. For me, it lasted about ten years.
They were the best years of my life.
---
CLIFFORD PICKOVER
Author, Archimedes to Hawking
THE RISE OF INTERNET PROSTHETIC BRAINS AND SOLITON PERSONHOOD
With increasing frequency, people around the globe seek advice and social support from other individuals connected via the Internet. Our minds arise not only from our own brains but from Internet prosthetic brains (IPBs) — those clusters of people with whom we share information and advice through electronic networks. The simple notion of you and me is changing. For example, I rely on others to help me reason beyond the limits of my own intuition and abilities. Many of my decisions in life are shaped by my IPBs around the globe, and these decisions range from advice on software, computer problems, health issues, and emotional concerns. Thus, when asked to make a decision, who is the me who is actually making that decision?
The IPBs generated by social network connectivity can be more important than the communities dependent on geographic locality. Through the IPBs, we exchange parts of minds with one another. By the information we post on the Web and the interactions we have, we become IPBs for others. In some ways, when we die physically, a part of us survives as an IPB in the memories and thoughts of others, but also as trails we leave on the Internet. Individuals who participate in social groups, blogs, and Twitter, and who deposit their writings on the Web leave behind particles of themselves. Before the Internet, most of us rarely left marks on the world, except on our immediate family or a few friends. Before the Internet, even your immediate family knew nothing of you within four generations. In the "old days," your great-grandchildren might have carried some vestigial memory of you, but that faded like a burning ember when they died — and you would have often been extinguished and forgotten. I know nothing about my great grandparents.
However, in the Internet Age, the "complete extinguishing" never really happens, especially for prominent or prolific users. For example, the number of Internet searchers for something you wrote may asymptotically approach zero over the decades, but it will never quite reach zero. Given the ubiquity of the Internet, its databases, and search engines, someone a hundred years from now may smile on something you wrote or wonder about who you were. You may become part of this future person's own IPB as he navigates through life. In the future, simulacrums of you, derived in part by your Internet activities, will be able to converse with future generations.
Moreover, studies show that individuals within your social network have a profound influence on your personal health and happiness, for example, through your contacts on the Internet (whom you usually know) and their friends (whom you may not know). Habits and ideas spread through a vast Web of interconnectivity, like a virus. Behaviors can sometimes skip links — spreading to a friend of a friend without affecting the person who connects them. In summary, in the age of the Internet, the concept of you and personhood is more diffuse than ever before.
Because your interests, decision-making capabilities, habits, and even health are so intertwined with others, your personhood is better defined as a pseudo-personhood that is composed of yourself and the assembly of your IPBs out to at least three degrees of network separation. When we die, the Web of interconnectivity becomes torn, but one's pseudo-personhood, in some sense, continues to spread, like a soliton wave on a shoreless sea of Internet connections.
When Marc Chagall was asked to explain why he became a painter, he said that a painting was like a window through which he "could have taken flight toward another world." Chagall explored the boundaries between the real and unreal. "Our whole inner world is reality," he once wrote, "perhaps more real still than the apparent world."
As the notion of IPBs and soliton personhood expands, this kind of boundary will become even more blurred. The IPBs become of Chagallian importance and encourage the use of new windows on the world. They foster a different kind of immortality, form of being, and flight.
---
---
GEOFFREY MILLER
Evolutionary Psychologist, University of New Mexico; Author, Spent: Sex, Evolution, and Consumer Behavior
MY JUDGEMENT ENHANCER
The Internet changes every aspect of thinking for the often-online human: perception, categorization, attention, memory, spatial navigation, language, imagination, creativity, problem-solving, Theory of Mind, judgment, and decision-making. These are the key research areas in cognitive psychology, and constitute most of what the human brain does. BBC News and The Economist Website extend my perception, becoming my sixth sense for world events. Gmail structures my attention through my responses to incoming messages: delete, respond, or star for response later? Wikipedia is my extended memory. An online calendar changes how I plan my life. Google Maps change how I navigate through my city and world. FaceBook expands my Theory of Mind — better understanding the beliefs and desires of others.
But for me, the most revolutionary change is in my judgment and decision-making — the ways I evaluate and choose among good or bad options. I've learned that I can offload much of my judgment on to the large samples of peer ratings available on the Internet. These, in aggregate, are almost always more accurate than my individual judgment. To decide which Blu-ray disks to put in my Netflix cue, I look at the average movie ratings on Netflix, IMDB, and Metacritic. These reflect successively higher levels of expertise among the raters — movie renters on Netflix, film enthusiasts on IMDB, and film critics on Metacritic. Any film with high ratings across all three sites is almost always exciting, beautiful, and thoughtful.
My fallible, quirky, moody judgments are hugely enhanced by checking average peer ratings: book and music ratings on Amazon, used car ratings on Edmunds, foreign hotel ratings on Tripadvisor, and citations to scientific papers on Google scholar. We can finally harness the Law of Large Numbers to improve our decision-making: the larger the sample of peer ratings, the more accurate the average. As ratings accumulate, margins of error shrink, confidence intervals get tighter, and estimates improve. Ordinary consumers have access to better product-rating data than market researchers could hope to collect.
Online peer ratings empower us to be evidence-based about almost all of our decisions. For most goods and services, and indeed most domains of life, they offer the consumer a kind of informal meta-analysis — an aggregation of data across all the analyses already performed by other like-minded consumers. Judgment becomes socially distributed and statistical rather than individual and anecdotal.
Rational-choice economists might argue that sales figures are a better indication than online ratings of real consumer preferences, insofar as people vote with their dollars to reveal their preferences. This ignores the problem of buyer's remorse: consumers buy many things that they find disappointing. Their post-purchase product ratings mean much more than their pre-purchase judgments. Consumer Reports data on car owner satisfaction ('Would you buy your car again?') are much more informative than new-car sales figures. Metacritic ratings of the Twilight movies are more informative about quality than first-weekend box office sales. Informed peer ratings are much more useful guides to sensible consumer choices than popularity-counts, sales volumes, market share, or brand salience.
You might think that post-purchase ratings would be biased by rationalization — I bought product X, so it must be good, or I'd look like a fool. No doubt that happens when we talk with friends and neighbors, but the anonymity of most online ratings reduces the embarrassment effect of admitting one's poor judgments and wrong decisions.
Of course, peer ratings of any product, like votes for a politician, can be biased by stupidity, ignorance, fashion cycles, mob effects, lobbying, marketing, and vested interests. The average online consumer's IQ is only a little above 100 now, and their average education is just a couple of years of college. Runaway popularity can be mistaken for lasting quality. Clever ads, celebrity endorsements, and brand reputations can bias the judgment of even the most independent-minded consumers. Rating sites can be gamed and manipulated by retailers. Nonetheless, online peer ratings remain more useful than any other consumer-empowerment movement in the last century.
To use peer ratings effectively, we have to let go of our intellectual and aesthetic pretensions. We have to recognize that some of our consumer judgments served mainly as conspicuous displays of our own intelligence, openness, taste, or wealth, and are not really the best way to choose the best option. We have to learn some humility. My best recent movie-viewing experiences have all come from valuing the Metacritic ratings over my own assumptions, prejudices, and pre-judgments. In the process, I've learned a new-found respect for the collective wisdom of our species. This recognition that my own thinking is not so different from, or better than, everyone else's, is one of the Internet's great moral lessons. Online peer ratings reinforce egalitarianism, mutual respect, and social capital. Against the hucksterism of marketing and lobbying, they knit humanity together into collective decision-making systems of formidable power and intelligence.
---
---
TOR NØRRETRANDERS
Science Writer; Consultant; Lecturer, Copenhagen; Author, The Generous Man
DARE, CARE AND SHARE
The more you give, the more you get. The more you share, the more they care. The more you dare, the more is there for you. Dare, care and share.
The Internet has become the engine of gift economy and cooperation. The simple insight that there is so much more knowledge, data and wisdom out there than I can ever attend in a lifetime, shows me that life is not about collecting information into a depot of books, theorems, rote memories or titles. Life is about sharing with others what you have. Use it, share it, pick it when you need it. There is plenty out there.
In ecology, the waste of one organism is the food of another. Plants produce oxygen as a waste product — animals need it to live. We produce carbon dioxide as waste — and the plants enjoy it. To live is to be able to share your waste.
Human civilization seems to have been forgetting that through centuries of building and isolating waste depots and by exploiting limited resources. Now, we start learning that it is all about flows. Matter, energy, information, social links. They all flow through us. We share them with each other and all other inhabitants of this planet. The climate problem show us what happens if we ignore that renewable flows are the real stuff while depots and fortresses are illusions in the long run.
The Internet makes us think in the right way: Pass it on, let it go, let it flow. Thinking is renewed. Now we only need to change the way we act.
---
SUE BLACKMORE
Psychologist; Author, Consciousness: An Introduction
A THIRD REPLICATOR

The way "I" think? I'm not sure that I know any more who or what is doing the thinking. That's the question the Internet is forcing me to ask.
When I was just a human being, writing books and research papers, or appearing on radio and television, I could happily imagine that "I" wrote my books. I didn't need to question who or what was doing the thinking or having the new ideas. In those days body, brain and knowledge were all bound up together in one place. To use an old metaphor, hardware, software and data were all bound up in one entity; it was reasonable to call it "Me".
The Internet has changed all that. It has changed both the nature of selves and the nature of thinking. "I" am no longer just the imagined inner conscious self who inhabits this body, but the smiling face on my Website and the fictional character other people write about in cyber space. If someone asks "Who is Sue Blackmore?" this body will have less say in the answer than the questioner's search engine.
The change to thinking itself began gradually. Humans have long outsourced their knowledge to paper and books. So in the old days I would sit at my desk with my typewriter and look up things I needed to know in books in my own, or the university library. Then I got a word processor. This new hardware shifted a little of the work but all the creative thinking still went on inside my head, taking in countless old memes and bringing them together to make new ones, selecting among the results and writing just a few of them down.
Then came the Internet. This meant I could communicate with more people, which meant more mixing of ideas, but did not change the process fundamentally. The real change was the advent of the World Wide Web. Suddenly — and in retrospect it really does seem to have been sudden — masses of information was available right there on my desk. Almost over night I stopped using the university library. Indeed I haven't physically been there for years now.
The Web needed search engines and these changed the world amazingly quickly. By sifting through mountains of data and coming up with relevant items, they took over a large part of what used to be human thinking.
I like to see all this in evolutionary terms. The creativity of an evolutionary process depends on the three processes of copying, varying and selecting information. First we had genes — replicators that banded together to create organisms. Then we had memes — replicators that worked together to create human minds. Now we have a third replicator and a new process of creative evolution. All those computers, programs, servers, cables and other essentials of the Internet might once have seemed to be hardly more than an extension of books, typewriters and telephones, but we should no longer see them that way.
Books, typewriters and telephones store information or pass it on, but they do not select the information they copy. They can vary the information by poor quality copying but they cannot put together old memes to make new ones. The Internet, or parts of the Internet, can.
Out there in cyberspace are search engines and kinds of software that copy, vary and select information, concocting new combinations and passing them around the globe in microseconds, making the results available to us all. This is truly a new evolutionary process; one that deals in ideas; one that creates images and original texts. Thinking has escaped from the human scale.
These days I still sit at my desk, but I am not just a human being thinking and writing down my thoughts. The keyboard I type on is recognisably like my old typewriter, but the process I am engaged in is nothing like it was before. Now, as I write, I jump quickly and often to things other people have written. I call up pages of information selected by software I do not understand and incorporate these into the text I am working on. This new text may go straight onto my Website or a blog and from there may, or may not, be picked up by other sites and copied on again. Even books partake of this extraordinary creative process, with Google scanning and propagating pages to students, other writers, and bloggers. No one can possibly know where all the copies and fragments of copies have gone, how many times they have been copied or by what process they were selected. Ever more of the copying, varying and selecting goes on outside of human brains and outside of human control.
Is the Internet itself thinking? I would say yes, or if not it is on the verge of doing so. The digital information it passes around is a third replicator; a kind of information that is copied, varied and selected by the massive machinery of the Internet and the Web.
So how has the Internet changed the way I think? The words I am writing now are far less "mine" than they were before. Indeed they have been created as much by John Brockman, the Edge community, and the entire Internet as by little me. I did not so much write them, as they used me to get themselves written.
So the answer is not that the Internet is changing the way I think; it is changing the nature of thinking itself.
---
---
---
---
---
---
---
---
---
---
---
---
MAX TEGMARK
Physicist, MIT; Researcher, Precision Cosmology; Scientific Director, Foundational Questions Institute
BENEFACTION & DISTRACTION
I have a love-hate relationship with the Internet. With procrastination just a click away, and a seductive Siren song in the form of new-mail pings, I find it challenging to stay focused on a single subject long enough to have real impact. Maintaining the Zen-like focus that is so crucial for doing science was easier back when the newspaper and the mail came only once per day. Indeed, as a part of an abstinence-based rehab program, I now try to disconnect completely from the Internet while thinking, closing my mail program and Web browser for hours, much to the chagrin of colleagues and friends who expect instant response. To get fresh and original ideas, I typically need to go even further, and completely turn off my computer.
On the other hand, the Internet gives me more time for such Internet-free thinking by eliminating second millennium style visits to libraries and stores. The Internet also lets me focus my thinking on the research frontier rather than on reinventing the wheel. Had the Internet existed in 1922 when Alexander Friedmann discovered the expanding universe model, Georges Lemaître wouldn't have had to rediscover it five years later.
The Internet gives me not only traditionally available information faster (and sometimes faster than I can retrieve it from memory), but also previously unavailable information. With some notable exceptions, I find that "the truth, nothing but the truth, but maybe not the whole truth" provides a useful rule of thumb for news reporting, and I usually find it both easy and amusing to piece together what actually happened by pretending that I just arrived from Mars, and comparing a spectrum of Web sites from Fox News to Al Jazeera.
The Internet also affects my thinking by leaving me thinking about the Internet. What will it do to us? On the flip side, as the master of distraction, it seems to be further reducing our collective attention span from the depths to which television had brought it. Important issues fade from focus fast, and while many of humanity's challenges get more complicated, society's ability to pay attention to complex arguments dwindles. Sound bites and attack ads work well when the world has attention deficit disorder.
On the other hand, the ubiquity of information is clearly having positive impact in areas ranging from science and education to economic development. I think the essence of science is to think for oneself and question authority. I therefore delight in the fact that the Internet makes it harder to restrict information and block the truth. Once the cat is out of the bag and in the cloud, that's it. Today it's hard even for Iran and China to prevent information dissemination. Soviet-style restrictions on copying machines sound quaint today, and the only currently reliable censorship is not to allow the Internet at all, like in North Korea.
Love it or hate it, but free information will transform the world. Oft-discussed examples range from third world education to terrorist technology. As another example, suppose someone discovers and posts online a safe low-tech chemical process for mass-producing all-synthetic cocaine, THC or heroin from cheap and readily available chemicals, much like methamphetamine manufacturing today except safer and cheaper. This would trigger domestic drug production in industrialized countries that no government could stop, in turn slashing prices and potentially devastating both the revenue and the power of Colombian and Mexican drug cartels as well as the Taliban.
---
ROGER SCHANK
Psychologist & Computer Scientist; Engines for Education Inc.; Author, Making Minds Less Well Educated Than Our Own
THE THINKING PROCESS HASN'T CHANGED IN 50,000 YEARS
The Internet has not changed the way I think nor has it changed the way anyone else thinks. Thinking has always been the same. To simplify: the thinking process starts with an expectation or hypothesis; thinking requires one to find (or make up) evidence that explains where that expectation went wrong; and thinking involves deciding upon explanations of one's initial misunderstanding. Thinking is about attempting to understand how an aspect of the world works, and the process hasn't changed since caveman times. The important questions in this process are these: What constitutes evidence? How do you find it? How do you know if what you found is true? We construct explanations based on the evidence we have found.
This process was in place long before the Internet existed. Thinking hasn't changed. What has changed is how we find evidence, how we interpret the evidence we have found, and how we find available explanations from which to choose.
I went into AI to deal with exactly this issue. I was irritated that people would argue about what was true. They would get into fights about Babe Ruth's lifetime batting average. That doesn't happen much any more. Someone can quickly find it. Argument over.
Finding evidence and interpreting evidence has not, unfortunately, changed that much either. At first glance, we might think that the Internet has radically changed the way look for and accept evidence. And, I am sure this is true for the intellectuals who write Edge response essays. I am able to find evidence more quickly, to find explanations that others have offered more easily. I can think about a complex issue with more information and with the help of others who have thought about that issue before. Of course, I could always do this in a University environment, but now I can do it while sitting at home, and I can do it more quickly. This is nice, but less important than people realize.
Throughout human history, evidence to help thinking has been gathered by consulting others, typically the village elder who might very well have gotten his knowledge by talking to a puff of smoke. Today, people make decisions based on evidence that they get from the Internet all right, but that evidence often is no better than the evidence the village elder may have supplied. In fact, that evidence may well have been posted by the modern day version of the village elder.
The intelligentsia may well be getting smarter because they have easy access to a wider range of good thinking, but the rest of the world may easily be getting dumber because they have easy access to nonsense.
I don't believe the Internet has changed the way I or anyone else thinks. It has changed the arbiters of truth however. Now everyone is an expert.
---
TIMOTHY TAYLOR
Archaeologist, University of Bradford; Author, The Buried Soul
THE INTERNET IS NOT CHANGING THE WAY I THINK, BUT IT HAS CHANGED WHAT I THINK
The first bit is wholly unsurprising: the Internet was designed for people like me, by people like me, most of them English speakers. Fundamentally reflecting western, rationalist, objective, data-organizing drives, the Internet simply enhances my ability to think in familiar ways, letting me work longer, more often, with better focus, free from the social tyranny of the library and the uncertainty of postmen. The Internet has changed what I think, however — most notably about where the human race is now headed. From a prehistorian's perspective, I judge that we have been returned to a point last occupied at the time of our evolutionary origin. This is what I mean:
When the first stone tool was chipped, over two millon years ago, it signalled a new way of being. The ancestral community learned to make flint axes, and those first artificial objects, in turn, critically framed a shared, reflective consciousness that began to express itself in language. An axe could be both made and said, used and asked for. The invention of technology brought the earliest unitary template for human thought into being. It can even be argued that it essentially created us as characteristically human.
What happened next is well known: technology accelerated adaptation. The original ancestral human culture spread out across continents and morphed into cultures, plural — myriad ways of being. While isolated groups drifted into ever greater idiosyncracy, those who found themselves in competition for the same resources consciously strove to differentiate themselves from their neighbours. This ever deepening cultural specificity facilited the dehumanization of enemies that successful warfare, driven by jealously guarded technological innovation, required.
Then reunification began, starting five thousand years ago, with the development of writing — a technology that allowed the transcription of difference. War was not over, but alien thoughts did begin to be translated, at first very approximately, across the boundaries of local incomprehension. The mature Internet marks the completion of this process, and thus the reemergence of a fully contiguous human cultural landscape. We now have the same capacity for being united under a common language and shared technology that our earliest human ancestors had.
So, in a crucial sense, we are back at the beginning, returned into the presence of a shared template for human thought. From now on, there are vanishingly few excuses for remaining ignorant of objective scientific facts, and ever thinner grounds for cultivating hatred through willful failure to recognize our shared humanity. Respecting difference has its limits, however: the fact of our knowing that there is a humanity to share means we must increasingly work towards agreeing common moral standards. The Internet means that there is nowhere to hide and no way to shirk responsibility when the whole tribe makes informed decisions (as it now must) about its shared future.
---
NEIL GERSHENFELD
Physicist, Director, MIT's Center for Bits and Atoms; Author, FAB
THE INTERNET'S INSIGHTS
The Internet is many things: good and bad (and worse) business models, techno-libertarian governance and state censors, information and misinformation, empowerment and addiction. But at heart it is the machine with the most parts ever created. What I've learned from the Internet comes not from Web 2.0 or anything else.0, it's the original insights from the pioneers that made its spectacular growth possible.
One is interoperability. While this sounds like technological motherhood and apple pie, it means that the Internet protocols are not the best choice for any particular purpose. They are, however, just good enough for most of them, and by sacrificing optimality the result has been a world of unplanned synergies.
A second is scalability. The Internet protocols don't contain performance numbers that impose assumptions about how they will be used, which has allowed their performance to be scaled over 6 orders of magnitude, far beyond anything initially anticipated. The only real exception to this was the address size, which is the one thing that's needed to be fixed.
Third is the end-to-end principle: the functions of the Internet are defined by what is connected to it, not by how it is constructed. New applications can be created without requiring anyone's approval, and can be implemented where information is created and consumed rather than centrally controlled.
And a fourth is open standards. The Internet's standards were a way to create playing fields, not score goals; from VHS vs Betamax to HD-DVD vs Blu-Ray, the only thing that's changed in standards wars has been who's sitting on which side of the table.
These simple-sounding ideas matter more than ever, because the Internet is now needed more than ever, but in places its never been. 3/4 of electricity is used by building infrastructure, which waste about a third of that, yet many of the attempts to make it intelligent hark back to the world of central office switches and dumb telephones. Some of the poorest people on the planet are "served" by some of the greediest telcos, while it's now possible to build communications infrastructure from the bottom up rather than the top down. In these and many more areas, four decades of Internet development are colliding with practices brought to us by (presumably) well-meaning but ill-informed engineers who don't study history as part of an engineering education, and thereby doom everyone else to repeat it. I'd argue that we already know the most important lessons of the Internet; what matters now is not finding them, but making sure we don't need to keep re-finding them.
---
Daniel L. everett
Chair of Languages, Literatures, & Cultures, Professor of Linguistics and Anthropology, Illinois State University; Author, Don't Sleep, There Are Snakes
THINKING AND LIVING WITH THE INTERNET'S HELP
I cannot use the Internet without thinking about the primitive research conditions I labored under during the late 1970s and early 1980s in the Brazilian Amazon, when I spent months at a time in complete isolation with the Pirahã people. My only connection with the wider world was a large and clunky Philips short-wave radio I bought in São Paulo. In the darkness of many Amazonian nights, I turned the volume low and listened, when all the Pirahãs and my family were asleep, to music shows like 'Rock Salad', to individual artists such as Joan Baez and Bob Dylan, and to news events like the Soviet invasion of Afghanistan and the election of Ronald Reagan. As much as I enjoyed my radio, though, I wanted to do more than just listen passively. I wanted to talk! I would lie awake after discovering some difficult grammatical or cultural fact and feel lost at times. I could barely wait to ask people questions about the data I was collecting in the village and my ideas about them. I couldn't, though. Too isolated. So I put thoughts of collaboration and consultation out of my head. Now this wasn't a completely horrible outcome. Isolation taught me to think independently. But there were times when I would have liked to have had a helping hand.
All that changed in 1999. I purchased a satellite phone with Internet capability. I could email from the Amazon! (And the US taxpayer would even foot the bill — I added the costs of connection time to my National Science Foundation budgets.)
Now I could read an article or a book in the Pirahã village and immediately contact the author. I learned that if you begin your email with, "Hi, I am writing to you from the banks of the Maici river in the Amazon jungle" you almost always get a response. I would send out half-baked ideas to colleagues and people I didn't even know around the world and get responses back quickly — sometimes while I was floating down the Maici river in my boat, drinking a beer, and relaxing from the demands of being the main entertainment for a village of practical-joking Pirahãs. After reading these responses I would discard some of my ideas, further develop others, and, most importantly, get brand new ones. I could not have telephoned all of my interlocutors. Most were too busy to take random phone calls from conversation-hungry Amazonianists. And I didn't know most of them all that well. Sending a regular letter was not possible from the Pirahã village. My thinking about language and culture were altered profoundly by access to fresh intellectual energy.
In the city from where I now do most of my work, the Internet has become an extension of my memory — it combats the occasional "senior moment", helping me to find names, facts, and places instantly (or so it seems). It gives me a second, bigger brain. The Internet has allowed me to learn from people I have never met. It placed me in a university that profoundly affected my career, my research, and my worldview.
I rarely connect to the Internet from the Amazon these days. I am not there as long or as frequently as in the past and so most of the time, I simply want to enjoy being with the people I am visiting. I have learned that the Internet is just a tool. It doesn't fit every job. I avoid using the Internet for tasks that require a more personal connection, such as administering my university department or talking to my children. But if it is just a tool, it is a wondrous tool. It changed my thinking (and my approach to thinking) like the first chainsaw must have affected loggers. The Internet gave me access to as much information (for good or ill) as any researcher in the world, even from the rain forest.
---
Marc D. Hauser
Psychologist and Biologist, Harvard University: Author, Moral Minds
CONNECTING THROUGH CONTACT, NOT ELECTRICITY
Let me answer this question by recounting a personal story that took place 25 years ago in Kenya.
I was in Amboseli, National Park, Kenya to complete my PhD thesis on the development of vervet monkey behavior. I had never travelled to Africa. Kenya was my first exposure to the continent. I gradually learned Kiswahili, the local language. I learned it while playing on the local soccer team. I also learned another custom, one that started out as a shock to my male-ness, but soon became a lovely manner of interaction: holding hands while talking to good male friends. When I returned to the United States, and reached out to hold the hand a good buddy, I received a dirty look, followed by some lovely explicatives. I tried to explain that it was a way of connecting, and was not what he thought. Physical contact is good for us. I tucked this story away for years. It was resuscitated in Australia.
When we contact another human being? holding hands, touching a cheek? we are doing something that is evolutionarily ancient. Our primate ancestors did it all the time, and do it today: they groom. Yes, grooming removes bugs, but it has a massive social effect. It jazzes up the feel-good chemistry of the brain, the endorphins. Travel to a hunter-gather society, or watch National Geographic, and you will witness people in contact. To contact is to connect.
Today, most of our connections are through the Internet. The closest haptic experience we have is with our keyboards or the magical glass of an iPhone. We Twitter, Facebook, Chat, IM, Google-Talk, and Skype. And there is even chatiquette to make sure we do it with, you know, appropriate decorum! As remarkable as these technologies are, and as wonderful as they are in enabling us to stay in touch with friends and family that live in other countries or even other states, they have caused a fundamental decline in our capacity for normal, face to face. They have, in a word, enabled us to be mindblind, insensitive to others' body language, to the way they hold themselves, and express feelings in an eyebrow or curled nose. Our capacity to connect through the Internet may be breeding a generation of social degenerates.
And online chatting is only one source of disconnect, of breaking the human physical bond. We now kill without seeing our enemies, running the show, as first witnessed in Desert Storm, by remote control, coordinated by private Internet links. The days of looking your enemy in the eye, and driving a knife into his body, are over! So too are we witnessing the decline of the hands' on doctor, the medical man of compassion. Surgeries are being handed over to robots. Of course, doctors control them today. But they no longer have to touch the patient. In fact, because of the Internet, a gifted surgeon in Boston can guide a beginner in Bangkok, without even meeting the patient, let alone touching his body.
Lest I be misunderstood, I do not have Webophobia, greatly profit from the Internet as a consummate informavore, and am a passionate one-click Amazonian. But our capacity to connect is causing a disconnect. Perhaps Web 3.0 will enable a function to virtually hold hands with our twitter friends.
---
NICHOLAS CARR
Author, Does IT Matter?; The Big Switch
DEPTHS AND SHALLOWS
As the school year began last September, Cushing Academy, an elite Massachusetts prep school that's been around since Civil War days, announced that it was emptying its library of books. In place of the thousands of volumes that had once crowded the building's shelves, the school was installing, it said, "state-of-the-art computers with high-definition screens for research and reading" as well as "monitors that provide students with real-time interactive data and news feeds from around the world." Cushing's bookless library would become, boasted headmaster James Tracy, "a model for the 21st-century school."
The story gained little traction in the press — it came and went as quickly as a tweet—but to me it felt like a cultural milestone. A library without books would have seemed unthinkable just twenty years ago. Today, the news almost seems overdue. I've made scores of visits to libraries over the last couple of years. Every time, I've seen more people peering into computer screens than thumbing through pages. The primary role played by libraries today seems to have already shifted from providing access to printed works to providing access to the Internet. There's every reason to believe that trend will only accelerate.
"When I look at books, I see an outdated technology," Mr. Tracy told a reporter from the Boston Globe. His charges would seem to agree. A 16-year-old student at the school took the disappearance of the library books in stride. "When you hear the word 'library,' you think of books," she said. "But very few students actually read them."
What makes it easy for an educational institution like Cushing to jettison its books is the assumption that the words in books are the same whether they're printed on paper or formed of pixels or E Ink on a screen. A word is a word is a word. "If I look outside my window and I see my student reading Chaucer under a tree," said Mr. Tracy, giving voice to this common view, "it is utterly immaterial to me whether they're doing so by way of a Kindle or by way of a paperback." The medium, in other words, doesn't matter.
But Mr. Tracy is wrong. The medium does matter. It matters greatly. The experience of reading words on a networked computer, whether it's a PC, an iPhone, or a Kindle, is very different from the experience of reading those same words in a book. As a technology, a book focuses our attention, isolates us from the myriad distractions that fill our everyday lives. A networked computer does precisely the opposite. It's designed to scatter our attention. It doesn't shield us from environmental distractions; it adds to them. The words on a computer screen exist in a welter of contending stimuli.
The human brain, science tells us, adapts readily to its environment. The adaptation occurs at a deep biological level, in the way our nerve cells, or neurons, connect. The technologies we think with, including the media we use to gather, store, and share information, are critical elements of our intellectual environment and they play important roles in shaping our modes of thought. That fact has not only been proven in the laboratory; it's evident from even a cursory glance at the course of intellectual history. It may be immaterial to Mr. Tracy whether a student reads from a book or a screen, but it is not immaterial to that student's mind.
My own reading and thinking habits have shifted dramatically since I first logged onto the Web fifteen or so years ago. I now do the bulk of my reading and researching online. And my brain has changed as a result. Even as I've become more adept at navigating the rapids of the Net, I have experienced a steady decay in my ability to sustain my attention. As I explained in 2008, "what the Net seems to be doing is chipping away my capacity for concentration and contemplation. My mind now expects to take in information the way the Net distributes it: in a swiftly moving stream of particles." Knowing that the depth of our thought is tied directly to the intensity of our attentiveness, it's hard not to conclude that as we adapt to the intellectual environment of the Net our thinking becomes shallower.
There are as many human brains as there are human beings. I expect, therefore, that reactions to the Net's influence, and hence to this year's Edge question, will span many points of view. Some people will find in the busy interactivity of the networked screen an intellectual environment ideally suited to their mental proclivities. Others will see a catastrophic erosion in the ability of human beings to engage in calmer, more meditative modes of thought. A great many will likely be somewhere between the extremes, thankful for the Net's riches but worried about its long-term effects on the depth of individual intellect and collective culture.
My own experience leads me to believe that what we stand to lose will be at least as great as what we stand to gain. I feel sorry for the kids at Cushing Academy.
---
DAVID GELERNTER
Computer Scientist, Yale University; Chief Scientist, Mirror Worlds Technologies; Author, Mirror Worlds
THE VIRTUALIZATION OF THE UNIVERSE
The Internet is virtualizing the universe, which changes the way I act and think. "Virtualization" (a basic historical transition, like "industrialization") means that I spend more & more of my time acting-within and thinking about the mirror-reflection of some external system or institution in the (smooth, pond-like) surface of the Internet. But the continuum of the Cybersphere will emerge from today's bumpy cob-Web when Virtualization reaches the point at which the Internet develops its own emergent properties and systems: when we stop looking at the pixels (the many separate sites and services that make up the Web) and look at the picture. (It's the picture, not the pixels! Eventually top-down thinking will replace bottom-up engineering in the software world—which will entail roughly a 99.9% turnover in the current population of technologists.)
Conversation spaces, for example, will be simple emergent systems in the Cybersphere, where I talk and listen (or read and write) in a space containing people with whom I like to converse, with no preliminary set-up (so long as there's a computer nearby), as if I were in a room with friends. If I want someone's attention I say his name or look at him; if I speak a little louder, I'm seeking a general discussion. If I say "Let's talk about Jasper Johns," the appropriate group of people materializes. If one of them is busy, I can speak now & he can speak back to me later, & I can respond later still. (Some people claim to be good at multi-tasking; we'll see how many slow-motion conversations they can keep going simultaneously.)
Today there are many universities & courses online; eventually, as Virtualization progresses, we'll see many or most absorbed into a world-university where you can walk the halls, read the bulletin boards & peek into classrooms within a unified space — without caring which conventional university or Web site contributed what. We'll see new types of institutions and objects emerge, too; virtual objects and institutions will absorb their own histories (like cloth absorbing the fragrance of flowers), so I can visit Virtual Manhattan now or roll it backwards in time; a large subset of all the knowledge that exists about (say) Wells Cathedral is absorbed into the virtual or emergent Wells Cathedral. At Virtual Wells, I can dive deeper for detail about any aspect of the place, or roll the building (& its associated ideas and institutions) backwards in time until they vanish "into the mists of history"; or, for that matter, tentatively push it Virtual Wells forward in time (which is not so easy — like pushing something uphill), & see what can be calculated, forecast or guessed about the cathedral's future a day, a week or a thousand years from now.
Virtualization has the important intellectual side-effect of leading us towards a better understanding of the relation between emergent properties & virtual machines or systems. Thus "I" am an emergent property of my body & mind; "I" (my subjective experience of the world & myself) am a virtual machine, of sorts; but "I" (or "consciousness") am just as real (despite being virtual) as the pull-down menu built of software — or the picture that emerges from the pixels. Like industrialization, virtualization is an intellectual as well as a technological & economic transition; like industrialization, it's a change in the texture of time.
---
RODNEY BROOKS
Panasonic Professor of Robotics, MIT Computer Science and Artificial Intelligence Lab; Author, Flesh and Machines
IN SEARCH OF THE DIET-INTERNET
When a companion heads to the bathroom during dinner I surreptitiously pull out my iPhone to check my email and for incoming SMS. When I am writing computer code I have my email inbox visible at the corner so that I can see if new messages arrive — even though I know that most that do arrive will be junk that has escaped my spam filters. When I am writing a paper, or letter, or anything else serious I flip back and forth scanning my favorite news sites for new gems, or during weekdays I check on stock prices — they might be different than they were five minutes ago.
I recently realized why I enjoy doing a mindless but timed Sudoku puzzle so much — the clock stops me from breaking off to go graze on the endless variety of intellectual stimulations that the Web can bring to me. Tragically Sodoku is my one refuge from information provoked attention deficit disorder.
The Internet is stealing our attention. It competes for it with everything else we do. A lot of what it offers is high quality competition. But unfortunately a lot of what it offers is merely good at capturing our attention, and provides us with little of long term import — sugar filled carbonated sodas for our mind.
We, or at least I, need tools that will provide us with the Diet-Internet, the version that gives us the intellectual caffeine that lets us achieve what we aspire too, but which doesn't turn us into hyper-active intellectual junkies.
Recently, as reported in Nature, an open group of people interested in mathematics (including some of the best currently active mathematicians in the world) used wikis and blogs to come up with a new and elegant proof of the Hales-Jewett theorem in 37 days. The Internet provided a new forum for geographically disparate people to collaborate and to contribute new insights, each small and incremental, enabling a result that at best might have taken the brightest of them many months or years to achieve individually.
We can now find just about any scientific paper we want online — I've found some old ones of mine that I had no idea were digitized — I was a smart young thing once, I must say. Soon just about everything ever written or recorded will be available in some form on the Internet, immediately.
The two promises, ease of collaboration and instant access to any and all information do indeed change the way we work. Just as arabic numerals empowered our computation abilities, and just as mass produced books empowered many more people to have a reference library, and just as the tape recorder and camera empowered us to record data better for careful analysis, and just as calculators and computers empowered us to simulate physical systems without a direct physical analog, the Internet has empowered us to do new and grander things and more quickly than were previously possible.
But there are kinks yet to be worked out, beyond the theft of our attention. There is stability of pointers (on our desktop machines our files move around on the disk, but the pointers to them automagically update to the new location), there is stability of format (so that old movies or documents are still readable), there is the issue of being able to aggregate digital media into manipulable containers (I used to use cardboard portfolio file cases to organize multiple media for each of my current projects), and then there is that pesky problem of business models, so that people have a way of getting paid for things that they do which we all use.
We're still in the middle of it. We operate in new ways, but those ways have not yet stabilized. Ultimately they will, at least for some of us. I'm hoping that I will find my way into that group!
---
PAUL BLOOM
Psychologist, Yale University; Author, Descartes' Baby
I AM REALIZING HOW NICE PEOPLE CAN BE
When I was a boy, I loved the science-fiction idea of a machine that could answer any factual question. It might be a friendly robot, or a metal box you keep in your house, or one of the components of a starship. You just ask "Computer: How far away is Mars?" or "Computer: List the American presidents in order of height," and a toneless voice would immediately respond.
I own several such machines right now, including an iPhone that fits in my pocket, all of which access information on the Internet. (Disappointingly, I can't actually talk to any of them — the science-fiction writers were optimistic in this regard.) But the big surprise is that much of this information is not compiled by corporations, governments, or universities. It comes from volunteers. Wikipedia is the best-known example, with millions of articles created by millions of volunteer editors, but there are also popular sites such as amazon.com and tripadvisor.com which contain countless unpaid and anonymous reviews.
People have wondered whether this information is accurate (answer: mostly yes), but I'm more interested in its very existence. I am not surprised by the scammers, the self-promoters and the haters. But why do people devote their time and energy to anonymously donating accurate and useful information? We don't put twenty dollars bills in strangers' mailboxes; why are we giving them our time and expertise? Comments on blogs pose a similar puzzle, something nicely summarized in the classic xkcd cartoon where someone is typing frantically on the computer; when asked to come to bed, the person says, "I can't. This is important ... Someone is wrong on the Internet."
Apparently the Internet evokes the same social impulses that arise in face-to-face interactions. If someone is lost and asks you for directions, you are unlikely to refuse or to lie. It is natural, in most real-world social contexts, to offer an opinion about a book or movie you like; or to speak up when the topic is something you know a lot about. The proffering of information on the Internet is the extension of this everyday altruism. It illustrates the extent of human generosity in our everyday lives and also shows how technology can enhance and expand this positive human trait, with real beneficial results. People have long said that the Web makes us smarter; it might make us nicer as well.
---
HOWARD GARDNER
Psychologist, Harvard University; Author, Changing Minds
"GO NATIVE"
The Internet has changed my life greatly, but not in a way that I could have anticipated, nor in the way that the question implies. Put succinctly, just as if a newly discovered preliterate tribe had challenged my beliefs about human language and human culture, the Internet has altered my views of human development and human potential.
Several years ago, I had a chance conversation with Jonathan Fanton, then President of the MacArthur Foundation. He mentioned that the Foundation was sponsoring a major study , to the tune of 50 million dollars, of how young people are being changed by the new digital media, such as the Internet. At the time, as part of our GoodWork research Project, I was involved in studies of ethics and focusing particularly on the ethical orientation of young people. And so I asked Pres. Fanton "Are you look at the ways in which the ethics of youth may be affected?" He told me that the Foundation had not thought about this issue. After several conversations and a grant application, our GoodPlay project, a social science study of ethics in the digital media, was launched.
Even though I myself am a digital immigrant — I sometimes refer to myself as a digital paleolith — I now spend many hours a week thinking about the ways in which nearly all of us — young and old — are affected by being on line, networked, surfing, or posting for so much of the day. I've become convinced that the 'digital revolution' might be as epochmaking as the invention of writing or, certainly, the invention of printing or of broadcast. While I agree with those who caution that it is premature to detail what the effects might be, it is not too early to begin to think, observe, reflect, conduct pivotal observations and experiments. Indeed, I wish that social scientists, and/or other observers had been around, when earlier new media of communication had debuted.
Asked for my current thinking, I would make the following points. The lives and minds of young people are far more fragmented than at earlier times. This mutipliicity of connections, networks, avatars, messages, may not bother them but certainly makes for identities that are more fluid and less stable. Times for reflection, introspection, solitude, are scarce. Longstanding views of privacy and ownership/authorship are being rapidly undermined. Probably most dramatically, what it has meant for millennia to belong to a community is being totally renegotiated as a result of instant 24-7 access to anyone who is connected to the Internet. How this will affect intimacy, imagination, democracy, social action, citizenship, and other staples of human kind is up for grabs.
For older persons (even older than I am), the digital world is mysterious. For those of us who are middle aged or beyond, we continue to live in two worlds — the pre-digital and the digital — and we may either be nostalgic for the days without blackberries or relieved that we no longer have to trudge off to the library. But all persons who want to understand their children or their grandchildren must make the effort to 'go native' — and at such times, we digital immigrants or digital paleoliths can feel as fragmented, as uncertain about privacy, as pulled by membership in diverse, and perhaps incommensurate communities, as any 15 year old.
---
DANIEL C. DENNETT
Philosopher; University Professor, Co-Director, Center for Cognitive Studies, Tufts University; Breaking the Spell
POWER CORRUPTS

We philosophers don't agree about much, but one simple slogan that just about everybody accepts is 'ought' implies 'can'. You aren't obliged to do something impossible (for you). In the past this handily excused researchers from scouring the world's libraries for obscure works that might have anticipated their apparently novel and original discoveries, since life is short, and the time and effort that would have to be expended to do a thorough job of canvassing would be beyond anybody's means. Not any more. Everybody has all-but-free and all-but-instantaneous access to the world's archives on just about every topic. A few seconds with Google Scholar can give you a few hundred more peer-reviewed articles to check out. But this is really more scholarly can-do than I want. I don't want to spend my precious research time scrolling through miles of published work, even with a well-tuned search engine! So (like everyone else, I figure), I compromise. I regret the loss of innocence imposed on me by the Internet. "I could have done otherwise, but didn't" is the constant background refrain of all the skimpings I permit myself, all the shortcuts I take, and thus a faint tinge of guilt hangs over them all.
I also find that I am becoming a much more reactive thinker, responding — how can I do otherwise? — to a host of well-justified requests for my assistance (it will only take a few minutes) and postponing indefinitely my larger, more cumbersome projects that require a few uninterrupted hours just to get rolling. This tiny Edge essay is a prime example. It would be easy to resist this compression of my attention span if there weren't so many good reasons offered for taking these interruptions seriously. To date, my attempts to fend off this unwelcome trend by raising the threshold of my imperviousness have failed to keep up with the escalation. Stronger measures are called for. But do I regret the time spent writing this piece? No, on reflection I can convince myself that it may actually bring more valuable illumination to more people than a whole philosophical monograph on mereology or modal realism (don't ask). But will I ever get back to my book writing?
As Lord Acton famously said (I know — I just did a search to make sure I remembered it correctly — he said it in a letter to Bishop Mandell Creighton in 1887): "Power tends to corrupt, and absolute power corrupts absolutely." We are all today in possession of nearly absolute power in several–but not all–dimensions of thinking, and since this hugely distorts the balance between what is hard and what is easy, it may indeed corrupt us all in ways that we cannot prevent.
---
---
MIHALY CSIKSZENTMIHALYI
Psychologist; Director, Quality of Life Research Center, Claremont Graduate University; Author, Flow
I MUST CONFESS TO BEING PERPLEXED
Answering this question should be a slam-dunk, right? After all, thinking about thinking is my racket. Yet I must confess to being perplexed. I am not even sure we have good evidence that the way humans think has been changed by the advent of the printing press . . . Of course the speed of accessing information and the extent of information at one's fingertips has been extended enormously, but has that actually affected the way thinking unfolds?
If I am to rely on my personal experience, I would probably suggest the following hypotheses:
1. I am less likely to pursue new lines of thought before turning to the Internet to check either existing data-bases, or asking a colleague directly (result: less sustained thought?)

2. Information from the Internet is often decontextualized, but being quick it satisfies immediate needs at the expense of deeper understanding (result: more superficial thought?)

3. At the same time, connection between ideas, facts. Etc., can be more easily established on the Web — if one takes the time to do so — (result: more intra-personally integrated thought?)

4. The development of cooperative sites ranging from Wikipedia to open-source software (and including Edge?) makes the thought process more public, more interactive, more transpersonal, resulting in something similar to what Teilhard de Chardin anticipated over half a century ago as the "Noosphere", or a global consciousness that he saw as the next step in human evolution.
Like all technologies, this one has both positive and negative consequences. I am not sure I would bet on the first two (negative) hypotheses being closer to the truth; or on the next two, which are more positive. And of course, both sets could be true at the same time.
---


Chicago Sun-Times
January 3, 2010

'Change' looks at possibilities of our future
By Carlo Wolff
I flunked a physics test so badly as a college freshman that the only reason I scored any points was I spelled my name right.
Such ignorance, along with studied avoidance of physics and math since college, didn't lessen my enjoyment of This Will Change Everything, a provocative, demanding clutch of essays covering everything from gene splicing to global warming to intelligence, both artificial and human, to immortality.
Edited by John Brockman, a literary agent who founded the Edge Foundation, this is the kind of book into which one can dip at will. Approaching it in a linear fashion might be frustrating because it is so wide-ranging. ...
... Most of the writing in this dense book is serious, even academic, however, there are pieces that tickled my funny bone or my anger bone. Artist Dominique Gonzalez-Foerster's suggestion of a "worldwide collective decision to genetically miniaturize future generations" so humanity doesn't run out of resources is wonderfully fanciful; Alan Alda's thoughts on our inability to live together eloquently despairing.
Overall, this will appeal primarily to scientists and academicians. But the way Brockman interlaces essays about research on the frontiers of science with ones on artistic vision, education, psychology and economics is sure to buzz any brain.
Stewart Brand, the father of the Whole Earth Catalog, a kind of hippie precursor of hypertext and intermedia (the last term is a Brockman coinage), calls Brockman "one of the great intellectual enzymes of our time" at www.edge.org, Brockman's Web site. Brockman clearly is an agent provocateur of ideas. Getting the best of them to politicians who can use them to execute positive change is the next step.
[...]
---
11 Books to Read
Curl up with these reads on days when you just don't want to do anything else

by Shishir Prasad
5 John Brockman's This Will Change Everything: Ideas That Will Shape the Future
Every year, Edge.org's World Question Center asks a question. 2006: "What is your dangerous idea?" 2007: "What are you optimistic about?" 2008: "What have you changed your mind about?" In 2009, John Brockman, Edge's publisher, asked this question: "What game-changing scientific ideas and developments do you expect to live to see?"
The book contains answers from over a hundred people, among them, Nassim Taleb, Ian McEwan, Kevin Kelly, Richard Dawkins, Alan Alda, Brian Eno. New Scientist says, "Some ideas are predictable (immortality, designer children), some world-saving if they happened (oil we can grow) and some we'd be better off without (neuro-cosmetics)." Seed says the book is "like attending a dinner party where every guest is brilliant and captivating and only wants to speak with you — overwhelming, but an experience to savor."
[...]
---
"brilliant ... captivating ... overwhelming"
Books to read (and give) now
SEED PICKS DECEMBER 1, 2009
The latest prophetic collection from John Brockman of Edge.org invites scores of the world's most brilliant thinkers, including Richard Dawkins, Lisa Randall, and Brian Eno, to predict what game-changing events will occur in their lifetimes. Their speculations run the existential gamut, as some predict deliberate nuclear disaster or accidental climatic apocalypse and others foresee eternal life, unlimited prosperity, and boundless happiness. Between such extremes of heaven and hell lie more ambiguous visions: An end to forgetting, the creation of intelligent machines, and cosmetic brain surgery, to name a few. Pouring over these pages is like attending a dinner party where every guest is brilliant and captivating and only wants to speak with you—overwhelming, but an experience to savor.
---


CRYSTAL BALL FOR STAR INTELLECTUALS
"a stellar cast of intellectuals ... a stunning array of responses"
HOLIDAY BOOKS: This Will Change Everything edited by John Brockman; John Brockman's annual question draws a bewildering array of responses from a stellar cast of intellectuals
by Michael Bond
LITERARY agent John Brockman assembles a stellar cast of intellectuals each year to answer a boundary-pushing question. His latest poser — "What game-changing scientific ideas and developments do you expect to live to see?" — has drawn a stunning array of responses, from nuclear terrorism to in-vitro meat.
Some ideas are predictable (immortality, intelligent robots, designer children), some world-saving if they happened (oil we can grow) and some we'd be better off without (neuro-cosmetics). Many are self-indulgent technological fantasies. With contributions from Ian McEwan, Steven Pinker, Lee Smolin, Craig Venter, Richard Dawkins and 130 others of their ilk, the book is like an intellectual lucky dip.
Perfect for: anyone who wants to know what the big thinkers will be chewing on in 2010.
---

"Full of ideas wild (neurocosmetics, "resizing ourselves," "intuit[ing] in six dimensions") and more close-to-home ("Basketball and Science Camps," solar technology"), this volume offers dozens of ingenious ways to think about progress"
NONFICTION (STARRED REVIEW)

This Will Change Everything: Ideas That Will Shape the Future
Edited byJohn Brockman. Harper Perennial, $14.99 paper (416p) ISBN 9780061899676

Part of a series stemming from his online science journal Edge (www.edge.org), including What Have You Changed Your Mind About? and What Is Your Dangerous Idea?, author and editor Brockman presents 136 answers to the question, "What game-changing scientific ideas and developments do you expect to live to see?" Milan architect Stefano Boeri responds with a single sentence: "Discovering that someone from the future has already come to visit us." Most others take the question more seriously; J. Craig Venter believes his laboratory will use "digitized genetic information" to direct organisms in creating biofuels and recycling carbon dioxide. Like biofuels, several topics are recurrent: both Robert Shapiro and Douglas Rushikoff consider discovering a "Separate Origin for Life," a terrestrial unicellular organism that doesn't belong to our tree of life; Leo M. Chalupa and Alison Gopnik both consider the possibility resetting the adult brain's plasticity—its capacity for learning—to childhood levels. Futurologist Juan Enriquez believes that reengineering body parts and the brain will lead to "human speciation" unseen for hundreds of thousands of years, while controversial atheist Richard Dawkins suggests that reverse-engineering evolution could create a highly illuminating "continuum between every species and every other." Full of ideas wild (neurocosmetics, "resizing ourselves," "intuit[ing] in six dimensions") and more close-to-home ("Basketball and Science Camps," solar technology"), this volume offers dozens of ingenious ways to think about progress. (Jan.)
---
THE EDGE ANNUAL QUESTION BOOK SERIES
Edited by John Brockman

"An intellectual treasure trove"
San Francisco Chronicle
THIS WILL CHANGE EVERYTHING: IDEAS THAT WILL SHAPE THE FUTURE (*)
Edited by John Brockman
Harper Perennial
NOW IN BOOKSTORES AND ONLINE!

Contributors include: RICHARD DAWKINS on cross-species breeding; IAN McEWAN on the remote frontiers of solar energy; FREEMAN DYSON on radiotelepathy; STEVEN PINKER on the perils and potential of direct-to-consumer genomics; SAM HARRIS on mind-reading technology; NASSIM NICHOLAS TALEB on the end of precise knowledge; CHRIS ANDERSON on how the Internet will revolutionize education; IRENE PEPPERBERG on unlocking the secrets of the brain; LISA RANDALL on the power of instantaneous information; BRIAN ENO on the battle between hope and fear; J. CRAIG VENTER on rewriting DNA; FRANK WILCZEK on mastering matter through quantum physics.
"a provocative, demanding clutch of essays covering everything from gene splicing to global warming to intelligence, both artificial and human, to immortality... the way Brockman interlaces essays about research on the frontiers of science with ones on artistic vision, education, psychology and economics is sure to buzz any brain." (Chicago Sun-Times)
"11 books you must read — Curl up with these reads on days when you just don't want to do anything else: 5. John Brockman's This Will Change Everything: Ideas That Will Shape the Future" (Forbes India)
"Full of ideas wild (neurocosmetics, "resizing ourselves," "intuit[ing] in six dimensions") and more close-to-home ("Basketball and Science Camps," solar technology"), this volume offers dozens of ingenious ways to think about progress" (Publishers Weekly — Starred Review
"Recommended." (Scientific American)
"A stellar cast of intellectuals ... a stunning array of responses...Perfect for: anyone who wants to know what the big thinkers will be chewing on in 2010. " (New Scientist)
"Pouring over these pages is like attending a dinner party where every guest is brilliant and captivating and only wants to speak with you—overwhelming, but an experience to savor." (Seed)
(* based On The Edge Annual Question — 2009: "What Will Change Everything?)


---
WHAT HAVE YOU CHANGED YOUR MIND ABOUT
Edited by John Brockman
With An Introduction By BRIAN ENO
Contributors include: STEVEN PINKER on the future of human evolution • RICHARD DAWKINS on the mysteries of courtship • SAM HARRIS on why Mother Nature is not our friend • NASSIM NICHOLAS TALEB on the irrelevance of probability • ALUN ANDERSON on the reality of global warming • ALAN ALDA considers, reconsiders, and re-reconsiders God • LISA RANDALL on the secrets of the Sun • RAY KURZWEIL on the possibility of extraterrestrial life • BRIAN ENO on what it means to be a "revolutionary" • HELEN FISHER on love, fidelity, and the viability of marriage…and many others.


"The splendidly enlightened Edge Website (www.edge.org) has rounded off each year of inter-disciplinary debate by asking its heavy-hitting contributors to answer one question. I strongly recommend a visit." The Independent
"A great event in the Anglo-Saxon culture." El Mundo
"As fascinating and weighty as one would imagine." The Independent
"They are the intellectual elite, the brains the rest of us rely on to make sense of the universe and answer the big questions. But in a refreshing show of new year humility, the world's best thinkers have admitted that from time to time even they are forced to change their minds." The Guardian
"Even the world's best brains have to admit to being wrong sometimes: here, leading scientists respond to a new year challenge." The Times
"Provocative ideas put forward today by leading figures."The Telegraph
"The world's finest minds have responded with some of the most insightful, humbling, fascinating confessions and anecdotes, an intellectual treasure trove. ... Best three or four hours of intense, enlightening reading you can do for the new year. Read it now." San Francisco Chronicle
"As in the past, these world-class thinkers have responded to impossibly open-ended questions with erudition, imagination and clarity." The News & Observer
"A jolt of fresh thinking...The answers address a fabulous array of issues. This is the intellectual equivalent of a New Year's dip in the lake — bracing, possibly shriek-inducing, and bound to wake you up." The Globe and Mail
"Answers ring like scientific odes to uncertainty, humility and doubt; passionate pleas for critical thought in a world threatened by blind convictions." The Toronto Star
"For an exceptionally high quotient of interesting ideas to words, this is hard to beat. ...What a feast of egg-head opinionating!" National Review Online
WHAT ARE YOU OPTIMISTIC ABOUT?
Today's Leading Thinkers on Why Things Are Good and Getting Better
Edited by John Brockman
Introduction by DANIEL C. DENNETT




[2007]
"The optimistic visions seem not just wonderful but plausible." Wall Street Journal
"Persuasively upbeat." O, The Oprah Magazine
"Our greatest minds provide nutshell insights on how science will help forge a better world ahead." Seed
"Uplifting...an enthralling book."The Mail on Sunday