---
---
WHAT WILL CHANGE EVERYTHING?
---
---
151 CONTRIBUTORS
(107,000 words)
---



EL MUNDO
January 3, 2009
Impíos deseos al empezar el año
By Arcadia Espada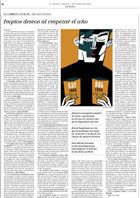 Al rito solar del Año Nuevo, el concierto de Viena (me paso las dos horas de valses, fantaseando con el frío de fuera, y la choucroute caliente y morosa que le espera al primer concertino: todo lo que me gusta me da hambre) y los saltos en Garmisch Partenkirchen se ha unido ya la pregunta de Edge. Al despuntar el alba, y con todas las ilusiones intactas, Brockman&Guests sacuden la resaca, preguntan y se responden. Lo hacen desde 1998 y este año proponen: BEl subtítulo lleva una consoladora precisión: se trata de cambios y desarrollos científicos que podamos ver en vida. El resumen de las ideas de Edge, la navajita más afilada de la cultura contemporánea, siempre es complicado. Excepto, claro está, en el caso de los dos o tres artistas que figuran cada año a modo de sansivieras: todas sus respuestas se pueden ignorar. Deberás fiarte, pues, de mi gusto y de mis obsesiones. También de las limitaciones del formato de la carta. Y, principalmente, de mis límites: no entiendo todas las respuestas. En todo caso, aquí tienes el catálogo completo....


SPEIGEL ONLINE
January 10, 2009

HEUTE IN DEN FEUILLETONS

Das Versagen der Linken im Gaza-Krieg
In der "SZ" erinnert sich Sibylle Lewitscharoff an ihre Zeit bei der Gruppe Spartacus Bolschewiki-Leninisten. Die "NZZ" hat in Detroit in die vielen Gesichter des Nichts gesehen. Und die "FAZ" erkennt in der chinesischen Markenpiraterie die Intelligenz des Volkes.
Frankfurter Allgemeine Zeitung, 10.01.2009...Weiteres: Wie es aussieht, "wenn die Intelligenz von sich selber träumt", weiß Thomas Thiel seit der Umfrage des Magazins edge.org unter hochdekorierten Naturwissenschaftlern zu der Frage: "Welche Entwicklung könnte könnte zu Ihren Lebzeiten alles ändern?"


FRANKFURTER ALLGEMEINE ZEITUNG
January 10, 2009

Visionen der Wissenschaft
Wenn die Intelligenz von sich selber träumt
Von Thomas Thiel




Man steigt, heißt es, nicht zweimal in denselben Fluss. Aber man hofft doch, als derselbe ans Ufer zurückzukehren. Nur im Horizont dieses Bildes zeigt sich die Radikalität der Frage, die der Literaturagent John Brockman von der Organisation "Edge" (Edge - die Website) der wissenschaftlichen Gemeinschaft vorgelegt hat: "Welche Entwicklung könnte zu Ihren Lebzeiten alles ändern?" Wie zu jedem Jahreswechsel fordert Brockman mit seiner Frage auf der Website von Edge die Phantasie der Wissenschaftler heraus, den Mut zum großen Gedanken. Es antworten oft hochdekorierte Forscher wie Ian Wilmut, Craig Venter oder Daniel Dennett, die in (Natur-)Wissenschaftlern und Technikern und nicht mehr im Literaten oder Historikern den zeitgemäßen Typus des Intellektuellen sehen.
Fasst man den Grundtenor der mehr als einhundertfünfzig Antworten zusammen, so gehört die Zukunft den Genetikern, Neurobiologen und Informatikern oder jedenfalls solchen Wesen, die sich die Ergebnisse neurobiologischer, informationstechnologischer und genetischer Forschung zunutze machen. Ob sie noch sinnvollerweise Menschen genannt werden sollten, ist dabei eine berechtigte Frage. ...


Letras Libres
December 16, 2008

Science in the Street

By Ramón González & Férriz Y Diego Salazar

Humanism today limps as Andalusia ostensibly despises science. Gonzalez and Salazar Férriz indicate a new and commendable effort to remedy that Soanish ignorance: Culture 3.0.

In the preface to the recent reissue of The betrayal of the intellectuals, 1927 Julien Benda (Galaxia Gutenberg), Fernando Savater stated that "perhaps the greatest paradox of the paradoxes of the twentieth century is this: there has never been a time in human history in which more developed the ability to produce tools and knowledge the inner structure of reality in all fields. So, never was more scientific and technical brilliance. But neither had ever so many ideological movements based (or better, desfondados) as irrational, dogmatic or unverifiable, above all, never was such a wealth of supporters of rapture or intuitive certainty blood among the elite of servers for high spiritual functions. "In the words of Benda," men whose function is to defend and selfless eternal values such as justice and reason, and I call intellectuals have betrayed that role for practical interests, which often result in the conversion of a mere intellectual ideologue who aspires to a space power...

...Following the wake of Snow and probably trying to repair the betrayal of Benda-speaking, John Brockman in 1988 founded the Edge Foundation (www.edge.org), an organization that seeks to reintegrate, under the idea of a "Third Culture "scientific and humanistic discourse and contribute to that science has a key role in the discussion of public affairs. ...


NEWS-OBSERVER
January 4, 2009

Science visions, dark and bright

By J. Peder Zane

Talk about change was more plentiful in 2008 than loose coins in an old couch.
Despite all the lip-flapping, that place where gods and devils dwell -- the details -- was largely unexplored.

The Obama administration will soon offer its ideas for reviving the economy and reshaping America's foreign policy. But politicians aren't the only ones who can remake the world.

Scientists have at least as much power to transform our lives and history. What "game-changing scientific ideas and developments" do they expect to occur during the next few decades?

That's the question John Brockman, editor of the Web site edge.org, posed to about 160 cutting-edge minds in his 11th annual Edge Question. As in years past, they responded with bold, often thrilling, sometimes chilling, answers.


THE GUARDIAN
January 2, 2009
SCIENCE BLOG

Richard Dawkins: How would you feel about a half-human half-chimp hybrid?

Dawkins speculates about how a human-chimp hybrid or the discovery of a living Homo erectus would change the way we see the world. — James Randerson
In a late response to Edge.org's annual New Year challenge to the world's leading thinkers, Prof Richard Dawkins has submitted his entry. Edge.org asked scientists, philosophers, artists and journalists "What will change everything?"
Dawkins – author of The Selfish Gene and The God Delusion – muses on the effect of breaking down the barrier between humans and animals, perhaps by the creation of a chimera in a lab or a "successful hybridisation between a human and a chimpanzee".

Here's what he had to say.


THE TELEGRAPH
January 2, 2009

New Year 2009: Leading thinkers offer predictions of 'next big thing'

By Jon Swaine

Leading thinkers - including Craig Venter and Ian McEwan - have marked New Year 2009 by predicting what will be the next big thing to shape the future.

[PHOTO: IAN MCKEWAN/PHILIP HOLLIS]

[Caption: Ian McEwan: predicts the full flourishing of solar technology as one of the next 'big things']

A 150-strong group of scientists, authors, musicians, philosophers and other respected experts were posed the question "What will change everything?"

Their task was set by Edge, an online intellectual discussion group, which claims its membership comprises "the most interesting minds in the world".

The responses spanned new methods of energy production, the dawn of telepathy, freely available artificial intelligence and the colonisation of the Milky Way."

NPR
NPR
January 2, 2009

THE BIG STORY
Weekend reading

ANALYSIS
The Big Question Of The Year
By Linton Weeks
Every year, John Brockman — who runs the nonprofit Edge Foundation in New York — asks a gaggle of forward-thinking people a provocative question.


THE GUARDIAN
January 2, 2009
SCIENCE BLOG

Brian Eno: The feeling that things are inevitably going to get worse

The artist and composer responds to this year's Edge.org question: What will change everything?



[PHOTO: BRIAN ENO/EAMONN MCCABE]

What would change everything is not even a thought. It's more of a feeling.
Human development thus far has been fueled and guided by the feeling that things could be, and are probably going to be, better. The world was rich compared to its human population; there were new lands to conquer, new thoughts to nurture, and new resources to fuel it all. The great migrations of human history grew from the feeling that there was a better place, and the institutions of civilisation grew out of the feeling that checks on pure individual selfishness would produce a better world for everyone involved in the long term.


THE DALLAS MORNING NEWS
January 2, 2009

OPINION PAGE

THE BIG STORY
Weekend reading

Edge World Question 2009: What will change everything?

Annual science survey asks: "What game-changing scientific ideas and developments do you expect to live to see?" Among the answers:

• West Antarctica and sleeping giants
• Quantum laptops
• Mind-reading ...


GLASCOW HERALD
January 2, 2009

Top thinkers divided on whether future is bright

Chris Watt
The predictions range from miracle cures and world peace to economic ruin and nuclear war. If there is a theme to the World Questions 2009, an online survey of some of the world's top thinkers, it would seem to be inconsistency.
Published yesterday on intellectual website edge.org, the survey asked 150 leading scientists, artists and commentators for their views on the single biggest change likely to affect the world during their lifetimes.
The wide range of answers they gave provides a snapshot of the hopes - and fears - that may come to define our times.


BLOGGINGHEADS TV
January 3, 2009

JOHN HORGAN/
GEORGE JOHNSON

Science Saturday: The More Things Change... (27:45)

• Edge contributors answer "What will change everything?"

GJ: We were talking abut great thiigs on the Internet in science...so you read Edge.org' question of the year?

JH: Yes, the annual question from John Brockman, the science book impressario. He's got this great site edge.org 2hich we've talked about before and every year he asks this question and he's asks this ever-growing stable of people, primarily scientists but a of of quasi-scientist pundits to respond this question. The question this year is "What will change everything".

GJ: Yes, Good New Year's Day reading.


PHARYNGULA
January 2, 2009

PZ MYERS

Brockman asks, we answer

GRIST
January 2, 2009

We're gonna need a bigger boat

Scientists and other experts rattle off options for averting climate catastrophe

Meanwhile, the mysterious Edge Foundation released its annual question for 2009, asking smart folks of all disciplines to name what new idea or technology will "change everything." Responses range all over, but there are a few climate-related responses, including British novelist Ian McEwan's prediction that solar technology will really take off and Stanford climatologist Stephen H. Schneider's guess that rapid melting of Greenland's ice sheets will wake up the world to the need to take concerted action on curbing C02 emissions.


BELIEFNET
January 2, 2009

CRUNCH CON BLOG/
RON DREHER
Edge 2009: What will change everything?

If you're familiar with The Edge's annual survey of scientists, science writers and scientific types, you know how fascinating the answers are. Follow the link above to get started reading them -- and then share in the comboxes your own answer to the question, and how you reached that conclusioN

O'REILLY RADAR
January 1, 2009

What Will Change Everything?

By Brady Forrest
Regular Radar contributor Linda Stone sent this in to be posted today.

...Venter imagines creating life from synthetic materials and expects that our view of life, itself, will be transformed.

Nobel Laureate, Frank Wilczek, believes everything will continue to become smaller, faster, cooler, and cheaper -- with its implications of an Internet on steroids and exciting new designer materials.


ARTS & LETTER DAILY
January 1, 2009

Essays and Opinion
Printing – electricity – radio – antibiotics: after them, nothing was the same. Intellectual impresario John Brockman asks a select group of thinkers, "What will change everything?"... more»


THE GUARDIAN
January 1, 2009

Leading thinkers predict technologies that will turn the world upside-down

James Randerson, science correspondent


[Caption: Ian McEwan muses that we will look back and 'wonder why we ever thought we had a problem when we are bathed in such beneficent radiant energy'. Photograph: Getty]

Flying cars, personal jetpacks, holidays on the moon, the paperless office – the predictions of futurologists are, it seems, doomed to fail. The only thing predictable about the future is its unpredictability.

But that has not stopped edge.org – the online intellectual salon – asking which ideas and inventions will provide humanity's next leap forward. In its traditional New Year challenge to the planet's best thinkers it asks, "What will change everything – What game-changing scientific ideas and developments do you expect to live to see?"


THE TIMES
January 1, 2009


Science minds reveal vision of life, the universe and everything

Mark Henderson, Senior Editor

Most scientists like to dream about what will change the world — even if they understand that their own work is never likely to have quite the impact of a Copernicus or a Darwin.

The fascinating breadth of their visions of the future is revealed today by the discussion website edge.com, which has asked some of the world's finest minds the question: "What will change everything?"


Xconomy
January 1, 2009

What Will Change Everything?

Linda Stone

What game-changing ideas can we expect to see in OUR lifetimes?

As each year winds to a close, John Brockman, literary agent representing some of the finest minds in science and technology and the founder of Edge Foundation, poses a provocative question to an international community of physicists, psychologists, futurists, thought leaders, and dreamers. Brockman is a master convener, both online and in real life. This year's annual Edge question, What will change everything?, generated responses from Freeman Dyson, Danny Hillis, Martin Seligman, Craig Venter, and Juan Enriquez, to name a few. Here are a few highlights.


NEWSWEEK
December 31, 2008

LAB NOTES

Crystal-Ball Time

By Sharon Begley

Every December the online intellectual salon called Edge, presided over by literary agent John Brockman, asks a select (virtual) assembly of scientists to ponder a question, such as what they are optimistic about (2007), what "dangerous" ideas they have (2006) and what they believe is true but cannot prove (2005). As the bell tolls on 2008 and rings in 2009, Edge is unveiling this year's: "What game-changing scientific ideas and developments do you expect to live to see?"

As usual, the offerings vary as much in quality as a cheap spumante does from Dom Perignon. Predictably, contributors foresee space colonization and the discovery of intelligent life elsewhere in the universe. More intriguing, there are predictions that a new human species will evolve from Homo sapiens, and that we will discover how to identify the brain pattern that indicates a person is about to commit a violent act (and will also discover how to suppress that pattern).



THE GUARDIAN
January 1, 2009

SCIENCE BLOG

Which technological wonders are set to change everything?

The world's greatest thinkers have revealed the ideas and technologies they think will change the world forever. Now it's our turn ...

James Randerson, science correspondent
Futurology is notoriously hit-and-miss. According to 2001: A Space Odyssey, we should already be using suspended animation to send humans to Jupiter
"Through science we create technology and in using our new tools we recreate ourselves." So says the intro to edge.org's annual New Year challenge to the world's greatest thinkers.This year it is asking "What will change everything – What game-changing scientific ideas and developments do you expect to live to see?" And as ever, the great and the good have responded to the call. ...
---
---
WHAT HAVE YOU CHANGED YOUR MIND ABOUT?
---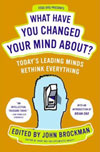 ---


The splendidly enlightened Edge website (www.edge.org) has rounded off each year of inter-disciplinary debate by asking its heavy-hitting contributors to answer one question. I songly recommend a visit.

A great event in the Anglo-Saxon culture


As fascinating and weighty as one would imagine


They are the intellectual elite, the brains the rest of us rely on to make sense of the universe and answer the big questions. But in a refreshing show of new year humility, the world's best thinkers have admitted that from time to time even they are forced to change their minds


Even the world's best brains have to admit to being wrong sometimes: here, leading scientists respond to a new year challenge


Provocative ideas put forward today by leading figures


The world's finest minds have responded with some of the most insightful, humbling, fascinating confessions and anecdotes, an intellectual treasure trove. ... Best three or four hours of intense, enlightening reading you can do for the new year. Read it now.


As in the past, these world-class thinkers have responded to impossibly open-ended questions with erudition, imagination and clarity.

A jolt of fresh thinking...The answers address a fabulous array of issues. This is the intellectual equivalent of a New Year's dip in the lake — bracing, possibly shriek-inducing, and bound to wake you up


Answers ring like scientific odes to uncertainty, humility and doubt; passionate pleas for critical thought in a world threatened by blind convictions


For an exceptionally high quotient of interesting ideas to words, this is hard to beat. ...What a feast of egg-head opinionating!.
---
---
---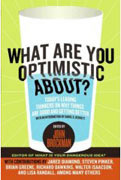 What Are you Optimistic About?
Edited by John Brockman
Introduction by Daniel C. Dennett
---


Was läuft hier richtig?
Der neue Optimismus der Wissenschaften kommt gerade zur rechten Zeit
RALF BÖNT


C'est la double question posée par John Brockman, éditeur de Edge à plus de 160 "penseurs de la troisième culture, ces savants et autres penseurs du monde empirique qui, par leur travail ou leurs écrits prennent la place des intellectuels traditionnels en rendant visibles les sens profonds de nos vies, en redéfinissant autant qui nous sommes que ce que nous sommes".
Ça change des unes constamment catastrophiques de nos médias habituels.


But when the scientific thinkers look beyond their own specializations to the big picture, they continue to find cause for cheer — foreseeing an end to war, for example, or the simultaneous solution of our global warming and energy problems. The most general grounds for optimism offered by these thinkers, though, is that big-picture pessimism so often proves to be unfounded.

Global warming, the war on terror and rampant consumerism getting you down? Well, lighten up: here, 17 of the world's smartest scientists and academics share their reasons to be cheerful


Brockman's respondents were forward-looking, describing cutting-edge research that will help combat global warming and other looming problems.
Edgie's Chris Anderson of TED and Robert Provine of University of Maryland as the proponents of optimism on program concerning Optimism and the Doomsday Clock


a titillating compilation


Peering into their crystal telescopes, the world's leading scientists see a magnificent future


El foro virtual Edge propone buscar razones, no simplemente deseos, para el optimismo. Edge es un club que reúne, segén ellos mismos, algunas de las mentes más interesantes del mundo. Su propósito es estimular discusiones en las fronteras del conocimiento. La intención es llegar al borde del conocimiento mundial, acercándose a las mentes más complejas y refinadas, juntarlas en un foro y hacerlos que se pregunten las preguntas que ellos mismos se hacen. La fundación actúa, de este modo, como surtidora de problemas y alojamiento de réplicas. Cada ano se constituye como Centro Mundial de Preguntas.


God bless those upbeat scientists

Looking through rose-colored microscopes
Why some scientists are optimistic about the future



One way or another the answers should give you a warm glow — either because you agree, or because they make you angry.


Edge's future-themed article is making some news....
From the lips of contributors to the online magazine Edge to God's ears (one wonders if She or It may be listening): dozens of scientists and other thinkers have looked ahead to the future.


a Web site that aims to bridge the gap between scientists and other thinkers


[E]ven in the face of such threats as global warming and religious fundamentalism, scientists remain positive about the future.


People's fascination for religion and superstition will disappear within a few decades as television and the internet make it easier to get information, and scientists get closer to discovering a final theory of everything, leading thinkers argue today.


What are you optimistic about? Why? Tons of brilliant thinkers respond.


What Are You Optimistic About?
Posted by Hemos on Monday January 01, @08:43AM
from the explain-yourself dept.


Intellectual impresario John Brockman puts his annual Edge question to
leading thinkers.


What are you optimistic about? Intellectual impresario John Brockman puts his annual Edge question to leading thinkers...


[A]ccording to Edge — the heady website for world-class scientists and thinkers, and the brainchild of author and entrepreneurial idea man, John Brockman, there's good news ahead.
---
---
---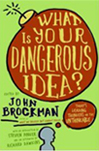 What Is Your Dangerous Idea
Edited by John Brockman
Introduction by Steven Pinker
Afterword by Richard Dawkins
---


KYUNG HANG (Soeul)
The great world-wide scholars talk about their 'dangerous ideas'.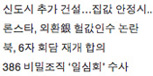 Most of the contributors appear to have interpreted "dangerous" as meaning something like "subversive," challenging to one or another received orthodoxy.


Meine gefährlichste Idee. Seit nunmehr neun Jahren startet die Stiftung Edge mit einer Umfrage zu einem großen generellen Thema ins neue Jahr.


Crónicas Bárbaras Ciencia racista, atractiva pero muy peligrosa.


(Sydney) Into the minds of the believers. With the aim of gathering ideas from the world's leading thinkers on intellectual, philosophical, artistic and literary issues, US writer John Brockman established The Edge Foundation in 1988.


Royal Society president Martin Rees said the most dangerous idea was public concern that science and technology were running out of control.


Audacious Knowledge. What is a dangerous idea? One not assumed to be false, but possibly true?What do you believe is true even though you cannot prove it?"


Seductive power of a hazardous idea. The responses to Brockman's question do not directly engage with each other, but they do worry away at a core set of themes.


Academics see gene cloning perils, untamed global warming and personality-changing drugs as presenting the gravest dangers for the future of civiliztion


Risky ideas; What do scientists currently regard as the most dangerous thoughts?



Be Afraid. Edge.org canvassed scientists for their "most dangerous idea." David Buss, a psychologist at the University of Texas, chose "The Evolution of Evil."


The most dangerous idea. Brockman's challenge is noteworthy because his buddies include many of the world's greatest scientists: Freeman Dyson, David Gelertner, J. Craig Venter, Jared Diamond, Brian Greene.


Dangerous Ideas About Modern Life. Free will does not exist. We are not always created equal. Science will never be able to address our deepest concerns.


Genome sequencing pioneer Craig Venter suggests greater understanding of how genes influence characteristics such as personality, intelligence and athletic capability could lead to conflict in society.


The wilder shores of creativity. He asked his roster of thinkers [...] to nominate an idea, not necessarily their own, they consider dangerous not because it is false, but because it might be true.


From cloning to predetermination of sex: the answers of investigators and philosophers to a question on the online salon Edge.


Who controls humans? God? The genes? Or nevertheless the computer? The on-line forum Edge asked its yearly question — and the answers raised more questions.


La pregunta de l'any. La web Edge.org penjarà l'1 de gener la pregunta de l'any. La del 2005 va ser resposta per 120 ments de l'anomenada 'tercera cultura', que van reflexionar sobre l'enunciat "Què creus que és veritat tot i no poder-ho demostrar?"


THE HANKYOREH (Seoul)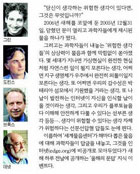 The 117 respondents include Richard Dawkins, Freeman Dyson, Daniel Dennett, Jared Diamond — and that's just the D's! As you might expect, the submissions are brilliant and very controversial.


Gene discoveries highlight dangers facing society. Mankind's increasing understanding of the way genes influence behaviour and the issue's potential to cause ethical and moral dilemmas is one of the biggest dangers facing society, according to leading scientists.


Why it can be a very smart move to start life with a Jewish momma: There is one dangerous idea that still trumps them all: the notion that, as Steven Pinker describes it, "groups of people may differ genetically in their average talents and temperaments". For "groups of people", read "races."


The Earth can cope with global warming, schools should be banned and we should learn to love bacteria. These are among the dangerous ideas revealed by a poll of leading thinkers.


Science can be a risky game, as Galileo learned to his cost. Now John Brockman asks over a hundred thinkers, "What is your most dangerous idea?"


"Our brains are constantly subjected to the demands of multi-tasking and a seemingly endless cacophony of information from diverse sources. "


Very complex systems — whether organisms, brains, the biosphere, or the universe itself — were not constructed by design; all have evolved. There is a new set of metaphors to describe ourselves, our minds, the universe, and all of the things we know in it.


John Brockman Blogs Edge's Annual Question on Huff Po
---
---
---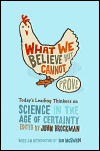 What We Believe but Cannot Prove: Today's Leading Thinkers on Science in the Age of Certainty
Edited by John Brockman
Introduction by Ian McEwan
---

The natural gift of consciousness should be treasured all the more for its transience.

The answers...exert an un- questionable morbid fascination — those are the very ideas that scientists cannot confess in their technical papers.

"Fate largo alle «beautiful minds» di Roberto Casati;;
"La terza cultura di John Brockman" di Armando Massarenti

God (or Not), Physics and, of Course, Love: Scientists Take a Leap: Fourteen scientists ponder everything from string theory to true love.

Space Without Time, Time Without Rest: John Brockman's Question for the Republic of Wisdom — It can be more thrilling to start the New Year with a good question than with a good intention. That's what John Brockman is doing for the eight time in a row.

What do you believe to be true, even though you can't prove it? John Brockman asked over a hundred scientists and intellectuals... more» ... Edge

That's what online magazine The Edge — the World Question Center asked over 120 scientists, futurists, and other interesting minds. Their answers are sometimes short and to the point

Science's Scourge of Believers Declares His Faith in Darwin...

Singolare inchiesta in usa di un sito internet. Ha chiesto ai signori della ricerca di svelare i loro "atti di fede". Sono arrivate le risposte piu' imprevedibili i fantasmi dello scienziato: non ho prove ma ci credo.

To celebrate the new year, online magazine Edge asked some leading thinkers a simple question: What do you believe but cannot prove? Here is a selection of their responses...

Scientists dream too — imagine that

"Fantastically stimulating ...Once you start, you can't stop thinking about that question. It's like the crack cocaine of the thinking world." — BBC Radio 4

Scientists, increasingly, have become our public intellectuals, to whom we look for explanations and solutions. These may be partial and imperfect, but they are more satisfactory than the alternatives.

Bangladesh — The cynic and the optimist, the agnostic and the believer, the rationalist and the obscurantist, the scientist and the speculative philosopher, the realist and the idealist-all converge on a critical point in their thought process where reasoning loses its power.

Il Sole 24 Ore-Domenica Segnalate le vostre cuioosita, chiederemo riposta alle persone piu autorevoli
---
---
---

"So now, into the breach comes John Brockman, the literary agent and gadfly, whose online scientific salon, Edge.org, has become one of the most interesting stopping places on the Web. He begins every year by posing a question to his distinguished roster of authors and invited guests. Last year he asked what sort of counsel each would offer George W. Bush as the nation's top science adviser. This time the question is "What's your law?"

"John Brockman, a New York literary agent, writer and impresario of the online salon Edge, figures it is time for more scientists to get in on the whole naming thing...As a New Year's exercise, he asked scores of leading thinkers in the natural and social sciences for "some bit of wisdom, some rule of nature, some law-like pattern, either grand or small, that you've noticed in the universe that might as well be named after you."

"John Brockman has posted an intriguing question on his Edge website. Brockman advises his would-be legislators to stick to the scientific disciplines."

"Everything answers to the rule of law. Nature. Science. Society. All of it obeys a set of codes...It's the thinker's challenge to put words to these unwritten rules. Do so, and he or she may go down in history. Like a Newton or, more recently, a Gordon Moore, who in 1905 coined the most cited theory of the technological age, an observation on how computers grow exponentially cheaper and more powerful... Recently, John Brockman went looking for more laws."
---
---
---

"In 2002, he [Brockman] asked respondents to imagine that they had been nominated as White House science adviser and that President Bush had sought their answer to 'What are the pressing scientific issues for the nation and the world, and what is your advice on how I can begin to deal with them?'Here are excerpts of some of the responses. "

"Edge's combination of political engagement and blue-sky thinking makes stimulating reading for anyone seeking a glimpse into the next decade."

"Dear W: Scientists Offer
President Advice on Policy"

"There are 84 responses, ranging in topic from advanced nanotechnology to the psychology of foreign cultures, and lots of ideas regarding science, technology, politics, and education."
---
---
---

"Brockman's thinkers of the 'Third Culture,' whether they, like Dawkins, study evolutionary biology at Oxford or, like Alan Alda, portray scientists on Broadway, know no taboos. Everything is permitted, and nothing is excluded from this intellectual game."

"The responses are generally written in an engaging, casual style (perhaps encouraged by the medium of e-mail), and are often fascinating and thought — provoking.... These are all wonderful, intelligent questions..."
---
---
---

"We are interested in 'thinking smart,'" declares Brockman on the site, "we are not interested in the anesthesiology of 'wisdom.'"

"INSPIRED ARENA: Edge has been bringing together the world's foremost scientific thinkers since 1998, and the response to September 11 was measured and uplifting."
---
---
---

"Responses to this year's question are deliciously creative... the variety astonishes. Edge continues to launch intellectual skyrockets of stunning brilliance. Nobody in the world is doing what Edge is doing."

"Once a year, John Brockman of New York, a writer and literary agent who represents many scientists, poses a question in his online journal, The Edge, and invites the thousand or so people on his mailing list to answer it."
---
---
---

"Don't assume for a second that Ted Koppel, Charlie Rose and the editorial high command at the New York Times have a handle on all the pressing issues of the day.... a lengthy list of profound, esoteric and outright entertaining responses.
---
---
---


The Greatest Inventions of the Past 2,000 Years
Edited by John Brockman

---

"A terrific, thought provoking site."

"The Power of Big Ideas"

"The Nominees for Best Invention Of the Last Two Millennia Are . . ."

"...Thoughtful and often surprising answers ....a fascinating survey of intellectual and creative wonders of the world ..... Reading them reminds me of how wondrous our world is." — Bill Gates, New York Times Syndicated Column
---
---
---

"A site that has raised electronic discourse on the Web to a whole new level.... Genuine learning seems to be going on here."

"To mark the first anniversary of [Edge], Brockman posed a question: 'Simply reading the six million volumes in the Widener Library does not necessarily lead to a complex and subtle mind," he wrote, referring to the Harvard library. "How to avoid the anesthesiology of wisdom?' "

"Home to often lively, sometimes obscure and almost always ambitious discussions."
---
---
---

"Open-minded, free-ranging, intellectually playful ...an unadorned pleasure in curiosity, a collective expression of wonder at the living and inanimate world ... an ongoing and thrilling colloquium." — Ian McEwan, Author of Saturday
---

"Astounding reading."
---

"An unprecedented roster of brilliant minds, the sum of which is nothing short of visionary
---

"Fantastically stimulating...It's like the crack cocaine of the thinking world.... Once you start, you can't stop thinking about that question."
---

"Wonderful reading."
---

"One of the most interesting stopping places on the Web"
---

"Brilliant! Stimulating reading."
---

"Today's visions of science tomorrow."
---

"Fascinating and thought-provoking ...wonderful, intelligent."
---

"Edge.org...a Web site devoted to dis- cussions of cutting edge science."
---
"Awesome indie newsletter with brilliant contribu-tors."
---

"Everything is permitted, and nothing is excluded from this intellectual game."
---

"Websites of the year...Inspired Arena...the world's foremost scientific thinkers."
---
"High concept all the way...the brightest scientists and thinkers ... heady ... deep and refreshing."
---

" Deliciously crea-tive...the variety astonishes...intel-lectual skyrockets of stunning brill-iance. Nobody in the world is doing what Edge is doing."
---

"A marvellous showcase for the Internet, it comes very highly recom-mended."
---

"Profound, esoteric and outright enter-taining."
---

"A terrific, thought provoking site."
---

"...Thoughtful and often surprising ...reminds me of how wondrous our world is." — Bill Gates
---

"One of the Net's most prestigious, invitation-only free trade zones for the exchange of potent ideas."
---

"An enjoyable read."
---
"A-list: Dorothy Parker's Vicious Circle without the food and alcohol ... a brilliant format."
---

"Big, deep and ambitous questions... breathtaking in scope."
---

"Has raised electronic discourse on the Web to a whole new level."
---

"Lively, sometimes obscure and almost always ambitious."
---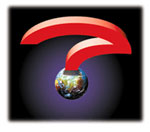 The Edge Annual Question — 2009
New tools equal new perceptions.
Through science we create technology and in using our new tools we recreate ourselves. But until very recently in our history, no democratic populace, no legislative body, ever indicated by choice, by vote, how this process should play out.
Nobody ever voted for printing. Nobody ever voted for electricity. Nobody ever voted for radio, the telephone, the automobile, the airplane, television. Nobody ever voted for penicillin, antibiotics, the pill. Nobody ever voted for space travel, massively parallel computing, nuclear power, the personal computer, the Internet, email, cell phones, the Web, Google, cloning, sequencing the entire human genome. We are moving towards the redefinition of life, to the edge of creating life itself. While science may or may not be the only news, it is the news that stays news.
And our politicians, our governments? Always years behind, the best they can do is play catch up.
Nobel laureate James Watson, who discovered the DNA double helix, and genomics pioneer J. Craig Venter, recently were awarded Double Helix Awards from Cold Spring Harbor Laboratory for being the founding fathers of human genome sequencing. They are the first two human beings to have their complete genetic information decoded.
Watson noted during his acceptance speech that he doesn't want government involved in decisions concerning how people choose to handle information about their personal genomes.
Venter is on the brink of creating the first artificial life form on Earth. He has already announced transplanting the information from one genome into another. In other words, your dog becomes your cat. He has privately alluded to important scientific progress in his lab, the result of which, if and when realized, will change everything.
---
WHAT WILL CHANGE EVERYTHING?
"What game-changing scientific ideas and developments do you expect to live to see?"
---
—John Brockman
Editor and Publisher
---
| | | |
| --- | --- | --- |
| | | |
| | (Science Blog) | |
| | | |
| | | (Crunchy Con Blog) |
| | | |
| | | |
| | | |
| | | |
---

"Question was open because it had not yet received any form; it was a kind of prime matter, or a substance that existed in a realm of potentiality, an indefinite state that had not yet become anything in particular and maybe never would. But any formed object, on the other hand, would have denied all that: if it has already received form it is over, closed, ended; it has slid from the vague cloud of potentiality into a collision with the flat wall of fact that lay hidden behind it. "
—Thomas McEvilley
(
Art in America
, November, 2008)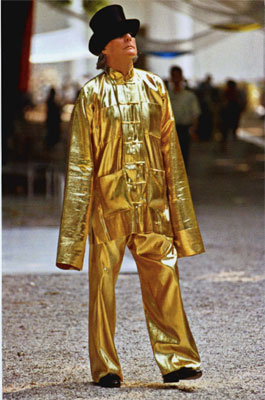 James Lee Byars, founder of The World Question Center

James Lee Byars
A Study of Posterity
Though James Lee Byars has been increasingly identified,
since his death, with elegant, reductive objects, his most radical-and characteristic-works were ephemeral and even immaterial.

By Thomas McEvilley
Further Reading on Edge on James Lee Byars and The World Question Center: "He Confuses One And Two The 200 I.Q.: Mr. Byars By Mr. Brockman" [7.17.97]
---
---
---
---
---
---
---
---
---
---
---
---
---
---
---
---
---
---
---
---
JESSE BERING
Psychologist, Director, Institute of Cognition and Culture, Queens University, Belfast
---
---
---
---
---
---
IRENE PEPPERBERG
Psychologist, Research Associate, Harvard University; Author, Alex and Me
---
---
MARK PAGEL
Evolutionary Biology, Reading University, England; External Professor, Santa Fe Institute, NM
---
---
---
---
---
LEO CHALUPA
Ophthalmologist and Neurobiologist, University of California, Davis
---
---
---
---
---
---
---
---
---
STEVE NADIS
Science writer; Contributing Editor, Astronomy Magazine
---
BARRY SMITH
Director, Institute of Philosophy, School of Advanced Study, University of London
---
---
---
Ernst PÖppel
Neuroscientist, Chairman, Human Science Center and Department of Medical Psychology, Munich University; Author, Mindworks
---
---
---
---
---
---
ALAN ALDA
Actor, writer, director, and host of PBS program "Scientific American Frontiers."
---
---
DAVID DALRYMPLE
Student, MIT's Center for Bits and Atoms; Researcher, Internet 0, Fab Lab Thinner Clients for South Africa, Conformal Computing
---
---
---
---
LERA BORODITSKY
Assistant Professor of Psychology, Neuroscience, and Symbolic Systems, Stanford University
---
---
EMANUEL DERMAN
Professor, Financial Engineering, Columbia University; Principal, Prisma Capital Partners; Former Head, Quantitative Strategies Group, Equities Division, Goldman Sachs & Co.; Author, My Life as a Quant
---
---
---
---
---
---
ANTON ZEILINGER
University of Vienna and Scientific Director, Institute of Quantum Optics and Quantum Information, Austrian Academy of Sciences
---
---
---
---
---
---
Max Tegmark
Physicist, MIT; Researcher, Precision Cosmology; Member, Scientific Directorate, Foundational Questions Institute
---
---
Marti Hearst
Computer Scientist, UC Berkeley, School of Information; Author, Search User Interfaces
---
---
---
---
---
ALUN ANDERSON
Senior Consultant (and former Editor-in-Chief and Publishing Director of New Scientist)
---
---
DAVID GELERNTER
Computer Scientist, Yale University; Chief Scientist, Mirror Worlds Technologies; Author, Drawing Life
---
---
---
---
---
---
---
---
---
---
---
BRIAN ENO
Artist; Composer; Recording Producer: U2, Talking Heads, Paul Simon; Recording Artist
---
MAHZARIN R. BANAJI
Richard Clarke Cabot Professor of Social Ethics, Department of Psychology, Harvard University
---
---
---
---
---
---
---
Kai Krause
Software pioneer; author I think...there...4am!
---
---
---
---
---
---
---
---
---
---
IAN WILMUT
Chair of Reproductive Biology, Director Scottish Centre for Regenerative Medicine; Author, After Dolly
---
---
---
---
---
---
---
---
---
A. Garrett Lisi
Independent Theoretical Physicist; Author, "An Exceptionally Simple Theory of Everything"
---
---
---
---
BRUCE PARKER
Physical Oceanographer, Stevens Institute of Technology
---
---
---
---
JAMSHED BHARUCHA
Professor of Psychology, Provost, Senior Vice President, Tufts University
---
---
---
---
SCOTT SAMPSON
Research Curator, Utah Museum of Natural History, University of Utah; Host, Dinosaur Planet TV Series.
---
---
---
---
---
---
KEVIN SLAVIN
Digital Technologist; Managing Director, Co-Founder, area/code
---
RICHARD DAWKINS
Emeritus Professor of the Public Understanding of Science, University of Oxford
---
WHAT HAVE YOU CHANGED YOUR MIND ABOUT
Edited by John Brockman
With An Introduction By BRIAN ENO
"A thought-provoking collection of focused and tightly argued pieces demonstrating the courage to change strongly held convictions."
Publishers Weekly
"An intellectual treasure trove"
San Francisco Chronicle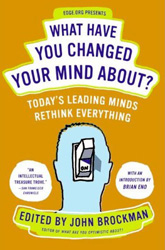 [Forthcoming, January 9, 2009]
Contributors include: STEVEN PINKER on the future of human evolution • RICHARD DAWKINS on the mysteries of courtship • SAM HARRIS on why Mother Nature is not our friend • NASSIM NICHOLAS TALEB on the irrelevance of probability • ALUN ANDERSON on the reality of global warming • ALAN ALDA considers, reconsiders, and re-reconsiders God • LISA RANDALL on the secrets of the Sun • RAY KURZWEIL on the possibility of extraterrestrial life • BRIAN ENO on what it means to be a "revolutionary" • HELEN FISHER on love, fidelity, and the viability of marriage…and many others.
Praise for the online publication of
What Have You Change Your Mind About?
"The splendidly enlightened Edge website (www.edge.org) has rounded off each year of inter-disciplinary debate by asking its heavy-hitting contributors to answer one question. I strongly recommend a visit." The Independent
"A great event in the Anglo-Saxon culture." El Mundo
"As fascinating and weighty as one would imagine." The Independent
"They are the intellectual elite, the brains the rest of us rely on to make sense of the universe and answer the big questions. But in a refreshing show of new year humility, the world's best thinkers have admitted that from time to time even they are forced to change their minds." The Guardian
"Even the world's best brains have to admit to being wrong sometimes: here, leading scientists respond to a new year challenge." The Times
"Provocative ideas put forward today by leading figures."The Telegraph
"The world's finest minds have responded with some of the most insightful, humbling, fascinating confessions and anecdotes, an intellectual treasure trove. ... Best three or four hours of intense, enlightening reading you can do for the new year. Read it now." San Francisco Chronicle
"As in the past, these world-class thinkers have responded to impossibly open-ended questions with erudition, imagination and clarity." The News & Observer
"A jolt of fresh thinking...The answers address a fabulous array of issues. This is the intellectual equivalent of a New Year's dip in the lake — bracing, possibly shriek-inducing, and bound to wake you up." The Globe and Mail
"Answers ring like scientific odes to uncertainty, humility and doubt; passionate pleas for critical thought in a world threatened by blind convictions." The Toronto Star
"For an exceptionally high quotient of interesting ideas to words, this is hard to beat. ...What a feast of egg-head opinionating!" National Review Online
WHAT ARE YOU OPTIMISTIC ABOUT?
Today's Leading Thinkers on Why Things Are Good and Getting Better
Edited by John Brockman
Introduction by DANIEL C. DENNETT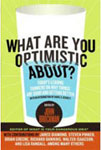 [2007]
"The optimistic visions seem not just wonderful but plausible." Wall Street Journal
"Persuasively upbeat." O, The Oprah Magazine
"Our greatest minds provide nutshell insights on how science will help forge a better world ahead." Seed
"Uplifting...an enthralling book." The Mail on Sunday
WHAT IS YOUR DANGEROUS IDEA?
Today's Leading Thinkers on the Unthinkable
Edited by John Brockman
Introduction by STEVEN PINKER
Afterword by RICHARD DAWKINS
"Danger – brilliant minds at work...A brilliant bok: exhilarating, hilarious, and chilling." The Evening Standard (London)
"A selection of the most explosive ideas of our age." Sunday Herald
"Provocative" The Independent
"Challenging notions put forward by some of the world's sharpest minds" Sunday Times
"A titillating compilation" The Guardian
"Reads like an intriguing dinner party conversation among great minds in science" Discover
WHAT WE BELIEVE BUT CANNOT PROVE?
Today's Leading Thinkers on Science in the Age of Certainty
Edited by John Brockman
Introduction by IAN MCEWAN
"Whether or not we believe proof or prove belief, understanding belief itself becomes essential in a time when so many people in the world are ardent believers." LA Times
"Belief appears to motivate even the most rigorously scientific minds. It stimulates and challenges, it tricks us into holding things to be true against our better judgment, and, like scepticism -its opposite -it serves a function in science that is playful as well as thought-provoking. not we believe proof or prove belief, understanding belief itself becomes essential in a time when so many people in the world are ardent believers." The Times
"John Brockman is the PT Barnum of popular science. He has always been a great huckster of ideas." The Observer
"An unprecedented roster of brilliant minds, the sum of which is nothing short of an oracle — a book ro be dog-eared and debated." Seed
"Scientific pipedreams at their very best." The Guardian
"Makes for some astounding reading." Boston Globe
"Fantastically stimulating...It's like the crack cocaine of the thinking world.... Once you start, you can't stop thinking about that question." BBC Radio 4
"Intellectual and creative magnificence" The Skeptical Inquirer
Harvard Coop, December 24, 2007