BART KOSKO
Professor, Electrical Engineering, USC; Author, Heaven in a Chip


Most bell curves have thick tails
Any challenge to the normal probability bell curve can have far-reaching consequences because a great deal of modern science and engineering rests on this special bell curve. Most of the standard hypothesis tests in statistics rely on the normal bell curve either directly or indirectly. These tests permeate the social and medical sciences and underlie the poll results in the media. Related tests and assumptions underlie the decision algorithms in radar and cell phones that decide whether the incoming energy blip is a 0 or a 1. Management gurus exhort manufacturers to follow the "six sigma" creed of reducing the variance in products to only two or three defective products per million in accord with "sigmas" or standard deviations from the mean of a normal bell curve. Models for trading stock and bond derivatives assume an underlying normal bell-curve structure. Even quantum and signal-processing uncertainty principles or inequalities involve the normal bell curve as the equality condition for minimum uncertainty. Deviating even slightly from the normal bell curve can sometimes produce qualitatively different results.
The proposed dangerous idea stems from two facts about the normal bell curve.
First: The normal bell curve is not the only bell curve. There are at least as many different bell curves as there are real numbers. This simple mathematical fact poses at once a grammatical challenge to the title of Charles Murray's IQ book The Bell Curve. Murray should have used the indefinite article "A" instead of the definite article "The." This is but one of many examples that suggest that most scientists simply equate the entire infinite set of probability bell curves with the normal bell curve of textbooks. Nature need not share the same practice. Human and non-human behavior can be far more diverse than the classical normal bell curve allows.
Second: The normal bell curve is a skinny bell curve. It puts most of its probability mass in the main lobe or bell while the tails quickly taper off exponentially. So "tail events" appear rare simply as an artifact of this bell curve's mathematical structure. This limitation may be fine for approximate descriptions of "normal" behavior near the center of the distribution. But it largely rules out or marginalizes the wide range of phenomena that take place in the tails.
Again most bell curves have thick tails. Rare events are not so rare if the bell curve has thicker tails than the normal bell curve has. Telephone interrupts are more frequent. Lightning flashes are more frequent and more energetic. Stock market fluctuations or crashes are more frequent. How much more frequent they are depends on how thick the tail is — and that is always an empirical question of fact. Neither logic nor assume-the-normal-curve habit can answer the question. Instead scientists need to carry their evidentiary burden a step further and apply one of the many available statistical tests to determine and distinguish the bell-curve thickness.
One response to this call for tail-thickness sensitivity is that logic alone can decide the matter because of the so-called central limit theorem of classical probability theory. This important "central" result states that some suitably normalized sums of random terms will converge to a standard normal random variable and thus have a normal bell curve in the limit. So Gauss and a lot of other long-dead mathematicians got it right after all and thus we can continue to assume normal bell curves with impunity.
That argument fails in general for two reasons.
The first reason it fails is that the classical central limit theorem result rests on a critical assumption that need not hold and that often does not hold in practice. The theorem assumes that the random dispersion about the mean is so comparatively slight that a particular measure of this dispersion — the variance or the standard deviation — is finite or does not blow up to infinity in a mathematical sense. Most bell curves have infinite or undefined variance even though they have a finite dispersion about their center point. The error is not in the bell curves but in the two-hundred-year-old assumption that variance equals dispersion. It does not in general. Variance is a convenient but artificial and non-robust measure of dispersion. It tends to overweight "outliers" in the tail regions because the variance squares the underlying errors between the values and the mean. Such squared errors simplify the math but produce the infinite effects. These effects do not appear in the classical central limit theorem because the theorem assumes them away.
The second reason the argument fails is that the central limit theorem itself is just a special case of a more general result called the generalized central limit theorem. The generalized central limit theorem yields convergence to thick-tailed bell curves in the general case. Indeed it yields convergence to the thin-tailed normal bell curve only in the special case of finite variances. These general cases define the infinite set of the so-called stable probability distributions and their symmetric versions are bell curves. There are still other types of thick-tailed bell curves (such as the Laplace bell curves used in image processing and elsewhere) but the stable bell curves are the best known and have several nice mathematical properties. The figure below shows the normal or Gaussian bell curve superimposed over three thicker-tailed stable bell curves. The catch in working with stable bell curves is that their mathematics can be nearly intractable. So far we have closed-form solutions for only two stable bell curves (the normal or Gaussian and the very-thick-tailed Cauchy curve) and so we have to use transform and computer techniques to generate the rest. Still the exponential growth in computing power has long since made stable or thick-tailed analysis practical for many problems of science and engineering.
This last point shows how competing bell curves offer a new context for judging whether a given set of data reasonably obey a normal bell curve. One of the most popular eye-ball tests for normality is the PP or probability plot of the data. The data should almost perfectly fit a straight line if the data come from a normal probability distribution. But this seldom happens in practice. Instead real data snake all around the ideal straight line in a PP diagram. So it is easy for the user to shrug and a call any data deviation from the ideal line good enough in the absence of a direct bell-curve competitor. A fairer test is to compare the normal PP plot with the best-fitting thick-tailed or stable PP plot. The data may well line up better in a thick-tailed PP diagram than it does in the usual normal PP diagram. This test evidence would reject the normal bell-curve hypothesis in favor of the thicker-tailed alternative. Ignoring these thick-tailed alternatives favors accepting the less-accurate normal bell curve and thus leads to underestimating the occurrence of tail events.
Stable or thick-tailed probability curves continue to turn up as more scientists and engineers search for them. They tend to accurately model impulsive phenomena such as noise in telephone lines or in the atmosphere or in fluctuating economic assets. Skewed versions appear to best fit the data for the Ethernet traffic in bit packets. Here again the search is ultimately an empirical one for the best-fitting tail thickness. Similar searches will only increase as the math and software of thick-tailed bell curves work their way into textbooks on elementary probability and statistics. Much of it is already freely available on the Internet.
Thicker-tail bell curves also imply that there is not just a single form of pure white noise. Here too there are at least as many forms of white noise (or any colored noise) as there are real numbers. Whiteness just means that the noise spikes or hisses and pops are independent in time or that they do not correlate with one another. The noise spikes themselves can come from any probability distribution and in particular they can come from any stable or thick-tailed bell curve. The figure below shows the normal or Gaussian bell curve and three kindred thicker-tailed bell curves and samples of their corresponding white noise. The normal curve has the upper-bound alpha parameter of 2 while the thicker-tailed curves have lower values — tail thickness increases as the alpha parameter falls. The white noise from the thicker-tailed bell curves becomes much more impulsive as their bell narrows and their tails thicken because then more extreme events or noise spikes occur with greater frequency.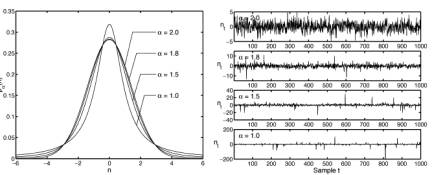 Competing bell curves: The figure on the left shows four superimposed symmetric alpha-stable bell curves with different tail thicknesses while the plots on the right show samples of their corresponding forms of white noise. The parameter

describes the thickness of a stable bell curve and ranges from 0 to 2. Tails grow thicker as

grows smaller. The white noise grows more impulsive as the tails grow thicker. The Gaussian or normal bell curve

has the thinnest tail of the four stable curves while the Cauchy bell curve

has the thickest tails and thus the most impulsive noise. Note the different magnitude scales on the vertical axes. All the bell curves have finite dispersion while only the Gaussian or normal bell curve has a finite variance or finite standard deviation.
My colleagues and I have recently shown that most mathematical models of spiking neurons in the retina can not only benefit from small amounts of added noise by increasing their Shannon bit count but they still continue to benefit from added thick-tailed or "infinite-variance" noise. The same result holds experimentally for a carbon nanotube transistor that detects signals in the presence of added electrical noise.
Thick-tailed bell curves further call into question what counts as a statistical "outlier" or bad data: Is a tail datum error or pattern? The line between extreme and non-extreme data is not just fuzzy but depends crucially on the underlying tail thickness.
The usual rule of thumb is that the data is suspect if it lies outside three or even two standard deviations from the mean. Such rules of thumb reflect both the tacit assumption that dispersion equals variance and the classical central-limit effect that large data sets are not just approximately bell curves but approximately thin-tailed normal bell curves. An empirical test of the tails may well justify the latter thin-tailed assumption in many cases. But the mere assertion of the normal bell curve does not. So "rare" events may not be so rare after all.
---
MATT RIDLEY
Science Writer; Founding chairman of the International Centre for Life; Author, The Agile Gene: How Nature Turns on Nature


Government is the problem not the solution
In all times and in all places there has been too much government. We now know what prosperity is: it is the gradual extension of the division of labour through the free exchange of goods and ideas, and the consequent introduction of efficiencies by the invention of new technologies. This is the process that has given us health, wealth and wisdom on a scale unimagined by our ancestors. It not only raises material standards of living, it also fuels social integration, fairness and charity. It has never failed yet. No society has grown poorer or more unequal through trade, exchange and invention. Think of pre-Ming as opposed to Ming China, seventeenth century Holland as opposed to imperial Spain, eighteenth century England as opposed to Louis XIV's France, twentieth century America as opposed to Stalin's Russia, or post-war Japan, Hong Kong and Korea as opposed to Ghana, Cuba and Argentina. Think of the Phoenicians as opposed to the Egyptians, Athens as opposed to Sparta, the Hanseatic League as opposed to the Roman Empire. In every case, weak or decentralised government, but strong free trade led to surges in prosperity for all, whereas strong, central government led to parasitic, tax-fed officialdom, a stifling of innovation, relative economic decline and usually war.
Take Rome. It prospered because it was a free trade zone. But it repeatedly invested the proceeds of that prosperity in too much government and so wasted it in luxury, war, gladiators and public monuments. The Roman empire's list of innovations is derisory, even compared with that of the 'dark ages' that followed.
In every age and at every time there have been people who say we need more regulation, more government. Sometimes, they say we need it to protect exchange from corruption, to set the standards and police the rules, in which case they have a point, though often they exaggerate it. Self-policing standards and rules were developed by free-trading merchants in medieval Europe long before they were taken over and codified as laws (and often corrupted) by monarchs and governments.

Sometimes, they say we need it to protect the weak, the victims of technological change or trade flows. But throughout history such intervention, though well meant, has usually proved misguided — because its progenitors refuse to believe in (or find out about) David Ricardo's Law of Comparative Advantage: even if China is better at making everything than France, there will still be a million things it pays China to buy from France rather than make itself. Why? Because rather than invent, say, luxury goods or insurance services itself, China will find it pays to make more T shirts and use the proceeds to import luxury goods and insurance.
Government is a very dangerous toy. It is used to fight wars, impose ideologies and enrich rulers. True, nowadays, our leaders do not enrich themselves (at least not on the scale of the Sun King), but they enrich their clients: they preside over vast and insatiable parasitic bureaucracies that grow by Parkinson's Law and live off true wealth creators such as traders and inventors.
Sure, it is possible to have too little government. Only, that has not been the world's problem for millennia. After the century of Mao, Hitler and Stalin, can anybody really say that the risk of too little government is greater than the risk of too much? The dangerous idea we all need to learn is that the more we limit the growth of government, the better off we will all be.
---
DAVID PIZARRO
Psychologist, Cornell University


Hodgepodge Morality
What some individuals consider a sacrosanct ability to perceive moral truths may instead be a hodgepodge of simpler psychological mechanisms, some of which have evolved for other purposes.
It is increasingly apparent that our moral sense comprises a fairly loose collection of intuitions, rules of thumb, and emotional responses that may have emerged to serve a variety of functions, some of which originally had nothing at all to do with ethics. These mechanisms, when tossed in with our general ability to reason, seem to be how humans come to answer the question of good and evil, right and wrong. Intuitions about action, intentionality, and control, for instance, figure heavily into our perception of what constitutes an immoral act. The emotional reactions of empathy and disgust likewise figure into our judgments of who deserves moral protection and who doesn't. But the ability to perceive intentions probably didn't evolve as a way to determine who deserves moral blame. And the emotion of disgust most likely evolved to keep us safe from rotten meat and feces, not to provide information about who deserves moral protection.
Discarding the belief that our moral sense provides a royal road to moral truth is an uncomfortable notion. Most people, after all, are moral realists. They believe acts are objectively right or wrong, like math problems. The dangerous idea is that our intuitions may be poor guides to moral truth, and can easily lead us astray in our everyday moral decisions.
---
RANDOPLH M. NESSE
Psychiatrist, University of Michigan; Coauthor (with George Williams), Why We Get Sick: The New Science of Darwinian Medicine


Unspeakable Ideas
The idea of promoting dangerous ideas seems dangerous to me. I spend considerable effort to prevent my ideas from becoming dangerous, except, that is, to entrenched false beliefs and to myself. For instance, my idea that bad feelings are useful for our genes upends much conventional wisdom about depression and anxiety. I find, however, that I must firmly restrain journalists who are eager to share the sensational but incorrect conclusion that depression should not be treated. Similarly, many people draw dangerous inferences from my work on Darwinian medicine. For example, just because fever is useful does not mean that it should not be treated. I now emphasize that evolutionary theory does not tell you what to do in the clinic, it just tells you what studies need to be done.
I also feel obligated to prevent my ideas from becoming dangerous on a larger scale. For instance, many people who hear about Darwinian medicine assume incorrectly that it implies support for eugenics. I encourage them to read history as well as my writings. The record shows how quickly natural selection was perverted into Social Darwinism, an ideology that seemed to justify letting poor people starve. Related ideas keep emerging. We scientists have a responsibility to challenge dangerous social policies incorrectly derived from evolutionary theory. Racial superiority is yet another dangerous idea that hurts real people. More examples come to mind all too easily and some quickly get complicated. For instance, the idea that men are inherently different from women has been used to justify discrimination, but the idea that men and women have identical abilities and preferences may also cause great harm.
While I don't want to promote ideas dangerous to others, I am fascinated by ideas that are dangerous to anyone who expresses them. These are "unspeakable ideas." By unspeakable ideas I don't mean those whose expression is forbidden in a certain group. Instead, I propose that there is class of ideas whose expression is inherently dangerous everywhere and always because of the nature of human social groups. Such unspeakable ideas are anti-memes. Memes, both true and false, spread fast because they are interesting and give social credit to those who spread them. Unspeakable ideas, even true important ones, don't spread at all, because expressing them is dangerous to those who speak them.
So why, you may ask, is a sensible scientist even bringing the idea up? Isn't the idea of unspeakable ideas a dangerous idea? I expect I will find out. My hope is that a thoughtful exploration of unspeakable ideas should not hurt people in general, perhaps won't hurt me much, and might unearth some long-neglected truths.
Generalizations cannot substitute for examples, even if providing examples is risky. So, please gather your own data. Here is an experiment. The next time you are having a drink with an enthusiastic fan for your hometown team, say "Well, I think our team just isn't very good and didn't deserve to win." Or, moving to more risky territory, when your business group is trying to deal with a savvy competitor, say, "It seems to me that their product is superior because they are smarter than we are." Finally, and I cannot recommend this but it offers dramatic data, you could respond to your spouse's difficulties at work by saying, "If they are complaining about you not doing enough, it is probably because you just aren't doing your fair share." Most people do not need to conduct such social experiments to know what happens when such unspeakable ideas are spoken.
Many broader truths are equally unspeakable. Consider, for instance, all the articles written about leadership. Most are infused with admiration and respect for a leader's greatness. Much rarer are articles about the tendency for leadership positions to be attained by power-hungry men who use their influence to further advance their self-interest. Then there are all the writings about sex and marriage. Most of them suggest that there is some solution that allows full satisfaction for both partners while maintaining secure relationships. Questioning such notions is dangerous, unless you are a comic, in which case skepticism can be very, very funny.
As a final example, consider the unspeakable idea of unbridled self-interest. Someone who says, "I will only do what benefits me," has committed social suicide. Tendencies to say such things have been selected against, while those who advocate goodness, honesty and service to others get wide recognition. This creates an illusion of a moral society that then, thanks to the combined forces of natural and social selection, becomes a reality that makes social life vastly more agreeable.
There are many more examples, but I must stop here. To say more would either get me in trouble or falsify my argument. Will I ever publish my "Unspeakable Essays?" It would be risky, wouldn't it?
---
GREGORY BENFORD
Physicist, UC Irvine; Author, Deep Time


Think outside the Kyoto box
Few economists expect the Kyoto Accords to attain their goals. With compliance coming only slowly and with three big holdouts — the US, China and India — it seems unlikely to make much difference in overall carbon dioxide increases. Yet all the political pressure is on lessening our fossil fuel burning, in the face of fast-rising demand.

This pits the industrial powers against the legitimate economic aspirations of the developing world — a recipe for conflict.

Those who embrace the reality of global climate change mostly insist that there is only one way out of the greenhouse effect — burn less fossil fuel, or else. Never mind the economic consequences. But the planet itself modulates its atmosphere through several tricks, and we have little considered using most of them. The overall global problem is simple: we capture more heat from the sun than we radiate away. Mostly this is a good thing, else the mean planetary temperature would hover around freezing. But recent human alterations of the atmosphere have resulted in too much of a good thing.

Two methods are getting little attention: sequestering carbon from the air and reflecting sunlight.

Hide the Carbon

There are several schemes to capture carbon dioxide from the air: promote tree growth; trap carbon dioxide from power plants in exhausted gas domes; or let carbon-rich organic waste fall into the deep oceans. Increasing forestation is a good, though rather limited, step. Capturing carbon dioxide from power plants costs about 30% of the plant output, so it's an economic nonstarter.

That leaves the third way. Imagine you are standing in a ripe Kansas cornfield, staring up into a blue summer sky. A transparent acre-area square around you extends upwards in an air-filled tunnel, soaring all the way to space. That long tunnel holds carbon in the form of invisible gas, carbon dioxide — widely implicated in global climate change. But how much?

Very little, compared with how much we worry about it. The corn standing as high as an elephant's eye all around you holds four hundred times as much carbon as there is in man-made carbon dioxide — our villain — in the entire column reaching to the top of the atmosphere. (We have added a few hundred parts per million to our air by burning.) Inevitably, we must understand and control the atmosphere, as part of a grand imperative of directing the entire global ecology. Yearly, we manage through agriculture far more carbon than is causing our greenhouse dilemma.
Take advantage of that. The leftover corn cobs and stalks from our fields can be gathered up, floated down the Mississippi, and dropped into the ocean, sequestering it. Below about a kilometer depth, beneath a layer called the thermocline, nothing gets mixed back into the air for a thousand years or more. It's not a forever solution, but it would buy us and our descendents time to find such answers. And it is inexpensive; cost matters.

The US has large crop residues. It has also ignored the Kyoto Accord, saying it would cost too much. It would, if we relied purely on traditional methods, policing energy use and carbon dioxide emissions. Clinton-era estimates of such costs were around $100 billion a year — a politically unacceptable sum, which led Congress to reject the very notion by a unanimous vote.

But if the US simply used its farm waste to "hide" carbon dioxide from our air, complying with Kyoto's standard would cost about $10 billion a year, with no change whatsoever in energy use.
The whole planet could do the same. Sequestering crop leftovers could offset about a third of the carbon we put into our air.

The carbon dioxide we add to our air will end up in the oceans, anyway, from natural absorption, but not nearly quickly enough to help us.
Reflect Away Sunlight

Hiding carbon from air is only one example of ways the planet has maintained its perhaps precarious equilibrium throughout billions of years. Another is our world's ability to edit sunlight, by changing cloud cover.

As the oceans warm, water evaporates, forming clouds. These reflect sunlight, reducing the heat below — but just how much depends on cloud thickness, water droplet size, particulate density — a forest of detail.

If our climate starts to vary too much, we could consider deliberately adjusting cloud cover in selected areas, to offset unwanted heating. It is not actually hard to make clouds; volcanoes and fossil fuel burning do it all the time by adding microscopic particles to the air. Cloud cover is a natural mechanism we can augment, and another area where possibility of major change in environmental thinking beckons.

A 1997 US Department of Energy study for Los Angeles showed that planting trees and making blacktop and rooftops lighter colored could significantly cool the city in summer. With minimal costs that get repaid within five years we can reduce summer midday temperatures by several degrees. This would cut air conditioning costs for the residents, simultaneously lowering energy consumption, and lessening the urban heat island effect. Incoming rain clouds would not rise as much above the heat blossom of the city, and so would rain on it less. Instead, clouds would continue inland to drop rain on the rest of Southern California, promoting plant growth. These methods are now under way in Los Angeles, a first experiment.

We can combine this with a cloud-forming strategy. Producing clouds over the tropical oceans is the most effective way to cool the planet on a global scale, since the dark oceans absorb the bulk of the sun's heat. This we should explore now, in case sudden climate changes force us to act quickly.
Yet some environmentalists find all such steps suspect. They smack of engineering, rather than self-discipline. True enough — and that's what makes such thinking dangerous, for some.

Yet if Kyoto fails to gather momentum, as seems probable to many, what else can we do? Turn ourselves into ineffectual Mommy-cop states, with endless finger-pointing politics, trying to equally regulate both the rich in their SUVs and Chinese peasants who burn coal for warmth? Our present conventional wisdom might be termed The Puritan Solution — Abstain, sinners! — and is making slow, small progress. The Kyoto Accord calls for the industrial nations to reduce their carbon dioxide emissions to 7% below the 1990 level, and globally we are farther from this goal every year.

These steps are early measures to help us assume our eventual 21st Century role, as true stewards of the Earth, working alongside Nature. Recently Billy Graham declared that since the Bible made us stewards of the Earth, we have a holy duty to avert climate change. True stewards use the Garden's own methods.
---
MARCO IACOBONI
Neuroscientist; Director, Transcranial Magnetic Stimulation Lab, UCLA


Media Violence Induces Imitative Violence: The Problem With Super Mirrors
Media violence induces imitative violence. If true, this idea is dangerous for at least two main reasons. First, because its implications are highly relevant to the issue of freedom of speech. Second, because it suggests that our rational autonomy is much more limited than we like to think. This idea is especially dangerous now, because we have discovered a plausible neural mechanism that can explain why observing violence induces imitative violence. Moreover, the properties of this neural mechanism — the human mirror neuron system — suggest that imitative violence may not always be a consciously mediated process. The argument for protecting even harmful speech (intended in a broad sense, including movies and videogames) has typically been that the effects of speech are always under the mental intermediation of the listener/viewer. If there is a plausible neurobiological mechanism that suggests that such intermediate step can be by-passed, this argument is no longer valid.
For more than 50 years behavioral data have suggested that media violence induces violent behavior in the observers. Meta-data show that the effect size of media violence is much larger than the effect size of calcium intake on bone mass, or of asbestos exposure to cancer. Still, the behavioral data have been criticized. How is that possible? Two main types of data have been invoked. Controlled laboratory experiments and correlational studies assessing types of media consumed and violent behavior. The lab data have been criticized on the account of not having enough ecological validity, whereas the correlational data have been criticized on the account that they have no explanatory power. Here, as a neuroscientist who is studying the human mirror neuron system and its relations to imitation, I want to focus on a recent neuroscience discovery that may explain why the strong imitative tendencies that humans have may lead them to imitative violence when exposed to media violence.
Mirror neurons are cells located in the premotor cortex, the part of the brain relevant to the planning, selection and execution of actions. In the ventral sector of the premotor cortex there are cells that fire in relation to specific goal-related motor acts, such as grasping, holding, tearing, and bringing to the mouth. Surprisingly, a subset of these cells — what we call mirror neurons — also fire when we observe somebody else performing the same action. The behavior of these cells seems to suggest that the observer is looking at her/his own actions reflected by a mirror, while watching somebody else's actions. My group has also shown in several studies that human mirror neuron areas are critical to imitation. There is also evidence that the activation of this neural system is fairly automatic, thus suggesting that it may by-pass conscious mediation. Moreover, mirror neurons also code the intention associated with observed actions, even though there is not a one-to-one mapping between actions and intentions (I can grasp a cup because I want to drink or because I want to put it in the dishwasher). This suggests that this system can indeed code sequences of action (i.e., what happens after I grasp the cup), even though only one action in the sequence has been observed.
Some years ago, when we still were a very small group of neuroscientists studying mirror neurons and we were just starting investigating the role of mirror neurons in intention understanding, we discussed the possibility of super mirror neurons. After all, if you have such a powerful neural system in your brain, you also want to have some control or modulatory neural mechanisms. We have now preliminary evidence suggesting that some prefrontal areas have super mirrors. I think super mirrors come in at least two flavors. One is inhibition of overt mirroring, and the other one — the one that might explain why we imitate violent behavior, which require a fairly complex sequence of motor acts — is mirroring of sequences of motor actions. Super mirror mechanisms may provide a fairly detailed explanation of imitative violence after being exposed to media violence.
---
BARRY C. SMITH
Philosopher, Birbeck, University of London; Coeditor, Knowing Our Own Minds


What We Know May Not Change Us
Human beings, like everything else, are part of the natural world. The natural world is all there is. But to say that everything that exists is just part of the one world of nature is not the same as saying that there is just one theory of nature that will describes and explain everything that there is. Reality may be composed of just one kind of stuff and properties of that stuff but we need many different kinds of theories at different levels of description to account for everything there is.
Theories at these different levels may not be reduced one to another. What matters is that they be compatible with one another. The astronomy Newton gave us was a triumph over supernaturalism because it united the mechanics of the sub-lunary world with an account of the heavenly bodies. In a similar way, biology allowed us to advance from a time when we saw life in terms of an elan vital. Today, the biggest challenge is to explain our powers of thinking and imagination, our abilities to represent and report our thoughts: the very means by which we engage in scientific theorising. The final triumph of the natural sciences over supernaturalism will be an account of nature of conscious experience. The cognitive and brain sciences have done much to make that project clearer but we are still a long way from a fully satisfying theory.
But even if we succeed in producing a theory of human thought and reason, of perception, of conscious mental life, compatible with other theories of the natural and biological world, will we relinquish our cherished commonsense conceptions of ourselves as human beings, as selves who know ourselves best, who deliberate and decide freely on what to do and how to live? There is much evidence that we won't. As humans we conceive ourselves as centres of experience, self-knowing and free willing agents. We see ourselves and others as acting on our beliefs, desires, hopes and fears, and has having responsibility for much that we do and all that we say. And even as results in neuroscience begin to show how much more automated, routinised and pre-conscious much of our behaviour is, we are remain unable to let go of the self-beliefs that govern our day to day rationalisings and dealings with others.
We are perhaps incapable of treating others as mere machines, even if that turns out to be what we are. The self-conceptions we have are firmly in place and sustained in spite of our best findings, and it may be a fact about human beings that it will always be so. We are curious and interested in neuroscientists findings and we wonder at them and about their applications to ourselves, but as the great naturalistic philosopher David Hume knew, nature is too strong in us, and it will not let us give up our cherished and familiar ways of thinking for long. Hume knew that however curious an idea and vision of ourselves we entertained in our study, or in the lab, when we returned to the world to dine, make merry with our friends our most natural beliefs and habits returned and banished our stranger thoughts and doubts. It is likely, as this end of the year, that whatever we have learned and whatever we know about the error of our thinkings and about the fictions we maintain, they will still remain the most dominant guiding force in our everyday lives. We may not be comforted by this, but as creatures with minds who know they have minds — perhaps the only minded creatures in nature in this position — we are at least able to understand our own predicament.
---
---

Computer Scientist, Brandeis University


Science as just another Religion
We scientists like to think that our "way of knowing" is special. Instead of holding beliefs based on faith in invisible omniscient deities, or parchments transcribed from oral cultures, we use the scientific method to discover and know. Truth may be eternal, but human knowledge of that truth evolves over time, as new questions are asked, data is recorded, hypotheses are tested, and replication and refutation mechanisms correct the record.
So it is a very dangerous idea to consider Science as just another Religion. It's not my idea, but one I noticed growing in a set of Lakovian Frames within the Memesphere.
One of the frame is that scientists are doom and gloom prophets. For example, at a recent popular technology conference, a parade of speakers spoke about the threats of global warming, the sea level rising by 18 feet and destroying cities, more category 5 hurricanes, etc. It was quite a reversal from the positivistic techno-utopian promises of miraculous advances in medicine, computers, and weaponry that have allowed science to bloom in the late 20th century. A friend pointed out that — in the days before Powerpoint — these scientists might be wearing sandwich-board signs saying "The End is Near!"
Another element in the framing of science as a religion is the response to evidence-based policy. Scientists who do take political stands on "moral" issues such as stem-cell research, death penalty, nuclear weapons, global warming, etc., can be sidelined as atheists, humanists, or agnostics who have no moral or ethical standing outside their narrow specialty (as compared to, say, televangelist preachers.)
A third, and the most nefarious frame, casts theory as one opinion among others which should represented out of fairness or tolerance. This is the subterfuge used by Intelligent Design Creationists.
We may believe in the separation of church and state, but that firewall has fallen. Science and Reason are losing political battles to Superstition and Ignorance. Politics works by rewarding friends and punishing enemies, and while our individual votes may be private, exit polls have proven that Science didn't vote for the incumbent.
There seem to be three choices going forward: Reject, Accommodate, or Embrace.
One path is to go on an attack on religion in the public sphere. In his book End of
Faith, Sam Harris points out that humoring people who believe in God is like humoring people who believe that "a diamond [] the size of a refrigerator" is buried in their back yard. There is a fine line between pushing God out of our public institutions and repeating religious intolerance of regimes past.
A second is to embrace Faith-Based Science. Since, from the perspective of government, research just another special interest feeding at the public trough, we should change our model to be more accommodating to political reality. Research is already sold like highway construction projects, with a linear accelerator for your state and a supercomputer center for mine, all done through direct appropriations. All that needs to change is the justifications for such spending.
How would Faith-Based Science work? Well, Physics could sing the psalm that Perpetual Motion would solve the energy crisis, thereby triggering a $500 billion program in free energy machines. (Of course, God is on our side to repeal the Second Law of Thermodynamics!) Astronomy could embrace Astrology and do grassroots PR through Daily Horoscopes to gain mass support for a new space program. In fact, an anti-gravity initiative could pass today if it were spun as a repeal of the "heaviness tax." Using the renaming principle, the SETI program can be re-legalized and brought back to life as the "Search for God" project.
Finally, the third idea is to actually embrace this dangerous idea and organize a new open-source spiritual and moral movement. I think a new, greener religion, based on faith in the Gaia Hypothesis and an 11th commandment to "Protect the Earth" could catch on, especially if welcoming to existing communities of faith. Such a movement could be a new pulpit from which the evidence-based silent majority can speak with both moral force and evangelical fervor about issues critical to the future of our planet.
---
JUAN ENRIQUEZ
CEO, Biotechonomy; Founding Director, Harvard Business School's Life Sciences Project; Author, The Untied States of America

Technology can untie the U.S.
Everyone grows and dies; same is true of countries. The only question is how long one postpones the inevitable. In the case of some countries, life spans can be very long, so it is worth asking is the U.S. in adolescence, middle age, or old age? Do science and technology accelerate or offset demise? And finally "how many stars will be in the U.S. flag in fifty years?"
There has yet to be a single U.S. president buried under the same flag he was born under, yet we oft take continuity for granted. Just as almost no newlyweds expect to divorce, citizens rarely assume their beloved country, flag and anthem might end up an exhibit in an archeology museum. But countries rich and poor, Asian, African, and European have been untying time and again. In the last five decades the number of UN members has tripled. This trend goes way beyond the de-colonization of the 1960s, and it is not exclusive to failed states; it is a daily debate within the United Kingdom, Italy, France, Belgium, the Netherlands, Austria, and many others.
So far the Americas has remained mostly impervious to these global trends, but, even if in God you trust, there are no guarantees. Over the next decade waves of technology will wash over the U.S. Almost any applied field you care to look at promises extraordinary change, opportunities, and challenges. (Witness the entries in this edition of Edge). How counties adapt to massive, rapid upheaval will go a long way towards determining the eventual outcome. To paraphrase Darwin, it is not the strongest, not the largest, that survive rather it is those best prepared to cope with change.
It is easy to argue that the U.S. could be a larger more powerful country in fifty years. But it is also possible that, like so many other great powers, it could begin to unravel and untie. This is not something that depends on what we do decide to do fifty years hence; to a great extent it depends on what we choose to do, or choose to ignore, today. There are more than a few worrisome trends.
Future ability to generate wealth depends on techno-literacy. But educational excellence, particularly in grammar and high schools is far from uniform, and it is not world class. Time and again the U.S. does poorly, particularly in regards to math and science, when compared with its major trading partners. Internally, there are enormous disparities between schools and between the number of students that pass state competency exams and what federal tests tell us about the same students. There are also large gaps in techno literacy between ethnic groups. By 2050 close to 40% of the U.S. population will be Hispanic and African American. These groups receive 3% of the PhDs in math and science today. How we prepare kids for a life sciences, materials, robotics, IT, and nanotechnology driven world is critical. But we currently invest $22,000 federal dollars in those over 65 and just over $2,000 in those under sixteen...
As ethnic, age, and regional gaps in the ability to adapt increase there are many wary and frustrated by technology, open borders, free trade, and smart immigrants. Historically, when others use newfangled ways to leap ahead, it can lead to a conservative response. This is likeliest within those societies and groups thant have the most to lose, often among those who have been the most successful. One often observes a reflexive response: stop the train; I want to get off. Or, as the Red Sox now say, just wait till last year. No more teaching evolution, no more research into stem cells, no more Indian or Chinese or Mexican immigrants, no matter how smart or hardworking they might be. These individual battles are signs of a creeping xenophobia, isolationism, and fury.
Within the U.S. there are many who are adapting very successfully. They tend to concentrate in a very few zip codes, life science clusters like 92121(between Salk, Scripps, and UCSD) and techno-empires like 02139 (MIT). Most of the nation's wealth and taxes are generated by a few states and, within these states, within in a few square miles. It is those who live in these areas that are most affronted by restrictions on research, the lack of science literate teenagers, and the reliance on God instead of science.
Politicians well understand these divides and they have gerrymandered their own districts to reflect them. Because competitive congressional elections are rarer today than turnovers within the Soviet Politburo, there is rarely an open debate and discussion as to why other parts of the country act and think so differently. The Internet and cable further narrowcast news and views, tending to reinforce what one's neighbors and communities already believe. Positions harden. Anger at "the others" mounts.
Add a large and mounting debt to this equation, along with politicized religion, and the mixture becomes explosive. The average household now owes over $88,000 and the present value of what we have promised to pay is now about $473,000. There is little willingness within Washington to address a mounting deficit, never mind the current account imbalance. Facing the next electoral challenge, few seem to remember the last act of many an empire is to drive itself into bankruptcy.
Sooner or later we could witness some very bitter arguments about who gets and who pays. In developed country after developed country, it is often the richest, not the ethnically or religiously repressed, that first seek autonomy and eventually dissolution. In this context it is worth recalling that New England, not the South, has been the most secession prone region. As the country expanded, New Englanders attempted to include the right to untie into the constitution; the argument was that as this great country expanded South and West they would lose control over their political and economic destiny. Perhaps this is what led to four separate attempts to untie the Union.
When we assume stability and continuity we can wake up to irreconcilable differences. Science and a knowledge driven economy can allow a few folks to build powerful and successful countries very quickly, witness Korea, Taiwan, Singapore, Ireland, but changes of this magnitude can also bury or split the formerly great who refuse to adapt, as well as those who practice bad governance. If we do not begin to address some current divides quickly we could live to see an Un-Tied States of America.
---
STEPHEN M. KOSSLYN
Psychologist, Harvard University; Author, Wet Mind


A Science of the Divine?
Here's an idea that many academics may find unsettling and dangerous: God exists. And here's another idea that many religious people may find unsettling and dangerous: God is not supernatural, but rather part of the natural order. Simply stating these ideas in the same breath invites them to scrape against each other, and sparks begin to fly. To avoid such conflict, Stephen Jay Gould famously argued that we should separate religion and science, treating them as distinct "magisteria." But science leads many of us to try to understand all that we encounter with a single, grand and glorious overarching framework. In this spirit, let me try to suggest one way in which the idea of a "supreme being" can fit into a scientific worldview.
I offer the following not to advocate the ideas, but rather simply to illustrate one (certainly not the only) way that the concept of God can be approached scientifically.
1.0. First, here's the specific conception of God I want to explore: God is a "supreme being" that transcends space and time, permeates our world but also stands outside of it, and can intervene in our daily lives (partly in response to prayer).
2.0. A way to begin to think about this conception of the divine rests on three ideas:
2.1. Emergent properties. There are many examples in science where aggregates produce an entity that has properties that cannot be predicted entirely from the elements themselves. For example, neurons in large numbers produce minds; moreover, minds in large numbers produce economic, political, and social systems.

2.2. Downward causality. Events at "higher levels" (where emergent properties become evident) can in turn feed back and affect events at lower levels. For example, chronic stress (a mental event) can cause parts of the brain to become smaller. Similarly, an economic depression or the results of an election affect the lives of the individuals who live in that society.

2.3. The Ultimate Superset. The Ultimate Superset (superordinate set) of all living things may have an equivalent status to an economy or culture. It has properties that emerge from the interactions of living things and groups of living things, and in turn can feed back to affect those things and groups.
3.0. Can we conceive of God as an emergent property of all living things that can in turn affect its constituents? Here are some ways in which this idea is consistent with the nature of God, as outlined at the outset.
3.1. This emergent entity is "transcendent" in the sense that it exists in no specific place or time. Like a culture or an economy, God is nowhere, although the constituent elements occupy specific places. As for transcending time, consider this analogy: Imagine that 1/100th of the neurons in your brain were replaced every hour, and each old neuron programmed a new one so that the old one's functionality was preserved. After 100 hours your brain would be an entirely new organ — but your mind would continue to exist as it had been before. Similarly, as each citizen dies and is replaced by a child, the culture continues to exist (and can grow and develop, with a "life of its own"). So too with God. For example, in the story of Jacob's ladder, Jacob realizes "Surely the Lord is in this place, and I did not know it." (Genesis 28: 16) I interpret this story as illustrating that God is everywhere but nowhere. The Ultimate Superset permeates our world but also stands outside of (or, more specifically, "above") it.

3.2. The Ultimate Superset can affect our individual lives. Another analogy: Say that geese flying south for the winter have rather unreliable magnetic field detectors in their brains. However, there's a rule built into their brains that leads them to try to stay near their fellows as they fly. The flock as a whole would navigate far better than any individual bird, because the noise in the individual bird brain navigation systems would cancel out. The emergent entity — the flock — in turn would affect the individual geese, helping them to navigate better than they could on their own.

3.3. When people pray to the Lord, they beseech intervention on their or others' behalf. The view that I've been outlining invites us to think of the effects of prayer as akin to becoming more sensitive to the need to stay close to the other birds in the flock: By praying, one can become more sensitive to the emergent "supreme being." Such increased sensitivity may imply that one can contribute more strongly to this emergent entity.
By analogy, it's as if one of those geese became aware of the "keep near" rule, and decided to nudge the other birds in a particular direction — which thereby allows it to influence the flock's effect on itself. To the extent that prayer puts one closer to God, one's plea for intervention will have a larger impact on the way that The Ultimate Superset exerts downward causality. But note that, according to this view, God works rather slowly. Think of dropping rocks in a pond: it takes time for the ripples to propagate and eventually be reflected back from the edge, forming interference patterns in the center of the pond.
4.0. A crucial idea in monotheistic religions is that God is the Creator. The present approach may help us begin to grapple with this idea, as follows.
4.1. First, consider each individual person. The environment plays a key role in creating who and what we are because there are far too few genes to program every aspect of our brains. For example, when you were born, your genes programmed many connections in your visual areas, but did not specify the precise circuits necessary to determine how far away objects are. As an infant, the act of reaching for an object tuned the brain circuits that estimate how far away the object was from you.
Similarly, your genes graced you with the ability to acquire language, but not with a specific language. The act of acquiring a language shapes your brain (which in turn may make it difficult to acquire another language, with different sounds and grammar, later in life). Moreover, cultural practices configure the brains of members of the culture. A case in point: the Japanese have many forms of bowing, which are difficult for a Westerner to master relatively late in life; when we try to bow, we "bow with an accent."

4.2. And the environment not only played an essential role in how we developed as children, but also plays a continuing role in how we develop over the course of our lives as adults. The act of learning literally changes who and what we are.

4.3. According to this perspective, it's not just negotiating the physical world and sociocultural experience that shape the brain: The Ultimate Superset — the emergent property of all living things — affects all of the influences that "make us who and what we are," both as we develop during childhood and continue to learn and develop as adults.

4.4. Next, consider our species. One could try to push this perspective into a historical context, and note that evolution by natural selection reflects the effects of interactions among living things. If so, then the emergent properties of such interactions could feed back to affect the course of evolution itself.
In short, it is possible to begin to view the divine through the lens of science. But such reasoning does no more than set the stage; to be a truly dangerous idea, this sort of proposal must be buttressed by the results of empirical test. At present, my point is not to convince, but rather to intrigue. As much as I admired Stephen Jay Gould (and I did, very much), perhaps he missed the mark on this one. Perhaps there is a grand project waiting to be launched, to integrate the two great sources of knowledge and belief in the world today — science and religion.
---
JERRY COYNE
Evolutionary Biologist; Professor, Department of Ecology and Evolution, University of Chicago; Author (with H. Allen Orr), Speciation


Many behaviors of modern humans were genetically hard-wired (or soft-wired) in our distant ancestors by natural selection
For me, one idea that is dangerous and possibly true is an extreme form of evolutionary psychology — the view that many behaviors of modern humans were genetically hard-wired (or soft-wired) in our distant ancestors by natural selection.

The reason I say that this idea might be true is that we cannot be sure of the genetic and evolutionary underpinnings of most human behaviors. It is difficult or impossible to test many of the conjectures of evolutionary psychology. Thus, we can say only that behaviors such as the sexual predilections of men versus women, and the extreme competitiveness of males, are consistent with evolutionary psychology.
But consistency arguments have two problems. First, they are not hard scientific proof. Are we satisfied that sonnets are phallic extensions simply because some male poets might have used them to lure females? Such arguments fail to meet the normal standards of scientific evidence.
Second, as is well known, one can make consistency arguments for virtually every human behavior. Given the possibilities of kin selection (natural selection for behaviors that do no good for to their performers but are advantageous to their relatives) and reciprocal altruism, and our ignorance of the environments of our ancestors, there is no trait beyond evolutionary explanation. Indeed, there are claims for the evolutionary origin of even manifestly maladaptive behaviors, such as homosexuality, priestly celibacy, and extreme forms of altruism (e.g., self-sacrifice during wartime). But surely we cannot consider it scientifically proven that genes for homosexuality are maintained in human populations by kin selection. This remains possible but undemonstrated.
Nevertheless, much of human behavior does seem to conform to Darwinian expectations. Males are promiscuous and females coy. We treat our relatives better than we do other people. The problem is where to draw the line between those behaviors that are so obviously adaptive that no one doubts their genesis (e.g. sleeping and eating), those which are probably but not as obviously adaptive (e.g., human sexual behavior and our fondness for fats and sweets) and those whose adaptive basis is highly speculative (e.g., the origin of art and our love of the outdoors).
Although I have been highly critical of evolutionary psychology, I have not done so from political motives, nor do I think that the discipline is in principle misguided. Rather, I have been critical because evolutionary psychologists seem unwilling to draw lines between what can be taken as demonstrated and what remains speculative, making the discipline more of a faith than a science. This lack of rigor endangers the reputation of all of evolutionary biology, making our endeavors seem to be merely the concoction of ingenious stories. If we are truly to understand human nature, and use this knowledge constructively, we must distinguish the probably true from the possibly true.
So, why do I see evolutionary psychology as dangerous? I think it is because I am afraid to see myself and my fellow humans as mere marionettes dancing on genetic strings. I would like to think that we have immense freedom to better ourselves as individuals and to create a just and egalitarian society. Granted, genetics is not destiny, but neither are we completely free of our evolutionary baggage. Might genetics really hold a leash on our capacity to change? If so, then some claims of evolutionary psychology give us convenient but dangerous excuses for behaviors that seem unacceptable. It is all too easy, for example, for philandering males to excuse their behavior as evolutionarily justified. Evolutionary psychologists argue that it is possible to overcome our evolutionary heritage. But what if it is not so easy to take the Dawkinsian road and "rebel against the tyranny of the selfish replicators"?
---
ERNST PÖPPEL
Neuroscientist, Chairman, Board of Directors, Human Science Center and Department of Medical Psychology, Munich University, Germany; Author, Mindworks


My belief in science
Average life expectancy of a species on this globe is just a few million years. From an external point of view, it would be nothing special if humankind suddenly disappears. We have been here for sometime. With humans no longer around, evolutionary processes would have an even better chance to fill in all those ecological niches which have been created by human activities. As we change the world, and as thousands of species are lost every year because of human activities, we provide a new and productive environment for the creation of new species. Thus, humankind is very creative with respect to providing a frame for new evolutionary trajectories, and humankind would even be more creative, if it has disappeared altogether. If somebody (unfortunately not our descendents) would visit this globe some time later, they would meet many new species, which owe their existence the presence and the disappearance of humankind.
But this is not going to happen, because we are doing science. With science we apparently get a better understanding of basic principles in nature, we have a chance to improve quality of life, and we can develop means to extend the life expectancy of our species. Unfortunately, some of these scientific activities have a paradoxical effect resulting in a higher risk for a common disappearance. Maybe, science will not be so effective after all to prevent our disappearance.
Only now comes my dangerous idea as my (!) dangerous idea. It is not so difficult to come up with a dangerous scenario on a general level, but if one takes such a question also seriously on a personal level, one has to meditate an individual scenario. I am very grateful for this question formulated by Steven Pinker as it forced me to visit my episodic memory and to think about what has been and still is "my dangerous idea". Although nobody else might be interested in a personal statement, I say it anyway: My dangerous idea is my belief in science.
In all my research (in the field of temporal perception or visual processes) I have a basic trust in the scientific activities, and I actually believe the results I have obtained. And I believe the results of others. But why? I know that there so many unknown and unknowable variables that are part of the experimental setup and which cannot be controlled. How can I trust in spite of so many unknowables (does this word exist in English?)? Furthermore, can I really rely on my thinking, can I trust my eyes and ears? Can I be so sure about my scientific activities that I communicate with pride the results to others? If I look at the complexity of the brain, how is it possible that something reasonable comes out of this network? How is it possible that a face that I see or a thought that I have maintain their identity over time? If I have no access to what goes on in my brain, how can I be so proud, (how can anybody be so proud) about scientific achievements?
---
GEOFFREY MILLER
Evolutionary Psychologist, University of New Mexico; Author, The Mating Mind


Runaway consumerism explains the Fermi Paradox
The story goes like this: Sometime in the 1940s, Enrico Fermi was talking about the possibility of extra-terrestrial intelligence with some other physicists. They were impressed that our galaxy holds 100 billion stars, that life evolved quickly and progressively on earth, and that an intelligent, exponentially-reproducing species could colonize the galaxy in just a few million years. They reasoned that extra-terrestrial intelligence should be common by now. Fermi listened patiently, then asked simply, "So, where is everybody?". That is, if extra-terrestrial intelligence is common, why haven't we met any bright aliens yet? This conundrum became known as Fermi's Paradox.
The paradox has become more ever more baffling. Over 150 extrasolar planets have been identified in the last few years, suggesting that life-hospitable planets orbit most stars. Paleontology shows that organic life evolved very quickly after earth's surface cooled and became life-hospitable. Given simple life, evolution shows progressive trends towards larger bodies, brains, and social complexity. Evolutionary psychology reveals several credible paths from simpler social minds to human-level creative intelligence. Yet 40 years of intensive searching for extra-terrestrial intelligence have yielded nothing. No radio signals, no credible spacecraft sightings, no close encounters of any kind.
So, it looks as if there are two possibilities. Perhaps our science over-estimates the likelihood of extra-terrestrial intelligence evolving. Or, perhaps evolved technical intelligence has some deep tendency to be self-limiting, even self-exterminating. After Hiroshima, some suggested that any aliens bright enough to make colonizing space-ships would be bright enough to make thermonuclear bombs, and would use them on each other sooner or later. Perhaps extra-terrestrial intelligence always blows itself up. Fermi's Paradox became, for a while, a cautionary tale about Cold War geopolitics.
I suggest a different, even darker solution to Fermi's Paradox. Basically, I think the aliens don't blow themselves up; they just get addicted to computer games. They forget to send radio signals or colonize space because they're too busy with runaway consumerism and virtual-reality narcissism. They don't need Sentinels to enslave them in a Matrix; they do it to themselves, just as we are doing today.
The fundamental problem is that any evolved mind must pay attention to indirect cues of biological fitness, rather than tracking fitness itself. We don't seek reproductive success directly; we seek tasty foods that tended to promote survival and luscious mates who tended to produce bright, healthy babies. Modern results: fast food and pornography. Technology is fairly good at controlling external reality to promote our real biological fitness, but it's even better at delivering fake fitness — subjective cues of survival and reproduction, without the real-world effects. Fresh organic fruit juice costs so much more than nutrition-free soda. Having real friends is so much more effort than watching Friends on TV. Actually colonizing the galaxy would be so much harder than pretending to have done it when filming Star Wars or Serenity.
Fitness-faking technology tends to evolve much faster than our psychological resistance to it. The printing press is invented; people read more novels and have fewer kids; only a few curmudgeons lament this. The Xbox 360 is invented; people would rather play a high-resolution virtual ape in Peter Jackson's King Kong than be a perfect-resolution real human. Teens today must find their way through a carnival of addictively fitness-faking entertainment products: MP3, DVD, TiVo, XM radio, Verizon cellphones, Spice cable, EverQuest online, instant messaging, Ecstasy, BC Bud. The traditional staples of physical, mental, and social development (athletics, homework, dating) are neglected. The few young people with the self-control to pursue the meritocratic path often get distracted at the last minute — the MIT graduates apply to do computer game design for Electronics Arts, rather than rocket science for NASA.
Around 1900, most inventions concerned physical reality: cars, airplanes, zeppelins, electric lights, vacuum cleaners, air conditioners, bras, zippers. In 2005, most inventions concern virtual entertainment — the top 10 patent-recipients are usually IBM, Matsushita, Canon, Hewlett-Packard, Micron Technology, Samsung, Intel, Hitachi, Toshiba, and Sony — not Boeing, Toyota, or Wonderbra. We have already shifted from a reality economy to a virtual economy, from physics to psychology as the value-driver and resource-allocator. We are already disappearing up our own brainstems. Freud's pleasure principle triumphs over the reality principle. We narrow-cast human-interest stories to each other, rather than broad-casting messages of universal peace and progress to other star systems.
Maybe the bright aliens did the same. I suspect that a certain period of fitness-faking narcissism is inevitable after any intelligent life evolves. This is the Great Temptation for any technological species — to shape their subjective reality to provide the cues of survival and reproductive success without the substance. Most bright alien species probably go extinct gradually, allocating more time and resources to their pleasures, and less to their children.
Heritable variation in personality might allow some lineages to resist the Great Temptation and last longer. Those who persist will evolve more self-control, conscientiousness, and pragmatism. They will evolve a horror of virtual entertainment, psychoactive drugs, and contraception. They will stress the values of hard work, delayed gratification, child-rearing, and environmental stewardship. They will combine the family values of the Religious Right with the sustainability values of the Greenpeace Left.
My dangerous idea-within-an-idea is that this, too, is already happening. Christian and Muslim fundamentalists, and anti-consumerism activists, already understand exactly what the Great Temptation is, and how to avoid it. They insulate themselves from our Creative-Class dream-worlds and our EverQuest economics. They wait patiently for our fitness-faking narcissism to go extinct. Those practical-minded breeders will inherit the earth, as like-minded aliens may have inherited a few other planets. When they finally achieve Contact, it will not be a meeting of novel-readers and game-players. It will be a meeting of dead-serious super-parents who congratulate each other on surviving not just the Bomb, but the Xbox. They will toast each other not in a soft-porn Holodeck, but in a sacred nursery.
---
ROBERT SHAPIRO
Professor Emeritus, Senior Research Scientist, Department of Chemistry, New York University. Author, Planetary Dreams


We shall understand the origin of life within the next 5 years

Two very different groups will find this development dangerous, and for different reasons, but this outcome is best explained at the end of my discussion.
Just over a half century ago, in the spring of 1953, a famous experiment brought enthusiasm and renewed interest to this field. Stanley Miller, mentored by Harold Urey, demonstrated that a mixture of small organic molecules (monomers) could readily be prepared by exposing a mixture of simple gases to an electrical spark. Similar mixtures were found in meteorites, which suggested that organic monomers may be widely distributed in the universe. If the ingredients of life could be made so readily, then why could they not just as easily assort themselves to form cells?
In that same spring, however, another famous paper was published by James Watson and Francis Crick. They demonstrated that the heredity of living organisms was stored in a very large large molecule called DNA. DNA is a polymer, a substance made by stringing many smaller units together, as links are joined to form a long chain.
The clear connection between the structure of DNA and its biological function, and the geometrical beauty of the DNA double helix led many scientists to consider it to be the essence of life itself. One flaw remained, however, to spoil this picture. DNA could store information, but it could not reproduce itself without the assistance of proteins, a different type of polymer. Proteins are also adept at increasing the rate of (catalyzing) many other chemical reactions that are considered necessary for life. The origin of life field became mired in the "chicken-or-the egg" question. Which came first: DNA or proteins? An apparent answer emerged when it was found that another polymer, RNA (a cousin of DNA) could manage both heredity and catalysis. In 1986, Walter Gilbert proposed that life began with an "RNA World." Life started when an RNA molecule that could copy itself was formed, by chance, in a pool of its own building blocks.
Unfortunately, a half century of chemical experiments have demonstrated that nature has no inclination to prepare RNA, or even the building blocks (nucleotides) that must be linked together to form RNA. Nucleotides are not formed in Miller-type spark discharges, nor are they found in meteorites. Skilled chemists have prepared nucleotides in well-equipped laboratories, and linked them to form RNA, but neither chemists nor laboratories were present when life began on the early Earth. The Watson-Crick theory sparked a revolution in molecular biology, but it left the origin-of-life question at an impasse.
Fortunately, an alternative solution to this dilemma has gradually emerged: neither DNA nor RNA nor protein were necessary for the origin of life. Large molecules dominate the processes of life today, but they were not needed to get it started. Monomers themselves have the ability to support heredity and catalysis. The key requirement is that a suitable energy source be available to assist them in the processes of self-organization. A demonstration of the principle involved in the origin of life would require only that a suitable monomer mixture be exposed to an appropriate energy source in a simple apparatus. We could then observe the very first steps in evolution.
Some mixtures will work, but many others will fail, for technical reasons. Some dedicated effort will be needed in the laboratory to prove this point. Why have I specified five years for this discovery? The unproductive polymer-based paradigm is far from dead, and continues to consume the efforts of the majority of workers in the field. A few years will be needed to entice some of them to explore the other solution. I estimate that several years more (the time for a PhD thesis) might be required to identify a suitable monomer-energy combination, and perform a convincing demonstration.
Who would be disturbed if such efforts should succeed? Many scientists have been attracted by the RNA World theory because of its elegance and simplicity. Some of them have devoted decades of their career in efforts to prove it. They would not be pleased if Freeman Dyson's description proved to be correct: "life began with little bags, the precursors of cells, enclosing small volumes of dirty water containing miscellaneous garbage."
A very different group would find this development as dangerous as the theory of evolution. Those who advocate creationism and intelligent design would feel that another pillar of their belief system was under attack. They have understood the flaws in the RNA World theory, and used them to support their supernatural explanation for life's origin. A successful scientific theory in this area would leave one less task less for God to accomplish: the origin of life would be a natural (and perhaps frequent) result of the physical laws that govern this universe. This latter thought falls directly in line with the idea of Cosmic Evolution, which asserts that events since the Big Bang have moved almost inevitably in the direction of life. No miracle or immense stroke of luck was needed to get it started. If this should be the case, then we should expect to be successful when we search for life beyond this planet. We are not the only life that inhabits this universe.
---
KAI KRAUSE
Researcher, philosopher, software developer, Author: 3DScience: new Scanning Electron Microscope imagery




Anty Gravity: Chaos Theory in an all too practical sense
Dangerous Ideas? It is dangerous ideas you want? From this group of people ? That in itself ought to be nominated as one of the more dangerous ideas...
Danger is ubiquitous. If recent years have shown us anything, it should be that "very simple small events can cause real havoc in our society". A few hooded youths play cat and mouse with the police: bang, thousands of burned cars put all of Paris into a complete state of paralysis, mandatory curfew and the entire system in shock and horror.
My first thought was: what if any really smart set of people really set their mind to it...how utterly and scarily trivial it would be, to disrupt the very fabric of life, to bring society to a dead stop?
The relative innocence and stable period of the last 50 years may spiral into a nearly inevitable exposure to real chaos. What if it isn't haphazard testosterone driven riots, where they cannibalize their own neighborhood, much like in L.A. in the 80s, but someone with real insight behind that criminal energy ? What if Slashdotters start musing aloud about "Gee, the L.A. water supply is rather simplistic, isn't it?" An Open Source crime web, a Wiki for real WTO opposition ? Hacking L.A. may be a lot easier than hacking IE.

That is basic banter over a beer in a bar, I don't even want to actually speculate what a serious set of brainiacs could conjure up. And I refuse to even give it any more print space here. However, the danger of such sad memes is what requires our attention!
In fact, I will broaden the specter still: its not violent crime and global terrorism I worry about, as much as the basic underpinning of our entire civilization coming apart, as such. No acts of malevolence, no horrible plans by evil dark forces, neither the singular "Bond Nemesis" kind, nor masses of religious fanatics. None of that needed... It is the glue that is coming apart to topple this tower. And no, I am not referring to "spiraling trillions of debt".
No, what I am referring to is a slow process I observed over the last 30 years, ever since in my teens I wondered "How would this world work, if everyone were like me ?" and realized: it wouldn't !

It was amazing to me that there were just enough people to make just enough shoes so that everyone can avoid walking barefoot. That there are people volunteering to spend day-in, day-out, being dentists, and lawyers and salesmen. Almost any "jobjob" I look at, I have the most sincere admiration for the tenacity of the people...how do they do it? It would drive me nuts after hours, let alone years...Who makes those shoes ?
That was the wondrous introspection in adolescent phases, searching for a place in the jigsaw puzzle.
But in recent years, the haunting question has come back to me: "How the hell does this world function at all? And does it, really ? I feel an alienation zapping through the channels, I can't find myself connecting with those groups of humanoids trouncing around MTV. Especially the glimpses of "real life": on daytime-courtroom-dramas or just looking at faces in the street. On every scale, the closer I observe it, the more the creeping realization haunts me: individuals, families, groups, neighborhoods, cities, states, countries... they all just barely hang in there, between debt and dysfunction. The whole planet looks like Any town with mini malls cutting up the landscape and just down the road it's all white trash with rusty car wrecks in the back yard. A huge Groucho Club I don't want to be a member of.
But it does go further: what is particularly disturbing to see is this desperate search for Individualism that has rampantly increased in the last decade or so.
Everyone suddenly needs to be so special, be utterly unique. So unique that they race off like lemmings to get 'even more individual' tattoos, branded cattle, with branded chains in every mall, converging on a blanded sameness world wide, but every rap singer with ever more gold chains in ever longer stretched limos is singing the tune: Don't be a loser! Don't be normal! The desperation with which millions of youngsters try to be that one-in-a-million professional ball player may have been just a "sad but silly factoid" for a long time.
But now the tables are turning: the anthill is relying on the behaviour of the ants to function properly. And that implies: the social behaviour, the role playing, taking defined tasks and follow them through.
What if each ant suddenly wants to be the queen? What if soldiering and nest building and cleaning chores is just not cool enough any more?
If AntTV shows them every day nothing but un-Ant behaviour...?
In my youth we were whining about what to do and how to do it, but in the end,all of my friends did become "normal" humans, orthopedics and lawyers, social workers, teachers... There were always a few that lived on the edges of normality, like ending up as television celebrities, but on the whole: they were perfectly reasonable ants. 1.8 children, 2.7 cars, 3.3 TVs...
Now: I am no longer confident that line will continue. If every honeymoon is now booked in Bali on a Visa card, and every kid in Borneo wants to play ball in NYC... can the network of society be pliable enough to accommodate total upheaval? And what if 2 billion Chinese and Indians raise a generation of kids staring 6+ hours a day into All American values they can never attain... being taunted with Hollywood movies of heroic acts and pathetic dysfunctionality, coupled with ever increasing violence and disdain for ethics or morals.
Seeing scenes of desperate youths in South American slums watching "Kill Bill" makes me think: this is just oxygen thrown into the fire... The ants will not play along much longer. The anthill will not survive if even a small fraction of the system is falling apart.
Couple that inane drive for "Super Individualism" (and the Quest for Coolness by an ever increasing group destined to fail miserably) with the scarily simple realization of how effective even a small set of desperate people can become, then add the obvious penchant for religious fanaticism and you have an ugly picture of the long term future.
So many curves that grow upwards towards limits, so many statistics that show increases and no way to turn around.
Many in this forum may speculate about infinite life spans, changing the speed of light, finding ways to decode consciousness, wormholes to other dimensions and finding grand unified theories.
To make it clear: I applaud that! "It does take all kinds".
Diversity is indeed one of the definitions of the meaning of life.
Edge IS Applied Diversity.

Those are viable and necessary questions for mankind as a whole, however: I believe we need to clean house, re-evaluate, redefine the priorities.
While we look at the horizon here in these pages, it is the very ground beneath us, that may be crumbling. The ant hill could really go to ant hell! Next year, let's ask for good ideas. Really practical, serious, good ideas. "The most immediate positive global impact of any kind that can be achieved within one year?". How to envision Internet3 and Web3 as a real platform for a global brainstorming with 6+ billion potential participants.
This was not meant to sound like doom and gloom naysaying. I see myself as a sincere optimist, but one who believes in realistic pessimism as a useful tool to initiate change.
---
CARLO ROVELLI
Professor of Physics, University of the Mediterraneum, Marseille; Member, Intitut Universitaire de France: Author, Quantum Gravity


What the physics of the 20th century says about the world might in fact be true
There is a major "dangerous" scientific idea in contemporary physics, with a potential impact comparable to Copernicus or Darwin. It is the idea that what the physics of the 20th century says about the world might in fact be true.
Let me explain. Take quantum mechanics. If taken seriously, it changes our understanding of reality truly dramatically. For instance, if we take quantum mechanics seriously, we cannot think that objects have ever a definite position. They have a positions only when they interact with something else. And even in this case, they are in that position only with respect to that "something else": they are still without position with respect to the rest of the world. This is a change of image of the world far more dramatic that Copernicus. And also a change about our possibility of thinking about ourselves far more far-reaching than Darwin. Still, few people take the quantum revolution really seriously. The danger is exorcized by saying "well, quantum mechanics is only relevant for atoms and very small objects...", or similar other strategies, aimed at not taking the theory seriously. We still haven't digested that the world is quantum mechanical, and the immense conceptual revolution needed to make sense of this basic factual discovery about nature.
Another example: take Einstein's relativity theory. Relativity makes completely clear that asking "what happens right now on Andromeda?" is a complete non-sense. There is no right now elsewhere in the universe. Nevertheless, we keep thinking at the universe as if there was an immense external clock that ticked away the instants, and we have a lot of difficulty in adapting to the idea that "the present state of the universe right now", is a physical non-sense.
In these cases, what we do is to use concepts that we have developed in our very special environment (characterized by low velocities, low energy...) and we think the world as if it was all like that. We are like ants that have grown in a little garden with green grass and small stones, and cannot think reality differently than made of green grass and small stones.
I think that seen from 200 years in the future, the dangerous scientific idea that was around at the beginning of the 20th century, and that everybody was afraid to accept, will simply be that the world is completely different from our simple minded picture of it. As the physics of the 20th century had already shown.
What makes me smile is that even many of todays "audacious scientific speculations" about things like extra-dimensions, multi-universes, and the likely, are not only completely unsupported experimentally, but are even always formulated within world view that, at a close look, has not yet digested quantum mechanics and relativity!
---
RICHARD DAWKINS
Evolutionary Biologist, Charles Simonyi Professor For The Understanding Of Science, Oxford University; Author, The Ancestor's Tale


Let's all stop beating Basil's car
Ask people why they support the death penalty or prolonged incarceration for serious crimes, and the reasons they give will usually involve retribution. There may be passing mention of deterrence or rehabilitation, but the surrounding rhetoric gives the game away. People want to kill a criminal as payback for the horrible things he did. Or they want to give "satisfaction' to the victims of the crime or their relatives. An especially warped and disgusting application of the flawed concept of retribution is Christian crucifixion as "atonement' for "sin'.
Retribution as a moral principle is incompatible with a scientific view of human behaviour. As scientists, we believe that human brains, though they may not work in the same way as man-made computers, are as surely governed by the laws of physics. When a computer malfunctions, we do not punish it. We track down the problem and fix it, usually by replacing a damaged component, either in hardware or software.
Basil Fawlty, British television's hotelier from hell created by the immortal John Cleese, was at the end of his tether when his car broke down and wouldn't start. He gave it fair warning, counted to three, gave it one more chance, and then acted. "Right! I warned you. You've had this coming to you!" He got out of the car, seized a tree branch and set about thrashing the car within an inch of its life. Of course we laugh at his irrationality. Instead of beating the car, we would investigate the problem. Is the carburettor flooded? Are the sparking plugs or distributor points damp? Has it simply run out of gas? Why do we not react in the same way to a defective man: a murderer, say, or a rapist? Why don't we laugh at a judge who punishes a criminal, just as heartily as we laugh at Basil Fawlty? Or at King Xerxes who, in 480 BC, sentenced the rough sea to 300 lashes for wrecking his bridge of ships? Isn't the murderer or the rapist just a machine with a defective component? Or a defective upbringing? Defective education? Defective genes?
Concepts like blame and responsibility are bandied about freely where human wrongdoers are concerned. When a child robs an old lady, should we blame the child himself or his parents? Or his school? Negligent social workers? In a court of law, feeble-mindedness is an accepted defence, as is insanity. Diminished responsibility is argued by the defence lawyer, who may also try to absolve his client of blame by pointing to his unhappy childhood, abuse by his father, or even unpropitious genes (not, so far as I am aware, unpropitious planetary conjunctions, though it wouldn't surprise me).
But doesn't a truly scientific, mechanistic view of the nervous system make nonsense of the very idea of responsibility, whether diminished or not? Any crime, however heinous, is in principle to be blamed on antecedent conditions acting through the accused's physiology, heredity and environment. Don't judicial hearings to decide questions of blame or diminished responsibility make as little sense for a faulty man as for a Fawlty car?
Why is it that we humans find it almost impossible to accept such conclusions? Why do we vent such visceral hatred on child murderers, or on thuggish vandals, when we should simply regard them as faulty units that need fixing or replacing? Presumably because mental constructs like blame and responsibility, indeed evil and good, are built into our brains by millennia of Darwinian evolution. Assigning blame and responsibility is an aspect of the useful fiction of intentional agents that we construct in our brains as a means of short-cutting a truer analysis of what is going on in the world in which we have to live. My dangerous idea is that we shall eventually grow out of all this and even learn to laugh at it, just as we laugh at Basil Fawlty when he beats his car. But I fear it is unlikely that I shall ever reach that level of enlightenment.
---
SETH LLOYD
Quantum Mechanical Engineer, MIT


The genetic breakthrough that made people capable of ideas themselves
The most dangerous idea is the genetic breakthrough that made people capable of ideas themselves. The idea of ideas is nice enough in principle; and ideas certainly have had their impact for good. But one of these days one of those nice ideas is likely to have the unintended consequence of destroying everything we know.

Meanwhile, we cannot not stop creating and exploring new ideas: the genie of ingenuity is out of the bottle. To suppress the power of ideas will hasten catastrophe, not avert it. Rather, we must wield that power with the respect it deserves.

Who risks no danger reaps no reward.
---
CAROLYN PORCO
Planetary Scientist; Cassini Imaging Science Team Leader; Director CICLOPS, Boulder CO; Adjunct Professor, University of Colorado, University of Arizona


The Greatest Story Ever Told
The confrontation between science and formal religion will come to an end when the role played by science in the lives of all people is the same played by religion today.
And just what is that?
At the heart of every scientific inquiry is a deep spiritual quest — to grasp, to know, to feel connected through an understanding of the secrets of the natural world, to have a sense of one's part in the greater whole. It is this inchoate desire for connection to something greater and immortal, the need for elucidation of the meaning of the 'self', that motivates the religious to belief in a higher 'intelligence'. It is the allure of a bigger agency — outside the self but also involving, protecting, and celebrating the purpose of the self — that is the great attractor. Every culture has religion. It undoubtedly satisfies a manifest human need.
But the same spiritual fulfillment and connection can be found in the revelations of science. From energy to matter, from fundamental particles to DNA, from microbes to Homo sapiens, from the singularity of the Big Bang to the immensity of the universe .... ours is the greatest story ever told. We scientists have the drama, the plot, the icons, the spectacles, the 'miracles', the magnificence, and even the special effects. We inspire awe. We evoke wonder.

And we don't have one god, we have many of them. We find gods in the nucleus of every atom, in the structure of space/time, in the counter-intuitive mechanisms of electromagneticsm. What richness! What consummate beauty!
We even exalt the `self'. Our script requires a broadening of the usual definition, but we too offer hope for everlasting existence. The `self' that is the particular, networked set of connections of the matter comprising our mortal bodies will one day die, of course. But the `self' that is the sum of each separate individual condensate in us of energy-turned-matter is already ancient and will live forever. Each fundamental particle may one day return to energy, or from there revert back to matter. But in one form or another, it will not cease. In this sense, we and all around us are eternal, immortal, and profoundly connected. We don't have one soul; we have trillions upon trillions of them.

These are reasons enough for jubilation ... for riotous, unrestrained, exuberant merry-making.
So what are we missing?
Ceremony.
We lack ceremony. We lack ritual. We lack the initiation of baptism, the brotherhood of communal worship.
We have no loving ministers, guiding and teaching the flocks in the ways of the 'gods'. We have no fervent missionaries, no loyal apostles. And we lack the all-inclusive ecumenical embrace, the extended invitation to the unwashed masses. Alienation does not warm the heart; communion does.
But what if? What if we appropriated the craft, the artistry, the methods of formal religion to get the message across? Imagine 'Einstein's Witnesses' going door to door or TV evangelists passionately espousing the beauty of evolution.
Imagine a Church of Latter Day Scientists where believers could gather. Imagine congregations raising their voices in tribute to gravity, the force that binds us all to the Earth, and the Earth to the Sun, and the Sun to the Milky Way. Or others rejoicing in the nuclear force that makes possible the sunlight of our star and the starlight of distant suns. And can't you just hear the hymns sung to the antiquity of the universe, its abiding laws, and the heaven above that 'we' will all one day inhabit, together, commingled, spread out like a nebula against a diamond sky?
One day, the sites we hold most sacred just might be the astronomical observatories, the particle accelerators, the university research installations, and other laboratories where the high priests of science — the biologists, the physicists, the astronomers, the chemists — engage in the noble pursuit of uncovering the workings of nature herself. And today's museums, expositional halls, and planetaria may then become tomorrow's houses of worship, where these revealed truths, and the wonder of our interconnectedness with the cosmos, are glorified in song by the devout and the soulful.
"Hallelujah!", they will sing. "May the force be with you!"
---
MICHAEL NESMITH
Artist, writer; Former cast member of "The Monkees"; A Trustee and President of the Gihon Foundation and a Trustee and Vice-Chair of the American Film Institute


Existence is Non-Time, Non-Sequential, and Non-Objective
Not a dangerous idea per se but like a razor sharp tool in unskilled hands it can inflect unintended damage.
Non-Time drives forward the notion the past does not create the present. This would of course render evolutionary theory a local-system, near-field process that was non-causative (i.e. effect).
Non-Sequential reverberates through the Turing machine and computation, and points to simultaneity. It redefines language and cognition.
Non-Objective establishes a continuum not to be confused with solipsism. As Schrödinger puts it when discussing the "time-hallowed discrimination between subject and object" — "the world is given to me only once, not one existing and one perceived. Subject and object are only one. The barrier between them cannot be said to have broken down as a result of recent experience in the physical sciences, for this barrier does not exist". This continuum has large implications for the empirical data set, as it introduces factual infinity into the data plane.
These three notions, Non-Time, Non-sequence, and Non-Object have been peeking like diamonds through the dust of empiricism, philosophy, and the sciences for centuries. Quantum mechanics, including Deutsch's parallel universes and the massive parallelism of quantum computing, is our brightest star — an unimaginably tall peak on our fitness landscape.
They bring us to a threshold over which empiricism has yet to travel, through which philosophy must reconstruct the very idea of ideas, and beyond which stretches the now familiar "uncharted territories" of all great adventures.
---
LAWRENCE KRAUSS
Physicist/Cosmologist, Case Western Reserve University; Author, Hiding in the Mirror


The world may fundamentally be inexplicable
Science has progressed for 400 years by ultimately explaining observed phenomena in terms of fundamental theories that are rigid. Even minor deviations from predicted behavior are not allowed by the theory, so that if such deviations are observed, these provide evidence that the theory must be modified, usually being replaced by a yet more comprehensive theory that fixes a wider range of phenomena.
The ultimate goal of physics, as it is often described, is to have a "theory of everything", in which all the fundamental laws that describe nature can neatly be written down on the front of a T-shirt (even if the T-shirt can only exist in 10 dimensions!). However, with the recognition that the dominant energy in the universe resides in empty space — something that is so peculiar that it appears very difficult to understand within the context of any theoretical ideas we now possess — more physicists have been exploring the idea that perhaps physics is an 'environmental science', that the laws of physics we observe are merely accidents of our circumstances, and that an infinite number of different universe could exist with different laws of physics.
This is true even if there does exist some fundamental candidate mathematical physical theory. For example, as is currently in vogue in an idea related to string theory, perhaps the fundamental theory allows an infinite number of different 'ground state' solutions, each of which describes a different possible universe with a consistent set of physical laws and physical dimensions.
It might be that the only way to understand why the laws of nature we observe in our universe are the way they are is to understand that if they were any different, then life could not have arisen in our universe, and we would thus not be here to measure them today.
This is one version of the infamous "anthropic principle". But it could actually be worse — it is equally likely that many different combinations of laws would allow life to form, and that it is a pure accident that the constants of nature result in the combinations we experience in our universe. Or, it could be that the mathematical formalism is actually so complex so that the ground states of the theory, i.e. the set of possible states that might describe our universe, actually might not be determinable.
In this case, the end of "fundamental" theoretical physics (i.e. the search for fundamental microphysical laws...there will still be lots of work for physicists who try to understand the host of complex phenomena occurring at a variety of larger scales) might occur not via a theory of everything, but rather with the recognition that all so-called fundamental theories that might describe nature would be purely "phenomenological", that is, they would be derivable from observational phenomena, but would not reflect any underlying grand mathematical structure of the universe that would allow a basic understanding of why the universe is the way it is.
---
DANIEL C. DENNETT
Philosopher; University Professor, Co-Director, Center for Cognitive Studies, Tufts University; Author, Darwin's Dangerous Idea


There aren't enough minds to house the population explosion of memes
Ideas can be dangerous. Darwin had one, for instance. We hold all sorts of inventors and other innovators responsible for assaying, in advance, the environmental impact of their creations, and since ideas can have huge environmental impacts, I see no reason to exempt us thinkers from the responsibility of quarantining any deadly ideas we may happen to come across. So if I found what I took to be such a dangerous idea, I would button my lip until I could find some way of preparing the ground for its safe expression. I expect that others who are replying to this year's Edge question have engaged in similar reflections and arrived at the same policy. If so, then some people may be pulling their punches with their replies. The really dangerous ideas they are keeping to themselves.
But here is an unsettling idea that is bound to be true in one version or another, and so far as I can see, it won't hurt to publicize it more. It might well help.
The human population is still growing, but at nowhere near the rate that the population of memes is growing. There is competition for the limited space in human brains for memes, and something has to give. Thanks to our incessant and often technically brilliant efforts, and our apparently insatiable appetites for novelty, we have created an explosively growing flood of information, in all media, on all topics, in every genre. Now either (1) we will drown in this flood of information, or (2) we won't drown in it. Both alternatives are deeply disturbing. What do I mean by drowning? I mean that we will become psychologically overwhelmed, unable to cope, victimized by the glut and unable to make life-enhancing decisions in the face of an unimaginable surfeit. (I recall the brilliant scene in the film of Evelyn Waugh's dark comedy The Loved One in which embalmer Mr. Joyboy's gluttonous mother is found sprawled on the kitchen floor, helplessly wallowing in the bounty that has spilled from a capsized refrigerator.) We will be lost in the maze, preyed upon by whatever clever forces find ways of pumping money–or simply further memetic replications–out of our situation. (In The War of the Worlds, H. G. Wells sees that it might well be our germs, not our high-tech military contraptions, that subdue our alien invaders. Similarly, might our own minds succumb not to the devious manipulations of evil brainwashers and propagandists, but to nothing more than a swarm of irresistible ditties, Noφs nibbled to death by slogans and one-liners?)
If we don't drown, how will we cope? If we somehow learn to swim in the rising tide of the infosphere, that will entail that we–that is to say, our grandchildren and their grandchildren–become very very different from our recent ancestors. What will "we" be like? (Some years ago, Doug Hofstadter wrote a wonderful piece, " In 2093, Just Who Will Be We?" in which he imagines robots being created to have "human" values, robots that gradually take over the social roles of our biological descendants, who become stupider and less concerned with the things we value. If we could secure the welfare of just one of these groups, our children or our brainchildren, which group would we care about the most, with which group would we identify?)

Whether "we" are mammals or robots in the not so distant future, what will we know and what will we have forgotten forever, as our previously shared intentional objects recede in the churning wake of the great ship that floats on this sea and charges into the future propelled by jets of newly packaged information? What will happen to our cultural landmarks? Presumably our descendants will all still recognize a few reference points (the pyramids of Egypt, arithmetic, the Bible, Paris, Shakespeare, Einstein, Bach . . . ) but as wave after wave of novelty passes over them, what will they lose sight of? The Beatles are truly wonderful, but if their cultural immortality is to be purchased by the loss of such minor 20th century figures as Billie Holiday, Igor Stravinsky, and Georges Brassens [who he?], what will remain of our shared understanding?
The intergenerational mismatches that we all experience in macroscopic versions (great-grandpa's joke falls on deaf ears, because nobody else in the room knows that Nixon's wife was named "Pat") will presumably be multiplied to the point where much of the raw information that we have piled in our digital storehouses is simply incomprehensible to everyone–except that we will have created phalanxes of "smart" Rosetta-stones of one sort or another that can "translate" the alien material into something we (think maybe we) understand. I suspect we hugely underestimate the importance (to our sense of cognitive security) of our regular participation in the four-dimensional human fabric of mutual understanding, with its reassuring moments of shared–and seen to be shared, and seen to be seen to be shared–comprehension.
What will happen to common knowledge in the future? I do think our ancestors had it easy: aside from all the juicy bits of unshared gossip and some proprietary trade secrets and the like, people all knew pretty much the same things, and knew that they knew the same things. There just wasn't that much to know. Won't people be able to create and exploit illusions of common knowledge in the future, virtual worlds in which people only think they are in touch with their cyber-neighbors?
I see small-scale projects that might protect us to some degree, if they are done wisely. Think of all the work published in academic journals before, say, 1990 that is in danger of becoming practically invisible to later researchers because it can't be found on-line with a good search engine. Just scanning it all and hence making it "available" is not the solution. There is too much of it. But we could start projects in which (virtual) communities of retired researchers who still have their wits about them and who know particular literatures well could brainstorm amongst themselves, using their pooled experience to elevate the forgotten gems, rendering them accessible to the next generation of researchers. This sort of activity has in the past been seen to be a stodgy sort of scholarship, fine for classicists and historians, but not fit work for cutting-edge scientists and the like. I think we should try to shift this imagery and help people recognize the importance of providing for each other this sort of pathfinding through the forests of information. It's a drop in the bucket, but perhaps if we all start thinking about conservation of valuable mind-space, we can save ourselves (our descendants) from informational collapse.
---
DANIEL GILBERT
Psychologist, Harvard University


The idea that ideas can be dangerous
Dangerous does not mean exciting or bold. It means likely to cause great harm. The most dangerous idea is the only dangerous idea: The idea that ideas can be dangerous.
We live in a world in which people are beheaded, imprisoned, demoted, and censured simply because they have opened their mouths, flapped their lips, and vibrated some air. Yes, those vibrations can make us feel sad or stupid or alienated. Tough shit. That's the price of admission to the marketplace of ideas. Hateful, blasphemous, prejudiced, vulgar, rude, or ignorant remarks are the music of a free society, and the relentless patter of idiots is how we know we're in one. When all the words in our public conversation are fair, good, and true, it's time to make a run for the fence.
---
ANDY CLARK
School of Philosophy, Psychology and Language Sciences, Edinburgh University


The quick-thinking zombies inside us
So much of what we do, feel, think and choose is determined by non-conscious, automatic uptake of cues and information.

Of course, advertisers will say they have known this all along. But only in recent years, with seminal studies by Tanya Chartrand, John Bargh and others has the true scale of our daily automatism really begun to emerge. Such studies show that it is possible (it is relatively easy) to activate racist stereotypes that impact our subsequent behavioral interactions, for example yielding the judgment that your partner in a subsequent game or task is more hostile than would be judged by an unprimed control. Such effects occur despite a subject's total and honest disavowal of those very stereotypes. In similar ways it is possible to unconsciously prime us to feel older (and then we walk more slowly).
In my favorite recent study, experimenters manipulate cues so that the subject forms an unconscious goal, whose (unnoticed) frustration makes them lose confidence and perform worse at a subsequent task! The dangerous truth, it seems to me, is that these are not isolated little laboratory events. Instead, they reveal the massed woven fabric of our day-to-day existence. The underlying mechanisms at work impart an automatic drive towards the automation of all manner of choices and actions, and don't discriminate between the 'trivial' and the portentous.
It now seems clear that many of my major life and work decisions are made very rapidly, often on the basis of ecologically sound but superficial cues, with slow deliberative reason busily engaged in justifying what the quick-thinking zombies inside me have already laid on the table. The good news is that without these mechanisms we'd be unable to engage in fluid daily life or reason at all, and that very often they are right. The dangerous truth, though, is that we are indeed designed to cut conscious, aware choice out of the picture wherever possible. This is not an issue about free will, but simply about the extent to which conscious deliberation cranks the engine of behavior. Crank it it does: but not in anything like the way, or extent, we may have thought. We'd better get to grips with this before someone else does.
---
SHERRY TURKLE
Psychologist, MIT; Author, Life on the Screen: Identity in the Age of the Internet


After several generations of living in the computer culture, simulation will become fully naturalized. Authenticity in the traditional sense loses its value, a vestige of another time.
Consider this moment from 2005: I take my fourteen-year-old daughter to the Darwin exhibit at the American Museum of Natural History. The exhibit documents Darwin's life and thought, and with a somewhat defensive tone (in light of current challenges to evolution by proponents of intelligent design), presents the theory of evolution as the central truth that underpins contemporary biology. The Darwin exhibit wants to convince and it wants to please. At the entrance to the exhibit is a turtle from the Galapagos Islands, a seminal object in the development of evolutionary theory. The turtle rests in its cage, utterly still. "They could have used a robot," comments my daughter. It was a shame to bring the turtle all this way and put it in a cage for a performance that draws so little on the turtle's "aliveness. " I am startled by her comments, both solicitous of the imprisoned turtle because it is alive and unconcerned by its authenticity. The museum has been advertising these turtles as wonders, curiosities, marvels — among the plastic models of life at the museum, here is the life that Darwin saw. I begin to talk with others at the exhibit, parents and children. It is Thanksgiving weekend. The line is long, the crowd frozen in place. My question, "Do you care that the turtle is alive?" is welcome diversion. A ten year old girl would prefer a robot turtle because aliveness comes with aesthetic inconvenience: "It's water looks dirty. Gross. " More usually, the votes for the robots echo my daughter's sentiment that in this setting, aliveness doesn't seem worth the trouble. A twelve-year-old girl opines: "For what the turtles do, you didn't have to have the live ones. " Her father looks at her, uncomprehending: "But the point is that they are real, that's the whole point. "
The Darwin exhibit is about authenticity: on display are the actual magnifying glass that Darwin used, the actual notebooks in which he recorded his observations, indeed, the very notebook in which he wrote the famous sentences that first described his theory of evolution But in the children's reactions to the inert but alive Galapagos turtle, the idea of the "original" is in crisis.
I have long believed that in the culture of simulation, the notion of authenticity is for us what sex was to the Victorians — "threat and obsession, taboo and fascination. " I have lived with this idea for many years, yet at the museum, I find the children's position startling, strangely unsettling. For these children, in this context, aliveness seems to have no intrinsic value. Rather, it is useful only if needed for a specific purpose. "If you put in a robot instead of the live turtle, do you think people should be told that the turtle is not alive?" I ask. Not really, say several of the children. Data on "aliveness" can be shared on a "need to know" basis, for a purpose. But what are the purposes of living things? When do we need to know if something is alive?
Consider another vignette from 2005: an elderly woman in a nursing home outside of Boston is sad. Her son has broken off his relationship with her. Her nursing home is part of a study I am conducting on robotics for the elderly. I am recording her reactions as she sits with the robot Paro, a seal-like creature, advertised as the first "therapeutic robot" for its ostensibly positive effects on the ill, the elderly, and the emotionally troubled. Paro is able to make eye contact through sensing the direction of a human voice, is sensitive to touch, and has "states of mind" that are affected by how it is treated, for example, is it stroked gently or with agressivity? In this session with Paro, the woman, depressed because of her son's abandonment, comes to believe that the robot is depressed as well. She turns to Paro, strokes him and says: "Yes, you're sad, aren't you. It's tough out there. Yes, it's hard. " And then she pets the robot once again, attempting to provide it with comfort. And in so doing, she tries to comfort herself.
The woman's sense of being understood is based on the ability of computational objects like Paro to convince their users that they are in a relationship. I call these creatures (some virtual, some physical robots) "relational artifacts. " Their ability to inspire relationship is not based on their intelligence or consciousness, but on their ability to push certain "Darwinian" buttons in people (making eye contact, for example) that make people respond as though they were in relationship. For me, relational artifacts are the new uncanny in our computer culture — as Freud once put it, the long familiar taking a form that is strangely unfamiliar. As such, they confront us with new questions.
What does this deployment of "nurturing technology" at the two most dependent moments of the life cycle say about us? What will it do to us? Do plans to provide relational robots to attend to children and the elderly make us less likely to look for other solutions for their care? People come to feel love for their robots, but if our experience with relational artifacts is based on a fundamentally deceitful interchange, can it be good for us? Or might it be good for us in the "feel good" sense, but bad for us in our lives as moral beings?
Relationships with robots bring us back to Darwin and his dangerous idea: the challenge to human uniqueness. When we see children and the elderly exchanging tendernesses with robotic pets the most important question is not whether children will love their robotic pets more than their real life pets or even their parents, but rather, what will loving come to mean?
---
STEVEN STROGATZ
Applied mathematician, Cornell University; Author, Sync


The End of Insight
I worry that insight is becoming impossible, at least at the frontiers of mathematics. Even when we're able to figure out what's true or false, we're less and less able to understand why.
An argument along these lines was recently given by Brian Davies in the "Notices of the American Mathematical Society". He mentions, for example, that the four-color map theorem in topology was proven in 1976 with the help of computers, which exhaustively checked a huge but finite number of possibilities. No human mathematician could ever verify all the intermediate steps in this brutal proof, and even if someone claimed to, should we trust them? To this day, no one has come up with a more elegant, insightful proof. So we're left in the unsettling position of knowing that the four-color theorem is true but still not knowing why.
Similarly important but unsatisfying proofs have appeared in group theory (in the classification of finite simple groups, roughly akin to the periodic table for chemical elements) and in geometry (in the problem of how to pack spheres so that they fill space most efficiently, a puzzle that goes back to Kepler in the 1500's and that arises today in coding theory for telecommunications).
In my own field of complex systems theory, Stephen Wolfram has emphasized that there are simple computer programs, known as cellular automata, whose dynamics can be so inscrutable that there's no way to predict how they'll behave; the best you can do is simulate them on the computer, sit back, and watch how they unfold. Observation replaces insight. Mathematics becomes a spectator sport.
If this is happening in mathematics, the supposed pinnacle of human reasoning, it seems likely to afflict us in science too, first in physics and later in biology and the social sciences (where we're not even sure what's true, let alone why).
When the End of Insight comes, the nature of explanation in science will change forever. We'll be stuck in an age of authoritarianism, except it'll no longer be coming from politics or religious dogma, but from science itself.
---
TERRENCE SEJNOWSKI
Computational Neuroscientist, Howard Hughes Medical Institute; Coauthor, The Computational Brain


When will the Internet become aware of itself?
I never thought that I would become omniscient during my lifetime, but as Google continues to improve and online information continues to expand I have achieved omniscience for all practical purposes. The Internet has created a global marketplace for ideas and products, making it possible for individuals in the far corners of the world to automatically connect directly to each other. The Internet has achieved these capabilities by growing exponentially in total communications bandwidth. How does the communications power of the Internet compare with that of the cerebral cortex, the most interconnected part of our brains?
Cortical connections are expensive because they take up volume and cost energy to send information in the form of spikes along axons. About 44% of the cortical volume in humans is taken up with long-range connections, called the white matter. Interestingly, the thickness of gray matter, just a few millimeters, is nearly constant in mammals that range in brain volume over five orders of magnitude, and the volume of the white matter scales approximately as the 4/3 power of the volume of the gray matter. The larger the brain, the larger the fraction of resources devoted to communications compared to computation.
However, the global connectivity in the cerebral cortex is extremely sparse: The probability of any two cortical neurons having a direct connection is around one in a hundred for neurons in a vertical column 1 mm in diameter, but only one in a million for more distant neurons. Thus, only a small fraction of the computation that occurs locally can be reported to other areas, through a small fraction of the cells that connect distant cortical areas.
Despite the sparseness of cortical connectivity, the potential bandwidth of all of the neurons in the human cortex is approximately a terabit per second, comparable to the total world backbone capacity of the Internet. However, this capacity is never achieved by the brain in practice because only a fraction of cortical neurons have a high rate of firing at any given time. Recent work by Simon Laughlin suggests that another physical constraint — energy—limits the brain's ability to harness its potential bandwidth.
The cerebral cortex also has a massive amount of memory. There are approximately one billion synapses between neurons under every square millimeter of cortex, or about one hundred million million synapses overall. Assuming around a byte of storage capacity at each synapse (including dynamic as well as static properties), this comes to a total of 1015 bits of storage. This is comparable to the amount of data on the entire Internet; Google can store this in terabyte disk arrays and has hundreds of thousands of computers simultaneously sifting through it.
Thus, the internet and our ability to search it are within reach of the limits of the raw storage and communications capacity of the human brain, and should exceed it by 2015.
Leo van Hemmen and I recently asked 23 neuroscientists to think about what we don't yet know about the brain, and to propose a question so fundamental and so difficult that it could take a century to solve, following in the tradition of Hilbert's 23 problems in mathematics. Christof Koch and Francis Crick speculated that the key to understanding consciousness was global communication: How do neurons in the diverse parts of the brain manage to coordinate despite the limited connectivity? Sometimes, the communication gets crossed, and V. S. Ramachandran and Edward Hubbard asked whether synesthetes, rare individuals who experience crossover in sensory perception such as hearing colors, seeing sounds, and tasting tactile sensations, might give us clues to how the brain evolved.
There is growing evidence that the flow of information between parts of the cortex is regulated by the degree of synchrony of the spikes within populations of cells that represent perceptual states. Robert Desimone and his colleagues have examined the effects of attention on cortical neurons in awake, behaving monkeys and found the coherence between the spikes of single neurons in the visual cortex and local field potentials in the gamma band, 30-80 Hz, increased when the covert attention of a monkey was directed toward a stimulus in the receptive field of the neuron. The coherence also selectively increased when a monkey searched for a target with a cued color or shape amidst a large number of distracters. The increase in coherence means that neurons representing the stimuli with the cued feature would have greater impact on target neurons, making them more salient.
The link between attention and spike-field coherence raises a number of interesting questions. How does top-down input from the prefrontal cortex regulate the coherence of neurons in other parts of the cortex through feedback connections? How is the rapidity of the shifts in coherence achieved? Experiments on neurons in cortical slices suggest that inhibitory interneurons are connected to each other in networks and are responsible for gamma oscillations. Researchers in my laboratory have used computational models to show that excitatory inputs can rapidly synchronize a subset of the inhibitory neurons that are in competition with other inhibitory networks. Inhibitory neurons, long thought to merely block activity, are highly effective in synchronizing neurons in a local column already firing in response to a stimulus.
The oscillatory activity that is thought to synchronize neurons in different parts of the cortex occurs in brief bursts, typically lasting for only a few hundred milliseconds. Thus, it is possible that there is a packet structure for long-distance communication in the cortex, similar to the packets that are used to communicate on the Internet, though with quite different protocols. The first electrical signals recorded from the brain in 1875 by Richard Caton were oscillatory signals that changed in amplitude and frequency with the state of alertness. The function of these oscillations remains a mystery, but it would be remarkable if it were to be discovered that these signals held the secrets to the brain's global communications network.
Since its inception in 1969, the Internet has been scaled up to a size not even imagined by its inventors, in contrast to most engineered systems, which fall apart when they are pushed beyond their design limits. In part, the Internet achieves this scalability because it has the ability to regulate itself, deciding on the best routes to send packets depending on traffic conditions. Like the brain, the Internet has circadian rhythms that follow the sun as the planet rotates under it. The growth of the Internet over the last several decades more closely resembles biological evolution than engineering.
How would we know if the Internet were to become aware of itself? The problem is that we don't even know if some of our fellow creatures on this planet are self aware. For all we know the Internet is already aware of itself.
---
LYNN MARGULIS
Biologist, University of Massachusetts, Amherst; Coauthor (with Dorion Sagan), Acquiring Genomes: A Theory of the Origins of Species




Bacteria are us
What is my dangerous idea? Although arcane, evidence for this dangerous concept is overwhelming; I have collected clues from many sources. Reminiscent of Oscar Wilde's claim that "even true things can be proved" I predict that the scientific gatekeepers in academia eventually will be forced to permit this dangerous idea to become widely accepted. What is it?
Our sensibilities, our perceptions that register through our sense organ cells evolved directly from our bacterial ancestors. Signals in the environment: light impinging on the eye's retina, taste on the buds of the tongue, odor through the nose, sound in the ear are translated to nervous impulses by extensions of sensory cells called cilia. We, like all other mammals, including our apish brothers, have taste-bud cilia, inner ear cilia, nasal passage cilia that detect odors. We distinguish savory from sweet, birdsong from whalesong, drumbeats from thunder. With our eyes closed, we detect the light of the rising sun and and feel the vibrations of the drums. These abilities to sense our surroundings, a heritage that preceded the evolution of all primates, indeed, all animals, by use of specialized cilia at the tips of sensory cells, and the existence of the cilia in the tails of sperm, come from one kind of our bacterial ancestors. Which? Those of our bacterial ancestors that became cilia. We owe our sensitivity to a loving touch, the scent of lavender , the taste of a salted nut or vinaigrette, a police-cruiser siren, or glimpse of brilliant starlight to our sensory cells. We owe the chemical attraction of the sperm as its tail impels it to swim toward the egg, even the moss plant sperm, to its cilia. The dangerous idea is that the cilia evolved from hyperactive bacteria. Bacterial ancestors swam toward food and away from noxious gases, they moved up to the well-lit waters at the surface of the pond. They were startled when, in a crowd, some relative bumped them. These bacterial ancestors that never slept, avoided water too hot or too salty. They still do.
Why is the concept that our sensitivities evolved directly from swimming bacterial ancestors of the sensory cilia so dangerous?
Several reasons: we would be forced to admit that bacteria are conscious, that they are sensitive to stimuli in their environment and behave accordingly. We would have to accept that bacteria, touted to be our enemies, are not merely neutral or friendly but that they are us. They are direct ancestors of our most sensitive body parts. Our culture's terminology about bacteria is that of warfare: they are germs to be destroyed and forever vanquished, bacterial enemies make toxins that poison us. We load our soaps with antibacterials that kill on contact, stomach ulcers are now agreed to be caused by bacterial infection. Even if some admit the existence of "good" bacteria in soil or probiotic food like yogurt few of us tolerate the dangerous notion that human sperm tails and sensitive cells of nasal passages lined with waving cilia, are former bacteria. If this dangerous idea becomes widespread it follows that we humans must agree that even before our evolution as animals we have hated and tried to kill our own ancestors. Again, we have seen the enemy, indeed, and, as usual, it is us. Social interactions of sensitive bacteria, then, not God, made us who were are today.
---
THOMAS METZINGER
Frankfurt Institute for Advanced Studies; Johannes Gutenberg-Universität Mainz; President German Cognitive Science Society; Author: Being No One


The Forbidden Fruit Intuition
We all would like to believe that, ultimately, intellectual honesty is not only an expression of, but also good for your mental health. My dangerous question is if one can be intellectually honest about the issue of free will and preserve one's mental health at the same time. Behind this question lies what I call the "Forbidden Fruit Intuition": Is there a set of questions which are dangerous not on grounds of ideology or political correctness, but because the most obvious answers to them could ultimately make our conscious self-models disintegrate? Can one really believe in determinism without going insane?
For middle-sized objects at 37° like the human brain and the human body, determinism is obviously true. The next state of the physical universe is always determined by the previous state. And given a certain brain-state plus an environment you could never have acted otherwise — a surprisingly large majority of experts in the free-will debate today accept this obvious fact. Although your future is open, this probably also means that for every single future thought you will have and for every single decision you will make, it is true that it was determined by your previous brain state.
As a scientifically well-informed person you believe in this theory, you endorse it. As an open-minded person you find that you are also interested in modern philosophy of mind, and you might hear a story much like the following one. Yes, you are a physically determined system. But this is not a big problem, because, under certain conditions, we may still continue to say that you are "free": all that matters is that your actions are caused by the right kinds of brain processes and that they originate in you. A physically determined system can well be sensitive to reasons and to rational arguments, to moral considerations, to questions of value and ethics, as long as all of this is appropriately wired into its brain. You can be rational, and you can be moral, as long as your brain is physically determined in the right way. You like this basic idea: physical determinism is compatible with being a free agent. You endorse a materialist philosophy of freedom as well. An intellectually honest person open to empirical data, you simply believe that something along these lines must be true.
Now you try to feel that it is true. You try to consciously experience the fact that at any given moment of your life, you could not have acted otherwise. You try to experience the fact that even your thoughts, however rational and moral, are predetermined — by something unconscious, by something you can not see. And in doing so, you start fooling around with the conscious self-model Mother Nature evolved for you with so much care and precision over millions of years: You are scratching at the user-surface of your own brain, tweaking the mouse-pointer, introspectively trying to penetrate into the operating system, attempting to make the invisible visible. You are challenging the integrity of your phenomenal self by trying to integrate your new beliefs, the neuroscientific image of man, with your most intimate, inner way of experiencing yourself. How does it feel?
I think that the irritation and deep sense of resentment surrounding public debates on the freedom of the will actually has nothing much to do with the actual options on the table. It has to do with the — perfectly sensible — intuition that our presently obvious answer will not only be emotionally disturbing, but ultimately impossible to integrate into our conscious self-models.
Or our societies: The robust conscious experience of free will also is a social institution, because the attribution of accountability, responsibility, etc. are the decisive building blocks for modern, open societies. And the currently obvious answer might be interpreted by many as having clearly anti-democratic implications: Making a complex society work implies controlling the behavior of millions of people; if individual human beings can control their own behavior to a much lesser degree than we have thought in the past, if bottom-up doesn't work, then it becomes tempting to control it top-down, by the state. And this is the second way in which enlightenment could devour its own children. Yes, free will truly is a dangerous question, but for different reasons than most people think.
---
DIANE F. HALPERN
Professor of Psychology, Claremont McKenna College; Past-president (2005), the American Psychological Association; Author, Thought and Knowledge


Choosing the sex of one's child
For an idea to be truly dangerous, it needs to have a strong and near universal appeal. The idea of being able to choose the sex of one's own baby is just such an idea.
Anyone who has a deep-seated and profound preference for a son or daughter knows that this preference may not be rational and that it may represent a prejudice better left unacknowledged about them. It is easy to dismiss the ability to decide the sex of one's baby as inconsequential. It is already medically feasible for a woman or couple to choose the sex of a baby that has not yet been conceived. There are a variety of safe methods available, such as Preimplanted Genetic Diagnosis (PGD), so-named because it was originally designed for couples with fertility problems, not for the purpose of selecting the sex of one's next child. With PGD, embryos are created in a Petri dish, tested for gender, and then implanted into the womb, so that the baby-to-be is already identified as female or male before implantation in the womb. The pro argument is simple: If the parents-to-be are adults, why not? People have always wanted to be able to choose the sex of their children. There are ancient records of medicine men and wizened women with various herbs and assorted advice about what to do to (usually) have a son. So, what should it matter if modern medicine can finally deliver what old wives' tales have promised for countless generations? Couples won't have to have a "wasted" child, such as a second child the same sex as the first one, when they really wanted "one of each. " If a society has too many boys for a while, who cares? The shortage of females will make females more valuable and the market economy will even out in time. In the mean time, families will "balance out," each one the ideal composition as desired by the adults in the family.
Every year for the last two decades I have asked students in my college classes to write down the number of children they would like to have and the order in which they ideally want to have girls and boys. I have taught in several different countries (e.g. , Turkey, Russia, and Mexico) and types of universities, but despite large differences, the modal response is 2 children, first a boy, then a girl. If students reply that they want one child, it is most often a boy; if it is 3 children, they are most likely to want a boy, then a girl, then a boy. The students in my classes are not a random sample of the population: they are well educated and more likely to hold egalitarian attitudes than the general population. Yet, if they acted on their stated intentions, even they would have an excess of first-borns who are male, and an excess of males overall. In a short time, those personality characteristics associated with being either an only-child or first-born and those associated with being male would be so confounded, it would be difficult to separate them.
The excess of males that would result from allowing every mother or couple to choose the sex of their next baby would not correct itself at the societal level because at the individual level, the preference for sons is stronger than the market forces of supply and demand. The evidence for this conclusion comes from many sources, including regions of the world where the ratio of young women to men is so low that it could only be caused by selective abortion and female infanticide (UNICEF and other sources). In some regions of rural China there are so few women that wives are imported from the Philippines and men move to far cities to find women to marry. In response, the Chinese government is now offering a variety of education and cash incentives to families with multiple daughters. There are still few daughters being born in these rural areas where prejudice against girls is stronger than government incentives and mandates. In India, the number of abortions of female fetuses has increased since sex-selective abortion was made illegal in 1994. The desire for sons is even stronger than the threat of legal action.
In the United States, the data that show preferences for sons are more subtle than the disparate ratios of females and males found in other parts of the world, but the preference for sons is still strong. Because of space limitations, I list only a few of the many indicators that parents in the United States prefer sons: families with 2 daughters are more likely to have a third child than families with 2 sons, unmarried pregnant women who undergo ultrasound to determine the sex of the yet unborn child are less likely to be married at the time of the child's birth when the child is a girl than when it is a boy, and divorced women with a son are more likely to remarry than divorced women with a daughter.
Perhaps the only ideas more dangerous that of choosing the sex of one's child would be trying to stop medical science from making advances that allow such choices or allowing the government to control the choices we can make as citizens. There are many important questions to ponder, including how to find creative ways to reduce or avoid negative consequences from even more dangerous alternatives. Consider, for example, what would our world be like if there were substantially more men than women? What if only the rich or only those who live in "rich countries" were able to choose the sex of their children? Is it likely that an approximately equal number of boys and girls would be or could be selected? If not, could a society or should a society make equal numbers of girls and boys a goal?
I am guessing that many readers of child-bearing age want to choose the sex of their (as yet) unconceived children and can reason that there is no harm in this practice. And, if you could also choose intelligence, height, and hair color, would you add that too? But then, there are few things in life that are as appealing as the possibility of a perfectly balanced family, which according to the modal response means an older son and younger daughter, looking just like an improved version of you.
---
GARY MARCUS
Psychologist, New York University; Author, The Birth of the Mind


Minds, genes, and machines
Brains exist primarily to do two things, to communicate (transfer information) and compute. This is true in every creature with a nervous system, and no less true in the human brain. In short, the brain is a machine. And the basic structure of that brain, biological substrate of all things mental, is guided in no small part by information carried in the DNA.
In the twenty-first century, these claims should no longer be controversial. With each passing day, techniques like magnetic resonance imaging and electrophysiological recordings from individual neurons make it clearer that the business of the brain is information processing, while new fields like comparative genomics and developmental neuroembryology remove any possible doubt that genes significantly influence both behavior and brain.
Yet there are many people, scientists and lay persons alike, who fear or wish to deny these notions, to doubt our even reject the idea that the mind is a machine, and that it is significantly (though of course not exclusively) shaped by genes. Even as the religious right prays for Intelligent Design, the academic left insinuates that merely discussing the idea of innateness is dangerous, as in a prominent child development manifesto that concluded:
If scientists use words like "instinct" and "innateness" in reference to human abilities, then we have a moral responsibility to be very clear and explicit about what we mean. If our careless, underspecified choice of words inadvertently does damage to future generations of children, we cannot turn with innocent outrage to the judge and say "But your Honor, I didn't realize the word was loaded.
A new academic journal called "Metascience" focuses on when extra-scientific considerations influence the process of science. Sadly, the twin questions of whether we are machines, and whether we are constrained significantly by our biology, very much fall into this category, questions where members of the academy (not to mention fans of Intelligent Design) close their minds.
Copernicus put us in our place, so to to speak, by showing that our planet is not at the center of universe; advances in biology are putting us further in our place by showing that our brains are as much a product of biology as any other part of our body, and by showing that our (human) brains are built by the very same processes as other creatures. Just as the earth is just one planet among many, from the perspective of the toolkit of developmental biology, our brain is just one more arrangement of molecules.
---
JARON LANIER
Computer Scientist and Musician


Homuncular Flexibility
The homunculus is an approximate mapping of the human body in the cortex. It is often visualized as a distorted human body stretched along the top of the human brain. The tongue, thumbs, and other body parts with extra-rich brain connections are enlarged in the homunculus, giving it a vaguely obscene, impish character.
Long ago, in the 1980s, my colleagues and I at VPL Research built virtual worlds in which more than one person at a time could be present. People in a shared virtual world must be able to see each other, as well as use their bodies together, as when two people lift a large virtual object or ride a tandem virtual bicycle. None of this would be possible without virtual bodies.
It was a self-evident and inviting challenge to attempt to create the most accurate possible bodies, given the crude state of the technology at the time. To do this, we developed full body suits covered in sensors. A measurement made on the body of someone wearing one of these suits, such as an aspect of the flex of a wrist, would be applied to control a corresponding change in a virtual body. Before long, people were dancing and otherwise goofing around in virtual reality.
Of course there were bugs. I distinctly remember a wonderful bug that caused my hand to become enormous, like a web of flying skyscrapers. As is often the case, this accident led to an interesting discovery.
It turned out that people could quickly learn to inhabit strange and different bodies and still interact with the virtual world. I became curious how weird the body could get before the mind would become disoriented. I played around with elongated limb segments, and strange limb placement. The most curious experiment involved a virtual lobster (which was lovingly modeled by Ann Lasko. ) A lobster has a trio of little midriff arms on each side of its body. If physical human bodies sprouted corresponding limbs, we would have measured them with an appropriate body suit and that would have been that.
I assume it will not come as a surprise to the reader that the human body does not include these little arms, so the question arose of how to control them. The answer was to extract a little influence from each of many parts of the physical body and merge these data streams into a single control signal for a given joint in the extra lobster limbs. A touch of human elbow twist, a dash of human knee flex; a dozen such movements might be mixed to control the middle join of little left limb #3. The result was that the principle elbows and knees could still control their virtual counterparts roughly as before, while still contributing to the control of additional limbs.
Yes, it turns out people can learn to control bodies with extra limbs!
The biologist Jim Bower, when considering this phenomenon, commented that the human nervous system evolved through all the creatures that preceded us in our long evolutionary line, which included some pretty strange creatures, if you go back far enough. Why wouldn't we retain some homuncular flexibility with a pedigree like that?
The original experiments of the 1980s were not carried out formally, but recently it has become possible to explore the phenomenon in a far more rigorous way. Jeremy Bailenson at Stanford has created a marvelous new lab for studying multiple human subjects in high-definition shared virtual worlds, and we are now planning to repeat, improve, and extend these experiments. The most interesting questions still concern the limits to homuncular flexibility. We are only beginning the project of mapping how far it can go.
Why is homuncular flexibility a dangerous idea? Because the more flexible the human brain turns out to be when it comes to adapting to weirdness, the weirder a ride it will be able to keep up with as technology changes in the coming decades and centuries.
Will kids in the future grow up with the experience of living in four spatial dimensions as well as three? That would be a world with a fun elementary school math curriculum! If you're most interested in raw accumulation of technological power, then you might be not find this so interesting, but if you think in terms of how human experience can change, then this is the most fascinating stuff there is.
Homuncular flexibility isn't the only source of hints about how weird human experience might get in the future. There also questions related to language, memory, and other aspects of cognition, as well as hypothetical prospects for engineering changes in the brain. But in this one area, there's an indication of high weirdness to come, and I find that prospect dangerous, but in a beautiful and seductive way. "Thrilling" might be a better word.
---
W.DANIEL HILLIS
Physicist, Computer Scientist; Chairman, Applied Minds, Inc.; Author, The Pattern on the Stone




The idea that we should all share our most dangerous ideas
I don't share my most dangerous ideas. Ideas are the most powerful forces that we can unleash upon the world, and they should not be let loose without careful consideration of their consequences. Some ideas are dangerous because they are false, like an idea that one race of humans is more worthy that another, or that one religion has monopoly on the truth. False ideas like these spread like wildfire, and have caused immeasurable harm. They still do. Such false ideas should obviously not be spread or encouraged, but there are also plenty of trues idea that should not be spread: ideas about how to cause terror and pain and chaos, ideas of how to better convince people of things that are not true.
I have often seen otherwise thoughtful people so caught up in such an idea that they seem unable to resist sharing it. To me, the idea that we should all share our most dangerous ideas is, itself, a very dangerous idea. I just hope that it never catches on.
---
NEIL GERSHENFELD
Physicist; Director, Center for Bits and Atoms, MIT; Author, Fab




Democratizing access to the means of invention
The elite temples of research (of the kind I've happily spent my career in) may be becoming intellectual dinosaurs as a result of the digitization and personalization of fabrication.
Today, with about $20k in equipment it's possible to make and measure things from microns and microseconds on up, and that boundary is quickly receding. When I came to MIT that was hard to do. If it's no longer necessary to go to MIT for its facilities, then surely the intellectual community is its real resource? But my colleagues (and I) are always either traveling or over-scheduled; the best way for us to see each other is to go somewhere else. Like many people, my closest collaborators are in fact distributed around the world.
The ultimate consequence of the digitization of first communications, then computation, and now fabrication, is to democratize access to the means of invention. The third world can skip over the first and second cultures and go right to developing a third culture. Rather than today's model of researchers researching for researchees, the result of all that discovery has been to enable a planet of creators rather than consumers.
---
PAUL STEINHARDT
Albert Einstein Professor of Science, Princeton University




It's a matter of time

For decades, the commonly held view among scientists has been that space and time first emerged about fourteen billion years ago in a big bang. According to this picture, the cosmos transformed from a nearly uniform gas of elementary particles to its current complex hierarchy of structure, ranging from quarks to galaxy superclusters, through an evolutionary process governed by simple, universal physical laws. In the past few years, though, confidence in this point of view has been shaken as physicists have discovered finely tuned features of our universe that seem to defy natural explanation.

The prime culprit is the cosmological constant, which astronomers have measured to be exponentially smaller than naïve estimates would predict. On the one hand, it is crucial that the cosmological constant be so small or else it would cause space to expand so rapidly that galaxies and stars would never form. On the other hand, no theoretical mechanism has been found within the standard Big Bang picture that would explain the tiny value.

Desperation has led to a "dangerous" idea: perhaps we live in an anthropically selected universe. According to this view, we live in a multiverse (a multitude of universes) in which the cosmological constant varies randomly from one universe to the next. In most universes, the value is incompatible with the formation of galaxies, planets, and stars. The reason why our cosmological constant has the value it does is because it it is one of the rare examples in which the value happens to lie in the narrow range compatible with life.

This is the ultimate example of "unintelligent design": the multiverse tries every possibility with reckless abandon and only very rarely gets things "right;" that is, consistent with everything we actually observe. It suggests that the creation of unimaginably enormous volumes of uninhabitable space is essential to obtain a few rare habitable spaces.

I consider this approach to be extremely dangerous for two reasons. First, it relies on complex assumptions about physical conditions far beyond the range of conceivable observation so it is not scientifically verifiable. Secondly, I think it leads inevitably to a depressing end to science. What is the point of exploring further the randomly chosen physical properties in our tiny corner of the multiverse if most of the multiverse is so different. I think it is far too early to be so desperate. This is a dangerous idea that I am simply unwilling to contemplate.

My own "dangerous" idea is more optimistic but precarious because it bucks the current trends in cosmological thinking. I believe that the finely tuned features may be naturally explained by supposing that our universe is much older than we have imagined. With more time, a new possibility emerges. The cosmological "constant" may not be constant after all. Perhaps it is varying so slowly that it only appears to be constant. Originally it had the much larger value that we would naturally estimate, but the universe is so old that its value has had a chance to relax to the tiny value measured today. Furthermore, in several concrete examples, one finds that the evolution of the cosmological constant slows down as its value approaches zero, so most of the history of the universe transpires when its value is tiny, just as we find today.

This idea that the cosmological constant is decreasing has been considered in the past. In fact, physically plausible slow-relaxation mechanisms have been identified. But the timing was thought to be impossible. If the cosmological constant decreases very slowly, it causes the expansion rate to accelerate too early and galaxies never form. If it decreases too quickly, the expansion rate never accelerates, which is inconsistent with recent observations. As long as the cosmological constant has only 14 billion years to evolve, there is no feasible solution.

But, recently, some cosmologists have been exploring the possibility that the universe is exponentially older. In this picture, the evolution of the universe is cyclic. The Big Bang is not the beginning of space and time but, rather, a sudden creation of hot matter and radiation that marks the transition from one period of expansion and cooling to the next cycle of evolution. Each cycle might last a trillion years, say. Fourteen billion years marks the time since the last infusion of matter and radiation, but this is brief compared to the total age of the universe. Each cycle lasts about a trillion years and the number of cycles in the past may have been ten to the googol power or more!
Then, using the slow relaxation mechanisms considered previously, it becomes possible that the cosmological constant decreases steadily from one cycle to the next. Since the number of cycles is likely to be enormous, there is enough time for the cosmological constant to shrink by an exponential factor, even though the decrease over the course of any one cycle is too small to be undetectable. Because the evolution slows down as the cosmological constant decreases, this is the period when most of the cycles take place. There is no multiverse and there is nothing special about our region of space — we live in a typical region at a typical time.

Remarkably, this idea is scientifically testable. The picture makes explicit predictions about the distribution of primordial gravitational waves and variations in temperature and density. Also, if the cosmological constant is evolving at the slow rate suggested, then ongoing attempts to detect a temporal variation should find no change. So, we may enjoy speculating now about which dangerous ideas we prefer, but ultimately it is Nature that will decide if any of them is right. It is just a matter of time.
---
SAM HARRIS
Neuroscience Researcher; Author, The End of Faith




Science Must Destroy Religion
Most people believe that the Creator of the universe wrote (or dictated) one of their books. Unfortunately, there are many books that pretend to divine authorship, and each makes incompatible claims about how we all must live. Despite the ecumenical efforts of many well-intentioned people, these irreconcilable religious commitments still inspire an appalling amount of human conflict.
In response to this situation, most sensible people advocate something called "religious tolerance." While religious tolerance is surely better than religious war, tolerance is not without its liabilities. Our fear of provoking religious hatred has rendered us incapable of criticizing ideas that are now patently absurd and increasingly maladaptive. It has also obliged us to lie to ourselves — repeatedly and at the highest levels — about the compatibility between religious faith and scientific rationality.
The conflict between religion and science is inherent and (very nearly) zero-sum. The success of science often comes at the expense of religious dogma; the maintenance of religious dogma always comes at the expense of science. It is time we conceded a basic fact of human discourse: either a person has good reasons for what he believes, or he does not. When a person has good reasons, his beliefs contribute to our growing understanding of the world. We need not distinguish between "hard" and "soft" science here, or between science and other evidence-based disciplines like history. There happen to be very good reasons to believe that the Japanese bombed Pearl Harbor on December 7th, 1941. Consequently, the idea that the Egyptians actually did it lacks credibility. Every sane human being recognizes that to rely merely upon "faith" to decide specific questions of historical fact would be both idiotic and grotesque — that is, until the conversation turns to the origin of books like the bible and the Koran, to the resurrection of Jesus, to Muhammad's conversation with the angel Gabriel, or to any of the other hallowed travesties that still crowd the altar of human ignorance.
Science, in the broadest sense, includes all reasonable claims to knowledge about ourselves and the world. If there were good reasons to believe that Jesus was born of a virgin, or that Muhammad flew to heaven on a winged horse, these beliefs would necessarily form part of our rational description of the universe. Faith is nothing more than the license that religious people give one another to believe such propositions when reasons fail. The difference between science and religion is the difference between a willingness to dispassionately consider new evidence and new arguments, and a passionate unwillingness to do so. The distinction could not be more obvious, or more consequential, and yet it is everywhere elided, even in the ivory tower.
Religion is fast growing incompatible with the emergence of a global, civil society. Religious faith — faith that there is a God who cares what name he is called, that one of our books is infallible, that Jesus is coming back to earth to judge the living and the dead, that Muslim martyrs go straight to Paradise, etc. — is on the wrong side of an escalating war of ideas. The difference between science and religion is the difference between a genuine openness to fruits of human inquiry in the 21st century, and a premature closure to such inquiry as a matter of principle. I believe that the antagonism between reason and faith will only grow more pervasive and intractable in the coming years. Iron Age beliefs — about God, the soul, sin, free will, etc. — continue to impede medical research and distort public policy. The possibility that we could elect a U.S. President who takes biblical prophesy seriously is real and terrifying; the likelihood that we will one day confront Islamists armed with nuclear or biological weapons is also terrifying, and growing more probable by the day. We are doing very little, at the level of our intellectual discourse, to prevent such possibilities.

In the spirit of religious tolerance, most scientists are keeping silent when they should be blasting the hideous fantasies of a prior age with all the facts at their disposal.
To win this war of ideas, scientists and other rational people will need to find new ways of talking about ethics and spiritual experience. The distinction between science and religion is not a matter of excluding our ethical intuitions and non-ordinary states of consciousness from our conversation about the world; it is a matter of our being rigorous about what is reasonable to conclude on their basis. We must find ways of meeting our emotional needs that do not require the abject embrace of the preposterous. We must learn to invoke the power of ritual and to mark those transitions in every human life that demand profundity — birth, marriage, death, etc. — without lying to ourselves about the nature of reality.
I am hopeful that the necessary transformation in our thinking will come about as our scientific understanding of ourselves matures. When we find reliable ways to make human beings more loving, less fearful, and genuinely enraptured by the fact of our appearance in the cosmos, we will have no need for divisive religious myths. Only then will the practice of raising our children to believe that they are Christian, Jewish, Muslim, or Hindu be broadly recognized as the ludicrous obscenity that it is. And only then will we stand a chance of healing the deepest and most dangerous fractures in our world.
---
SCOTT ATRAN
Anthropologist, University of Michigan; Author, In God's We Trust


Science encourages religion in the long run (and vice versa)
Ever since Edward Gibbon's Decline and Fall of the Roman Empire, scientists and secularly-minded scholars have been predicting the ultimate demise of religion. But, if anything, religious fervor is increasing across the world, including in the United States, the world's most economically powerful and scientifically advanced society. An underlying reason is that science treats humans and intentions only as incidental elements in the universe, whereas for religion they are central. Science is not particularly well-suited to deal with people's existential anxieties, including death, deception, sudden catastrophe, loneliness or longing for love or justice. It cannot tell us what we ought to do, only what we can do. Religion thrives because it addresses people's deepest emotional yearnings and society's foundational moral needs, perhaps even more so in complex and mobile societies that are increasingly divorced from nurturing family settings and long familiar environments.
From a scientific perspective of the overall structure and design of the physical universe:
1. Human beings are accidental and incidental products of the material development of the universe, almost wholly irrelevant and readily ignored in any general description of its functioning.
Beyond Earth, there is no intelligence — however alien or like our own — that is watching out for us or cares. We are alone.
2. Human intelligence and reason, which searches for the hidden traps and causes in our surroundings, evolved and will always remain leashed to our animal passions — in the struggle for survival, the quest for love, the yearning for social standing and belonging.
This intelligence does not easily suffer loneliness, anymore than it abides the looming prospect of death, whether individual or collective.
Religion is the hope that science is missing (something more in the endeavor to miss nothing).
But doesn't religion impede science, and vice versa? Not necessarily. Leaving aside the sociopolitical stakes in the opposition between science and religion (which vary widely are not constitutive of science or religion per se — Calvin considered obedience to tyrants as exhibiting trust in God, Franklin wanted the motto of the American Republic to be "rebellion against tyranny is obedience to God"), a crucial difference between science and religion is that factual knowledge as such is not a principal aim of religious devotion, but plays only a supporting role. Only in the last decade has the Catholic Church reluctantly acknowledged the factual plausibility of Copernicus, Galileo and Darwin. Earlier religious rejection of their theories stemmed from challenges posed to a cosmic order unifying the moral and material worlds. Separating out the core of the material world would be like draining the pond where a water lily grows. A long lag time was necessary to refurbish and remake the moral and material connections in such a way that would permit faith in a unified cosmology to survive.
---
MARCELO GLEISER
Physicist, Dartmouth College; Author, The Prophet and the Astronome
r

Can science explain itself?
There have been many times when I asked myself if we scientists, especially those seeking to answer "ultimate" kind of questions such as the origin of the Universe, are not beating on the wrong drum. Of course, by trying to answer such question as the origin of everything, we assume we can. We plow ahead, proposing tentative models that join general relativity and quantum mechanics and use knowledge from high energy physics to propose models where the universe pops out of nothing, no energy required, due to a random quantum fluctuation. To this, we tag along the randomness of fundamental constants, saying that their values are the way they are due to an accident: other universes may well have other values of the charge and mass of the electron and thus completely different properties. So, our universe becomes this very special place where things "conspire" to produce galaxies, stars, planets, and life.
What if this is all bogus? What if we look at sciece as a narrative, a description of the world that has limitations based on its structure? The constants of Nature are the letters of the alphabet, the laws are the grammar rules and we build these descriptions through the guiding hand of the so-called scientific method. Period. To say things are this way because otherwise we wouldn't be here to ask the question is to miss the point altogether: things are this way because this is the story we humans tell based on the way we see the world and explain it.
If we take this to the extreme, it means that we will never be able to answer the question of the origin of the Universe, since it implicitly assumes that science can explain itself. We can build any cool and creative models we want using any marriage of quantum mechanics and relativity, but we still won't understand why these laws and not others. In sense, this means that our science is our science and not something universally true as many believe it is. This is not bad at all, given what we can do with it, but it does place limits on knowledge. Which may also not be a bad thing as well. It's OK not to know everything, it doesn't make science weaker. Only more human.
---
DOUGLAS RUSHKOFF
Media Analyst; Documentary Writer; Author, Get Back in the Box : Innovation from the Inside Out


Open Source Currency
It's not only dangerous and by most counts preposterous; it's happening. Open Source or, in more common parlance, "complementary" currencies are collaboratively established units representing hours of labor that can be traded for goods or services in lieu of centralized currency. The advantage is that while the value of centralized currency is based on its scarcity, the bias of complementary or local currencies is towards their abundance.
So instead of having to involve the Fed in every transaction — and using money that requires being paid back with interest — we can invent our own currencies and create value with our labor. It's what the Japanese did at the height of the recession. No, not the Japanese government, but unemployed Japanese people who couldn't afford to pay healthcare costs for their elder relatives in distant cities. They created a currency through which people could care for someone else's grandmother, and accrue credits for someone else to take care of theirs.
Throughout most of history, complementary currencies existed alongside centralized currency. While local currency was used for labor and local transactions, centralized currencies were used for long distance and foreign trade. Local currencies were based on a model of abundance — there was so much of it that people constantly invested it. That's why we saw so many cathedrals being built in the late middle ages, and unparalleled levels of investment in infrastructure and maintenance. Centralized currency, on the other hand, needed to retain value over long distances and periods of time, so it was based on precious and scarce resources, such as gold.
The problem started during the Renaissance: as kings attempted to centralize their power, most local currencies were outlawed. This new monopoly on currency reduced entire economies into scarcity engines, encouraging competition over collaboration, protectionism over sharing, and fixed commodities over renewable resources. Today, money is lent into existence by the Fed or another central bank — and paid back with interest.
This cash is a medium; and like any medium, it has certain biases. The money we use today is just one model of money. Turning currency into an collaborative phenomenon is the final frontier in the open source movement. It's what would allow for an economic model that could support a renewable energies industry, a way for companies such as Wal-Mart to add value to the communities it currently drains, and a way of working with money that doesn't have bankruptcy built in as a given circumstanc
---
JUDITH RICH HARRIS
Independent Investigator and Theoretician; Author, The Nurture Assumption


The idea of zero parental influence
Is it dangerous to claim that parents have no power at all (other than genetic) to shape their child's personality, intelligence, or the way he or she behaves outside the family home? More to the point, is this claim false? Was I wrong when I proposed that parents' power to do these things by environmental means is zero, nada, zilch?
A confession: When I first made this proposal ten years ago, I didn't fully believe it myself. I took an extreme position, the null hypothesis of zero parental influence, for the sake of scientific clarity. Making myself an easy target, I invited the establishment — research psychologists in the academic world — to shoot me down. I didn't think it would be all that difficult for them to do so. It was clear by then that there weren't any big effects of parenting, but I thought there must be modest effects that I would ultimately have to acknowledge.
The establishment's failure to shoot me down has been nothing short of astonishing. One developmental psychologist even admitted, one year ago on this very website, that researchers hadn't yet found proof that "parents do shape their children," but she was still convinced that they will eventually find it, if they just keep searching long enough.
Her comrades in arms have been less forthright. "There are dozens of studies that show the influence of parents on children!" they kept saying, but then they'd somehow forget to name them — perhaps because these studies were among the ones I had already demolished (by showing that they lacked the necessary controls or the proper statistical analyses). Or they'd claim to have newer research that provided an airtight case for parental influence, but again there was a catch: the work had never been published in a peer-reviewed journal. When I investigated, I could find no evidence that the research in question had actually been done or, if done, that it had produced the results that were claimed for it. At most, it appeared to consist of preliminary work, with too little data to be meaningful (or publishable).
Vaporware, I call it. Some of the vaporware has achieved mythic status. You may have heard of Stephen Suomi's experiment with nervous baby monkeys, supposedly showing that those reared by "nurturant" adoptive monkey mothers turn into calm, socially confident adults. Or of Jerome Kagan's research with nervous baby humans, supposedly showing that those reared by "overprotective" (that is, nurturant) human mothers are more likely to remain fearful.
Researchers like these might well see my ideas as dangerous. But is the notion of zero parental influence dangerous in any other sense? So it is alleged. Here's what Frank Farley, former president of the American Psychological Association, told a journalist in 1998:
[Harris's] thesis is absurd on its face, but consider what might happen if parents believe this stuff! Will it free some to mistreat their kids, since "it doesn't matter"? Will it tell parents who are tired after a long day that they needn't bother even paying any attention to their kid since "it doesn't matter"?
Farley seems to be saying that the only reason parents are nice to their children is because they think it will make the children turn out better! And that if parents believed that they had no influence at all on how their kids turn out, they are likely to abuse or neglect them.
Which, it seems to me, is absurd on its face. Most chimpanzee mothers are nice to their babies and take good care of them. Do chimpanzees think they're going to influence how their offspring turn out? Doesn't Frank Farley know anything at all about evolutionary biology and evolutionary psychology?
My idea is viewed as dangerous by the powers that be, but I don't think it's dangerous at all. On the contrary: if people accepted it, it would be a breath of fresh air. Family life, for parents and children alike, would improve. Look what's happening now as a result of the faith, obligatory in our culture, in the power of parents to mold their children's fragile psyches. Parents are exhausting themselves in their efforts to meet their children's every demand, not realizing that evolution designed offspring — nonhuman animals as well as humans — to demand more than they really need. Family life has become phony, because parents are convinced that children need constant reassurances of their love, so if they don't happen to feel very loving at a particular time or towards a particular child, they fake it. Praise is delivered by the bushel, which devalues its worth. Children have become the masters of the home.
And what has all this sacrifice and effort on the part of parents bought them? Zilch. There are no indications that children today are happier, more self-confident, less aggressive, or in better mental health than they were sixty years ago, when I was a child — when homes were run by and for adults, when physical punishment was used routinely, when fathers were generally unavailable, when praise was a rare and precious commodity, and when explicit expressions of parental love were reserved for the deathbed.
Is my idea dangerous? I've never condoned child abuse or neglect; I've never believed that parents don't matter. The relationship between a parent and a child is an important one, but it's important in the same way as the relationship between married partners. A good relationship is one in which each party cares about the other and derives happiness from making the other happy. A good relationship is not one in which one party's central goal is to modify the other's personality.
I think what's really dangerous — perhaps a better word is tragic — is the establishment's idea of the all-powerful, and hence all-blamable, parent.
---
---
---
DAVID GELERNTER
Computer Scientist, Yale University; Chief Scientist, Mirror Worlds Technologies; Author, Drawing Life


What are people well-informed about in the Information Age?
Let's date the Information Age to 1982, when the Internet went into operation & the PC had just been born. What if people have been growing less well-informed ever since? What if people have been growing steadily more ignorant ever since the so-called Information Age began?

Suppose an average US voter, college teacher, 5th-grade teacher, 5th-grade student are each less well-informed today than they were in '95, and were less well-informed then than in '85? Suppose, for that matter, they were less well-informed in '85 than in '65?

If this is indeed the "information age," what exactly are people well-informed about? Video games? Clearly history, literature, philosophy, scholarship in general are not our specialities. This is some sort of technology age — are people better informed about science? Not that I can tell. In previous technology ages, there was interest across the population in the era's leading technology.

In the 1960s, for example, all sorts of people were interested in the space program and rocket technology. Lots of people learned a little about the basics — what a "service module" or "trans-lunar injection" was, why a Redstone-Mercury vehicle was different from an Atlas-Mercury — all sorts of grade-school students, lawyers, housewives, English profs were up on these topics. Today there is no comparable interest in computers & the internet, and no comparable knowledge. "TCP/IP," "Routers," "Ethernet protocol," "cache hits" — these are topics of no interest whatsoever outside the technical community. The contrast is striking.
---
MAHZARIN R. BANAJI
Professor of Psychology, Harvard University


We do not (and to a large extent, cannot) know who we are through introspection
Conscious awareness is a sliver of the machine that is human intelligence but it's the only aspect we experience and hence the only aspect we come to believe exists. Thoughts, feelings, and behavior operate largely without deliberation or conscious recognition — it's the routinized, automatic, classically conditioned, pre-compiled aspects of our thoughts and feelings that make up a large part of who we are. We don't know what motivates us even though we are certain we know just why we do the things we do. We have no idea that our perceptions and judgments are incorrect (as measured objectively) even when they are. Even more stunning, our behavior is often discrepant from our own conscious intentions and goals, not just objective standards or somebody else's standards.
The same lack of introspective access that keeps us from seeing the truth in a visual illusion is the lack of introspective access that keeps us from seeing the truth of our own minds and behavior. The "bounds" on our ethical sense rarely come to light because the input into those decisions is kept firmly outside our awareness. Or at least, they don't come to light until science brings them into the light in a way that no longer permits them to remain in the dark.
It is the fact that human minds have a tendency to categorize and learn in particular ways, that the sorts of feelings for one's ingroup and fear of outgroups are part of our evolutionary history. That fearing things that are different from oneself, holding what's not part of the dominant culture (not American, not male, not White, not college-educated) to be "less good" whether one wants to or not, reflects a part of our history that made sense in a particular time and place - because without it we would not have survived. To know this is to understand the barriers to change honestly and with adequate preparation.
As everybody's favorite biologist Richard Dawkins said thirty years ago:
Let us understand what our own selfish genes are up to, because we may then at least have a chance to upset their designs, something that no other species has ever aspired to do.
We cannot know ourselves without the methods of science. The mind sciences have made it possible to look into the universe between the ear drums in ways that were unimagined.
Emily Dickinson wrote in a letter to a mentor asking him to tell her how good a poet she was: "The sailor cannot see the north, but knows the needle can" she said. We have the needle and it involves direct, concerted effort, using science to get to the next and perhaps last frontier, of understanding not just our place among other planets, our place among other species, but our very nature.
---
RODNEY BROOKS
Director, MIT Computer Science and Artificial Intelligence Laboratory (CSAIL); Chief Technical Officer of iRobot Corporation; author Flesh and Machines


Being alone in the universe
The thing that I worry about most that may or may not be true is that perhaps the spontaneous transformation from non-living matter to living matter is extraordinarily unlikely. We know that it has happened once. But what if we gain lots of evidence over the next few decades that it happens very rarely.
In my lifetime we can expect to examine the surface of Mars, and the moons of the gas giants in some detail. We can also expect to be able to image extra-solar planets within a few tens of light years to resolutions where we would be able to detect evidence of large scale biological activity.
What if none of these indicate any life whatsoever? What does that do to our scientific belief that life did arise spontaneously. It should not change it, but it will make it harder to defend against non-scientific attacks. And wouldn't it sadden us immensely if we were to discover that there is a vanishing small probability that life will arise even once in any given galaxy.
Being alone in this solar system will not be such a such a shock, but alone in the galaxy, or worse alone in the universe would, I think, drive us to despair, and back towards religion as our salve.
---
LEE SMOLIN
Physicist, Perimeter Institute; Author, Three Roads to Quantum Gravity


Seeing Darwin in the light of Einstein; seeing Einstein in the light of Darwin
The revolutionary moves made by Einstein and Darwin are closely related, and their combination will increasingly come to define how we see our worlds: physical, biological and social.
Before Einstein, the properties of elementary particles were understood as being defined against an absolute, eternally fixed background. This way of doing science had been introduced by Newton. His method was to posit the existence of an absolute and eternal background structure against which the properties of things were defined. For example, this is how Newton conceived of space and time. Particles have properties defined, not with respect to each other, but each with respect to only the absolute background of space and time. Einstein's great achievement was to realize successfully the contrary idea, called relationalism, according to which the world is a network of relationships which evolve in time. There is no absolute background and the properties of anything are only defined in terms of its participation in this network of relations.
Before Darwin, species were thought of as eternal categories, defined a priori; after Darwin species were understood to be relational categories-that is only defined in terms of their relationship with the network of interactions making up the biosphere. Darwin's great contribution was to understand that there is a process-natural selection-that can act on relational properties, leading to the birth of genuine novelty by creating complexes of relationships that are increasingly structured and complex.
Seeing Darwin in the light of Einstein, we understand that all the properties a species has in modern biology are relational. There is no absolute background in biology.
Seeing Einstein in the light of Darwin opens up the possibility that the mechanism of natural selection could act not only on living things but on the properties that define the different species of elementary particles.
At first, physicists thought that the only relational properties an elementary particle might have were its position and motion in space and time. The other properties, like mass and charge were thought of in the old framework: defined by a background of absolute law. The standard model of particle physics taught us that some of those properties, like mass, are only the consequence of a particles interactions with other fields. As a result the mass of a particle is determined environmentally, by the phase of the other fields it interacts with.
I don't know which model of quantum gravity is right, but all the leading candidates, string theory, loop quantum gravity and others, teach us that it is possible that all properties of elementary particles are relational and environmental. In different possible universes there may be different combinations of elementary particles and forces. Indeed, all that used to be thought of as fundamental, space and the elementary particles themselves are increasingly seen, in models of quantum gravity, as themselves emergent from a more elementary network of relations.
The basic method of science after Einstein seems to be: identify something in your theory that is playing the role of an absolute background, that is needed to define the laws that govern objects in your theory, and understand it more deeply as a contingent property, which itself evolves subject to law.
For example, before Einstein the geometry of space was thought of as specified absolutely as part of the laws of nature. After Einstein we understand geometry is contingent and dynamical, which means it evolves subject to law. This means that Einstein's move can even be applied to aspects of what were thought to be the laws of nature: so that even aspects of the laws turn out to evolve in time.
The basic method of science after Darwin seems to be to identify some property once thought to be absolute and defined a prior and recognize that it can be understood because it has evolved by a process of or akin to natural selection. This has revolutionized biology and is in the process of doing the same to the social sciences.
We can see by how I have stated it that these two methods are closely related. Einstein emphasizes the relational aspect of all properties described by science, while Darwin proposes that ultimately, the law which governs the evolution of everything else, including perhaps what were once seen to be laws-is natural selection.
Should Darwin's method be applied even to the laws of physics? Recent developments in elementary particle physics give us little alternative if we are to have a rational understanding of the laws that govern our universe. I am referring here to the realization that string theory gives us, not a unique set of particles and forces, but an infinite list out of which one came to be selected for our universe. We physicists have now to understand Darwin's lesson: the only way to understand how one out of a vast number of choices was made, which favors improbably structure, is that it is the result of evolution by natural selection.
Can this work? I showed it might, in 1992, in a theory of cosmological natural selection. This remains the only theory of how our laws came to be selected so far proposed that makes falsifiable predictions.
The idea that laws of nature are themselves the result of evolution by natural selection is nothing new, it was anticipated by the philosopher Charles Sanders Pierce, who wrote in 1891:
To suppose universal laws of nature capable of being apprehended by the mind and yet having no reason for their special forms, but standing inexplicable and irrational, is hardly a justifiable position. Uniformities are precisely the sort of facts that need to be accounted for. Law is par excellence the thing that wants a reason. Now the only possible way of accounting for the laws of nature, and for uniformity in general, is to suppose them results of evolution.
This idea remains dangerous, not only for what it has achieved, but for what it implies for the future. For there are implications have yet to be absorbed or understood, even by those who have come to believe it is the only way forward for science. For example, must there always be a deeper, or meta-law, which governs the physical mechanisms by which a law evolves? And what about the fact that laws of physics are expressed in mathematics, which is usually thought of as encoding eternal truths? Can mathematics itself come to be seen as time bound rather that as transcendent and eternal platonic truths?
I believe that we will achieve clarity on these and other scary implications of the idea that all the regularities we observe, including those we have gotten used to calling laws, are the result of evolution by natural selection. And I believe that once this is achieved Einstein and Darwin will be understood as partners in the greatest revolution yet in science, a revolution that taught us that the world we are imbedded in is nothing but an ever evolving network of relationships.
---
ALISON GOPNIK
Psychologist, UC-Berkeley; Coauthor, The Scientist In the Crib


A cacophony of "controversy"
It may not be good to encourage scientists to articulate dangerous ideas.
Good scientists, almost by definition, tend towards the contrarian and ornery, and nothing gives them more pleasure than holding to an unconventional idea in the face of opposition. Indeed, orneriness and contrarianism are something of currency for science — nobody wants to have an idea that everyone else has too. Scientists are always constructing a straw man "establishment" opponent who they can then fearlessly demolish. If you combine that with defying the conventional wisdom of non-scientists you have a recipe for a very distinctive kind of scientific smugness and self-righteousness. We scientists see this contrarian habit grinning back at us in a particularly hideous and distorted form when global warming opponents or intelligent design advocates invoke the unpopularity of their ideas as evidence that they should be accepted, or at least discussed.
The problem is exacerbated for public intellectuals. For the media too, would far rather hear about contrarian or unpopular or morally dubious or "controversial" ideas than ones that are congruent with everyday morality and wisdom. No one writes a newspaper article about a study that shows that girls are just as good at some task as boys, or that children are influenced by their parents.
It is certainly true that there is no reason that scientifically valid results should have morally comforting consequences — but there is no reason why they shouldn't either. Unpopularity or shock is no more a sign of truth than popularity is. More to the point, when scientists do have ideas that are potentially morally dangerous they should approach those ideas with hesitancy and humility. And they should do so in full recognition of the great human tragedy that, as Isiah Berlin pointed out, there can be genuinely conflicting goods and that humans are often in situations of conflict for which there is no simple or obvious answer.
Truth and morality may indeed in some cases be competing values, but that is a tragedy, not a cause for self-congratulation. Humility and empathy come less easily to most scientists, most certainly including me, than pride and self-confidence, but perhaps for that very reason they are the virtues we should pursue.
This is, of course, itself a dangerous idea. Orneriness and contrarianism are in fact, genuine scientific virtues, too. And in the current profoundly anti-scientific political climate it is terribly dangerous to do anything that might give comfort to the enemies of science. But I think the peril to science actually doesn't lie in timidity or self-censorship. It is much more likely to lie in a cacophony of "controversy".
---
KEVIN KELLY
Editor-At-Large, Wired; Author, New Rules for the New Economy




More anonymity is good
More anonymity is good: that's a dangerous idea.
Fancy algorithms and cool technology make true anonymity in mediated environments more possible today than ever before. At the same time this techno-combo makes true anonymity in physical life much harder. For every step that masks us, we move two steps toward totally transparent unmasking. We have caller ID, but also caller ID Block, and then caller ID-only filters. Coming up: biometric monitoring and little place to hide. A world where everything about a person can be found and archived is a world with no privacy, and therefore many technologists are eager to maintain the option of easy anonymity as a refuge for the private.
However in every system that I have seen where anonymity becomes common, the system fails. The recent taint in the honor of Wikipedia stems from the extreme ease which anonymous declarations can be put into a very visible public record. Communities infected with anonymity will either collapse, or shift the anonymous to pseudo-anonymous, as in eBay, where you have a traceable identity behind an invented nickname. Or voting, where you can authenticate an identity without tagging it to a vote.
Anonymity is like a rare earth metal. These elements are a necessary ingredient in keeping a cell alive, but the amount needed is a mere hard-to-measure trace. In larger does these heavy metals are some of the most toxic substances known to a life. They kill. Anonymity is the same. As a trace element in vanishingly small doses, it's good for the system by enabling the occasional whistleblower, or persecuted fringe. But if anonymity is present in any significant quantity, it will poison the system.
There's a dangerous idea circulating that the option of anonymity should always be at hand, and that it is a noble antidote to technologies of control. This is like pumping up the levels of heavy metals in your body into to make it stronger.
Privacy can only be won by trust, and trust requires persistent identity, if only pseudo-anonymously. In the end, the more trust, the better. Like all toxins, anonymity should be keep as close to zero as possible.
---
DENIS DUTTON
Professor of the philosophy of art, University of Canterbury, New Zealand, editor of Philosophy and Literature and Arts & Letters Daily


A "grand narrative"
The humanities have gone through the rise of Theory in the 1960s, its firm hold on English and literature departments through the 1970s and 80s, followed most recently by its much-touted decline and death.
Of course, Theory (capitalization is an English department affectation) never operated as a proper research program in any scientific sense — with hypotheses validated (or falsified) by experiment or accrued evidence. Theory was a series of intellectual fashion statements, clever slogans and postures, imported from France in the 60s, then developed out of Yale and other Theory hot spots. The academic work Theory spawned was noted more for its chosen jargons, which functioned like secret codes, than for any concern to establish truth or advance knowledge. It was all about careers and prestige.
Truth and knowledge, in fact, were ruled out as quaint illusions. This cleared the way, naturally, for an "anything-goes" atmosphere of academic criticism. In reality, it was anything but anything goes, since the political demands of the period included a long list of stereotyped villains (the West, the Enlightenment, dead whites males, even clear writing) to be pitted against mandatory heroines and heroes (indigenous peoples, the working class, the oppressed, and so forth).
Though the politics remains as strong as ever in academe, Theory has atrophied not because it was refuted, but because everyone got bored with it. Add to that the absurdly bad writing of academic humanists of the period and episodes like the Sokal Hoax, and the decline was inevitable. Theory academics could with high seriousness ignore rational counter-arguments, but for them ridicule and laughter were like water thrown at the Wicked Witch. Theory withered and died.
But wait. Here is exactly where my most dangerous idea comes in. What if it turned out that the academic humanities — art criticism, music and literary history, aesthetic theory, and the philosophy of art — actually had available to them a true, and therefore permanently valuable, theory to organize their speculations and interpretations? What if there really existed a hitherto unrecognized "grand narrative" that could explain the entire history of creation and experience of the arts worldwide?
Aesthetic experience, as well as the context of artistic creation, is a phenomenon both social and psychological. From the standpoint of inner experience, it can be addressed by evolutionary psychology: the idea that our thinking and values are conditioned by the 2.6 million years of natural and sexual selection in the Pleistocene.
This Darwinian theory has much to say about the abiding, cross-culturally ascertainable values human beings find in art. The fascination, for example, that people worldwide find in the exercise of artistic virtuosity, from Praxiteles to Hokusai to Renee Fleming, is not a social construct, but a Pleistocene adaptation (which outside of the arts shows itself in sporting interests everywhere). That calendar landscapes worldwide feature alternating copses of trees and open spaces, often hilly land, water, and paths or river banks that wind into an inviting distance is a Pleistocene landscape preference (which shows up in both art history and in the design of public parks everywhere). That soap operas and Greek tragedy all present themes of family breakdown ("She killed him because she loved him") is a reflection of ancient, innate content interests in story-telling.
Darwinian theory offers substantial answers to perennial aesthetic questions. It has much to say about the origins of art. It's unlikely that the arts came about at one time or for one purpose; they evolved from overlapping interests based in survival and mate selection in the 80,000 generations of the Pleistocene. How we scan visually, how we hear, our sense of rhythm, the pleasures of artistic expression and in joining with others as an audience, and, not least, how the arts excite us using a repertoire of universal human emotions: all of this and more will be illuminated and explained by a Darwinian aesthetics.
I've encountered stiff academic resistance to the notion that Darwinian theory might greatly improve the understanding of our aesthetic and imaginative lives. There's no reason to worry. The most complete, evolutionarily-based explanation of a great work of art, classic or recent, will address its form, its narrative content, its ideology, how it is taken in by the eye or mind, and indeed, how it can produce a deep, even life-transforming pleasure. But nothing in a valid aesthetic psychology will rob art of its appeal, any more than knowing how we evolved to enjoy fat and sweet makes a piece of cheesecake any less delicious. Nor will a Darwinian aesthetics reduce the complexity of art to simple formulae. It will only give us a better understanding of the greatest human achievements and their effects on us.
In the sense that it would show innumerable careers in the humanities over the last forty years to have been wasted on banal politics and execrable criticism, Darwinian aesthetics is a very dangerous idea indeed. For people who really care about understanding art, it would be a combination of fresh air and strong coffee.
---
SIMON BARON-COHEN
Psychologist, Autism Research Centre, Cambridge University; Author, The Essential Difference


A political system based on empathy
Imagine a political system based not on legal rules (systemizing) but on empathy. Would this make the world a safer place?
The UK Parliament, US Congress, Israeli Knesset, French National Assembly, Italian Senato della Repubblica, Spanish Congreso de los Diputados, — what do such political chambers have in common? Existing political systems are based on two principles: getting power through combat, and then creating/revising laws and rules through combat.
Combat is sometimes physical (toppling your opponent militarily), sometimes economic (establishing a trade embargo, to starve your opponent of resources), sometimes propaganda-based (waging a media campaign to discredit your opponent's reputation), and sometimes through voting-related activity (lobbying, forming alliances, fighting to win votes in key seats), with the aim to 'defeat' the opposition.
Creating/revising laws and rules is what you do once you are in power. These might be constitutional rules, rules of precedence, judicial rulings, statutes, or other laws or codes of practice. Politicians battle for their rule-based proposal (which they hold to be best) to win, and battle to defeat the opposition's rival proposal.
This way of doing politics is based on "systemizing". First you analyse the most effective form of combat (itself a system) to win. If we do x, then we will obtain outcome y. Then you adjust the legal code (another system). If we pass law A, we will obtain outcome B.
My colleagues and I have studied the essential difference between how men and women think. Our studies suggest that (on average) more men are systemizers, and more women are empathizers. Since most political systems were set up by men, it may be no coincidence that we have ended up with political chambers that are built on the principles of systemizing.
So here's the dangerous new idea. What would it be like if our political chambers were based on the principles of empathizing? It is dangerous because it would mean a revolution in how we choose our politicians, how our political chambers govern, and how our politicians think and behave. We have never given such an alternative political process a chance. Might it be better and safer than what we currently have? Since empathy is about keeping in mind the thoughts and feelings of other people (not just your own), and being sensitive to another person's thoughts and feelings (not just riding rough-shod over them), it is clearly incompatible with notions of "doing battle with the opposition" and "defeating the opposition" in order to win and hold on to power.
Currently, we select a party (and ultimately a national) leader based on their "leadership" qualities. Can he or she make decisions decisively? Can they do what is in the best interests of the party, or the country, even if it means sacrificing others to follow through on a decision? Can they ruthlessly reshuffle their Cabinet and "cut people loose" if they are no longer serving their interests? These are the qualities of a strong systemizer.
Note we are not talking about whether that politician is male or female. We are talking about how a politician (irrespective of their sex) thinks and behaves.
We have had endless examples of systemizing politicians unable to resolve conflict. Empathizing politicians would perhaps follow Mandela and De Klerk's examples, who sat down to try to understand the other, to empathize with the other, even if the other was defined as a terrorist. To do this involves the empathic act of stepping into the other's shoes, and identifying with their feelings.
The details of a political system based on empathizing would need a lot of working out, but we can imagine certain qualities that would have no place.
Gone would be politicians who are skilled orators but who simply deliver monologues, standing on a platform, pointing forcefully into the air to underline their insistence — even the body language containing an implied threat of poking their listener in the chest or the face - to win over an audience. Gone too would be politicians who are so principled that they are rigid and uncompromising.
Instead, we would elect politicians based on different qualities: politicians who are good listeners, who ask questions of others instead of assuming they know the right course of action. We would instead have politicians who respond sensitively to another, different point of view, and who can be flexible over where the dialogue might lead. Instead of seeking to control and dominate, our politicians would be seeking to support, enable, and care.
---
FREEMAN DYSON
Physicist, Institute of Advanced Study, Author, Disturbing the Universe




Biotechnology will be thoroughly domesticated in the next fifty years
Biotechnology will be domesticated in the next fifty years as thoroughly as computer technology was in the last fifty years.
This means cheap and user-friendly tools and do-it-yourself kits, for gardeners to design their own roses and orchids, and for animal-breeders to design their own lizards and snakes. A new art-form as creative as painting or cinema. It means biotech games for children down to kindergarten age, like computer-games but played with real eggs and seeds instead of with images on a screen. Kids will grow up with an intimate feeling for the organisms that they create. It means an explosion of biodiversity as new ecologies are designed to fit into millions of local niches all over the world. Urban and rural landscapes will become more varied and more fertile.
There are two severe and obvious dangers. First, smart kids and malicious grown-ups will find ways to convert biotech tools to the manufacture of lethal microbes. Second, ambitious parents will find ways to apply biotech tools to the genetic modification of their own babies. The great unanswered question is, whether we can regulate domesticated biotechnology so that it can be applied freely to animals and vegetables but not to microbes and humans.
---
RUDY RUCKER
Mathematician, Computer Scientist; CyberPunk Pioneer; Novelist; Author, Lifebox, the Seashell, and the Soul
l

Mind is a universally distributed quality
Panpsychism. Each object has a mind. Stars, hills, chairs, rocks, scraps of paper, flakes of skin, molecules — each of them possesses the same inner glow as a human, each of them has singular inner experiences and sensations.
I'm quite comfortable with the notion that everything is a computation. But what to do about my sense that there's something numinous about my inner experience? Panpsychism represents a non-anthropocentric way out: mind is a universally distributed quality.
Yes, the workings of a human brain are a deterministic computation that could be emulated by any universal computer. And, yes, I sense more to my mental phenomena than the rule-bound exfoliation of reactions to inputs: this residue is the inner light, the raw sensation of existence. But, no, that inner glow is not the exclusive birthright of humans, nor is it solely limited to biological organisms.
Note that panpsychism needn't say that universe is just one mind. We can also say that each object has an individual mind. One way to visualize the distinction between the many minds and the one mind is to think of the world as a stained glass window with light shining through each pane. The world's physical structures break the undivided cosmic mind into a myriad of small minds, one in each object.
The minds of panpsychism can exist at various levels. As well as having its own individuality, a person's mind would also be, for instance, a hive mind based upon the minds of the body's cells and the minds of the body's elementary particles.
Do the panpsychic minds have any physical correlates? On the one hand, it could be that the mind is some substance that accumulates near ordinary matter — dark matter or dark energy are good candidates. On the other hand, mind might simply be matter viewed in a special fashion: matter experienced from the inside. Let me mention three specific physical correlates that have been proposed for the mind.
Some have argued that the experience of mind results when a superposed quantum state collapses into a pure state. It's an alluring metaphor, but as a universal automatist, I'm of the opinion that quantum mechanics is a stop-gap theory, destined to give way to a fully deterministic theory based upon some digital precursor of spacetime.
David Skrbina, author of the clear and comprehensive book Panpsychism in the West, suggests that we might think of a physical system as determining a moving point in a multi-dimensional phase space that has an axis for each of the system's measurable properties. He feels this dynamic point represents the sense of unity characteristic of a mind.
As a variation on this theme, let me point out that, from the universal automatist standpoint, every physical system can be thought of as embodying a computation. And the majority of non-simple systems embody universal computations, capable of emulating any other system at all. It could be that having a mind is in some sense equivalent to being capable of universal computation.
A side-remark. Even such very simple systems as a single electron may in fact be capable of universal computation, if supplied with a steady stream of structured input. Think of an electron in an oscillating field; and by analogy think of a person listening to music or reading an essay.
Might panpsychism be a distinction without a difference? Suppose we identify the numinous mind with quantum collapse, with chaotic dynamics, or with universal computation. What is added by claiming that these aspects of reality are like minds?
I think empathy can supply an experiential confirmation of panpsychism's reality. Just as I'm sure that I myself have a mind, I can come to believe the same of another human with whom I'm in contact — whether face to face or via their creative work. And with a bit of effort, I can identify with objects as well; I can see the objects in the room around me as glowing with inner light. This is a pleasant sensation; one feels less alone.
Could there ever be a critical experiment to test if panpsychism is really true? Suppose that telepathy were to become possible, perhaps by entangling a person's mental states with another system's states. And then suppose that instead of telepathically contacting another person, I were to contact a rock. At this point panpsychism would be proved.
I still haven't said anything about why panpsychism is a dangerous idea. Panpsychism, like other forms of higher consciousness, is dangerous to business as usual. If my old car has the same kind of mind as a new one, I'm less impelled to help the economy by buying a new vehicle. If the rocks and plants on my property have minds, I feel more respect for them in their natural state. If I feel myself among friends in the universe, I'm less likely to overwork myself to earn more cash. If my body will have a mind even after I'm dead, then death matters less to me, and it's harder for the government to cow me into submission.
---
STEVEN PINKER
Psychologist, Harvard University; Author, The Blank Slate


Groups of people may differ genetically in their average talents and temperaments
The year 2005 saw several public appearances of what will I predict will become the dangerous idea of the next decade: that groups of people may differ genetically in their average talents and temperaments.
In January, Harvard president Larry Summers caused a firestorm when he cited research showing that women and men have non-identical statistical distributions of cognitive abilities and life priorities.
In March, developmental biologist Armand Leroi published an op-ed in the New York Times rebutting the conventional wisdom that race does not exist. (The conventional wisdom is coming to be known as Lewontin's Fallacy: that because most genes may be found in all human groups, the groups don't differ at all. But patterns of correlation among genes do differ between groups, and different clusters of correlated genes correspond well to the major races labeled by common sense. )
In June, the Times reported a forthcoming study by physicist Greg Cochran, anthropologist Jason Hardy, and population geneticist Henry Harpending proposing that Ashkenazi Jews have been biologically selected for high intelligence, and that their well-documented genetic diseases are a by-product of this evolutionary history.
In September, political scientist Charles Murray published an article in Commentary reiterating his argument from The Bell Curve that average racial differences in intelligence are intractable and partly genetic.
Whether or not these hypotheses hold up (the evidence for gender differences is reasonably good, for ethnic and racial differences much less so), they are widely perceived to be dangerous. Summers was subjected to months of vilification, and proponents of ethnic and racial differences in the past have been targets of censorship, violence, and comparisons to Nazis. Large swaths of the intellectual landscape have been reengineered to try to rule these hypotheses out a priori (race does not exist, intelligence does not exist, the mind is a blank slate inscribed by parents). The underlying fear, that reports of group differences will fuel bigotry, is not, of course, groundless.
The intellectual tools to defuse the danger are available. "Is" does not imply "ought. " Group differences, when they exist, pertain to the average or variance of a statistical distribution, rather than to individual men and women. Political equality is a commitment to universal human rights, and to policies that treat people as individuals rather than representatives of groups; it is not an empirical claim that all groups are indistinguishable. Yet many commentators seem unwilling to grasp these points, to say nothing of the wider world community.
Advances in genetics and genomics will soon provide the ability to test hypotheses about group differences rigorously. Perhaps geneticists will forbear performing these tests, but one shouldn't count on it. The tests could very well emerge as by-products of research in biomedicine, genealogy, and deep history which no one wants to stop.
The human genomic revolution has spawned an enormous amount of commentary about the possible perils of cloning and human genetic enhancement. I suspect that these are red herrings. When people realize that cloning is just forgoing a genetically mixed child for a twin of one parent, and is not the resurrection of the soul or a source of replacement organs, no one will want to do it. Likewise, when they realize that most genes have costs as well as benefits (they may raise a child's IQ but also predispose him to genetic disease), "designer babies" will lose whatever appeal they have. But the prospect of genetic tests of group differences in psychological traits is both more likely and more incendiary, and is one that the current intellectual community is ill-equipped to deal with.
---
RICHARD E. NISBETT
Professor of Psychology, Co-Director of the Culture and Cognition Program, University of Michigan; Author, The Geography of Thought: How Asians and Westerners Think Differently. . . And Why


Telling More Than We Can Know
Do you know why you hired your most recent employee over the runner-up? Do you know why you bought your last pair of pajamas? Do you know what makes you happy and unhappy?

Don't be too sure. The most important thing that social psychologists have discovered over the last 50 years is that people are very unreliable informants about why they behaved as they did, made the judgment they did, or liked or disliked something. In short, we don't know nearly as much about what goes on in our heads as we think. In fact, for a shocking range of things, we don't know the answer to "Why did I?" any better than an observer.

The first inkling that social psychologists had about just how ignorant we are about our thinking processes came from the study of cognitive dissonance beginning in the late 1950s. When our behavior is insufficiently justified, we move our beliefs into line with the behavior so as to avoid the cognitive dissonance we would otherwise experience. But we are usually quite unaware that we have done that, and when it is pointed out to us we recruit phantom reasons for the change in attitude.

Beginning in the mid-1960s, social psychologists started doing experiments about the causal attributions people make for their own behavior. If you give people electric shocks, but tell them that you have given them a pill that will produce the arousal symptoms that are actually created by the shock, they will take much more shock than subjects without the pill. They have attributed their arousal to the pill and are therefore willing to take more shock. But if you ask them why they took so much shock they are likely to say something like "I used to work with electrical gadgets and I got a lot of shocks, so I guess I got used to it."

In the 1970s social psychologists began asking whether people could be accurate about why they make truly simple judgments and decisions — such as why they like a person or an article of clothing.

For example, in one study experimenters videotaped a Belgian responding in one of two modes to questions about his philosophy as a teacher: he either came across as an ogre or a saint. They then showed subjects one of the two tapes and asked them how much they liked the teacher. Furthermore, they asked some of them whether the teacher's accent had affected how much they liked him and asked others whether how much they liked the teacher influenced how much they liked his accent. Subjects who saw the ogre naturally disliked him a great deal, and they were quite sure that his grating accent was one of the reasons. Subjects who saw the saint realized that one of the reasons they were so fond of him was his charming accent. Subjects who were asked if their liking for the teacher could have influenced their judgment of his accent were insulted by the question.

Does familiarity breed contempt? On the contrary, it breeds liking. In the 1980s, social psychologists began showing people such stimuli as Turkish words and Chinese ideographs and asking them how much they liked them. They would show a given stimulus somewhere between one and twenty-five times. The more the subjects saw the stimulus the more they liked it. Needless to say, their subjects did not find it plausible that the mere number of times they had seen a stimulus could have affected their liking for it. (You're probably wondering if white rats are susceptible to the mere familiarity effect.

The study has been done. Rats brought up listening to music by Mozart prefer to move to the side of the cage that trips a switch allowing them to listen to Mozart rather than Schoenberg. Rats raised on Schoenberg prefer to be on the Schoenberg side. The rats were not asked the reasons for their musical preferences.)

Does it matter that we often don't know what goes on in our heads and yet believe that we do? Well, for starters, it means that we often can't answer accurately crucial questions about what makes us happy and what makes us unhappy. A social psychologist asked Harvard women to keep a daily record for two months of their mood states and also to record a number of potentially relevant factors in their lives including amount of sleep the night before, the weather, general state of health, sexual activity, and day of the week (Monday blues? TGIF?). At the end of the period, subjects were asked to tell the experimenters how much each of these factors tended to influence their mood over the two month period. The results? Women's reports of what influenced their moods were uncorrelated with what they had reported on a daily basis. If a woman thought that her sexual activity had a big effect, a check of her daily reports was just as likely to show that it had no effect as that it did. To really rub it in, the psychologist asked her subjects to report what influenced the moods of someone they didn't know: She found that accuracy was just as great when a woman was rated by a stranger as when rated by the woman herself!

But if we were to just think really hard about reasons for behavior and preferences might we be likely to come to the right conclusions?

Actually, just the opposite may often be the case. A social psychologist asked people to choose which of several art posters they liked best.

Some people were asked to analyze why they liked or disliked the various posters and some were not asked, and everyone was given their favorite poster to take home. Two weeks later the psychologist called people up and asked them how much they liked the art poster they had chosen. Those who did not analyze their reasons liked their posters better than those who did.

It's certainly scary to think that we're ignorant of so much of what goes on in our heads, though we're almost surely better off taking with a large quantity of salt what we and others say about motives and reasons. Skepticism about our ability to read our minds is safer than certainty that we can.

Still, the idea that we have little access to the workings of our minds is a dangerous one. The theories of Copernicus and Darwin were dangerous because they threatened, respectively, religious conceptions of the centrality of humans in the cosmos and the divinity of humans.

Social psychologists are threatening a core conviction of the Enlightenment — that humans are perfectible through the exercise of reason. If reason cannot be counted on to reveal the causes of our beliefs, behavior and preferences, then the idea of human perfectibility is to that degree diminished.
---
ROBERT R. PROVINE
Psychologist and Neuroscientist, University of Maryland; Author, Laughter


This is all there is
The empirically testable idea that the here and now is all there is and that life begins at birth and ends at death is so dangerous that it has cost the lives of millions and threatens the future of civilization. The danger comes not from the idea itself, but from its opponents, those religious leaders and followers who ruthlessly advocate and defend their empirically improbable afterlife and man-in-the-sky cosmological perspectives.
Their vigor is understandable. What better theological franchise is there than the promise of everlasting life, with deluxe trimmings? Religious followers must invest now with their blood and sweat, with their big payoff not due until the after-life. Postmortal rewards cost theologians nothing--I'll match your heavenly choir and raise you 72 virgins.
Some franchise! This is even better than the medical profession, a calling with higher overhead, that has gained control of birth, death and pain. Whether the religious brand is Christianity or Islam, the warring continues, with a terrible fate reserved for heretics who threaten the franchise from within. Worse may be in store for those who totally reject the man-in-the-sky premise and its afterlife trappings. All of this trouble over accepting what our senses tell us—that this is all there is.
Resolution of religious conflict is impossible because there is no empirical test of the ghostly, and many theologians prey, intentionally or not, upon the fears, superstitions, irrationality, and herd tendencies that are our species' neurobehavioral endowment. Religious fundamentalism inflames conflict and prevents solution—the more extreme and irrational one's position, the stronger one's faith, and, when possessing absolute truth, compromise is not an option.
Resolution of conflicts between religions and associated cultures is less likely to come from compromise than from the pursuit of superordinate goals, common, overarching, objectives that extend across nations and cultures, and direct our competitive spirit to further the health, well-being, and nobility of everyone. Public health and science provide such unifying goals. I offer two examples.
Health Initiative. A program that improves the health of all people, especially those in developing nations, may find broad support, especially with the growing awareness of global culture and the looming specter of a pandemic. Public health programs bridge religious, political, and cultural divides. No one wants to see their children die. Conflicts fall away when cooperation offers a better life for all concerned. This is also the most effective anti-terrorism strategy, although one probably unpopular with the military industrial complex on one side, and terrorist agitators on the other.
Space Initiative. Space exploration expands our cosmos and increases our appreciation of life on Earth and its finite resources. Space exploration is one of our species' greatest achievements. Its pursuit is a goal of sufficient grandeur to unite people of all nations.
This is all there is. The sooner we accept this dangerous idea, the sooner we can get on with the essential task of making the most of our lives on this planet.
---
DONALD HOFFMAN
Cognitive Scientist, UC, Irvine; Author, Visual Intelligence


A spoon is like a headache
A spoon is like a headache. This is a dangerous idea in sheep's clothing. It consumes decrepit ontology, preserves methodological naturalism, and inspires exploration for a new ontology, a vehicle sufficiently robust to sustain the next leg of our search for a theory of everything.
How could a spoon and a headache do all this? Suppose I have a headache, and I tell you about it. It is, say, a pounding headache that started at the back of the neck and migrated to encompass my forehead and eyes. You respond empathetically, recalling a similar headache you had, and suggest a couple remedies. We discuss our headaches and remedies a bit, then move on to other topics.
Of course no one but me can experience my headaches, and no one but you can experience yours. But this posed no obstacle to our meaningful conversation. You simply assumed that my headaches are relevantly similar to yours, and I assumed the same about your headaches. The fact that there is no "public headache," no single headache that we both experience, is simply no problem.
A spoon is like a headache. Suppose I hand you a spoon. It is common to assume that the spoon I experience during this transfer is numerically identical to the spoon you experience. But this assumption is false. No one but me can experience my spoon, and no one but you can experience your spoon. But this is no problem. It is enough for me to assume that your spoon experience is relevantly similar to mine. For effective communication, no public spoon is necessary, just like no public headache is necessary. Is there a "real spoon," a mind-independent physical object that causes our spoon experiences and resembles our spoon experiences? This is not only unnecessary but unlikely. It is unlikely that the visual experiences of homo sapiens, shaped to permit survival in a particular range of niches, should miraculously also happen to resemble the true nature of a mind-independent realm. Selective pressures for survival do not, except by accident, lead to truth.
One can have a kind of objectivity without requiring public objects. In special relativity, the measurements, and thus the experiences, of mass, length and time differ from observer to observer, depending on their relative velocities. But these differing experiences can be related by the Lorentz transformation. This is all the objectivity one can have, and all one needs to do science.
Once one abandons public physical objects, one must reformulate many current open problems in science. One example is the mind-brain relation. There are no public brains, only my brain experiences and your brain experiences. These brain experiences are just the simplified visual experiences of homo sapiens, shaped for survival in certain niches. The chances that our brain experiences resemble some mind-independent truth are remote at best, and those who would claim otherwise must surely explain the miracle. Failing a clever explanation of this miracle, there is no reason to believe brains cause anything, including minds. And here the wolf unzips the sheep skin, and darts out into the open. The danger becomes apparent the moment we switch from boons to sprains. Oh, pardon the spoonerism.
---
MARC D. HAUSER
Psychologist and Biologist, Harvard University: Author, Wild Minds


A universal grammar of [mental] life
The recent explosion of work in molecular evolution and developmental biology has, for the first time, made it possible to propose a radical new theory of mental life that if true, will forever rewrite the textbooks and our way of thinking about our past and future. It explains both the universality of our thoughts as well as the unique signatures that demarcate each human culture, past, present and future.
The theory I propose is that human mental life is based on a few simple, abstract, yet expressively powerful rules or computations together with an instructive learning mechanism that prunes the range of possible systems of language, music, mathematics, art, and morality to a limited set of culturally expressed variants. In many ways, this view isn't new or radical. It stems from thinking about the seemingly constrained ways in which relatively open ended or generative systems of expression create both universal structure and limited variation.
Unfortunately, what appears to be a rather modest proposal on some counts, is dangerous on another. It is dangerous to those who abhor biologically grounded theories on the often misinterpreted perspective that biology determines our fate, derails free will, and erases the soul. But a look at systems other than the human mind makes it transparently clear that the argument from biological endowment does not entail any of these false inferences.
For example, we now understand that our immune systems don't learn from the environment how to tune up to the relevant problems. Rather, we are equipped with a full repertoire of antibodies to deal with a virtually limitless variety of problems, including some that have not yet even emerged in the history of life on earth. This initially seems counter-intuitive: how could the immune system have evolved to predict the kinds of problems we might face? The answer is that it couldn't.
What it evolved instead was a set of molecular computations that, in combination with each other, can handle an infinitely larger set of conditions than any single combination on its own. The role of the environment is as instructor, functionally telling the immune system about the current conditions, resulting in a process of pairing down of initial starting options.
The pattern of change observed in the immune system, characterized by an initial set of universal computations or options followed by an instructive process of pruning, is seen in systems as disparate as the genetic mechanisms underlying segmented body parts in vertebrates, the basic body plan of land plants involving the shoot system of stem and leaves, and song development in birds. Songbirds are particularly interesting as the system for generating a song seems to be analogous in important ways to our capacity to generate a specific language. Humans and songbirds start with a species-specific capacity to build language and song respectively, and this capacity has limitless expressive power. Upon delivery and hatching, and possibly a bit before, the local acoustic environment begins the process of instruction, pruning the possible languages and songs down to one or possibly two. The common thread here is a starting state of universal computations or options followed by an instructive process of pruning, ending up with distinctive systems that share an underlying common core. Hard to see how anyone could find this proposal dangerous or off-putting, or even wrong!
Now jump laterally, and make the move to aesthetics and ethics. Our minds are endowed with universal computations for creating and judging art, music, and morally relevant actions. Depending upon where we are born, we will find atonal music pleasing or disgusting, and infanticide obligatory or abhorrent. The common or universal core is, for music, a set of rules for combining together notes to alter our emotions, and for morality, a different set of rules for combining the causes and consequences of action to alter our permissibility judgments.
To say that we are endowed with a universal moral sense is not to say that we will do the right or wrong thing, with any consistency. The idea that there is a moral faculty, grounded in our biology, says nothing at all about the good, the bad or the ugly. What it says is that we have evolved particular biases, designed as a function of selection for particular kinds of fit to the environment, under particular constraints. But nothing about this claim leads to the good or the right or the permissible.
The reason this has to be the case is twofold: there is not only cultural variation but environmental variation over evolutionary time. What is good for us today may not be good for us tomorrow. But the key insight delivered by the nativist perspective is that we must understand the nature of our biases in order to work toward some good or better world, realizing all along that we are constrained. Appreciating the choreography between universal options and instructive pruning is only dangerous if misused to argue that our evolved nature is good, and what is good is right. That's bad.
---
RAY KURZWEIL
Inventor and Technologist; Author, The Singularity Is Near: When Humans Transcend Biology


The near-term inevitability of radical life extension and expansion
My dangerous idea is the near-term inevitability of radical life extension and expansion. The idea is dangerous, however, only when contemplated from current linear perspectives.
First the inevitability: the power of information technologies is doubling each year, and moreover comprises areas beyond computation, most notably our knowledge of biology and of our own intelligence. It took 15 years to sequence HIV and from that perspective the genome project seemed impossible in 1990. But the amount of genetic data we were able to sequence doubled every year while the cost came down by half each year.
We finished the genome project on schedule and were able to sequence SARS in only 31 days. We are also gaining the means to reprogram the ancient information processes underlying biology. RNA interference can turn genes off by blocking the messenger RNA that express them. New forms of gene therapy are now able to place new genetic information in the right place on the right chromosome. We can create or block enzymes, the work horses of biology. We are reverse-engineering — and gaining the means to reprogram — the information processes underlying disease and aging, and this process is accelerating, doubling every year. If we think linearly, then the idea of turning off all disease and aging processes appears far off into the future just as the genome project did in 1990. On the other hand, if we factor in the doubling of the power of these technologies each year, the prospect of radical life extension is only a couple of decades away.
In addition to reprogramming biology, we will be able to go substantially beyond biology with nanotechnology in the form of computerized nanobots in the bloodstream. If the idea of programmable devices the size of blood cells performing therapeutic functions in the bloodstream sounds like far off science fiction, I would point out that we are doing this already in animals. One scientist cured type I diabetes in rats with blood cell sized devices containing 7 nanometer pores that let insulin out in a controlled fashion and that block antibodies. If we factor in the exponential advance of computation and communication (price-performance multiplying by a factor of a billion in 25 years while at the same time shrinking in size by a factor of thousands), these scenarios are highly realistic.
The apparent dangers are not real while unapparent dangers are real. The apparent dangers are that a dramatic reduction in the death rate will create over population and thereby strain energy and other resources while exacerbating environmental degradation. However we only need to capture 1 percent of 1 percent of the sunlight to meet all of our energy needs (3 percent of 1 percent by 2025) and nanoengineered solar panels and fuel cells will be able to do this, thereby meeting all of our energy needs in the late 2020s with clean and renewable methods. Molecular nanoassembly devices will be able to manufacture a wide range of products, just about everything we need, with inexpensive tabletop devices. The power and price-performance of these systems will double each year, much faster than the doubling rate of the biological population. As a result, poverty and pollution will decline and ultimately vanish despite growth of the biological population.
There are real downsides, however, and this is not a utopian vision. We have a new existential threat today in the potential of a bioterrorist to engineer a new biological virus. We actually do have the knowledge to combat this problem (for example, new vaccine technologies and RNA interference which has been shown capable of destroying arbitrary biological viruses), but it will be a race. We will have similar issues with the feasibility of self-replicating nanotechnology in the late 2020s. Containing these perils while we harvest the promise is arguably the most important issue we face.
Some people see these prospects as dangerous because they threaten their view of what it means to be human. There is a fundamental philosophical divide here. In my view, it is not our limitations that define our humanity. Rather, we are the species that seeks and succeeds in going beyond our limitations.
---
HAIM HARARI
Physicist, former President, Weizmann Institute of Science


Democracy may be on its way out
Democracy may be on its way out. Future historians may determine that Democracy will have been a one-century episode. It will disappear. This is a sad, truly dangerous, but very realistic idea (or, rather, prediction).
Falling boundaries between countries, cross border commerce, merging economies, instant global flow of information and numerous other features of our modern society, all lead to multinational structures. If you extrapolate this irreversible trend, you get the entire planet becoming one political unit. But in this unit, anti-democracy forces are now a clear majority. This majority increases by the day, due to demographic patterns. All democratic nations have slow, vanishing or negative population growth, while all anti-democratic and uneducated societies multiply fast. Within democratic countries, most well-educated families remain small while the least educated families are growing fast. This means that, both at the individual level and at the national level, the more people you represent, the less economic power you have. In a knowledge based economy, in which the number of working hands is less important, this situation is much more non-democratic than in the industrial age. As long as upward mobility of individuals and nations could neutralize this phenomenon, democracy was tenable. But when we apply this analysis to the entire planet, as it evolves now, we see that democracy may be doomed.
To these we must add the regrettable fact that authoritarian multinational corporations, by and large, are better managed than democratic nation states. Religious preaching, TV sound bites, cross boundary TV incitement and the freedom of spreading rumors and lies through the internet encourage brainwashing and lack of rational thinking. Proportionately, more young women are growing into societies which discriminate against them than into more egalitarian societies, increasing the worldwide percentage of women treated as second class citizens. Educational systems in most advanced countries are in a deep crisis while modern education in many developing countries is almost non-existent. A small well-educated technological elite is becoming the main owner of intellectual property, which is, by far, the most valuable economic asset, while the rest of the world drifts towards fanaticism of one kind or another. Add all of the above and the unavoidable conclusion is that Democracy, our least bad system of government, is on its way out.
Can we invent a better new system? Perhaps. But this cannot happen if we are not allowed to utter the sentence: "There may be a political system which is better than Democracy". Today's political correctness does not allow one to say such things. The result of this prohibition will be an inevitable return to some kind of totalitarian rule, different from that of the emperors, the colonialists or the landlords of the past, but not more just. On the other hand, open and honest thinking about this issue may lead either to a gigantic worldwide revolution in educating the poor masses, thus saving democracy, or to a careful search for a just (repeat, just) and better system.

I cannot resist a cheap parting shot: When, in the past two years, Edge asked for brilliant ideas you believe in but cannot prove, or for proposing new exciting laws, most answers related to science and technology. When the question is now about dangerous ideas, almost all answers touch on issues of politics and society and not on the "hard sciences". Perhaps science is not so dangerous, after all.
---
DAVID G. MYERS
Social Psychologist; Co-author (with Letha Scanzoni); What God has Joined Together: A Christian Case for Gay Marriage


A marriage option for all
Much as others have felt compelled by evidence to believe in human evolution or the warming of the planet, I feel compelled by evidence to believe a) that sexual orientation is a natural, enduring disposition and b) that the world would be a happier and healthier place if, for all people, romantic love, sex, and marriage were a package.
In my Midwestern social and religious culture, the words "for all people" transform a conservative platitude into a dangerous idea, over which we are fighting a culture war. On one side are traditionalists, who feel passionately about the need to support and renew marriage. On the other side are progressives, who assume that our sexual orientation is something we did not choose and cannot change, and that we all deserve the option of life within a covenant partnership.
I foresee a bridge across this divide as folks on both the left and the right engage the growing evidence of our panhuman longing for belonging, of the benefits of marriage, and of the biology and persistence of sexual orientation. We now have lots of data showing that marriage is conducive to healthy adults, thriving children, and flourishing communities. We also have a dozen discoveries of gay-straight differences in everything from brain physiology to skill at mentally rotating geometric figures. And we have an emerging professional consensus that sexual reorientation therapies seldom work.
More and more young adults — tomorrow's likely majority, given generational succession — are coming to understand this evidence, and to support what in the future will not seem so dangerous: a marriage option for all.
---
CLAY SHIRKY
Social & Technology Network Topology Researcher; Adjunct Professor, NYU Graduate School of Interactive Telecommunications Program (ITP)


Free will is going away. Time to redesign society to take that into account.
In 2002, a group of teenagers sued McDonald's for making them fat, charging, among other things, that McDonald's used promotional techniques to get them to eat more than they should. The suit was roundly condemned as an the erosion of the sense of free will and personal responsibility in our society. Less widely remarked upon was that the teenagers were offering an accurate account of human behavior.
Consider the phenomenon of 'super-sizing', where a restaurant patron is offered the chance to increase the portion size of their meal for some small amount of money. This presents a curious problem for the concept of free will — the patron has already made a calculation about the amount of money they are willing to pay in return for a particular amount of food. However, when the question is re-asked, — not "Would you pay $5.79 for this total amount of food?" but "Would you pay an additional 30 cents for more french fries?" — patrons often say yes, despite having answered "No" moments before to an economically identical question.
Super-sizing is expressly designed to subvert conscious judgment, and it works. By re-framing the question, fast food companies have found ways to take advantages of weaknesses in our analytical apparatus, weaknesses that are being documented daily in behavioral economics and evolutionary psychology.
This matters for more than just fat teenagers. Our legal, political, and economic systems, the mechanisms that run modern society, all assume that people are uniformly capable of consciously modulating their behaviors. As a result, we regard decisions they make as being valid, as with elections, and hold them responsible for actions they take, as in contract law or criminal trials. Then, in order to get around the fact that some people obviously aren't capable of consciously modulating their behavior, we carve out ad hoc exemptions. In U.S. criminal law, a 15 year old who commits a crime is treated differently than a 16 year old. A crime committed in the heat of the moment is treated specially. Some actions are not crimes because their perpetrator is judged mentally incapable, whether through developmental disabilities or other forms of legally defined insanity.
This theoretical divide, between the mass of people with a uniform amount of free will and a small set of exceptional individuals, has been broadly stable for centuries, in part because it was based on ignorance. As long as we were unable to locate any biological source of free will, treating the mass of people as if each of them had the same degree of control over their lives made perfect sense; no more refined judgments were possible. However, that binary notion of free will is being eroded as our understanding of the biological antecedents of behavior improves.
Consider laws concerning convicted pedophiles. Concern about their recidivism rate has led to the enactment of laws that restrict their freedom based on things they might do in the future, even though this expressly subverts the notion of free will in the judicial system. The formula here — heinousness of crime x likelihood of repeat offense — creates a new, non-insane class of criminals whose penalty is indexed to a perceived lack of control over themselves.
But pedophilia is not unique in it's measurably high recidivism rate. All rapists have higher than average recidivism rates. Thieves of all varieties are likelier to become repeat offenders if they have short time horizons or poor impulse control. Will we keep more kinds of criminals constrained after their formal sentence is served, as we become better able to measure the likely degree of control they have over their own future actions? How can we, if we are to preserve the idea of personal responsibility? How can we not, once we are able to quantify the risk?
Criminal law is just one area where our concept of free will is eroding. We know that men make more aggressive decisions after they have been shown pictures of attractive female faces. We know women are more likely to commit infidelity on days they are fertile. We know that patients committing involuntary physical actions routinely (and incorrectly) report that they decided to undertake those actions, in order to preserve their sense that they are in control. We know that people will drive across town to save $10 on a $50 appliance, but not on a $25,000 car. We know that the design of the ballot affects a voter's choices. And we are still in the early days of even understanding these effects, much less designing everything from sales strategies to drug compounds to target them.
Conscious self-modulation of behavior is a spectrum. We have treated it as a single property — you are either capable of free will, or you fall into an exceptional category — because we could not identify, measure, or manipulate the various components that go into such self-modulation. Those days are now ending, and everyone from advertisers to political consultants increasingly understands, in voluminous biological detail, how to manipulate consciousness in ways that weaken our notion of free will.
In the coming decades, our concept of free will, based as it is on ignorance of its actual mechanisms, will be destroyed by what we learn about the actual workings of the brain. We can wait for that collision, and decide what to do then, or we can begin thinking through what sort of legal, political, and economic systems we need in a world where our old conception of free will is rendered inoperable.
---
MICHAEL SHERMER
Publisher of Skeptic magazine, monthly columnist for Scientific American; Author, Science Friction


Where goods cross frontiers, armies won't

Where goods cross frontiers, armies won't. Restated: where economic borders are porous between two nations, political borders become impervious to armies.
Data from the new sciences of evolutionary economics, behavioral economics, and neuroeconomics reveals that when people are free to cooperate and trade (such as in game theory protocols) they establish trust that is reinforced through neural pathways that release such bonding hormones as oxytocin. Thus, modern biology reveals that where people are free to cooperate and trade they are less likely to fight and kill those with whom they are cooperating and trading.
My dangerous idea is a solution to what I call the "really hard problem": how best should we live? My answer: A free society, defined as free-market economics and democratic politics — fiscal conservatism and social liberalism — which leads to the greatest liberty for the greatest number. Since humans are, by nature, tribal, the overall goal is to expand the concept of the tribe to include all members of the species into a global free society. Free trade between all peoples is the surest way to reach this goal.
People have a hard time accepting free market economics for the same reason they have a hard time accepting evolution: it is counterintuitive. Life looks intelligently designed, so our natural inclination is to infer that there must be an intelligent designer — a God. Similarly, the economy looks designed, so our natural inclination is to infer that we need a designer — a Government. In fact, emergence and complexity theory explains how the principles of self-organization and emergence cause complex systems to arise from simple systems without a top-down designer.
Charles Darwin's natural selection is Adam Smith's invisible hand. Darwin showed how complex design and ecological balance were unintended consequences of individual competition among organisms. Smith showed how national wealth and social harmony were unintended consequences of individual competition among people. Nature's economy mirrors society's economy. Thus, integrating evolution and economics — what I call evonomics — reveals that an old economic doctrine is supported by modern biology.
---
ARNOLD TREHUB
Psychologist, University of Massachusetts, Amherst; Author, The Cognitive Brain


Modern science is a product of biology
The entire conceptual edifice of modern science is a product of biology. Even the most basic and profound ideas of science — think relativity, quantum theory, the theory of evolution — are generated and necessarily limited by the particular capacities of our human biology. This implies that the content and scope of scientific knowledge is not open-ended.
---
ROGER C. SCHANK
Psychologist & Computer Scientist; Chief Learning Officer, Trump University; Author, Making Minds Less Well Educated than Our Own




No More Teacher's Dirty Looks
After a natural disaster, the newscasters eventually excitedly announce that school is finally open so no matter what else is terrible where they live, the kids are going to school. I always feel sorry for the poor kids.
My dangerous idea is one that most people immediately reject without giving it serious thought: school is bad for kids — it makes them unhappy and as tests show — they don't learn much.
When you listen to children talk about school you easily discover what they are thinking about in school: who likes them, who is being mean to them, how to improve their social ranking, how to get the teacher to treat them well and give them good grades.
Schools are structured today in much the same way as they have been for hundreds of years. And for hundreds of years philosophers and others have pointed out that school is really a bad idea:
We are shut up in schools and college recitation rooms for ten or fifteen years, and come out at last with a belly full of words and do not know a thing. — Ralph Waldo Emerson

Education is an admirable thing, but it is well to remember from time to time that nothing that is worth knowing can be taught. — Oscar Wilde
Schools should simply cease to exist as we know them. The Government needs to get out of the education business and stop thinking it knows what children should know and then testing them constantly to see if they regurgitate whatever they have just been spoon fed.
The Government is and always has been the problem in education:
If the government would make up its mind to require for every child a good education, it might save itself the trouble of providing one. It might leave to parents to obtain the education where and how they pleased, and content itself with helping to pay the school fees of the poorer classes of children, and defraying the entire school expenses of those who have no one else to pay for them. — JS Mill

First, God created idiots. That was just for practice. Then He created school boards. — Mark Twain
Schools need to be replaced by safe places where children can go to learn how to do things that they are interested in learning how to do. Their interests should guide their learning. The government's role should be to create places that are attractive to children and would cause them to want to go there.
Whence it comes to pass, that for not having chosen the right course, we often take very great pains, and consume a good part of our time in training up children to things, for which, by their natural constitution, they are totally unfit. — Montaigne
We had a President many years ago who understood what education is really for. Nowadays we have ones that make speeches about the Pythagorean Theorem when we are quite sure they don't know anything about any theorem.
There are two types of education. . . One should teach us how to make a living, And the other how to live. — John Adams
Over a million students have opted out of the existing school system and are now being home schooled. The problem is that the states regulate home schooling and home schooling still looks an awful lot like school.
We need to stop producing a nation of stressed out students who learn how to please the teacher instead of pleasing themselves. We need to produce adults who love learning, not adults who avoid all learning because it reminds them of the horrors of school. We need to stop thinking that all children need to learn the same stuff. We need to create adults who can think for themselves and are not convinced about how to understand complex situations in simplistic terms that can be rendered in a sound bite.
Just call school off. Turn them all into apartment houses.
---
SUSAN BLACKMORE
Psychologist and Skeptic; Author, Consciousness: An Introduction



Everything is pointless
We humans can, and do, make up our own purposes, but ultimately the universe has none. All the wonderfully complex, and beautifully designed things we see around us were built by the same purposeless process — evolution by natural selection. This includes everything from microbes and elephants to skyscrapers and computers, and even our own inner selves.
People have (mostly) got used to the idea that living things were designed by natural selection, but they have more trouble accepting that human creativity is just the same process operating on memes instead of genes. It seems, they think, to take away uniqueness, individuality and "true creativity".
Of course it does nothing of the kind; each person is unique even if that uniqueness is explained by their particular combination of genes, memes and environment, rather than by an inner conscious self who is the fount of creativity.
---
DAVID LYKKEN
Behavioral geneticist and Emeritus Professor of Psychology, University of Minnesota; Author, Happiness




Laws requiring parental licensure
I believe that, during my grandchildren's lifetimes, the U.S. Supreme Court will find a way to approve laws requiring parental licensure.
Traditional societies in which children are socialized collectively, the method to which our species is evolutionarily adapted, have very little crime. In the modern U.S., the proportion of fatherless children, living with unmarried mothers, currently some 10 million in all, has increased more than 400% since 1960 while the violent crime rate rose 500% by 1994, before dipping slightly due to a delayed but equal increase in the number of prison inmates (from 240,000 to 1.4 million.) In 1990, across the 50 States, the correlation between the violent crime rate and the proportion of illegitimate births was 0.70.

About 70% of incarcerated delinquents, of teen-age pregnancies, of adolescent runaways, involve (I think result from) fatherless rearing. Because these frightening curves continue to accelerate, I believe we must eventually confront the need for parental licensure — you can't keep that newborn unless you are 21, married and self-supporting — not just for society's safety but so those babies will have a chance for life, liberty, and the pursuit of happiness.
---
CLIFFORD PICKOVER
Author, Sex, Drugs, Einstein, and Elves




We are all virtual

Our desire for entertaining virtual realities is increasing. As our understanding of the human brain also accelerates, we will create both imagined realities and a set of memories to support these simulacrums. For example, someday it will be possible to simulate your visit to the Middle Ages and, to make the experience realistic, we may wish to ensure that you believe yourself to actually be in the Middle Ages. False memories may be implanted, temporarily overriding your real memories. This should be easy to do in the future — given that we can already coax the mind to create richly detailed virtual worlds filled with ornate palaces and strange beings through the use of the drug DMT (dimethyltryptamine). In other words, the brains of people who take DMT appear to access a treasure chest of images and experience that typically include jeweled cities and temples, angelic beings, feline shapes, serpents, and shiny metals. When we understand the brain better, we will be able to safely generate more controlled visions.

Our brains are also capable of simulating complex worlds when we dream. For example, after I watched a movie about people on a coastal town during the time of the Renaissance, I was "transported" there later that night while in a dream. The mental simulation of the Renaissance did not have to be perfect, and I'm sure that there were myriad flaws. However, during that dream I believed I was in the Renaissance.
If we understood the nature of how the mind induces the conviction of reality, even when strange, nonphysical events happen in the dreams, we could use this knowledge to ensure that your simulated trip to the Middle Ages seemed utterly real, even if the simulation was imperfect. It will be easy to create seemingly realistic virtual realities because we don't have to be perfect or even good with respect to the accuracy of our simulations in order to make them seem real. After all, our nightly dreams usually seem quite real even if upon awakening we realize that logical or structural inconsistencies existed in the dream.

In the future, for each of your own real lives, you will personally create ten simulated lives. Your day job is a computer programmer for IBM. However, after work, you'll be a knight with shining armor in the Middle Ages, attending lavish banquets, and smiling at wandering minstrels and beautiful princesses. The next night, you'll be in the Renaissance, living in your home on the Amalfi coast of Italy, enjoying a dinner of plover, pigeon, and heron.

If this ratio of one real life to ten simulated lives turned out to be representative of human experience, this means that right now, you only have a one in ten chance of being alive on the actual date of today.
---
JOHN ALLEN PAULOS
Professor of Mathematics, Temple University, Philadelphia; Author, A Mathematician Plays the Stock Market









The self is a conceptual chimera

Doubt that a supernatural being exists is banal, but the more radical doubt that we exist, at least as anything more than nominal, marginally integrated entities having convenient labels like "Myrtle" and "Oscar," is my candidate for Dangerous Idea. This is, of course, Hume's idea — and Buddha's as well — that the self is an ever-changing collection of beliefs, perceptions, and attitudes, that it is not an essential and persistent entity, but rather a conceptual chimera. If this belief ever became widely and viscerally felt throughout a society — whether because of advances in neurobiology, cognitive science, philosophical insights, or whatever — its effects on that society would be incalculable. (Or so this assemblage of beliefs, perceptions, and attitudes sometimes thinks.)
---
JAMES O'DONNELL
Classicist; Cultural Historian; Provost, Georgetown University; Author, Avatars of the Word


Marx was right: the "state" will evaporate and cease to have useful meaning as a form of human organization
From the earliest Babylonian and Chinese moments of "civilization", we have agreed that human affairs depend on an organizing power in the hands of a few people (usually with religious charisma to undergird their authority) who reside in a functionally central location. "Political science" assumes in its etymology the "polis" or city-state of Greece as the model for community and government.
But it is remarkable how little of human excellence and achievement has ever taken place in capital cities and around those elites, whose cultural history is one of self-mockery and implicit acceptance of the marginalization of the powerful. Borderlands and frontiers (and even suburbs) are where the action is.
But as long as technologies of transportation and military force emphasized geographic centralization and concentration of forces, the general or emperor or president in his capital with armies at his beck and call was the most obvious focus of power. Enlightened government constructed mechanisms to restrain and channel such centralized authority, but did not effectively challenge it.
So what advantage is there today to the nation state? Boundaries between states enshrine and exacerbate inequalities and prevent the free movement of peoples. Large and prosperous state and state-related organizations and locations attract the envy and hostility of others and are sitting duck targets for terrorist action. Technologies of communication and transportation now make geographically-defined communities increasingly irrelevant and provide the new elites and new entrepreneurs with ample opportunity to stand outside them. Economies construct themselves in spite of state management and money flees taxation as relentlessly as water follows gravity.
Who will undergo the greatest destabilization as the state evaporates and its artificial protections and obstacles disappear? The sooner it happens, the more likely it is to be the United States. The longer it takes ... well, perhaps the new Chinese empire isn't quite the landscape-dominating leviathan of the future that it wants to be. Perhaps in the end it will be Mao who was right, and a hundred flowers will bloom there.
---
PHILIP ZIMBARDO
Professor Emeritus of Psychology at Stanford University; Author: Shyness


The banality of evil is matched by the banality of heroism

Those people who become perpetrators of evil deeds and those who become perpetrators of heroic deeds are basically alike in being just ordinary, average people.
The banality of evil is matched by the banality of heroism. Both are not the consequence of dispositional tendencies, not special inner attributes of pathology or goodness residing within the human psyche or the human genome. Both emerge in particular situations at particular times when situational forces play a compelling role in moving individuals across the decisional line from inaction to action.
There is a decisive decisional moment when the individual is caught up in a vector of forces emanating from the behavioral context. Those forces combine to increase the probability of acting to harm others or acting to help others. That decision may not be consciously planned or taken mindfully, but impulsively driven by strong situational forces external to the person. Among those action vectors are group pressures and group identity, diffusion of responsibility, temporal focus on the immediate moment without entertaining costs and benefits in the future, among others.
The military police guards who abused prisoners at Abu Ghraib and the prison guards in my Stanford Prison experiment who abused their prisoners illustrate the "Lord of the Flies" temporary transition of ordinary individuals into perpetrators of evil. We set aside those whose evil behavior is enduring and extensive, such as tyrants like Idi Amin, Stalin and Hitler. Heroes of the moment are also contrasted with lifetime heroes.
The heroic action of Rosa Parks in a Southern bus, of Joe Darby in exposing the Abu Ghraib tortures, of NYC firefighters at the World Trade Center's disaster are acts of bravery at that time and place. The heroism of Mother Teresa, Nelson Mandela, and Gandhi is replete with valorous acts repeated over a lifetime. That chronic heroism is to acute heroism as valour is to bravery.
This view implies that any of us could as easily become heroes as perpetrators of evil depending on how we are impacted by situational forces. We then want to discover how to limit, constrain, and prevent those situational and systemic forces that propel some of us toward social pathology.
It is equally important for our society to foster the heroic imagination in our citizens by conveying the message that anyone is a hero-in-waiting who will be counted upon to do the right thing when the time comes to make the heroic decision to act to help or to act to prevent harm.
---
RICHARD FOREMAN
Founder & Director, Ontological-Hysteric Theater




Radicalized relativity
In my area of the arts and humanities, the most dangerous idea (and the one under who's influence I have operated throughout my artistic life) is the complete relativity of all positions and styles of procedure. The notion that there are no "absolutes" in art — and in the modern era, each valuable effort has been, in one way or another, the highlighting and glorification of elements previous "off limits" and rejected by the previous "classical" style.
Such a continual "reversal of values" has of course delivered us into the current post-post modern era, in which fragmentation, surface value and the complex weave of "sampling procedure" dominate, and "the center does not hold".
I realize that my own artistic efforts have, in a small way, contributed to the current aesthetic/emotional environment in which the potential spiritual depth and complexity of evolved human consciousness is trumped by the bedazzling shuffle of the shards of inherited elements — never before as available to the collective consciousness. The resultant orientation towards "cultural relativity" in the arts certainly comes in part from the psychic re-orientation resulting from Einstein's bombshell dropped at the beginning of the last century.
This current "relativity" of all artistic, philosophical, and psychological values leaves the culture adrift, and yet there is no "going back" in spite of what conservative thinkers often recommend.
At the very moment of our cultural origin, we were warned against "eating from the tree of knowledge". Down through subsequent history, one thing has led to another, until now — here we are, sinking into the quicksand of the ever-accelerating reversal of each latest value (or artistic style). And yet — there are many artists, like myself, committed to the believe that — having been "thrown by history" into the dangerous trajectory initiated by the inaugural "eating from the tree of knowledge" (a perhaps "fatal curiosity" programmed into our genes) the only escape possible is to treat the quicksand of the present as a metaphorical "black hole" through which we must pass — indeed risking psychic destruction (or "banalization") — for the promise of emerging re-made, in new still unimaginable form, on the other side.
This is the "heroic wager" the serious "experimental" artist makes in living through the dangerous idea of radicalized relativity. It is ironic, of course, that many of our greatest scientists (not all of course) have little patience for the adventurous art of our times (post Stockhausen/Boulez music, post Joyce/ Mallarme literature) and seem to believe that a return to a safer "audience friendly" classical style is the only responsible method for today's artists.
Do they perhaps feel psychologically threatened by advanced styles that supercede previous principals of coherence? They are right to feel threatened by such dangerous advances into territory for which conscious sensibility if not yet fully prepared. Yet it is time for all serious minds to "bite the bullet" of such forays into the unknown world in which the dangerous quest for deeper knowledge leads scientist and artist alike.
---
JOHN GOTTMAN
Psychologist; Founder of Gottman Institute; Author, The Mathematics of Marriage


Emotional intelligence
The most dangerous idea I know of is emotional intelligence. Within the context of the cognitive neuroscience revolution in psychology, the focus on emotions is extraordinary. The over-arching idea that there is such a thing as emotional intelligence, that it has a neuroscience, that it is inter-personal, i.e., between two brains, rather than within one brain, are all quite revolutionary concepts about human psychology. I could go on. It is also a revolution in thinking about infancy, couples, family, adult development, aging, etc.
---
PIET HUT
Professor of Astrophysics, Institute for Advanced Study, Princeton


A radical reevaluuation of the character of time
Copernicus and Darwin took away our traditional place in the world and our traditional identity in the world. What traditional trait will be taken away from us next? My guess is that it will be the world itself.
We see the first few steps in that direction in the physics, mathematics and computer science of the twentieth century, from quantum mechanics to the results obtained by Gödel, Turing and others. The ontologies of our worlds, concrete as well as abstract, have already started to melt away.
The problem is that quantum entanglement and logical incompleteness lack the in-your-face quality of a spinning earth and our kinship with apes. We will have to wait for the ontology of the traditional world to unravel further, before the avant-garde insights will turn into a real revolution.
Copernicus upset the moral order, by dissolving the strict distinction between heaven and earth. Darwin did the same, by dissolving the strict distinction between humans and other animals. Could the next step be the dissolution of the strict distinction between reality and fiction?
For this to be shocking, it has to come in a scientifically respectable way, as a very precise and inescapable conclusion — it should have the technical strength of a body of knowledge like quantum mechanics, as opposed to collections of opinions on the level of cultural relativism.
Perhaps a radical reevaluation of the character of time will do it. In everyday experience, time flows, and we flow with it. In classical physics, time is frozen as part of a frozen spacetime picture. And there is, as yet, no agreed-upon interpretation of time in quantum mechanics.
What if a future scientific understanding of time would show all previous pictures to be wrong, and demonstrate that past and future and even the present do not exist? That stories woven around our individual personal history and future are all just wrong? Now that would be a dangerous idea.
---
DAN SPERBER
Social and cognitive scientist, CNRS, Paris; author, Explaining Culture




Culture is natural

A number of us — biologists, cognitive scientists, anthropologists or philosophers — have been trying to lay down the foundations for a truly naturalistic approach to culture. Sociobiologists and cultural ecologists have explored the idea that cultural behaviors are biological adaptations to be explained in terms of natural selection. Memeticists inspired by Richard Dawkins argue that cultural evolution is an autonomous Darwinian selection process merely enabled but not governed by biological evolution.
Evolutionary psychologists, Cavalli-Sforza, Feldman, Boyd and Richerson, and I are among those who, in different ways, argue for more complex interactions between biology and culture. These naturalistic approaches have been received not just with intellectual objections, but also with moral and political outrage: this is a dangerous idea, to be strenuously resisted, for it threatens humanistic values and sound social sciences.

When I am called a "reductionist", I take it as a misplaced compliment: a genuine reduction is a great scientific achievement, but, too bad, the naturalistic study of culture I advocate does not to reduce to that of biology or of psychology. When I am called a "positivist" (an insult among postmodernists), I acknowledge without any sense of guilt or inadequacy that indeed I don't believe that all facts are socially constructed. On the whole, having one's ideas described as "dangerous" is flattering.
Dangerous ideas are potentially important. Braving insults and misrepresentations in defending these ideas is noble. Many advocates of naturalistic approaches to culture see themselves as a group of free-thinking, deep-probing scholars besieged by bigots.
But wait a minute! Naturalistic approaches can be dangerous: after all, they have been. The use of biological evidence and arguments purported to show that there are profound natural inequalities among human "races", ethnic groups, or between women and men is only too well represented in the history of our disciplines. It is not good enough for us to point out (rightly) that 1) the science involved is bad science,
2) even if some natural inequality were established, it would not come near justifying any inequality in rights, and 3) postmodernists criticizing naturalism on political grounds should begin by rejecting Heidegger and other reactionaries in their pantheon who also have been accomplices of policies of discrimination. This is not enough because the racist and sexist uses of naturalism are not exactly unfortunate accidents.
Species evolve because of genetic differences among their members; therefore you cannot leave biological difference out of a biological approach. Luckily, it so happens that biological differences among humans are minor and don't produce sub-species or "races," and that human sexual dimorphism is relatively limited. In particular, all humans have mind/brains made up of the same mechanisms, with just fine-tuning differences. (Think how very different all this would be if — however improbably — Neanderthals had survived and developed culturally like we did so that there really were different human "races").
Given what anthropologists have long called "the psychic unity of the human kind", the fundamental goal for a naturalistic approach is to explain how a common human nature — and not biological differences among humans — gives rise to such a diversity of languages, cultures, social organizations. Given the real and present danger of distortion and exploitation, it must be part of our agenda to take responsibility for the way this approach is understood by a wider public.
This, happily, has been done by a number of outstanding authors capable of explaining serious science to lay audiences, and who typically have made the effort of warning their readers against misuses of biology. So the danger is being averted, and let's just move on? No, we are not there yet, because the very necessity of popularizing the naturalistic approach and the very talent with which this is being done creates a new danger, that of arrogance.
We naturalists do have radical objections to what Leda Cosmides and John Tooby have called the "Standard Social Science Model." We have many insightful hypotheses and even some relevant data. The truth of the matter however is that naturalistic approaches to culture have so far remained speculative, hardly beginning to throw light on just fragments of the extraordinarily wide range of detailed evidence accumulated by historians, anthropologists, sociologists and others. Many of those who find our ideas dangerous fear what they see as an imperialistic bid to take over their domain.
The bid would be unrealistic, and so is the fear. The real risk is different. The social sciences host a variety of approaches, which, with a few high profile exceptions, all contribute to our understanding of the domain. Even if it involves some reshuffling, a naturalistic approach should be seen as a particularly welcome and important addition. But naturalists full of grand claims and promises but with little interest in the competence accumulated by others are, if not exactly dangerous, at least much less useful than they should be, and the deeper challenge they present to social scientists' mental habits is less likely to be properly met.
---
MARTIN E.P. SELIGMAN
Psychologist, University of Pennsylvania, Author, Authentic Happiness


Relativism
In looking back over the scientific and artistic breakthroughs in the 20th century, there is a view that the great minds relativized the absolute. Did this go too far? Has relativism gotten to a point that it is dangerous to the scientific enterprise and to human well being?

The most visible person to say this is none other than Pope Benedict XVI in his denunciations of the "dictatorship of the relative." But worries about relativism are not only a matter of dispute in theology; there are parallel dissenters from the relative in science, in philosophy, in ethics, in mathematics, in anthropology, in sociology, in the humanities, in childrearing, and in evolutionary biology.

Here are some of the domains in which serious thinkers have worried about the overdoing of relativism:
• In philosophy of science, there is ongoing tension between the Kuhnians (science is about "paradigms," the fashions of the current discipline) and the realists (science is about finding the truth).

• In epistemology there is the dispute between the Tarskian correspondence theorists ("p" is true if p) versus two relativistic camps, the coherence theorists ("p" is true to the extent it coheres with what you already believe is true) and the pragmatic theory of truth ("p" is true if it gets you where you want to go).

• At the ethics/science interface, there is the fact/value dispute: that science must and should incorporate the values of the culture in which it arises versus the contention that science is and should be value free.

• In mathematics, Gödel's incompleteness proof was widely interpreted as showing that mathematics is relative; but Gödel, a Platonist, intended the proof to support the view that there are statements that could not be proved within the system that are true nevertheless. Einstein, similarly, believed that the theory of relativity was misconstrued in just the same way by the "man is the measure of all things" relativists.

• In the sociology of high accomplishment, Charles Murray (Human Accomplishment) documents that the highest accomplishments occur in cultures that believe in absolute truth, beauty, and goodness. The accomplishments, he contends, of cultures that do not believe in absolute beauty tend to be ugly, that do not belief in absolute goodness tend to be immoral, and that do not believe in absolute truth tend to be false.

• In anthropology, pre-Boasians believed that cultures were hierarchically ordered into savage, barbarian, and civilized, whereas much of modern anthropology holds that all social forms are equal. This is the intellectual basis of the sweeping cultural relativism that dominates the humanities in academia.

• In evolution, Robert Wright (like Aristotle) argues for a scala naturae, with the direction of evolution favoring complexity by its invisible hand; whereas Stephen Jay Gould argued that the fern is just as highly evolved as Homo sapiens. Does evolution have an absolute direction and are humans further along that trajectory than ferns?

• In child-rearing, much of twentieth century education was profoundly influenced by the "Summerhillians" who argued complete freedom produced the best children, whereas other schools of parenting, education, and therapy argue for disciplined, authoritative guidance.

• Even in literature, arguments over what should go into the canon revolve around the absolute-relative controversy.

• Ethical relativism and its opponents are all too obvious instances of this issue
I do not know if the dilemmas in these domains are only metaphorically parallel to one another. I do not know if illumination in one domain will not illuminate the others. But it might and it is just possible that the great minds of the twenty-first century will absolutize the relative.
---
HOWARD GARDNER
Psychologist, Harvard University; Author, Changing Minds


Following Sisyphus, not Pandora

According to myth, Pandora unleashed all evils upon the world; only hope remained inside the box. Hope for human survival and progress rests on two assumptions: (1) Human constructive tendencies can counter human destructive tendencies, and (2) Human beings can act on the basis of long-term considerations, rather than merely short-term needs and desires. My personal optimism, and my years of research on "good work", could not be sustained without these assumptions.

Yet I lay awake at night with the dangerous thought that pessimists may be right. For the first time in history — as far as we know! — we humans live in a world that we could completely destroy. The human destructive tendencies described in the past by Thomas Hobbes and Sigmund Freud, the "realist" picture of human beings embraced more recently by many sociobiologists, evolutionary psychologists, and game theorists might be correct; these tendencies could overwhelm any proclivities toward altruism, protection of the environment, control of weapons of destruction, progress in human relations, or seeking to become good ancestors. As one vivid data point: there are few signs that the unprecedented power possessed by the United States is being harnessed to positive ends.

Strictly speaking, what will happen to the species or the planet is not a question for scientific study or prediction. It is a question of probabilities, based on historical and cultural considerations, as well as our most accurate description of human nature(s). Yet, science (as reflected, for example, in contributions to Edge discussions) has recently invaded this territory with its assertions of a biologically-based human moral sense. Those who assert a human moral sense are wagering that, in the end, human beings will do the right thing. Of course, human beings have the capacities to make moral judgments — that is a mere truism. But my dangerous thought is that this moral sense is up for grabs — that it can be mobilized for destructive ends (one society's terrorist is another society's freedom fighter) or overwhelmed by other senses and other motivations, such as the quest for power, instant gratification, or annihilation of one's enemies.

I will continue to do what I can to encourage good work — in that sense, Pandoran hope remains. But I will not look upon science, technology, or religion to preserve life. Instead, I will follow Albert Camus' injunction, in his portrayal of another mythic figure endlessly attempting to push a rock up a hill: one should imagine Sisyphus happy.
---