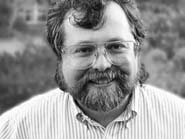 Since Myhrvold is in general forward thinking in his views, it is hard to understand his "something of a curmudgeon" stance on Java. He correctly points out that researchers in computer science periodically proclaim some new programming language as being the one which will free us all from the drudgery of actually programming computers, but by focusing on Java the language, Myhrvold may be missing what has so many people excited and why it is being embraced by the industry.
Nathan Myhrvold
The Chef
"The most interesting aspect of the Internet is none of the technology features; it's putting people in communication with one another, very broadly. Whether that's through Web sites that allow people to publish to a large audience with amazing efficiency and lower cost per unit people that you communicate with; or it's email or Chat or other means to put people in more direct two-way communication. The strength of the Internet is with what people will do with that communication capability."
Nathan Myhrvold is a bridge between the scientists of the third culture and the digerati. He is an accomplished scientist who is at the helm of Microsoft's massive research program.
What makes him very unique is that in addition to his business and scientific interests, he is a master French chef who has finished first and second in the world championship of barbecue in Memphis, Tennessee. He also works as an assistant chef at one of Seattle's leading French restaurants.
NATHAN MYHRVOLD is chief technology officer at Microsoft corporation, reporting to Microsoft CEO Bill Gates as a member of the Executive Committee. This group is responsible for the broad strategic and business planning for the entire company. He also is responsible for the Advanced Technology and Research Group, which has a budget of more than $2 billion a year. Previously he was group vice president of Applications and Content, which comprised a number of Microsoft divisions, including Desktop Applications, Consumer, Research, and Microsoft On line Systems.