DENNETT'S DEAL [6.7.99]
Daniel C. Dennett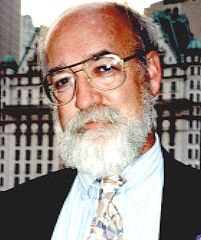 In my book, The Third Culture (1995), philosopher Daniel C. Dennett talks about his friend and colleague Nicholas Humphrey, a research psychologist.
"Nick Humphrey is a great romantic scientist," Dan noted, "which sounds like a contradiction in terms, but it isn't....It's very clear that for Nick the Shakespeare style of creativity is more enticing than the Newton style, which is an unusual attitude in a scientist."
Recently, I suggested to Dan that "Would you rather be a Shakespeare or a Newton?" might be an interesting feature for Edge's "World Question Center".
"But it's not the right question," said the feisty philosopher. Let me tell you about 'Dennett's Deal.' " .....