COMPETING FOR CONSCIOUSNESS: How Subconscious Thoughts Cook on the Backburner
A Talk by William H. Calvin [4.30.98]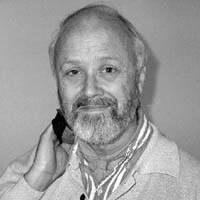 Introduction by
John Brockman
According to theoretical neuroscientist Bill Calvin, treating consciousness solely as awareness or attention greatly underestimates it, ignoring the temporary levels of organization associated with higher intellectual function. "The tasks that require consciousness," he says, "tend to be the ones that demand a lot of resources. Routine tasks can be handled on the back burner but dealing with ambiguity, groping around offline, generating creative choices, and performing precision movements may temporarily require substantial allocations of neocortex."
Recently, Calvin has proposed "a specific mechanism (consciousness as the current winner of Darwinian copying competitions in association cortex) that seems capable of encompassing the higher intellectual function aspects of consciousness as well as some of the attentional aspects. It includes features such as a coding space appropriate for analogies and a supervisory Darwinian process that can bias the operation of other Darwinian processes."
"Competing for Consciousness", derived in part from Calvin's 1996 book The Cerebral Code, is presented simultaneously on EDGE and as a plenary talk for the Tucson III consciousness forum.