Philip Zimbardo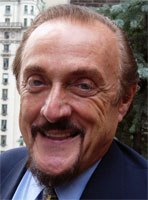 PHILIP G. ZIMBARDO has become the face of voice of modern psychology through his role as narrator and creator of the 26-programs of the PBS award-winning video series, Discovering Psychology, that continues to be shown on PBS stations throughout the country, in most High School and College Psychology courses, and in a dozen nations world wide. He has also been a frequent guest on national radio and TV programs in the United States, England, and Italy.
He is widely respected internationally as an innovative researcher, charismatic teacher, and inspirational writer, having won many awards in each of those domains. Zimbardo has published more than 350 professional articles, chapters, magazine and news articles, along with 50 text and trade books. He pioneered research and treatment of shyness in adults and authored the best selling trade book on the subject, Shyness: What it is, What to do about it that has sold a half million copies, now in its 15th printing, and translated into ten languages world wide. The Shy Child has also been widely used.
Zimbardo is Professor Emeritus of Psychology at Stanford University where he has taught the most popular courses in the university since 1968, previously at Yale, NYU and Columbia. His Ph.D. is from Yale (1959) and BA Brooklyn College (1954). He was elected President of the American Psychological Association (2002), and is Chair-Elect of the Council of Presidents of Scientific Societies. He is a founder of the National Center for the Psychology of Terrorism, and creator and co-director of The Shyness Clinic (Palo Alto, CA). (Please see www.shyness.com).
---
Philip Zimbardo Edge Video: You Can't Be a Sweet Cucumber in a Vinegar Barrel [1.19.05] Broadband | Modem
---
Beyond Edge:
Philip Zimbardo's Home Page
The Lucifer Effect
Stanford Prison Experiment
---

---