Timothy Taylor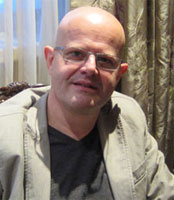 TIMOTHY TAYLOR, MA PhD FSA, is currently Reader in Archaeology at the University of Bradford, UK, and Editor-in-Chief of the Journal of World Prehistory (New York: Springer). He has contributed to international journals including Nature, Proceedings of the National Academy of Sciences of the USA, Scientific American, Current Anthropology, World Archaeology, and Antiquity, as well as many standard reference works. Current fieldwork includes cave archaeology in the Yorkshire Dales; theoretical interests include 'visceral' behaviours (cannibalism, human sacrifice, slavery) and the nature of sexuality, gender and symbolism; he advises the UK police (NPIA) on cases involving ritual killing/witchcraft. Taylor has a high profile in public archaeology through radio and television appearance in UK, US and Canada (including History Channel, Discovery, National Geographic, BBC Timewatch).
Taylor read Archaeology and Anthropology at St John's College, Cambridge (1979-82; MA 1985) before specializing in the later prehistoric cultures of central and southeastern Europe (Christ Church, Oxford 1984; Kliment Okhridski University, Sofia 1985; The Queen's College, Oxford, 1985-8, King's College, Cambridge, 1988-1990). He received his PhD from Bradford for Publications in Eastern European Archaeology (1994), was elected Fellow of the Society of Antiquaries of London (2002), Visiting Professor, University of Vienna (2003), and Reader (2004).
He is the author of The Prehistory of Sex: Four Million Years of Human Sexual Culture, The Buried Soul, and The Artificial Ape.
---
---