Linda J. Skitka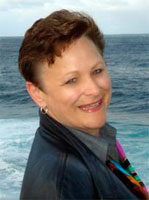 LINDA J. SKITKA earned her Ph.D. in 1989 at the University of California Berkeley, and is currently a professor of Psychology at the University of Illinois at Chicago, where she is also the head of the social/personality psychology graduate program. Her research bridges a number of areas of inquiry including social, political, and moral psychology.

Her current research is investigating the psychological foundations and consequences of moral conviction, and how attitudes rooted in moral convictions differ in consequence and kind from otherwise strong but non-moral attitudes, or attitudes based on religious beliefs. She also studies the cognitive and motivational underpinnings of ideological disagreements, and questions of procedural and distributive justice.
Skitka has published more 75 academic articles and chaptersin sources such as the Journal of Social and Personality Psychology and Psychological Science. She is an associate editor for the Journal of Experimental Social Psychology, and advisory editor for Psychological Science, leading journals in her field, as well as a recent past president of the International Society for Justice Research.
---
Beyond Edge:
---