Larry Sanger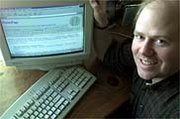 LAWRENCE MARK "LARRY" SANGER is co-founder of Wikipedia, which has become one of the ten most popular websites online and boasts millions of articles in hundreds of languages.
Before and during his time with Wikipedia, he was also Editor-in-Chief of Nupedia, a peer-reviewed free encyclopedia project (2000-2). In 2005, after writing a much-discussed essay about Wikipedia ("Why Wikipedia Must Jettison Its Anti-Elitism"), he was recruited to join the Digital Universe Foundation, where he became Director of Collaborative Projects. He helped to design the broad policies and operations of the Encyclopedia of Earth, which concerns the Earth's environment, and did planning for several other projects. While at the Digital Universe, in 2006, he worked on something called the Text Outline Project, or Textop, a project to which he intends to return after the Citizendium is off the ground.
His Ph.D. is in Philosophy and his dissertation was about Epistemology, or the Theory of Knowledge.
Sanger recently started a new competitor to Wikipedia, the Citizendium, or the Citizens' Compendium.
---
LINKS
"Who Says We Know: On The New Politics Of Knowledge"
Beyond Edge:

---