Scott Sampson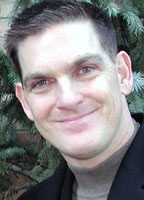 Scott Sampson is a Canadian dinosaur paleontologist and evolutionary biologist who received his Ph.D. in Zoology from the University of Toronto. His doctoral work examined the evolution of horned dinosaurs from western North America.
Following graduation in 1993, Sampson spent a year working at the American Museum of Natural History in New York City, followed by five years as assistant professor of anatomy at the New York College of Osteopathic Medicine on Long Island. From 1999-2007, he held a dual position with the Utah Museum of Natural History and the Department of Geology and Geophysics at the University of Utah, serving for the last several years of that period as chief curator and associate professor, respectively. His research has focused on the ecology and evolution of Late Cretaceous dinosaurs, and he has conducted fieldwork in a number of countries, including Kenya, Zimbabwe, South Africa, Madagascar, Mexico, the United States, and Canada. His current research efforts are focused on a large scale project in Grand Staircase-Escalante National Monument, southern Utah, which has yielded abundant remains of a previously unknown dinosaur fauna. Sampson has published numerous scientific and popular articles, and has lectured extensively to audiences of all ages on dinosaurs and evolution.
In 2007, Sampson moved to the San Francisco Bay Area of California. In addition to continuing dinosaur research through the University of Utah, he is now pursuing a range of new projects focused on education. Sampson was the primary scientific consultant and on-air host of a four-part Discovery Channel series called Dinosaur Planet, and is presently serving the same pair of roles in a PBS children's series called Dinosaur Train, produced by the Jim Henson Company.

Sampson has recently shifted his focus towards science education and is arguing for radical as a key factor in resolving the current sustainability crisis.
---


Scott Sampson Edge Video Broadband | Modem
Links:
"An Eco-Evolutionary Dance Through Deep Time" [6.17.04]

"The Real Crisis in Evolution Teaching" [9.29.05]
Beyond Edge:
---