Elaine Pagels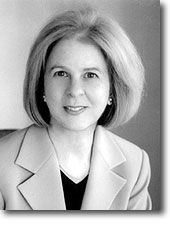 As a young researcher at Barnard College, Elaine Pagels changed forever the historical landscape of the Christian religion by exploding the myth of the early Christian Church as a unified movement. Her findings were published in 1979 in the best selling book, The Gnostic Gospels, which won the National Book Critics Circle Award and the National Book Award. The is was followed later that year with her selection as one of the first three recipients of the MacArthur Award.

She is the coauthor, with Karen L. King of the recently published Reading Judas: The Gospel of Judas and the Shaping of Christianity. Her other book include Beyond Belief, The Origin of Satan and Adam and Eve and the Serpent. She is the Harrington Spear Paine Professor of Religion at Princeton University and has published widely on Gnosticism and early Christianity.


Elaine Pagels Video DSL+ | Modem
Requires Real Player plug-in (Free Download)




Elaine Pagels Edge Video Broadband | Modem
---
LINKS:
"The Politics of Christianity"
---
---