Michael Naumann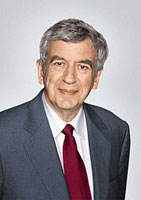 MICHAEL NAUMANN is a German politician, publisher and journalist who is co-publisher of the German weekly Die Zeit. He was the German secretary of culture from 1998 until 2001.
Naumann graduated with a Ph.D. (Dr.) in political science from Munich University in 1969 and continued his studies as a Florey scholar at Queen's College, Oxford. Naumann wrote his dissertation on Karl Kraus's Der Abbau der verkehrten Welt ("On overcoming a wrong world"), his habilitation on Structural Change of Heroism, from Sacred to Profane in 1978; he has also written a number of academic essays on theories of revolution.
Naumann worked for Der Spiegel and still does for Die Zeit, for the latter mainly as a publisher. In 1985 Naumann became Publisher of the publishing house Rowohlt Verlag. In 1995 he went to New York, first leading Metropolitan Books, then Henry Holt. He hosted a highbrow political talk show in German television, Talk im Palais from 2004 until becoming SPD candidate for mayor in 2007.
---