Evgeny Morozov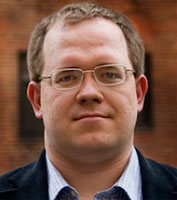 EVGENY MOROZOV is a leading thinker and commentator on the political implications of the Internet. He is a contributing editor to Foreign Policy and runs the magazine's influential and widely-quoted "Net Effect" blog about the Internet's impact on global politics. He is the author of The Net Delusion. Morozov is currently a Yahoo! fellow at Georgetown University's E.A. Walsh School of Foreign Service.
Prior to his appointment to Georgetown, he was a fellow at George Soros's Open Society Institute, where he remains on the board of the Information Program (one of the leading and most experimental funders for technology projects that have an impact on open society and human rights). Before moving to the US, Morozov was based in Berlin and Prague, where he was Director of New Media at Transitions Online, a media development NGO active in 29 countries of the former Soviet bloc.
Morozov's writings have appeared in The Economist, Newsweek, The Washington Post, The International Herald Tribune, The Boston Globe, Slate, Le Monde, San Francisco Chronicle, Boston Review, Foreign Policy, Project Syndicate, Dissent and many other publications.
He has appeared on CNN, CBS, SkyNews, CBC, Al Jazeera International, France 24, Reuters TV, NPR, BBC Radio 4 and BBC World Service. His research has been quoted in The New York Times, The Washington Post, Suddeutsche Zeitung, Wall Street Journal, CNN.com, Los Angeles Times, The Guardian, Bloomberg News, The Globe and Mail, Die Zeit, Il Sole 24 Ore, Der Standard, L'Express, AFP, Der Spiegel, Corriera della Serra, El País, Le Figaro, and many others. He's a fellow of the TED conference and was a speaker at TED Global 2009.
---
Beyond Edge:
---