Paul MacCready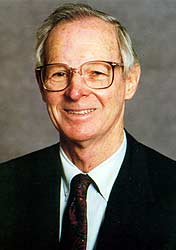 PAUL MACCREADY, Chairman/Founder of AeroVironment Inc., is best known as the "Father of Human-Powered Flight" for his engineering feat of designing and building the Gossamer Condor and Gossamer Albatross, both of which won the Kremer Prizes for first achieving human-powered flight over a fixed course, and then across the English Channel.
Dr. MacCready was also successful in designing and building a solar-powered plane, and the flying Pterodactyl featured in the IMAX movie "On the Wing." Dr. MacCready abd his team of engineers AeroVironment Inc. have, among many other things, designed the solar-powered car "Impact" for General Motors.
---
Beyond Edge: AeroVironment Inc.
---