Kevin Kelly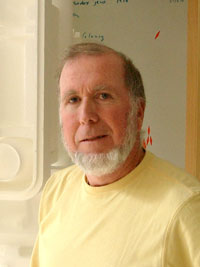 KEVIN KELLY is Senior Maverick at Wired magazine. He helped launch Wired in 1993, and served as its Executive Editor until January 1999. He is currently editor and publisher of the popular Cool Tools, True Film, and Street Use websites.
From 1984-1990 Kelly was publisher and editor of the Whole Earth Review, a journal of unorthodox technical news. He co-founded the ongoing Hackers' Conference, and was involved with the launch of the WELL, a pioneering online service started in 1985. He authored the best-selling "New Rules for the New Economy," and the classic book on decentralized emergent systems, "Out of Control." He also a charter board member of the Long Now Foundation which is building a monumental clock to tick for 10,000 years.

Previously, Kelly was editor and publisher of the Whole Earth Review, an small-circulation magazine reporting on unorthodox technical and cultural news. He is the author of Out of Control: The New Biology of Machines, Social Systems, and the Economic World; New Rules for the New Economy;and Asia Grace, and What Technology Wants.

Kelly's writing has appeared in many national and international publications such as the New York Times, The Economist, Time, Harpers, Science, GQ, and Esquire.
Instead of going to college he went to Asia as a photographer. His photographs have appeared in Life and other national magazines. He has no college or university degrees.

---
Beyond Edge: Official Kevin Kelly Website;
Current Passion: All Species Inventory;Newest Project:Long Bets; Asia Grace Website
---