Andrew Keen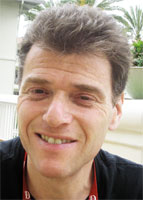 ANDREW KEEN, a critic of the contemporary Internet, is known as the contrarian of Web 2.0.
In the mid Nineties, Keen founded Audiocafe.com in 1995, and, securing significant investment from Intel and SAP, established it as one of the most highly trafficked websites of the late Nineties. As the Chief Executive of Audiocafe.com, he was featured and quoted in many newspapers and magazines including Esquire, The Industry Standard, Business Week, Wired, the Wall Street Journal and The London Guardian.

In 2000, Keen produced "MB5: The Festival for New Media Visionaries," a futurist show featuring some of Silicon Valley's leading pundits. Since then, he has held senior management positions at a number of venture capital backed start-ups including Pulse, Santa Cruz Networks and Pure Depth. He is currently the Founder and Chief Executive of afterTV LLC, a firm that helps marketers optimize their brand desirability in the post-TV consumer landscape.
Born and bred in theNorth London, Keen was educated at London University. He was a British Council Fellow at the University of Sarajevo and a Berkeley-Stanford MacArthur scholar at UC Berkeley. He has taught at a number of universities, including Tufts, UMass, Northeastern and UC Berkeley. His academic interests include contemporary cultural history, political philosophy and media studies.

Keen is the host of the popular Internet chat show afterTV and regularly appears on television and radio. His commentaries can be read on ZDNet, Britannica , iHollywoodForum as well as in traditional publications like the Weekly Standard, Fast Company and the San Francisco Chronicle.