Joichi Ito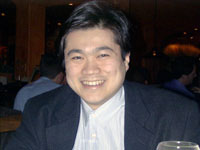 JOICHI ITO is in charge of international and mobility for Technorati and the founder, CEO of Neoteny, a venture capital firm which is the lead investor in Six Apart, and is on the board of Creative Commons. He has created numerous Internet companies including PSINet Japan, Digital Garage and Infoseek Japan. In 1997 Time Magazine ranked him as a member of the CyberElite. In 2000 he was ranked among the "50 Stars of Asia" by Business Week and commended by the Japanese Ministry of Posts and Telecommunications for supporting the advancement of IT. In 2001 the World Economic Forum chose him as one of the 100 "Global Leaders of Tomorrow" for 2002. He was appointed as a member of Howard Dean's Net Advisory Net during the Dean campaign.
PSINet was the first commercial ISP in Japan, Digital Garage was one of the first web development firms in Japan and Infoseek Japan was the first commercial search engine in Japan and continues to grow as one of the most successful portals in Japan.
Recently Ito has been consulting to mobile device companies such as Nokia and NTT Docomo and focusing on the convergence of mobile technology and the Internet.
In 2003, Ito wrote a paper entitled "Emergent Democracy" about the role of social software in shaping a new democracy. This paper has triggered a flurry of thought and writing on this topic and a collection of these papers is currently being edited into a book.
Ito maintains a popular weblog with approximately 90,000 unique visitors a month. He has appeared in over 80 newspapers and magazines in countries ranging from Croatia to Brazil. He has also appeared numerous times on television and radio including CNN and NPR to speak about sharing and weblogs.
---
Beyond Edge: