Bruce Hood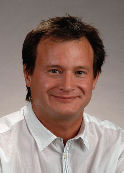 BRUCE HOOD is a British experimental psychologist who holds the Chair in Developmental Psychology at Bristol Cognitive Development Centre. He is well known for his ideas on humans being hard-wired for religion.
Hood has been a member of the British Psychological Society, Experimental Psychology Society and the American Psychology Association. He received the Young Investigator Award in 1998 (International Society for Infant Studies), the American Psychology Society Robert L. Fantz award in 1999 and the Alfred P. Sloan Research Fellowship in Neuroscience in 1997-1999. In 2005, he was elected a Fellow of the American Psychological Society. He has given keynote addresses to the British Psychological Society and the British Association for the Advancement of Science.
After taking his undergraduate degree at the University of Dundee, Hood completed his Ph.D. at Cambridge and spend two post-doctoral years as a researcher and honorary lecturer at UCL. In 1994, he spent one year in the Department of Brain and Cognitive Science at MIT as an MRC visiting scientist to work with Susan Carey. In 1995, he become an associate professor in the Department of Psychology at Harvard where he stayed until 1999.
---
Beyond Edge: Bruce Hood's homepage
---