Tony Fadell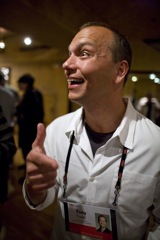 ANTHONY M. FADELL,"the father of the iPod" and one of the driving forces behind the iPhone, recently stepped aside from his full-time post at Senior Vice-President of the iPod Division.
After graduating University of Michigan as a a computer science engineer, Fadell worked for Apple spinoff General Magic for three years, starting in 1992 as a diagnostics engineer and progressing to a systems architect, where he was responsible for the development of a number of technologies and devices including the Sony Magic Link and Motorola Envoy, both of which were part of the Magic Cap platform.
In 1995 he was hired by Philips where he was co-founder, Chief Technology Officer, and Director of Engineering in the Mobile Computing Group, which developed a number of Windows CE-based handheld services, notably the Philips Velo and Nino. Fadell went on to become a Vice President of Philips Strategy and Ventures where he was in charge of developing Philips' digital audio strategy comprising of technology direction for silicon and software, as well as its investment portfolio and potential business models.

During the 1990s, Fadell started his own company called Fuse to develop the "Dell of the Consumer Electronics." One of the devices he had in mind was a small hard disk-based music player. Fuse failed, however, to find a second round of funding, and Fadell started exploring developing the product at other companies.

He started doing work for Apple from February 2001 as a contractor designing the iPod and planning Apple's audio product strategy. In April 2001 he was hired by Apple to assemble and run its iPod & Special Projects group, where he has overseen the design and production of the iPod and iSight devices. He was promoted to vice president of iPod engineering in 2004. In 2005 he was promoted to Senior Vice President of the iPod Division. His departure from Apple was announced in November, 2008. He is currently serving in an advisory role position to Apple CEO Steve Jobs.