Jesse Dylan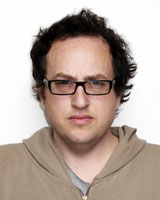 Director JESSE DYLAN has been behind some of the most successful campaigns in commercial television, print, and interactive advertising. He has created award-winning commercials for clients including Nike, Nintendo, Motorola, American Express, NFL, and MTV. Much of Jesse's work has also been devoted to telling the stories of innovative projects, people, and organizations worldwide.
His most recent projects include the Emmy Award winning video YES WE CAN SONG, inspired by Barack Obama. Additionally, he is creating media projects for a diverse group of organizations including (RED), the campaign to fight AIDS in Africa, and KIVA a non-profit micro-lending organization dedicated to alleviating poverty. Jesse is also an active member of TED (Technology Entertainment Design) where he is creating marketing materials and short films in support of TED Prize Winners. Current projects also include a short promotional film with Archbishop Desmond Tutu on reconciliation, and a short film exploring innovation at Harvard Medical School.
Jesse's non-profit work includes his organization Lybba.org, a website that aims to be the world's resource for healing by providing an evidenced-based platform for people to find clear, comprehensive and easily accessible information regarding health.
---