Cory Doctorow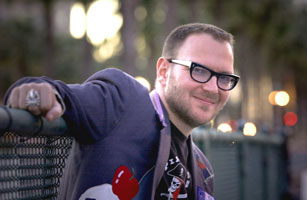 Photo: Bart Nagle
CORY DOCTOROW is a science fiction novelist, blogger and technology activist. He is the co-editor of the popular weblog Boing Boing (boingboing.net), and a contributor to Wired, Popular Science, Make, the New York Times, and many other newspapers, magazines and websites.
He was formerly Director of European Affairs for the Electronic Frontier Foundation, a non-profit civil liberties group that defends freedom in technology law, policy, standards and treaties. In that capacity, he worked to balance international treaties, polices and standards oon copyright and related rights, advocating in the halls of governments, the United Nations, standards bodies, corporations, universities and non-profit.
In 2006/2007, he will serve as the Fulbright Chair at the Annenberg Center for Public Diplomacy at the University of Southern California.
His novels are published by Tor Books and simultaneously released on the Internet under Creative Commons licenses that encourage their re-use and sharing, a move that increases his sales by enlisting his readers to help promote his work. He co-founded the open source peer-to-peer software company OpenCola, sold to OpenText, Inc in 2003, and presently serves on the boards and advisory boards of the Participatory Culture Foundation, the Open Rights Group, the MetaBrainz Foundation, Technorati, Inc, and Onion Networks, Inc.
---
LINKS
Beyond Edge:


---
---