Nicholas G. Carr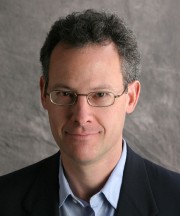 A former executive editor of the Harvard Business Review, Nicholas Carr writes and speaks on technology, business, and culture.
His 2004 book Does IT Matter?, published by Harvard Business School Press, set off a worldwide debate about the role of computers in business. In The Big Switch: Rewiring the World, from Edison to Google, he examines the rise of "cloud computing" and its implications for business, media and society. His most recent book, The Shallows: What the Internet is Doing to Our Brains, picks up from his widely read article in The Atlantic, "Is Google Making Us Stupid?"
Carr writes regularly for the Financial Times, Strategy & Business and The Guardian. His articles have also appeared in the New York Times, Wired, Business 2.0, The Banker, and Advertising Age as well as on his blog Rough Type. He is a member of the Encyclopaedia Britannica's editorial board of advisors.
In 2005, Optimize magazine named Carr one of the leading thinkers on information technology, and in 2007 eWeek named him one of the 100 most influential people in IT. Earlier in his career, he was a principal at Mercer Management Consulting.
Carr has been a speaker at MIT, Harvard, Wharton, the Kennedy School of Government, NASA, and the Federal Reserve Bank of Dallas as well as at many industry, corporate, and professional events throughout the Americas, Europe, and Asia. He holds a B.A. from Dartmouth College and an M.A., in English literature, from Harvard University.
---
Beyond Edge:

---