Andrew Brown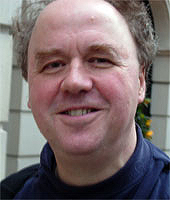 ANDREW BROWN currently works for the Guardian, writing long profiles for their Saturday review section, and a weekly column for the web site, as well as leaders, book reviews, features, and short cuts. He also write and present Analysis programmes for BBC Radio 4. In addition, he is the author of popular science books and short stories, among other things that catch his imagination.
His chief interests are biology, religion, and technology, especially where they overlap of the two.
He has been the Religious Affairs Correspondent for the Independent, and has also written for the Times, the Sunday Telegraph, the Daily Mail, The Spectator, the New Statesman, News of the World, Vogue, the New York Review of Books, and Salon.
In 1995 he won the first annual Templeton prize as the best religious correspondent in Europe (unhappily this isn't the one that pays a million dollars).
Brown is the author of The Darwin Wars: The Scientific Battle for the Soul of Man and In the Beginning Was the Worm: Finding the Secrets of Life in a Tiny Hermaphrodite.
---
Beyond Edge:
In the Beginning was the Worm Website
---